Travelling to Portugal is exciting and intriguing because the culture and the language might not be what you are used to.
Here you will find the 20 most useful tips for planning your trip to Portugal.
I'll give you tips on moving around the country or the city, what to do and what to eat, staying safe and what to do when you have to sadly leave the country.
Top 20 Portugal travel tips
When and where to go
1. Avoid July and August
Due to Portugal's mild climate and proximity to the ocean, the summer vacation season is by far the most popular among travellers. You can clearly witness this in July and August, especially in Lisbon and in the Algarve, as the city centres get packed to the point that it is almost impossible to pass through the narrow Portuguese sidewalks ("calçadas").
A good time to travel to Portugal is around May, June, September and October, when the sun is not excessively hot, but the weather is warm enough to go to the beach or simply visit the historical sites without overheating.
Moreover, the amount of tourists will be significantly lower and you will be able to enjoy the sights without having to queue up for ages.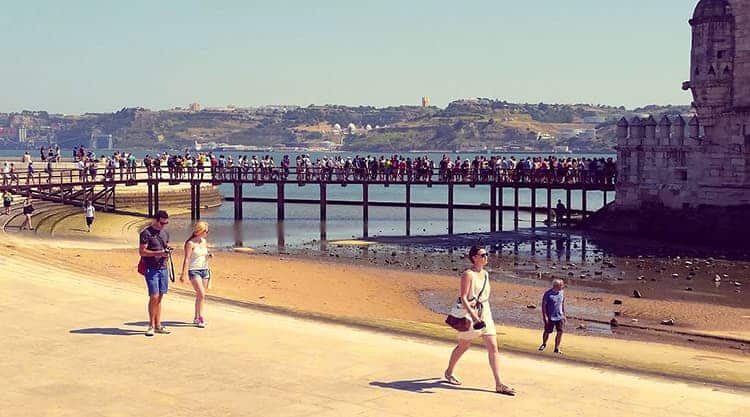 2. Book accommodation and flights in advance
Partially due to the previously discussed reasons, but also due to the size of the main attraction points, such as Lisbon, Porto and the Algarve, the number of accommodation options is rather limited compared to the amount of visitors, especially during the peak season.
Therefore, we highly recommend you to arrange a place as much in advance as possible. You will also save money by booking a rare and affordable find which is usually occupied throughout the year.
The same go for long-distance transport and international flights to Portugal.
Momondo, the travel comparison website, offers an insight tool that indicates the cheapest periods to travel to Lisbon (or any other worldwide destination), how many days in advance you should book and what's the best day of the week to travel.
The website is available in several languages and from different destinations by changing the settings on the bottom right corner of the page.
3. Ask for a ventilator (fan) in the summer and a heater in the winter
While this might seem like an obvious add-on for any tourist accommodation, don't take this for granted when visiting Portugal! Most of the houses were built to stay cool in the summer and keep the heat in the winter, therefore it's not customary to have central heating or air-conditioning installed in most buildings.
Usually modern hotels will include this service, though if you're staying in a rented apartment it is best to double-check with the landlords if air-conditioning or a ventilator are provided during the hot months and a heater is available during the winter months. This way you will avoid unpleasant stays in overly hot or cold apartments!
4. There is more to Portugal than Lisbon
We know, we know… Lisbon is highly spoken of on many media channels and strongly recommended by almost anyone who visits it. However, it is not the only great place that Portugal has to offer.
Other very worthwhile destinations in the north of Portugal are:
For the south, you should try:
And of course not forgetting the stunning archipelagos of Madeira and the Azores in the Atlantic Ocean.
Since these alternatives are usually smaller cities compared to Lisbon, you could opt for organising a multi-city trip with one day stays, rather than spending an entire week in the same place.
Continental Portugal is well-connected with smooth highways as well as long-distance train and bus routes.
However, there are some hard to reach places such as Gerês and Costa Vicentina, for which we suggest renting a car or a van.
The same goes for the archipelagos, which do not have a well developed public transport system, though would require at least three days for visiting.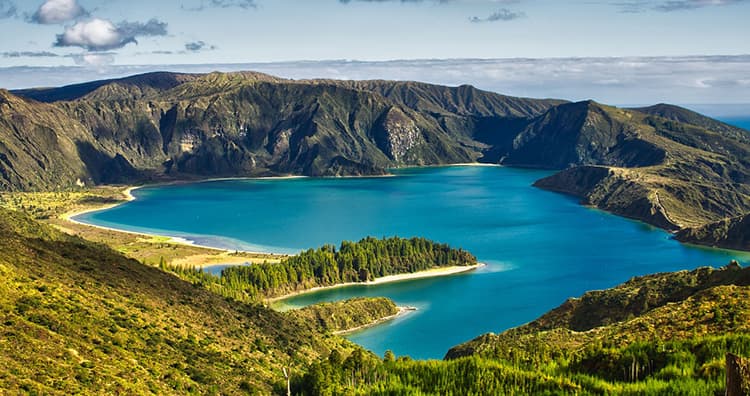 5. If you still decide to go to Lisbon…
…then be prepared for massive amounts of people in the city centre and the tourist attractions especially in the warmer months and peak season. Lisbon is definitely a must-visit place in Portugal and in recent years it has gone through a lot of changes due to increased tourism, which has also contributed greatly to the local economy.
However, the streets and houses weren't built to host such large crowds, so you will very likely find yourself queuing just to cross the street.
How do you escape the tourist crowds?
Here are some not so well-known areas where you can enjoy the same cultural spirit of Lisbon.
Start from the area called Avenidas Novas with its wide avenues and neoclassical architecture style until you reach Fundação Calouste Gulbenkian, where you can enjoy a beautiful garden and fascinating art galleries; continue walking westbound until you reach the top of the vast Parque Eduardo VII, from where you can admire an endless viewpoint across the city, the river and Almada.
Then take the yellow ("amarela") Metro line from Marquês de Pombal to Rato and walk up to Jardim da Estrela, a lovely oasis in the middle of old Lisbon, and then go to the nearby Basílica da Estrela, one of the most beautiful churches in Lisbon.
The next stop is the lookout ("miradouro") at Panorâmico de Monsanto, a restaurant built in the 1960s on top of a large green hill, then abandoned due to bankruptcy and recently reopened to the public. We recommend taking a taxi up there, the view is really worth it.
When you head back down, finish off the day by visiting the Palácio Nacional da Ajuda, which stands at the foot of the hill and is the former residence of the Portuguese royal family.
Bonus tip for the tireless ones is the Museu Nacional do Azulejo, also known as the National Tile Museum. It is surprisingly one of the most interesting and beautiful museums in Lisbon, which tells the story of the traditional Portuguese tiles, their production and style over the centuries.
Getting around the country or the cities
6. Rent a car if you're planning a multi-city trip
This tip is partially related to visiting more than just Lisbon, but it's also valid if you want to want to organise a road trip across continental Portugal.
Those who live here will know that having a car can unlock many hidden gems that would otherwise be hard to reach with public transport.
Some of the suggested routes are:
A southbound journey along the coast from Lisbon all the way until the Algarve.
A city-hopping trip among the northern Portugal cities like the ones mentioned in tip number four.
A tour through one of the several natural parks, such as:
Parque Natural do Douro Internacional;
Parque Natural da Serra de S. Mamede; and
Parque Natural do Vale do Guadiana.
Visiting a vineyard for a day in the Setúbal, Alentejo or Douro region. You may need to find a designated driver for this trip if you plan to taste some of the sumptuous Portuguese wines.
You can easily rent a car directly from any Portuguese airport, however there are some restrictions which you can check in our article: Car Rentals in Portugal: Expert Advice to Save You Time and Money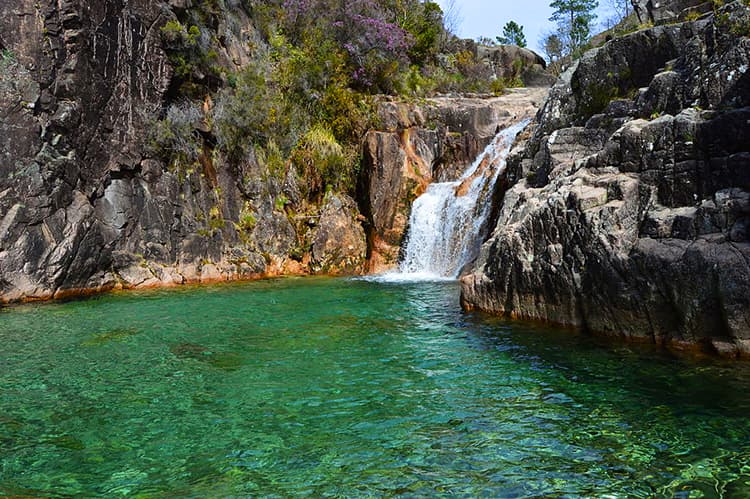 7. Get a rechargeable Metro card if in Lisbon or Porto
If you're visiting Lisbon or Porto, which happen to be the only two cities in Portugal with a Metro system, we highly advise that you to use local public transport to move around the city rather than driving a car, as traffic can get pretty intense and finding parking may turn into an Odyssey.
The main advantage of the rechargeable Metro card is that you can use the same one on the Metro, local trains, buses, trams and even the ferry in Lisbon.
The disadvantage is that you can only charge it in specific authorised points, such as newspaper kiosks and Metro stations.
However, if you know someone in Portugal, they can charge your card at a Multibanco machine or for Lisbon's Viva cards, they can charge it at home via the Viva website.
So make sure to top it up with some extra cash or simply pick the daily pass. Just keep in mind that you can use only one card per person and ticket controls are rather frequent.
In Lisbon, it is worth buying a 7 Colinas or a Viva Viagem card, which can be bought in any Metro station. The reusable 7 Colinas card can be purchased for one or five days. Both of these cards are valid for a whole year so hang on to it if you are planning on coming back to Lisbon. Each trip is about Є1.45 by using these cards and an average price per day would be about Є3.15.
8. Relax and learn how to be patient
This might sounds strange to some of you, but it actually is a very important tip: be patient and do not put other people in a rush. Portuguese people like to take things easy (especially in the countryside) and do not have an elaborate concept of doing things in a fast manner, which might be irritating for some people at first.
Instead try to embrace the slow pace of the Portuguese culture and use it as an excuse to unwind from the fast city life rhythm.
You'll find yourself slowly strolling through the streets while embracing the magical light of Portugal, spending three hours at the restaurant finishing off a delicious meal with a glass of Port wine or a brandy ("aguardente"), or simply enjoying an espresso at a viewpoint while gazing into the horizon.
One thing is guaranteed: going back to work will be very, very hard upon your return.
9. Pack comfortable shoes
We previously mentioned the sidewalks in Portugal ("calçada portuguêsa"), so here's a little tip related to it: it's not the most friendly type of pavement, so pack your sneakers and leave your high heels at home.
Pavements in Portugal are usually made of small square cobblestones. The streets are covered in beautiful mosaic patterns symbolising the elements of nature and history of the country.
This type of construction has the purpose of being highly resistant to direct sunlight and heat, however, they get extremely slippery when wet or just on a steep hill.
We recommend you watch your step and wear your most comfortable pair of shoes while in Portugal.
10. Be careful of the strong sun
This tip is especially directed to the fair skinned traveller, like myself, who easily burn in the sun. Be prepared: the Portuguese sun can be very strong even in the winter!
So if you're one of those who become red as lobsters after five minutes in direct sunlight, we suggest to stay in the shadows, use sunscreen with protection 50+ in the summer, and wear a hat and sunglasses especially if you're spending the entire day out.
You can usually buy sunscreen at any pharmacy, supermarket or night shop, however a flask of 200 ml can cost more than €10, so it might be better to bring some from home in your checked in luggage.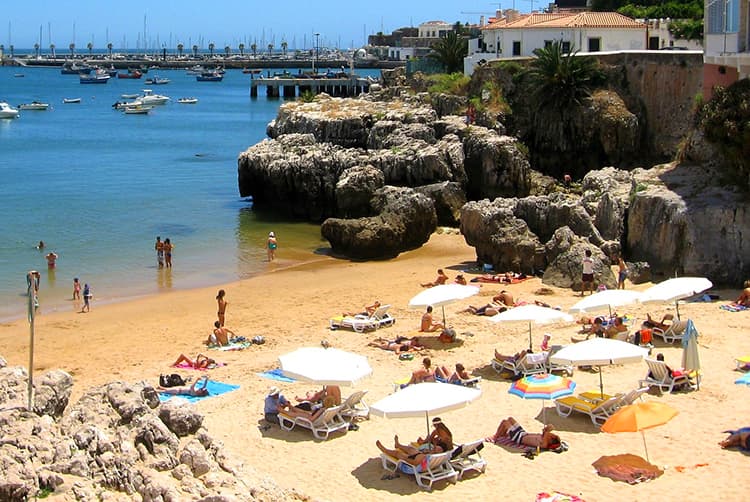 What to do and what to eat
11. Museums are free on the first Sunday of the month
Many Portuguese cities have great museums with unique collections of art from ancient history to modern art. We recommend you to check their schedules beforehand as they're often closed on Mondays and stop admitting visitors between 5 and 7pm.
What's good to know is that many of them are free on the first Sunday of the month, though you should still check this information per museum as they do have exceptions.
For visitors to Lisbon, you might like: Top 15 Museums in Lisbon: For Lovers of History and Art
12. Avoid the tourist trap restaurants
This is particularly true for bigger tourist destinations, such as Lisbon, Porto and the Algarve, however with the increasing amount of visitors, you can notice the prices rising in many parts of Portugal.
How do you recognise a tourist trap restaurant?
They will usually have a very insistent host who will chase you down the street just to get you to eat at their restaurant, they will have a poorly translated menu with pictures of the food hanging at the door and completely inflated prices for drinks and side dishes or no prices displayed at all.
If you're not sure whether the restaurant that you want to go is a tourist trap or not, always ask the price of anything that you order or is brought to your table and thoroughly check the bill at the end of the meal.
Tourists traps are easily spotted in the city centres and crowded streets and squares.
13. Couverts are not for free
As a continuation to the previous tip, you should know that the bread, cheese and olives waiting for you at the table at not for free. Ever!
If you decide to touch any of it, it counts as a consumption, so if you don't want to pay for them, kindly ask the waiter to take them back. Some restaurants will count the couvert per person, so make sure to check the prices on the menu in case you can't keep your hands away from these tasty little appetisers.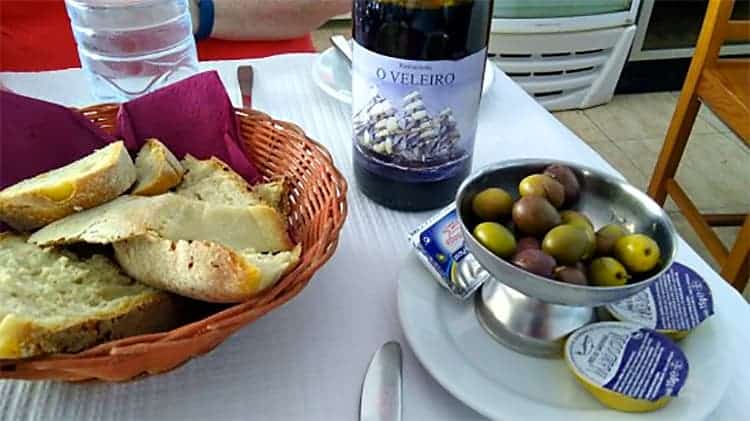 14. Tascas are a lifestyle
Tasca is a Portuguese word for "tavern" or "bar" which is very specific to our country due its distinguishing traits. For example, a Tasca is usually a small family run business with a grumpy, yet charming older lady as the cook and a seemingly rude but caring husband running the front bar.
The type of food you can expect is what a Portuguese person eats at their grandmother's house in a small setting that resembles a living room.
Another recognisable element of a Tasca are the incredibly cheap prices. In Lisbon you can easily find a Tasca with a lunch menu for €7 including a main dish, a drink and a coffee!
While in Porto and other cities, the price can get as low as €5.
Disclaimer: if you're not a meat or fish lover, then you're probably going to have to settle with an omelette or a salad!
15. Vegetarians be careful!
As mentioned in the last point, unfortunately there aren't that many options when it comes to vegetarian (not to mention vegan) food. While this type of cuisine is gradually evolving more and more in the bigger cities, don't expect to find any vegetarian options in the countryside or small towns.
Moreover, be sure to ask for the ingredients of any dish that you order, because even vegetable soups are sometimes made with "chouriço", a traditional Portuguese sausage used to give flavour.
Great vegetarian and vegan options can be found in the supermarket/cafeteria chain "Celeiro" in the main cities.
For more on vegan food, you might like: Being Vegan in Lisbon, Your Plant-based Food Guide for Portugal's Capital
16. Enjoy the fresh fish and seafood
If you're ok eating fish and seafood, don't miss the chance to try them in Portugal! It's the paradise for foodies thanks to the ample choice of products freshly delivered on the day even to the smallest Lisbon restaurants.
The most commonly known dish is "Bacalhau à Brás", made from shredded salted cod, which is ironically imported from Norway yet considered to be the national Portuguese dish eaten throughout the year and especially on Christmas Eve.
Other options include:
Creamy seafood risotto, usually made with the catch of the day such as shrimps and varieties of fish;
Orata or bream, known in Portuguese as "dourada"; and
Snook, called "robalo" by the locals.
If you happen to be in Lisbon around June, you must try grilled sardines, the symbol of the city and typically consumed on a piece of bread during the Popular Saints festivals ("Festas dos Santos Populares").
Staying safe in Portugal
17. Beware of pickpockets
This is strongly notable in Lisbon, but can also happen elsewhere, that pickpockets are wherever the tourist goes. In order to avoid unpleasant situations, make sure you do not put any valuables in the pockets of your pants or jacket, avoid using open handbags, and keep an eye on your backpack.
Pickpockets in Portugal are not likely to be aggressive, but in case you catch one during the act, the best thing to do is not to fight them and simply call for help.
In the unfortunate event of losing a valuable belonging, immediately go to the local police. In some cases they might be able to retrieve a stolen wallet with your documents inside (though it will be cashless).
18. Parking helpers expect money
So you decided to rent a car in the city and now you're on the Odyssey of finding a parking spot.
First of all, we wish you the best of luck!
Secondly, be careful of the people who volunteer to help you park. They are expecting money in return for their kind gesture. Unless you really can't find any other place where to park, our personal advice is to give them some coins to avoid any bad reaction from their side, such as a scratched car or a broken window.
When you are leaving Portugal
19. Avoid long queues at the airports
It's the end of your stay and you're already starting to miss your vacation in Portugal. Oh, how much "saudade"!
Be prepared though, the airport controls are still ahead. Many flights connecting to the Lisbon, Porto and Faro airports are operated by low-fare airlines, which means they're located in small and not so efficient terminals.
If you're travelling during the high season, make sure to arrive at the airport at least three hours in advance as the queues for the security check in might be extremely long.
It often happens that visitors do miss their flight because of this and you definitely don't want to be one of them (unless you're subconsciously trying to remain in the county, in which case we totally get you).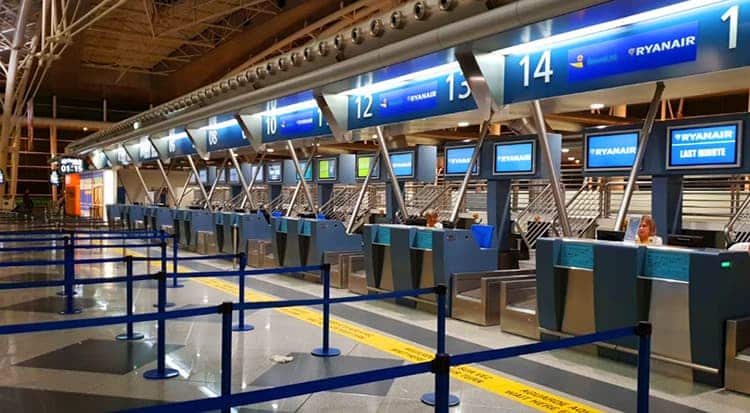 20. The best souvenirs are cheese, wine and olive oil
Forget about fridge magnets and bottle openers, the best souvenirs you can bring back home are food and drinks!
We strongly recommend you to spend a little extra on the checked-in luggage and go crazy on your food shopping in a local market, rather than buying the same products at the airport for double the price.
Make sure, though, that the cheese is vacuum packed as it can be confiscated at the security check. Portugal produces great creamy and curated cheeses. A must-try is Queijo da Serra and Queijo da Ilha, both commonly available in the supermarkets.
Bonus tip: Learn some survival Portuguese
You'll be positively surprised at the level of English the younger generations of Portuguese people speak. In fact, TV shows in Portugal are not dubbed and therefore their English language education starts at an early age, so you'll have no problem communicating with the locals.
However, they will really appreciate it if you could say at least a few words in their language as it shows an effort of understanding the Portuguese culture.
Here are some useful words and sentences for your stay in Portugal:
Hello = Olá
Good morning = Bom dia
Good afternoon = Boa tarde
Good evening/night = Boa noite
How are you? = Tudo bem?
Goodbye = Adeus or Tchau!
See you later = Até já
Thank you = Obrigado if you are a man or Obrigada if you are a woman
You're welcome = De nada
Help me = Ajuda-me
Please = Por favor
Sorry = Desculpe
Excuse me/Pardon me (to ask to pass by someone) = Com licença
I don't speak Portuguese well = Eu não falo bem português
I don't understand = Eu não percebo
Do you speak English? = Fala inglês?
How much is it? = Quanto custa?
Where is…? = Onde é…?
Today = Hoje
Tomorrow = Amanhã
Yes = Sim
No = Não
One = Um for a masculine object and Uma for a feminine object
Two= Dois for masculine objects and Duas for feminine objects
Three = Três
Breakfast = Pequeno-almoço
Lunch = Almoço
Dinner = Jantar
The bill please = A conta por favor
If you would like to learn a few more Portuguese phrases, check out: Learning Essential Phrases in Portuguese for Your Visit to Portugal
Portugal is a top European destination
Portugal has become one of the most popular European destinations in the last years thanks to its favourable climate, affordable prices and timeless beauty. With over 23 million visitors in 2017, the main cities have quickly started to adapt for welcoming an increasing amounts of travellers.
That's it for the 20 tips of travelling in Portugal! We truly hope that you will find them useful and enjoy your stay in this beautiful country.
Did this article help you plan for your trip to Portugal? Let us know in the comments below if you have any more tips for fellow readers.
Be sure to catch all the latest tips and advice from bePortugal for your visit to Portugal by subscribing to our FREE newsletter.