With easy transportation, low prices, the Douro river, museums and galleries galore, delicious Port wine and Portuguese cuisine, it's hard to come up with a reason not to visit the second largest city in Portugal – Porto.
This handy guide will give you all the reasons to visit Porto, including things to do, top things to see, beaches to visit at Lisbon, weather tips, hotel options, and shopping ideas, as well as a rough budget to prepare for a trip to this great city.
Ready for Porto? Let's go!
Why visit Porto?
Located in the north-western part of the country with a population of around 237, 600, the city of Porto has garnered much media attention in the last few years and was even named Best European Destination three times, in 2012, 2014, and 2017!
First, the Port wine
The region is most famous for its Port wine, which comes from the Douro Valley in Portugal. Port wine is a fortified dessert wine, which is typically sweet but has a richer and heavier taste than most wines. It comes in many varieties and colours like white, rosé and ruby red.
Port wine became popular in the 1700s when many English merchants were passing through Portugal and because of their long journey, the wine would often spoil. They decided that instead of wasting good wine, they would fortify it with a type of brandy; resulting in not only a better shelf life but also a delicious new product.
There are many Port Wine cellars offering tours and our friends at Get Your Guide have some amazing day trips and tours you can take to fully enjoy Port wine and famous Portuguese cuisine.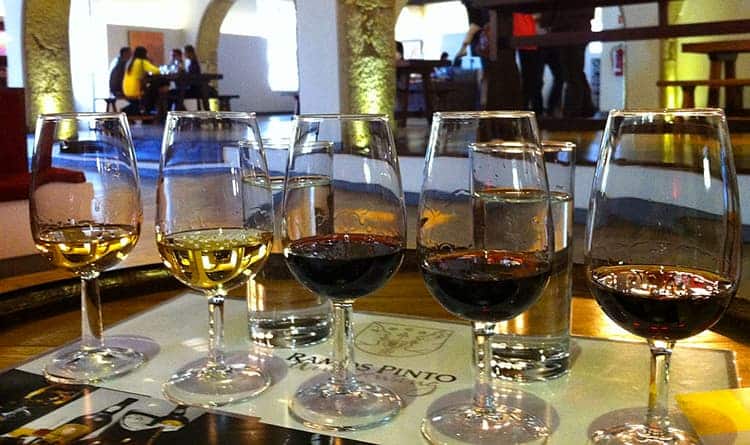 The beautiful buildings
Portugal is well-known for its beautifully tiled buildings. These tiles are called "azulejos" and you can find them absolutely everywhere, decorating the walls of train stations, houses, restaurants and more. In the centre of Porto you will find the São Bento railway station, which is famous for this art form, with over 20,000 tiles adorning the building.
Imagining the city of Porto, the Douro River immediately comes to mind. The river runs through the middle of the city and many restaurants, shops, and cozy bars are located along it. It is especially nice to walk along the river during the summertime, with the Portuguese sun shining down upon you.
Other things to do in Porto
Livraria Lello bookstore
Did you know, the author of the Harry Potter series, J.K. Rowling, was inspired to write about the famous wizard right here in Porto? More specifically, she was inspired by the interior of the Livraria Lello bookstore. Inside you will find stunning wooden staircases and bookshelves that many travellers visit this city just to see. Although it can get a little crowded inside, you won't want to miss seeing this magical place.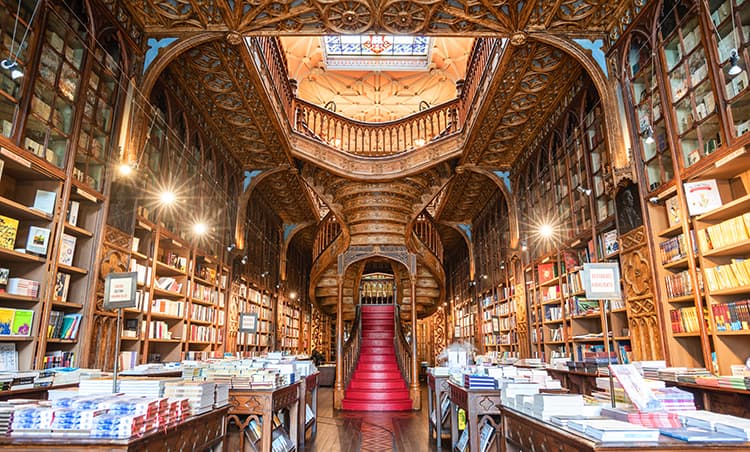 Fado music
If you've been to Lisbon, you've probably heard of the traditional Fado music. The genre isn't exclusive to Lisbon and can be enjoyed all over the country, including in Porto. A visit to a Fado café is one of the best things to do when you want to experience Portuguese culture. Take a seat, enjoy a glass of Port wine and hold back the tears as this melancholic music moves you through the night.
House of Music ("Casa da Música")
If Fado music is not for you, why not take a visit to the Casa da Música, a modern concert hall in Porto. The 1,300 seat hall opened in 2005 and was designed by Dutch architect, Rem Koolhaas, who oversaw the design. This is one of those venues that is worth visiting even when no one is playing. On some days you can hear the orchestra rehearsing and if that is more your taste, you can dress up for an evening and hear the Porto Symphony Orchestra play.
Top monuments in Porto
If you've seen pictures of Porto before, you have definitely seen the Dom Luís I bridge, which spans the Douro River. It is made for pedestrians and public transport and offers a great view over the beautiful old town. The bridge is iconic for this city and probably the most famous thing to see when visiting Porto.
Gothic Church of São Francisco
If you are a fan of Gothic architecture, then take a visit to the Church of São Francisco. Completed in 1425, this church is the last Gothic monument to have been built in Porto. The old Gothic vaults, walls and pillars are decorated with intricately carved panels of birds, cherubs and foliage. The interiors were redecorated between the 1500s and 1700s and have some of the most lavish woodwork to be seen.
Palácio da Bolsa
Right next to the Sao Francisco Church, you will stumble upon Palácio da Bolsa, Porto's old stock exchange building. It was built here after its cloisters burnt down during the Siege of Porto in 1832. The exterior was completed in 1850 with a neo-classical design, while its interior was decorated right up until the 20th century. Inside you will be stunned with sculptures, decorative carvings and plaster work, frescos and chandeliers, and of course Portuguese "azulejo" tiles.
Beaches in Porto
In Portugal, a good beach is never too far away. The nearest beaches are the rocky coves of Foz do Douro, which, during the summer time can be completely packed with tourists; and Praia dos Ingleses, a cozy sandy beach. Travel a little further north and you will find Matosinhos which has excellent and affordable seafood restaurants in Portugal.
Check out our article on the best things to do when visiting Porto.
Weather in Porto
July is the hottest month in Porto with an average temperature of 20°C (68°F) and it has the longest days with around 10 hours of sunlight. The coldest month is January at around 10°C  (50°F). This would be considered the best time of year to visit Porto. The wettest month is December with an average rainfall of 180 mm. The best month to go swimming at the beaches is in September when the average sea temperature is 18°C (64°F). Porto has a slightly cooler climate than the south of Portugal, but it is still very enjoyable all year-round.
Shopping in Porto
If you're planning to buy gifts for your loved ones back home, then look no further. At A Vida Portuguesa you will find retro-inspired local souvenirs, like toys from the 1950s, textiles, toiletries and woven bags.
In Portosigns you will find the traditional cork bags, hats, ties, and vibrant clay statuettes made by Barcelos-based artist, Conceição Sapateiro.
Retrosaria das Flores offers workshops in embroidery, crochet and tricot and sells bags made of "Chita de Alcobaça", the intricately designed fabrics.
If you are tea-drinker, stop by Rota do Chá which sells strong Hyson green and classic orange pekoe black tea grown on Europe's only tea plantations, in Portugal's Azores archipelago.
Finally, if you want to take home some beautiful Portuguese wines, Portologia La Maison des Porto has 200 open bottles to taste before you decide on the perfect vintage bottle.
Best hotels in Porto
When visiting Porto, you can opt for either a luxurious weekend away or a low-cost trip.
Here are the some of the best up-market and low-cost places to stay in Porto:
The Yeatman Hotel (€180 per night)
Regarded as one of Europe's leading wine hotels, this stylish hotel is all things wine. It has a decanter-shaped swimming pool, a cellar with over 25,000-bottles, grape pip treatments at the spa and mesmerising views of the city.
InterContinental Porto (€160 per night)
The monastery turned hotel lies in the centre of Porto's historic district and is the city's accommodation 'crown'. The hotel's charm and diligent staff make it easy to see why it is a five-star hotel.
Flores Village Hotel and Spa (€130 per night)
In the heart of Porto's downtown area, this hotel offers the convenience of a city apartment with the service of a five-star hotel.
Belos Aires Apartments (€60 per night)
Owned by a Portuguese and Argentinian couple, this central hotel offers both attractive apartments and high-quality dining influenced by the couple's heritage.
Yours Guesthouse Porto (€50 per night)
This guesthouse has eight rooms and is located in the heart of downtown Porto. They have very welcoming staff and the rooms are beautifully decorated with white walls, colourful textiles and big bathrooms. They even have a garden.
Gallery Hostel (€20 per night)
Wonderfully decorated with rooms named after local architects, writers and artists, this guest house is more than just a bed for the night.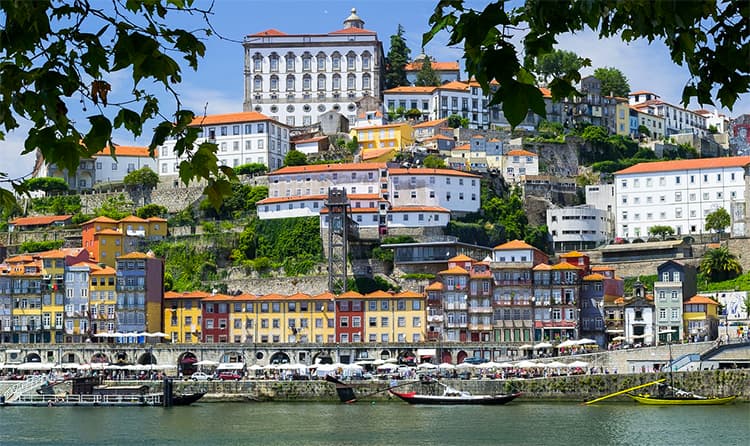 What you should budget for to spend a day in Porto
Taking into account the food and accommodation of Porto, the average spends for one day in Porto is about €100.
Food will cost you around €30 for one day and the average price for a hotel for two is €90. Depending on the purpose of your trip, whether business or leisure, your budget will vary, of course. Overall, the city offers affordable food, drink and public transport.
After reading this guide, we're sure you will understand why Porto has been named Best European Destination three times and is constantly featured on blogs and travel websites as a city to see. We hope to see you in Porto soon!
Have you been to Porto and would like to share some tips? Feel free to leave a comment below.
Also, make sure you subscribe to our newsletter to get notified of the latest tips for your visit or move to Portugal.