Today, we will be talking about using the Portuguese language in many common situations with a few simple phrases to get you started.
We hope this makes it a little easier for those of you who wish to visit or to move to Portugal.
Why speak Portuguese?
Visiting a foreign country and trying to speak the language spoken there shows your respect to the culture, broadens your mind and diminishes the borders between nations.
It is well known that a lot of people all over the world speak English. A lot, but not all, and not everywhere so, it is a must to know some phrases in the language of the country you are planning to visit.
It's always a pleasure to see the smiles of the natives when they hear your efforts trying to speak their language. These are the smiles of delight and respect to you.
So, if you are planning for moving to Portugal but have no idea of any simple phrases in Portuguese, don't worry because we will definitely try to help you with it.
Feel like one of the locals
Portugal is a country of diversity, colour, taste and extremely friendly people. One can't help falling in love with this place from the very first sight. It makes you want to be like the Portuguese, to feel like them and to speak the same way.
You can start speaking a few words and phrases at home, before going to Portugal. It's part of the joy of travelling.
It is important to note that Portuguese is related to many European languages. It's a part of the Western Romance language family. The language of the Iberian Peninsula is close to Spanish, French and Italian. As these languages have a lot in common it will be easier to remember some simple phrases in Portuguese for most of the people all over the world.
Notice that Portuguese has informal and formal ways of saying things. The informal "you" is used when talking to relatives, close friends (buddies), children or animals. The formal "you" is used when talking to someone who is older than you, someone you don't know or someone for whom you would like to show respect.
Here are some phrases in Portuguese which should help you in your travels in Portugal.
We'll start with greetings which is a common place to start in any language.
Greetings
Some basic greetings:
Hello = Olá
Hi = Oi (more informal, to use with close friends, buddies)
Welcome! (to greet someone) = Bem-vindo! (for a man). Bem-vinda! (for a woman)
Greetings can be connected with parts of the day, for example:
Good morning = Bom dia (which literally means "good day," but it´s used mostly before noon)
Good afternoon = Boa tarde (used after noon until twilight)
Good evening or good night = Boa noite (used from twilight until the morning)
If you are planning to keep the conversation going, it's better to ask how someone is doing. For example:
How are you? = Como está? (formal)
How's it going? = Como vai? (more informal)
Is all well? or How are you doing? = Tudo bem? (more informal)
What's new? = Novidades?
And the answers to these questions:
I'm fine, thanks! = Bem, obrigado! (for a man speaking). Bem, obrigada! (for a woman speaking)
Good = Bem
So-So = Mais ou menos
Polite phrases
Good manners will make a positive impression in every culture. To avoid any misunderstandings it is better to know some polite words and phrases in Portuguese:
Please = Por favor
Thank you = Obrigado (for a man speaking). Obrigada (for a woman)
You're welcome = De nada (informal). Não tem de quê (formal)
I'm sorry = Desculpe
Excuse me = Com licença
Asking for directions
Tourists often ask for directions as it is not always clear exactly where the place they are looking for is on their map. So asking people in the street is often more reliable. Here are some examples:
How can I get to the church (shop, street, square)? = Como posso chegar à igreja (à loja, à rua, à praça)?
Where is the museum? = Onde fica o museu?
Where does this train/bus go? = Para onde vai esse comboio/autocarro?
Could you show me on the map? Pode-me mostrar no mapa?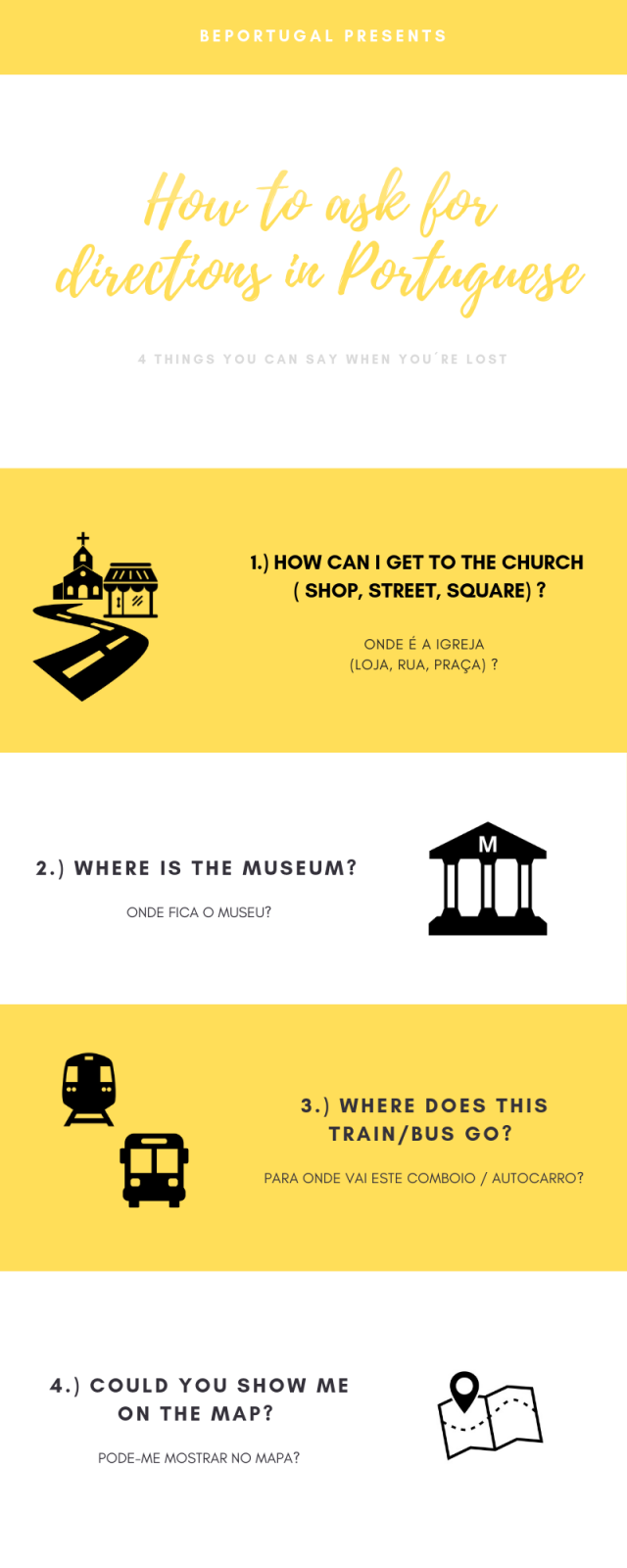 In a café
Lunch in a local café or hotels in Porto Portugal after hours of walking and sightseeing will make your day even brighter. We recommend looking for a place where only the natives prefer to eat where nobody speaks English or any other foreign language and you will have to use Portuguese whether you want to or not. It is a really good cultural experience. Try these phrases:
I have a reservation = Tenho uma reserva
Can you give me the menu, please = Podia dar-me a ementa, por favor.
What do you recommend? = O que recomenda?
One beer, please / Two beers, please = Uma cerveja, por favor / Duas cervejas, por favor
A bottle of water = Uma garrafa de água
How much is this? = Quanto custa? or Quanto custa isto? (more informal)
Where is the bathroom? = Onde fica a casa de banho?
The bill please = A conta por favor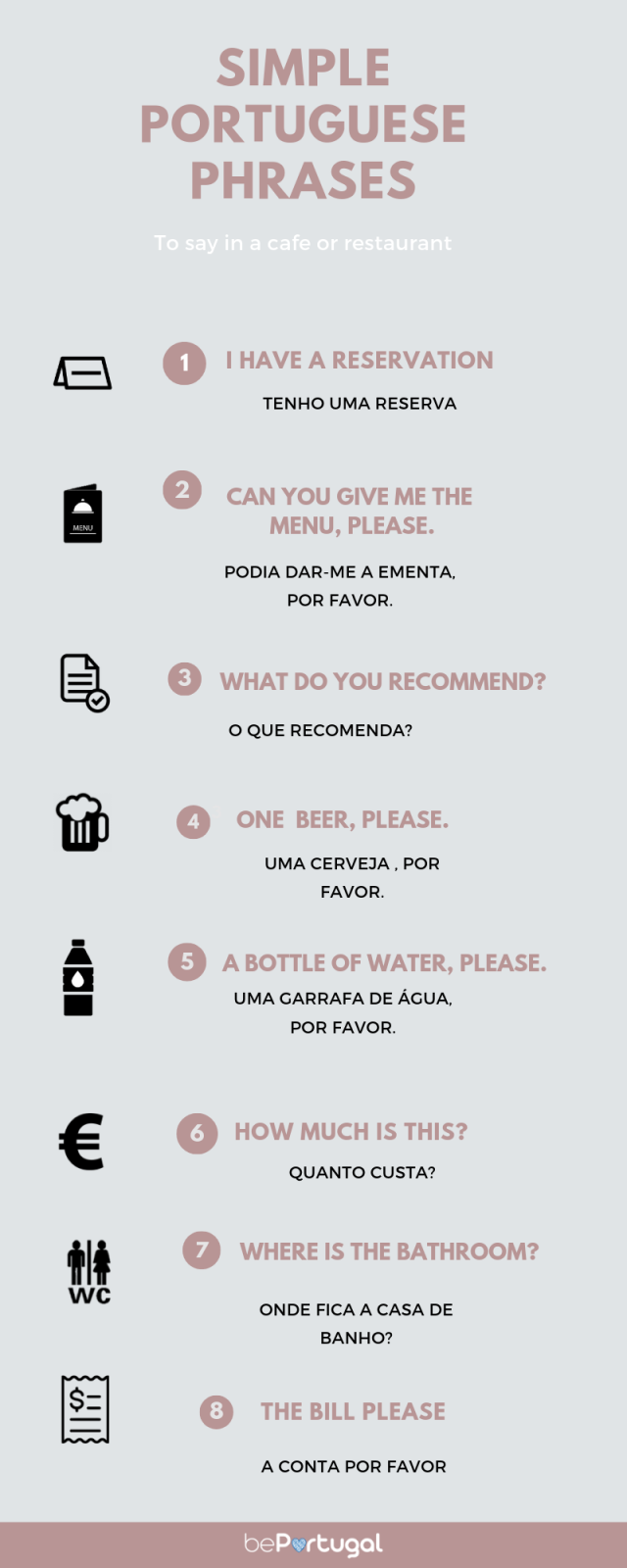 In the shops
Shopping might also be a fun activity during your trip. By "shopping" we mean not only for clothes but also for souvenirs, food and drinks. Here are some useful sentences that you could try in a shop :
I'm just looking, thank you = Estou só a ver, obrigado
May I please have…? = Pode dar-me…, por favor?
What time do you open/close? = A que horas abre/fecha?
Closed = Fechado
Opening hours = Horário de serviço
Where is the fitting room? = Onde fica o provador?
Do you accept a credit card? = Aceita cartão de crédito?
I'd like to pay with cash, please = Gostaria de pagar em dinheiro, por favor
Expensive = Caro
Cheap = Barato
Where is the closest ATM? = Onde fica o multibanco mais próximo?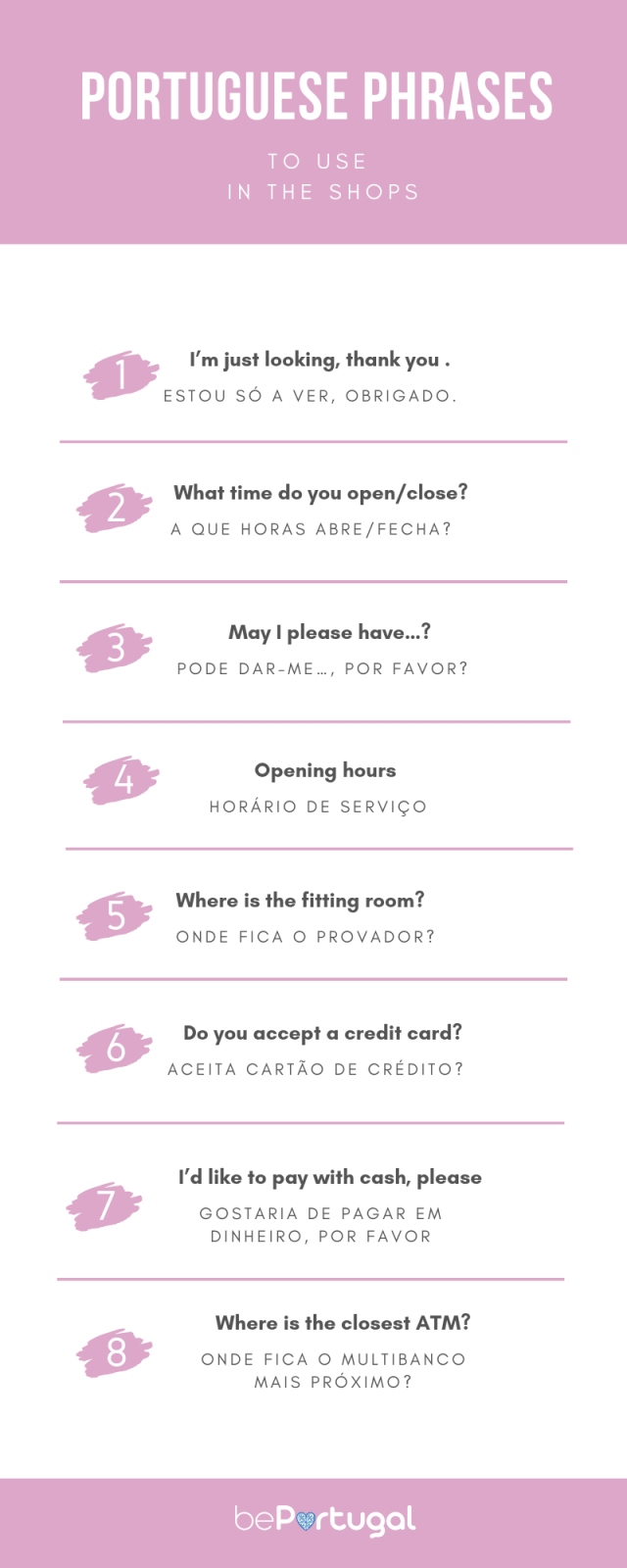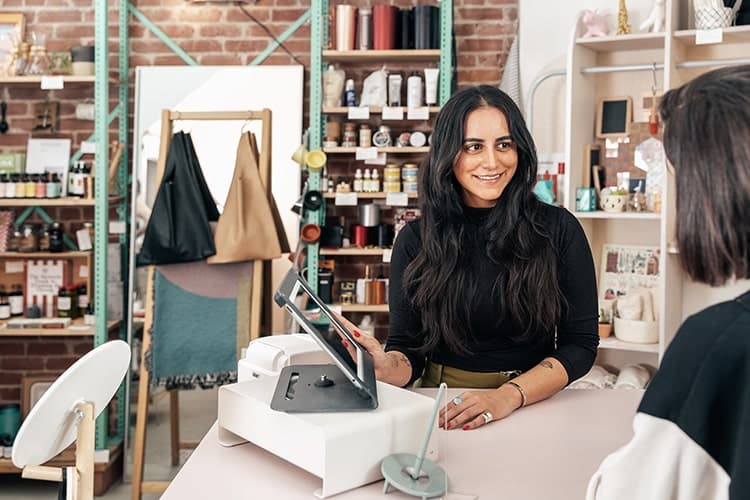 Help and advice
The main rule in learning a new language is: Never be shy to ask for help or advice because it is to be expected that you may not know some words or forget them when you need it. The fact that you are trying to speak a foreign language is impressive in itself so that is why it is also important to know how to ask for help or say that you are not good at Portuguese. These phrases will surely come in handy:
I don't understand = Não compreendo
I didn't understand (what you said) = Não entendi
My Portuguese is bad = O meu português é mau
I need to practice my Portuguese = Preciso praticar o meu português
Please speak more slowly = Fale mais devagar, por favor
Do you speak English? = Fala inglês?
Can you please say that again = Pode repetir isso, por favor?
Speak to me in Portuguese = Fale comigo em português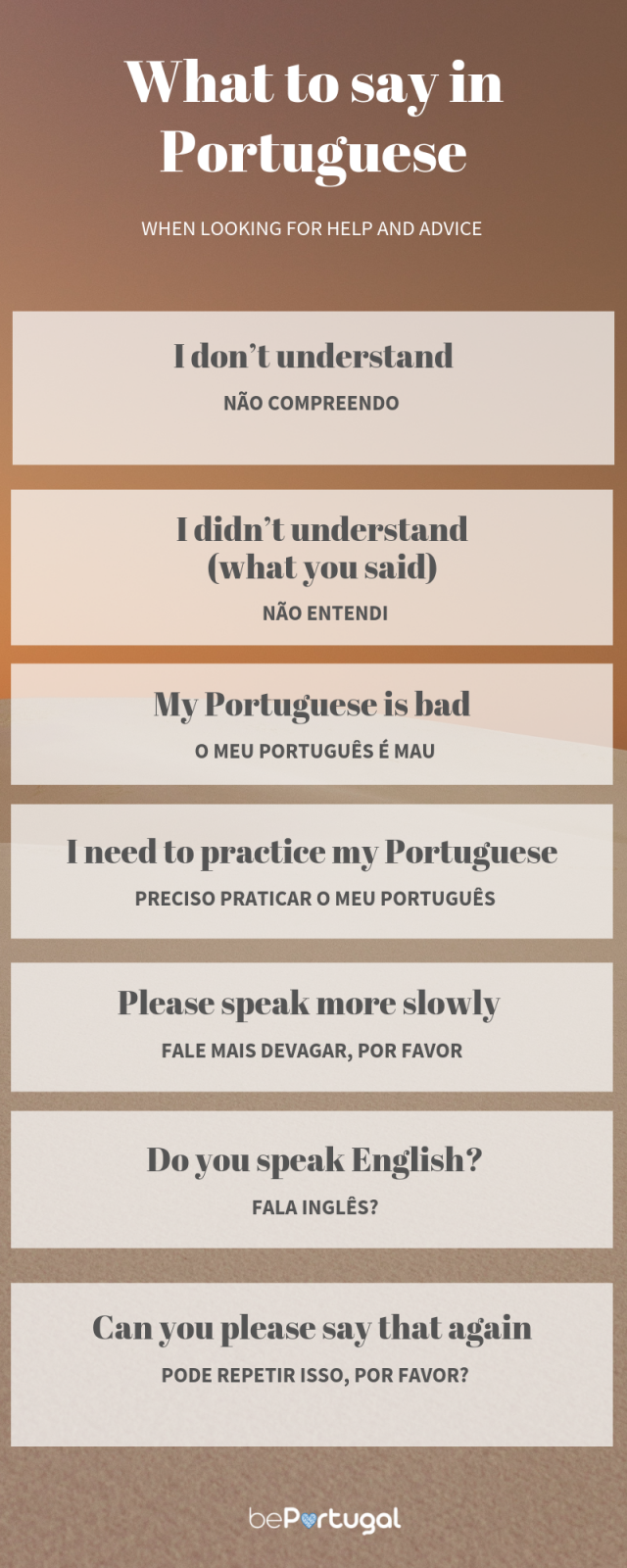 The bare necessities
Other phrases in Portuguese that might be helpful during your stay:
My name is… = Chamo-me…
What time is it? = Que horas são?
I feel sick = Sinto-me mal
I need a doctor = Preciso de um médico
Could I use the phone? = Poderia usar o telefone?
Can you help me? = Pode-me ajudar?
I'm lost = Estou perdido (for a man speaking). Perdida (for a woman)
I must go now = Tenho que ir agora
I'm hungry = Estou com fome
I'm thirsty = Estou com sede
Yes = Sim
No = Não
One = Um (for a masculine object). Uma (for a feminine object)
Two = Dois (for a masculine object). Duas (for a feminine object)
Three = Três
Four = Quatro
Five = Cinco
Let's go! = Vamos!
Goodbye = Adeus
Now you know some essential phrases in Portuguese
Finally, it is important to note that people in Portugal speak English very well, especially the younger generation. Of course, it is always possible to use a translator or a speaking guide to show you the country but, only complete immersion into the culture and the way of life can help you to understand its peculiarities and features. Language is a part of the culture, it's a part of that immersion.
Did you enjoy learning these words and phrases? Do you have any experiences to share? Feel free to leave a comment below.
We publish new content every day so be sure to subscribe to our newsletter to get notified of the latest tips for your visit to Portugal.
You might also like:
10 Things You Should Not Say to a Portuguese Person… Ever!