There is something special about a nice glass of Port wine at the end of a delicious dinner.
There are so many varieties to choose from in Portugal, the home of Port, so we're here today to help you choose something that suits your taste and style.
And remember, a good bottle of Port also makes a great gift!
Let's start with the name. A real Port wine is made only in the Douro Valley in Portugal and is also known as wine from Porto ("vinho do Porto").
All about Port wine
Port wine has a long and fascinating history. For centuries it's been made in the Douro Valley, one of the world's oldest and most beautiful vineyard areas. Though associated with Portugal, it owes its popularity to the British.
Yes, the British!
In the 17th century, the British refused to buy French wine and proceeded to buy Portuguese instead, Port in particular. That was the beginning of an international love of Portuguese wines.
The difference between Port and fortified wines
Port is a fortified wine, which is made by adding a proportion of grape spirit or brandy during the production process.
Fortified wines are produced outside of Portugal in countries like:
Australia
France
South Africa
Canada
India
Argentina
Spain
United States
But only the product from Portugal may be labeled as "Port" or "Porto".
Types of Port wine
Port wine can be red, white, rosé and an aged style called Tawny. Let's take a look at each of their characteristics.
Ruby (Red) Port
Ruby Port is a deeply coloured red Port with the flavours of raspberry, blackberry, cinnamon and chocolate. These are young wines with fresh, fruit-filled aromas. These wines are not expensive. Ruby Ports are consumed young, aged for a total of three years. It is good to have a glass of Ruby Port with blue cheese, milk chocolate and berry-based desserts.
The most popular brands that make Ruby Port are:
Tawny Port
Tawny Port is a very sweet port with nut and caramel flavours and displays a rich, amber color. A Tawny Port is a blend of older vintage wines. The age of the wine is 10, 20 or 30 years.
Tawny Ports come in three different styles: Colheita, Crusted or Indicated Age. A Colheita Port is made from grapes that all share the same vintage year. Crusted Port is an unfiltered one, which needs decanting before serving.
Tawny Ports that are made from grape blends that are older in average age are referred to as Indicated Age Tawny Port.
It is good to taste Tawny Port wine with an apple pie, dried fruit, dark chocolate or cheesecake.
The most popular brands with aged Tawny Port wines are: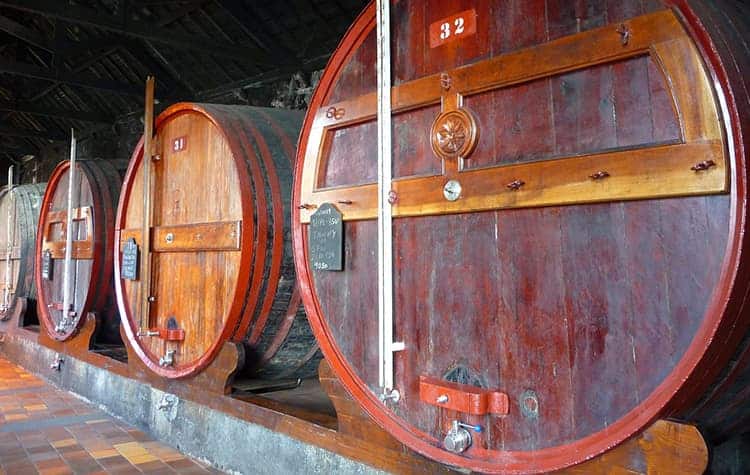 White Port
Made with indigenous white grapes, White Port has a flavour of apricot, sweet baked apple and citrus peel. White Port can be made in both the very dry to semi-sweet styles. It is fruitier and a bit fuller-bodied than other fortified white wines and is often served as an apéritif.
Rosé Port
Rosé Port is a new style of Port wine made like rosé wine with flavours of strawberry and caramel.
Vintage Port
Vintage Port is made with blended grapes, usually from various vineyards, which are all from the same vintage year. The best grapes, from the best vineyards in the best years, come together to create a quality Vintage Port. These wines spend about six months in an oak barrel and then go unfiltered into a bottle for further aging. This aging can last for another 20 years or more.
Vintage Ports represent the upper echelon both in style and cost. Late Bottled Vintage Port is extremely popular in the UK today. It is good to have with almonds and walnuts, chocolate and chocolate-based desserts.
The most popular Vintage Port brands are: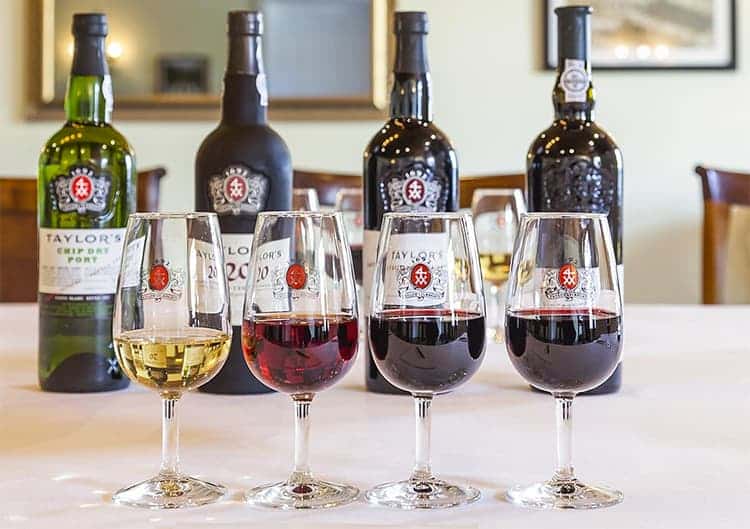 A price range for everyone
Port wines are not cheap if compare with some other Portuguese wines, but it is possible to find reasonable prices. For example, once you are in Portugal, search for some small, independent shops. There you can find a real bargain. There are also some great deals at cellar doors when you visit the vineyards, so you can combine travel and really good wine shopping.
Also, it is useful to look at some online shops as sometimes they have great offers too.
If you are not a wine expert and not a Port expert in particular, it is better to visit some big popular shops where you'll be able to taste the wine. There, the shop assistants will tell you all the necessary information and provide you with all the most important notes on the wines. Garrafeira do Carmo in Porto is one of the best shops like that.
Where can I go for the Port wine experience?
As already mentioned, it is really good to visit some vineyards in and around Porto to see the natural beauty and the way the grapes are grown. Also, you'll get the opportunity to taste the wines and buy something really good at reasonable prices.
There are a number of Port wine cellars open for tours. Here are a few of them where you can't go wrong:
Caves Cálem
Caves Cálem is the most visited wine cellars. It is not just a dark place with lots of barrels where you can taste Port wine. It's an interactive museum, a guided tour in English, Portuguese, French or Spanish (you should check in advance as every hour they do it in a different language); wine tasting, of course, and a Fado show! Soon, they will have one more activity: a 5D film about Port wine!
These caves are at Avenida Diogo Leite 344, Vila Nova de Gaia.
If you are planning to just visit the museum and taste the wines it will cost you Є12 to Є15 (depending on wines you choose). With a Fado Show it is Є21 (but you should also check the dates as the Fado show is not on every day).
Ferreira Cellars
Ferreira Cellars will bring you back to the origins of Portuguese traditions. Built by a family of winemakers in 1751 is has stayed operational all this time. During the visit, you'll learn more about the history of Port wine and the Douro region. And of course, you will taste some very good wines.
You will find these cellars at Avenida Ramos Pinto 70, Vila Nova de Gaia.
The price is from Є12 to Є40 depending on the tour you would like to do.
Taylor's Cellars
Taylor's Cellars will also tell you about the history of Port wine and show you how it was produced then in comparison to modern days. Here you can also taste Port wine up on the terrace while enjoying the magnificent views over Porto.
Taylor's Cellars are located at Rua do Choupelo 250, Vila Nova de Gaia.
The price is Є15.
Further afield
There are a number of tours available from the brands mentioned before or you can have a look at Get Your Guide which offer some great day trips through the Douro Valley.
Port wines are getting popular again
You probably remember your grandmother drinking port after the evening meal and thought it was old-fashioned and stuffy, but today, there is a growing demand to add new flavour varieties to the wine segment. Fortified wines are becoming popular again, which supports the industry of Port wine growing especially in Portugal.
Thankfully, cheap flights to Portugal gives you an opportunity to see this beautiful country and taste its magnificent food and wines.
After visiting Porto and its cellars you will probably have a whole new appreciation for Port wine and its history.
We hope we've convinced you to try out some of these amazing Port wines. Do you have any experiences to share? Feel free to leave a comment below.
We publish new content every day, so be sure to subscribe to our newsletter to get the latest tips for your visit to Portugal.