Imagine beautiful, snow-capped mountains, cozy log fires and the best skiing in Portugal!
Winter is here so if you're looking to escape the big cities in Portugal, then head inland to Serra da Estrela, the country's first and largest national park.
Where is Serra da Estrela?
Serra da Estrela is an exceptional place, expanding over 101,000 hectares (390 square miles) and distributed across six municipalities. It is home to the highest mountain ridge in Portugal with an altitude of almost 2,000 metres (6,562 feet) at its highest point, the Tower ("Torre").
The lowest temperatures in Portugal are recorded here, sometimes reaching as low as -20°C (-4°F).
For skiers and snowboarders, the only ski resort in Portugal is situated in Serra da Estrela and is one of the main attractions for the Portuguese. In winter there is real snow, but even in summer you can ski on artificial snow.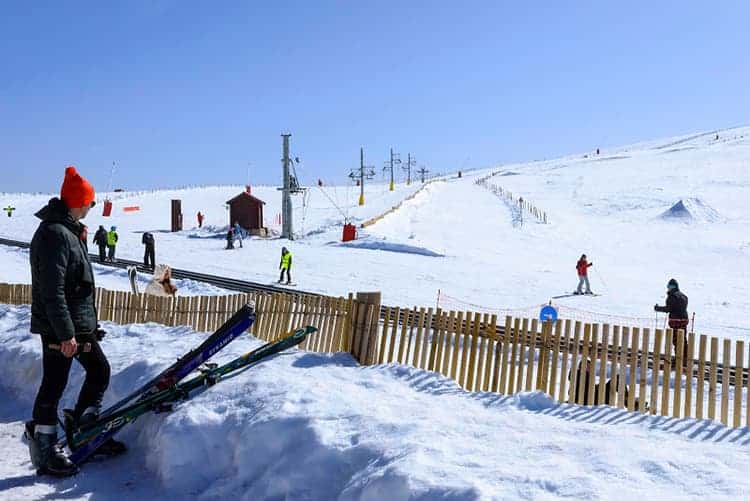 Today, we will provide information on things to do in Serra da Estrela, how to get there, accommodation options available and weather in Portugal.
Top 10 things to do in Serra da Estrela
1. Ski!
As mentioned, skiing is the main attraction in Serra da Estrela for the locals. It is one of the only places in the country that receives snow, making it a novelty for locals and tourists. The ski resort, Estância de Ski da Serra da Estrela (website is in Portuguese), is open every day from November to April and offers runs for all experience levels, beginner to advanced.
2. Climb up the Tower ("Torre")
The Torre is the highest point on Estrela mountain, from here you can soak in the magnificent views of the countryside, admire the mountain slopes, and appreciate reaching the highest point in Portugal.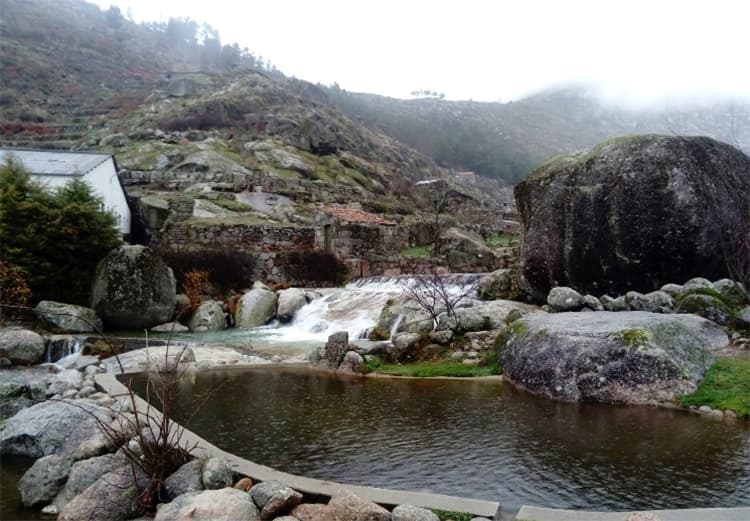 3. Visit Covão dos Concho
This is a curious site and one of the most natural and mysterious wonder in Serra da Estrela. The Covão dos Conchos is a waterfall-like hole in the middle of the Lagoa Comprida lake. The hole was created in the 1950s to direct water from the Ribeira das Naves to Lago Comprida. It is possible to visit this by foot, but we recommend taking extreme caution and doing your research beforehand.
4. Walk the nature trails
The Serra da Estrela boasts a large network of signed walking routes, which cover the entire national park. There are three main trails, which each take between three to four days to complete. These trails are considered moderately difficult to difficult and there are some steep climbs and long distances involved – be prepared.
5. Explore the local villages
There are some small local towns nearby Serra da Estrela, which are worth visiting if in the area. There is Piódão, which lies on the southern edge of the national park; it is a charming, historic village with stone homes and ancient roads.
There is also Guarda, located in the northeastern side of the park which, in the past, has even helped protect Portugal from European invasions.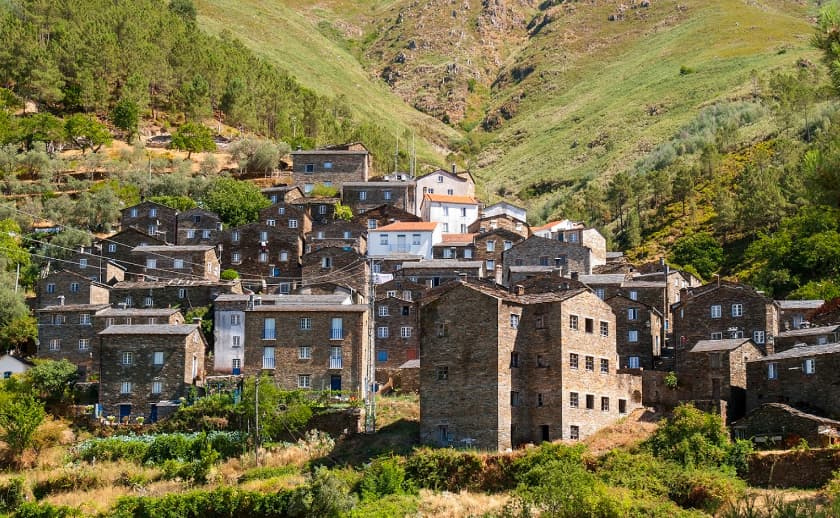 6. Visit the Bread Museum
Situated in the city of Seia, at the north slope of the national park, is a museum ("Museu do Pão") (website is in Portuguese) dedicated to the traditions, history and art of Portuguese bread. Inside you will find four exhibition spaces and a restaurant serving all forms of Portuguese bread baked fresh in their bakery.
7. Taste and buy Serra da Estrela cheese
Seia is also home to its very own type of cheese, "Queijo de Ovelha de Seia", which is a strong, creamy, sheep cheese. It is a local favourite, but its flavour may not suit people who prefer mild cheese.
8. Drink fresh water from the river!
As in many regions where there are natural falls, it is safe to drink water from the river in Serra da Estrela.
9. Buy some local souvenirs
The region produces woollen socks or contemporary design pieces which are made from Burel, a traditional Portuguese woollen fabric.
10. Admire the wildlife
Take advantage of being immersed in one of Portugal's most natural landscapes by observing the diversity of plant and animal life. There are plenty of birds and flocks of sheep herded by Estrela Mountain dogs.
How to get to Serra da Estrela from Lisbon
There are three ways to get from Lisbon to Serra da Estrela: Train, bus or car.
The journey by train, run by Comboios de Portugal (CP), will take around four hours from Santa Apolónia to Covilha which you can then take a taxi to Serra da Estrela (25 minutes) and total costs will be between €36 and €60.
There are two bus companies that make the journey to the mountain:
Citi Express  (website is in Portuguese)
Time: Approximately four hours travel time from Sete Rios to Covilhã and a taxi can take you to Serra da Estrella which takes around 25 minutes.
Total cost: €32 to €41.
Rede Expressos
Time: Approximately six hours travel time from Sete Rios to Loriga and a taxi can take you to Serra da Estrella which takes around 23 minutes.
Total cost: €37 to €48.
By car, the drive from Lisbon takes around three hours as it's around 300km (186 miles) towards the north east.
Our recommended mode of transport from Lisbon is to take the bus; it is the cheap and quick method, and also means you can sit back and relax.
How to get to Serra da Estrela from Porto
To get to Serra da Estrela from Porto, there are three methods to choose from: Bus, train or car.
The Combois Portugal (CP) train takes roughly four hours to Nelas with a change in Coimbra. You can then take a taxi from Nelas to Serra da Estrela which takes about 50 minutes and total costs will be between €50 and €70.
The two bus companies are:
Citi Express (website is in Portuguese)
Time: Approximately four hours from Campo 24 de Agosto to Covilhã and then by taxi to Serra da Estrella which takes around 25 minutes.
Total cost: €30 to €40.
Barquense coach travel via Viseu
Time: Approximately five hours from to Covilhã with a stop in Viseu and then by taxi from Covilhã to Serra da Estrella which takes around 25 minutes.
Total cost: €40 to €56.
Alternatively, to drive from Porto, the journey will take around two hours.
If you would like to take the hassle out of your trip, we also recommend a guided tour to Serra da Estrela with Get Your Guide. It's cheap and great fun.
Weather in Serra da Estrela
When visiting Serra da Estrela, you must always be well prepared for the weather. In winter, the temperature can reach well below 0°C (32°F) and it snows. Sometimes strong winds can occur without notice.
The summer is a different story, often the days will be warm but the nights very cold.
Expert tip: Always bring warm clothing, no matter the season.
Where to stay in Serra da Estrela
There are many easy accommodation options for a range of budgets in Serra da Estrela. Staying in the mountains tends to be a bit more expensive than the cities, because there are less options.
Here are a few hotels we suggest staying at:
Pousada da Serra da Estrela (€115 per night) is located inside the national park in Covilha, you will have breathtaking views of snow-capped mountains or the greenery of the highest mountains. At the Pousada, you will be treated to a spa with sauna, Turkish bath and a heated indoor swimming pool, free parking, restaurant and a bar, and games room – perfect for the kids.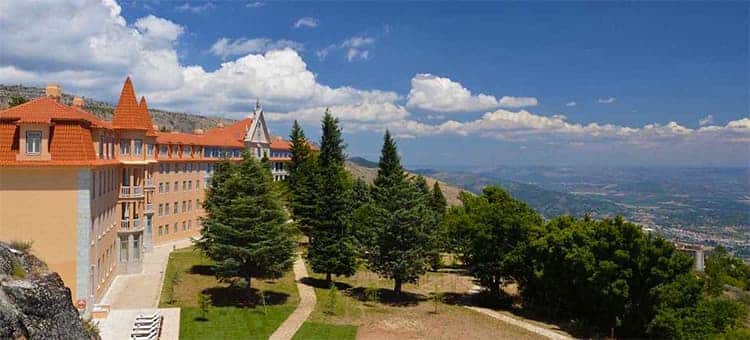 H2otel Congress and Medical Spa (€150 per night) is the perfect combination of a big mountain hotel combined with traditional Portuguese elements. The hotel features 90 rooms with stunning views of the Alforfa Glacial Valley and the southwestern slope of Serra da Estrela. It also offers meeting, banquet and lounge rooms, a restaurant, media center, gym and games room.
Purala Wool Valley Hotel and Spa (website is in Portuguese) (€70 per night) is also located in Covilha and features 100 guest rooms with impressive views of the mountain side. It offers a full-service spa, perfect for those wanting to relax, a restaurant and bar, indoor and outdoor swimming pools, health club, childcare and business centre.
Luna Hotel Serra da Esterla (€70 per night) is just 10 minutes drive away from the ski resort. They provide a ski school and year-round sporting activities. Rooms are traditionally decorated and equipped with modern amenities. There is a Medieval restaurant which offers regional wine and local spirits. They also offer the convenience of childcare services and playgrounds.
Is Serra da Estrela worth visiting?
Yes! In the summer or winter months, mainland Portugal's highest mountain and surrounding national park is the ideal place to immerse yourself in nature. Serra da Estrela offers unique opportunities for hiking and climbing, unlike many other regions in Portugal.
For lovers of sport and adventure or those simply wanting to take a break from city life, then yes, take a trip to Serra da Estrela!
Have you been to Serra da Estrela? We would love to hear what you think. Leave a comment below.
Don't miss a thing from bePortugal. Subscribe to our free newsletter today.