The city of Lisbon has rightly gathered a reputation as being one of the hippest cities in Europe, however, the Portuguese cuisine remains to be unknown.
Rest assured, Lisbon's food scene is just as exciting as the city's nightlife, trams and quirky charm.
Here is my guide to the best restaurants in Lisbon, divided by types of cuisines.
Lisbon restaurants
From high-end food courts in Lisbon to delicious traditional Portuguese food. From healthy veganism to tender and juicy steaks, and amazing wines. Portugal has a little something for everyone.
Popular Portuguese Food
In Portugal, there is no way around it. The local cuisine here is an essential part of the culture and if you really want to know the country, you will have to eat your way to it.
I have spent almost a year in Portugal, and it brought me so much – including the few extra kilos I have gained visiting all the local cafes, bakeries and restaurants.
The Portuguese custard tarts
But there is one dessert you need to know: the famous Portuguese custards (pastéis de Nata)!
Virtually every step you take here leads you to a bakery (something between a bakery, a cafe and a pastry shop). And every bakery you walk into you will find this Portuguese national dessert.
So what is a pastel de nata? Well, it is like a small custard tart with a soft creamed yolk, served strictly fresh, warm and buried in cinnamon.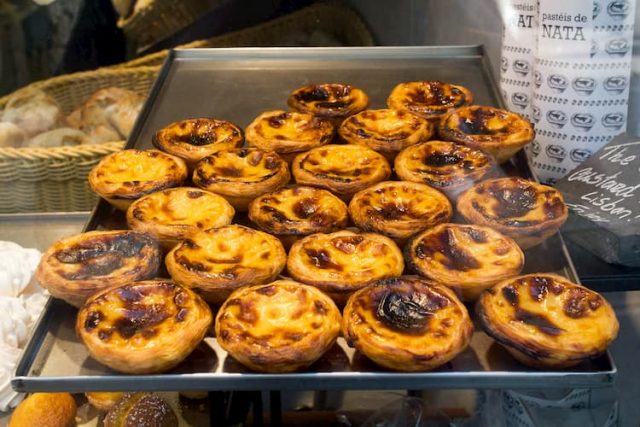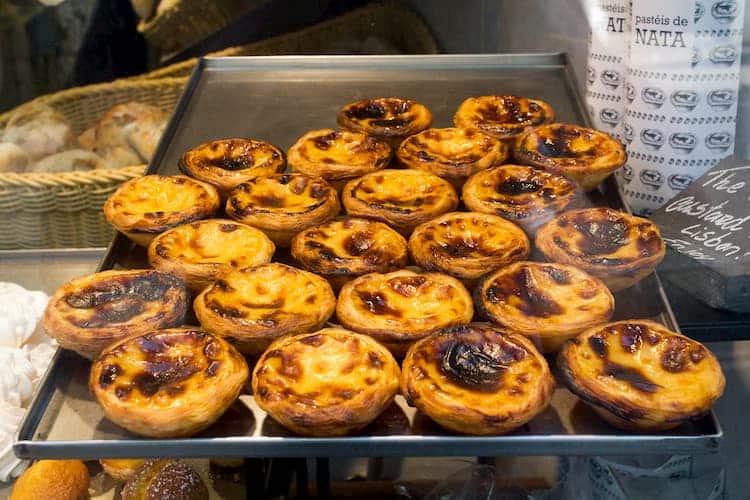 The most well-known, crunchiest and best you can find is in Belém, in a store called Pastéis de Belém, which is impossible to miss.
But people don't just live on sweets alone, and in this respect, Portugal has a lot to offer.
Find out about this and other very typical Portuguese snacks on our Snack Food in Portugal article.
The Lisbon Restaurant scene
Portuguese food might not be as renowned as French or Italian, but that doesn't mean it isn't good. On the contrary, you don't have to dig too deep into your pockets.
In Lisbon, it is possible to find restaurants and taverns where you can get soup, a delicious main meal, wine, dessert and coffee for €10-15.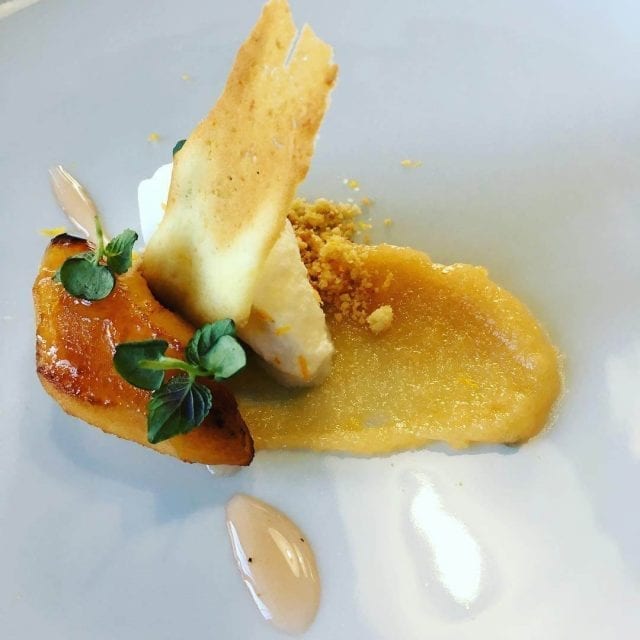 Curious about Portugal's cost of living you can find out about it in our article.
In Lisbon, you will also find the salty stars of Portuguese cuisine such as the popular pastéis de bacalhau which are described as salty codfish cakes. As a Portuguese would say, there are more recipes for cod than days in a year.
These savoury cakes are golden and crusty on the outside and soft and delicate on the inside. They are served as an appetizer or even as a snack with beer.
Another dish you will find is "bacalhau com Natas" which is baked codfish with potatoes and cream. As I mentioned above, there are countless recipes for cod as it is the Portuguese national dish. Find out how to cook them here.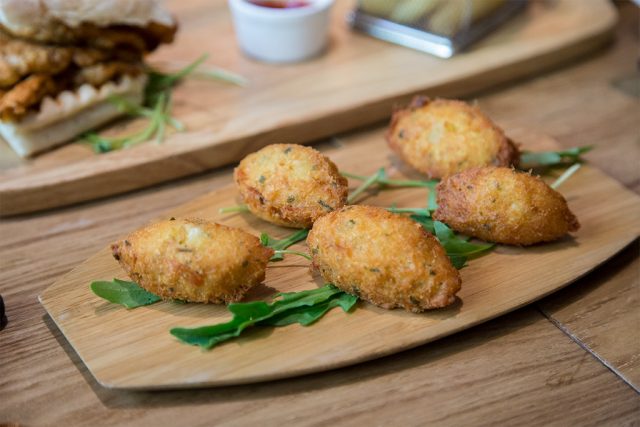 The most typical dish consists of pieces of dried and salted cod, baked with potatoes, onions, cream and spices. It is not the most photogenic food, but according to reviews, it is a real treat.
If you're curious about the most typical Portuguese food you can read all about it here.
Lisbon restaurants
Here are some of the top restaurants in Lisbon – some new and some old, that you won't want to miss out when you're visiting the city.
Several restaurants in Lisbon offer traditional Portuguese food.
But even though the traditional cuisines are mainly meat and fish-based, don't be discouraged as there is always something for everyone with different tastes, including several vegan and vegetarian restaurants available.
Traditional Portuguese Restaurants in Lisbon
I've selected a mix of the most expensive restaurants together with a cheaper price range. All of these restaurants have on offer one thing in common, amazing food.
1. Belcanto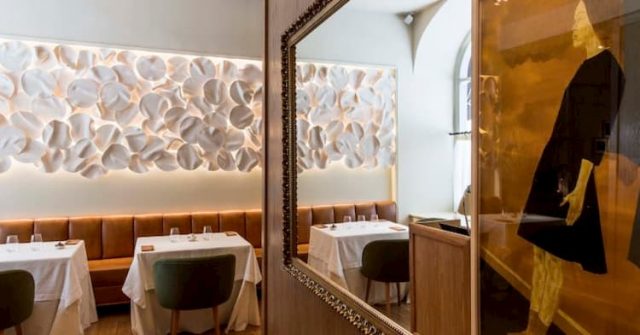 Combining the traditional and the avant-garde, Belcanto is over a decades-old restaurant in Lisbon's Chiado that was transformed into a gastronomic laboratory for Portuguese cuisine by the famous Jose Avillez.
His creative energy and cutting edge take on classical flavours is the key to the ever-changing menu and reveals the depth of Portuguese cooking beyond the typical tourist staples.
The highlights from Belcanto includes the "Skate Jackson Pollock", which is a delicious seafood dish that is presented in the style of the late Abstract Expressionist; and an Inverted Martini, in which the traditional cocktail is turned inside out and upside down.
Average Price: Price range €60-€135
Address: 10 Largo de São Carlos, Lisboa, 1200-410, Portugal
Contact: +351 213420607
Website: www.belcanto.pt
2. Cantinho Lusitano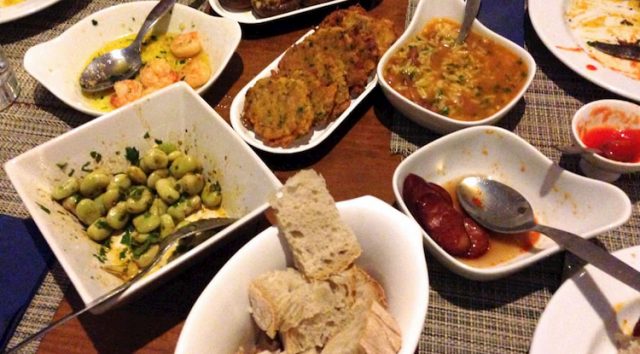 Cantinho Lusitano is not easy to find as it is tucked away on a side street in Príncipe Real, but it is definitely worth going if you want to get a taste of traditional Portuguese food.
The delicious, reasonably priced Portuguese tapas is the main appeal of Cantinho Lusitano, and the wide range of dishes they offer is quite astonishing.
The restaurant features an ever-changing menu catering a random selection of different dishes, including pica-pau (strips of beef with special sauce and fried sweet potatoes), semi-cured goat cheese with pumpkin honey and rosemary.
Meat rolls with mint and Greek yoghurt sauce and grilled chorizo sausage with muscatel sauce are also other dishes on offer. Definitely, a place if you want to try a variety of Portuguese dishes with affordable prices.
Average Price: Petisco dish (tapas style) from €5
Address: 52 Rua dos Prazeres, Mercês Lisboa, Portugal
Contact: +351 218065185
Website: www.cantinholusitano.com
3. Estrela Da Bica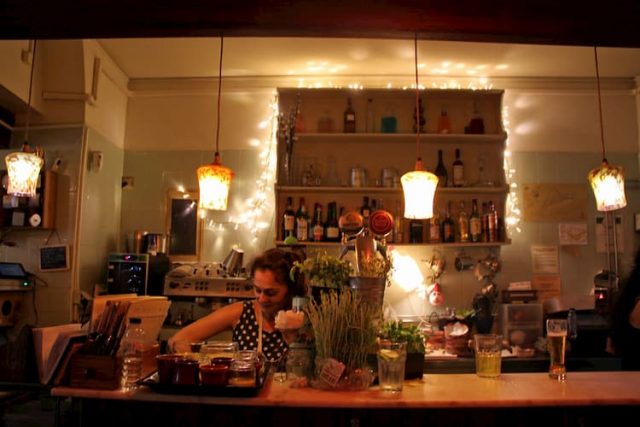 What makes Estrela da Bica a highlight of any visit to Lisbon? It has a low key, bohemian atmosphere.
The restaurant manages to be innovative and creative without ever being pretentious, and the bistro-like ambience offers a particularly rustic dining experience.
The food is a nice mixture of Portuguese and Brazilian styles, with the occasional fusion twist thrown in; the 'Dim Sum of the Day', a fried ravioli dish, being a particular highlight.
Other recommended dishes include the salmon carpaccio and the fried sea bass with rice noodles; the ever-changing menu means a visit to Estrela da Bica will always offer some culinary surprises.
A great choice to those who are adventurous!
Average Price: Approximately €15
Address: 33 Travessa do Cabral, Lisboa, 1200-073, Portugal
Contact: +351 213473310
Website: www.zomato.com/estreladabica
4. Alma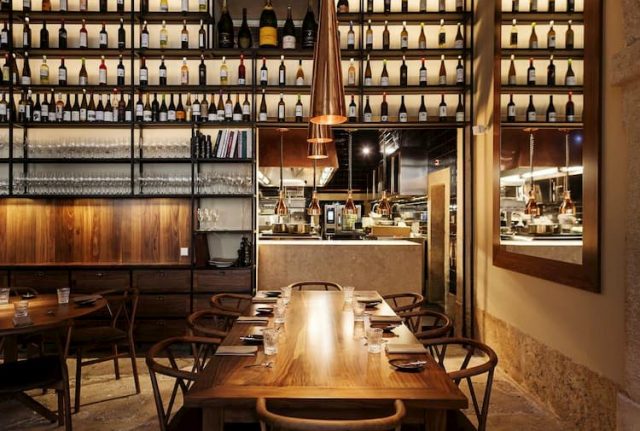 Now located in Chiado, the restaurant is set up in an entirely new kind of space: a wood-lined dining room in a refurbished building from the 18th century.
The year after the big makeover, Alma won its first Michelin star, with its fine dining restaurant and signature cuisine that is served informally in a sophisticated ambience.
For Henrique Sá Pessoa there is only good cuisine and bad cuisine. He still cooks some of the best foods in Lisbon at an excellent value for money and considers his style as a refined taste, perfect technique and excellent product.
The basis of his culinary philosophy is in his influences and references as he travels around the world with the passion for Asia, the knowledge of traditional Portuguese cuisine and the life in Lisbon.
For me this restaurant as one of the best Portuguese cuisine but on a completely different level without losing sight of what is important, the taste.
Few of the most standout dishes include charred red peppers in an exquisite red-pepper coulis and suckling-pig that will bring you to your knees.
Average Price: Approximately €40-€50
Address: R. Anchieta 15, 1200-224 Lisboa, Portugal
Contact: +351 213470650
Website: www.almalisboa.pt/en
Steakhouse Restaurants in Lisbon
I love a good steak so of course, I had to go and explore the best steakhouses in Lisbon, here are my favourites.
5. Sala De Corte
Sala de Corte would have to be the best steakhouse in the city, and I am not just saying that.
It is one of the best restaurants I've been to here in Portugal and if you like beef you should really book a table here. Pricier than other restaurants around, but when they say you get what you pay for, you really do get what you pay for and you won't be disappointed.
Sala de Corte specializes in grilled dry-aged meat, with a unique cooking method that gives an authentic flavour that you will never forget.
Perfect for a romantic date night, or a special family dinner, Sala de Corte is located in Cais do Sodré with an ambience that is quite relaxed but intimate.
If you love a thick tender steak, book a romantic dinner night with your partner at this luxurious restaurant. It will definitely be a night you will never forget.
Average Price: Approximately €60 for two people
Address: Praça Dom Luís I 7, Lisbon 1200-148 Portugal
Contact: +351 213460030
Website: www.saladecorte.pt
6. RIB Beef and Wine
Trendy and cosmopolitan, RIB Beef and Wine is the ideal place for business or dinner with friends as well as a great nightspot.
In the main menu, look out for "Tomahawk ribeye steak" which has been matured for 28 days, and gives a pronounced flavour without being too strong.
Also, try the "Chateaubriand" which is a premium section of the loin with an elegant and sophisticated flavour; and the slightly marbled "RIB Eye" which is quite juicy with good depth of flavour.
Not only does RIB Beef and Wine have delicious steaks, but they also have other dishes such as Cecina and red cabbage salad with balsamic and honey, beetroot risotto with roasted pine nuts and green apple, or the hamburger with S.Jorge cheese.
Definitely, a restaurant to dine in if you're in for a big treat.
Average Price: Approximately €60 for two people
Address: Praca do Comércio, 31-34, Baixa, Lisbon 1100-038
Contact: +351 968578962
Website: RIB Beef & Wine
7. The Club Steakhouse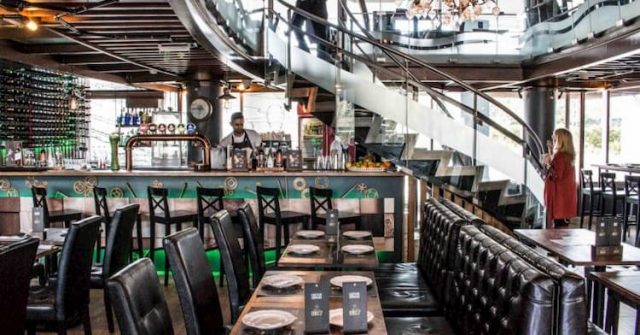 The Club Steakhouse is located on the roof above the Almedina Bookstore in Parque das Nações and innovates the steakhouse concept by the variety of dishes available on its menu.
Popular dishes are the Beef Wellington and Chateaubriand, as well as its exclusive seasonings and sauces, which add a unique flavour and succulence to its meat dishes.
The Club Steakhouse offers 2 terraces, one at its facade and another at the rear of the restaurant, with seating capacity for 120 people and a further 100 places in the interior, divided between the ground floor and the first floor.
Provides great food, great ambience and excellent service for those who love steaks.
Average Price: Approximately €50 for two people
Address: Avenida Dom João II, 35, Edifício Infante, Piso 3, Parque das Nações, Lisboa
Contact: +351 212482106
Website: The Club Steakhouse
8. Atalho Real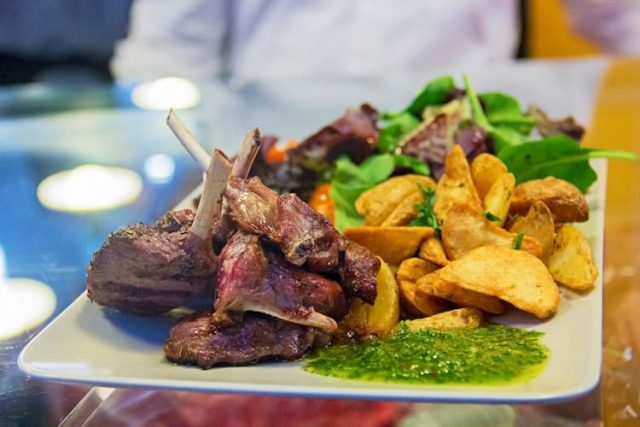 Located in the antique palace Embaixada in Príncipe Real is this old palace kitchen that was transformed into a charming restaurant with a garden overlooking Lisbon's Botanical Garden.
Atalho Real is another heaven on earth for all meat lovers, where they can choose between a variety of unique fresh meat cuts from all over the world such as the Scottish Picanha, American Black Angus or Bavarian Dry-Aged Rib Eye, just to name a few.
If you like steak for a reasonable price then this is a must and is not a touristy restaurant in any way. This would have to be one of the most impressive steakhouses I've ever been to in Portugal and has quite a nice ambience in the dining room.
The restaurant also has a selected wine list of excellent Portuguese wines, as well as top-notch cocktails that are prepared with love.
The staff are very friendly and accommodating, with a beautiful design and great atmosphere.
It gets really busy at night so make sure you book ahead if you don't want to be waiting around for a table.
Average Price: Approximately €45 for two people
Address: Calçada do Patriarcal, 40, Príncipe Real, Lisboa
Contact: +351 213460311
Website: www.grupoatalho.pt/atalho-real/
Top Asian Restaurants in Lisbon
If there's one cuisine we have abundantly in Portugal, that cuisine is Asian. Try going to some of the most trendy restaurants, they're really good.
9. Boa Bao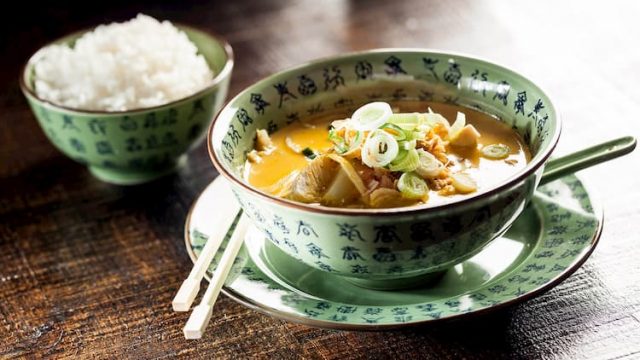 The theme of this restaurant is one of adventure and exploration, so going to Boa Bao for a special lunch with two friends would make you feel like an adventure together!
Unlike the previous restaurants mentioned above, Boa Bao is a restaurant with a unique Asian concept located near Bairro Alto in Lisbon.
Established in late March 2017, Boa Bao will take you on a culinary journey through countries such as Thailand, Vietnam, Laos, Cambodia, Indonesia, Philippines, Malaysia, South Korea, China or Japan.
With a decor inspired by the 1920s Saigon, it has a cocktail bar with options such as Singh Beer and a terrace right in front of the square, along with a relaxed and always lively atmosphere.
Average Price: Approximately €45 for two people
Address: Largo Rafael Bordalo Pinheiro 30 1200-369 Chiado, Lisboa
Contact: +351 919023030
Website: https://en.boabao.pt/
10. Ori Asian Food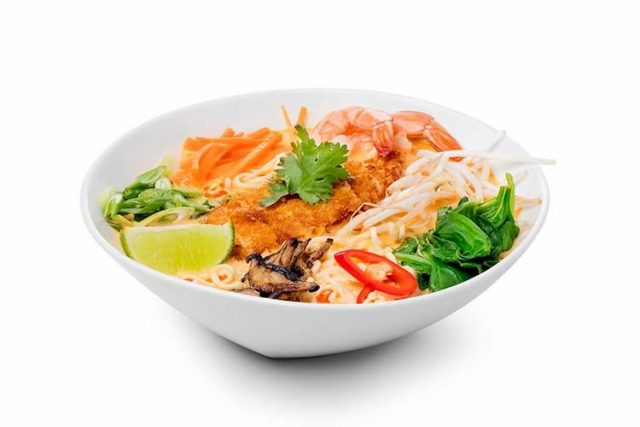 Ori Asian Food is a small outlet located in the dining area of Colombo Mall in Lisbon.
It offers great Asian food with a mix of authentic flavours and is based on the preparation of meals from six of the most important countries in Eastern cuisine: India, Japan, Thailand, Vietnam, Korea and Indonesia.
Their focus is to provide differentiated and tasty meals that are fast and superior in quality at affordable prices.
They are always prepared and served accordingly to tradition, by a very professional, dynamic and motivated team, in order to exceed the expectations of their customers.
Even though the restaurant is a small outlet in a food court, it will bring you a positive surprise with the excellent presentation of fresh ingredients and great flavours. I suggest you try some of their dishes if you are at the mall.
Average Price: Approximately €20 for two people
Address: R. Albert Einstein, 1500-313 Lisbon
Contact: +351 932472979
Website: http://oriasianfood.com/
11. Yakuza First Floor
If you want to have the experience of enjoying a fusion cuisine between the east and west, then I really think you should visit Yakuza First Floor.
I, myself, am not a fan of sushi and seafood but I have heard about this restaurant and it has scored high ratings with great reviews.
Yakuza First Floor offers exclusive dishes that blend the best that the East and West fusion can offer. You may enjoy a creative, eclectic and first-rate menu in the sushi bar or at a table that overlooks the garden.
From sushi to sashimi, either traditional or reinvented, from makizushi and gunkans to tempuras, from pasta to sauté, there is nothing that is missing from this menu.
And you will also lose yourself in the offerings from the robata, the Japanese grill.
Average Price: Approximately €20 for two people
Address: Rua da Escola Politécnica 231, 1250-096 Lisbon
Contact: +351 934000913
Website: restaurantesolivier.com/en/yakuza/
Top Italian Restaurants in Lisbon
12. Come Prima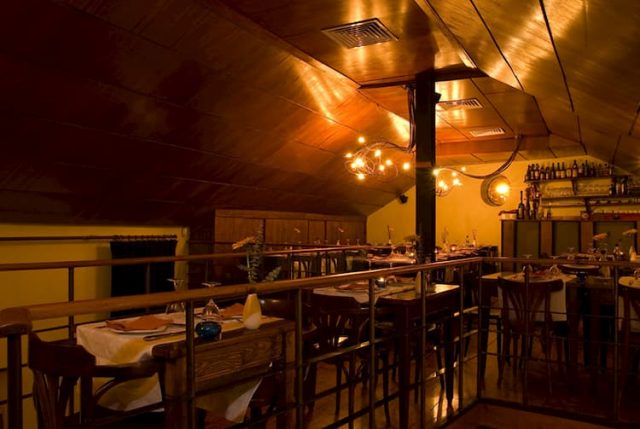 Come Prima is considered to be the best Italian Restaurant in Lisbon with 4.6-star ratings.
While on a block away from the busy Infante Santo, Come Prima is a drop of sunshine with very good quality of food.
It offers the best-loved traditional Italian dishes and is a mandatory reference for lovers of Italian cuisine.
Being tucked away on Rua do Olival (not far from the Museum of Classic Art), Come Prima offers a cosy space with a romantic atmosphere.
It is the ideal place to enjoy excellent freshly homemade pasta dishes, a variety of starters and not to mention the wood-fired oven pizzas with a selection of top-quality ingredients that are always fresh.
And not to mention the large variety of national and international wines to finish off as well as the refined and tasty selection of desserts that brings you the most special flavours of Italy.
Average Price: Approximately €55 for two people
Address: Rua do Olival 258, 1200-744 Lisbon
Contact: +351 213902457
Website: http://www.comeprima.pt/
13. Forno d'Oro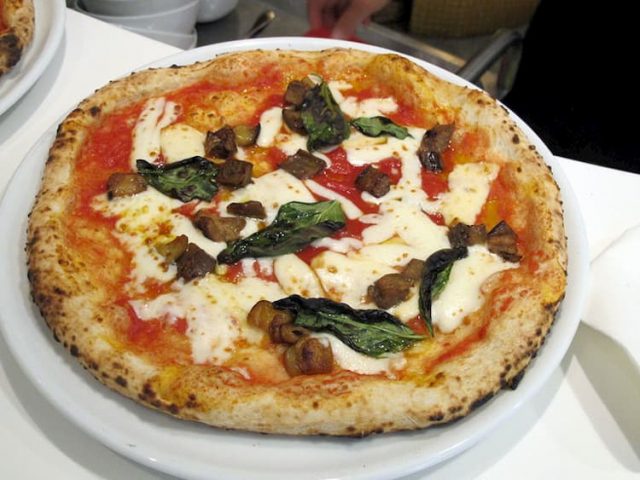 Forno d´Oro stays true to its name as Lisbon's most serious pizzeria.
The burrata and buffalo mozzarella is flown in daily from Italy, and pizzas feature PDO-protected ingredients from the motherland (parma ham, Culatello di Zibello salami).
There are seasonal specials that will shake up your taste buds, such as the San Marzano tomatoes, fior di latte, nettle pesto and acorn-fed Porco preto.
The authentic Neapolitan pizza is prepared in a masterpiece – a wooden oven made of volcanic rock that is lined with gold.
This oven brightens the luminous space, which also has colourful Siena dishes as decorative pieces. Each pizza is made with fresh Portuguese and Italian ingredients combined.
To accompany the pizzas, why not enjoy one of their craft beers with a variety of choices from Portugal, Italy and other parts of the world.
Average Price: Approximately €50 for two people
Address: Rua Artilharia 1 16b, 1250-039 Lisbon
Contact: +351 213879944
Website: www.fornodoro.pt/
14. Casanostra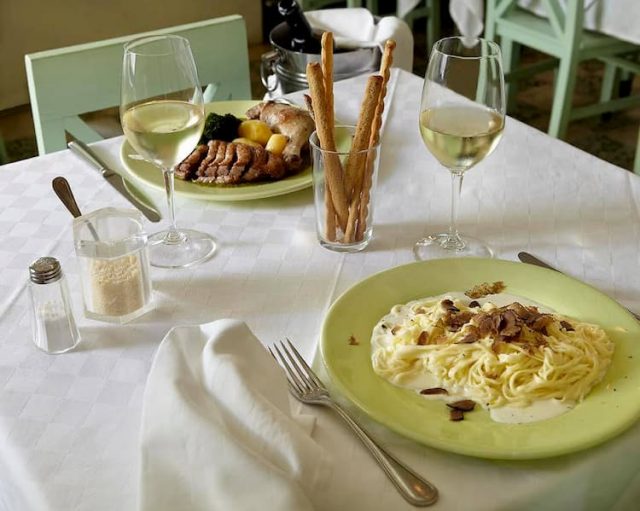 The same amount of years that have passed and have deteriorated Bairro Alto, has left the Casanostra unharmed.
This little restaurant was opened by Maria Paola Porru who knew what she was doing.
The atmosphere of the space looks fantastic with it decorated in her grandmother's kitchen style that still remains charmed and great service after 31 years.
If you want to eat something else other than Portuguese food and you're keen for some tasty authentic Italian food in Lisbon, I highly recommend you to try this place.
From pasta to pizzas, wines and desserts, they serve high quality and freshly made dishes that you will not regret. The service is also very excellent and provides free internet access.
Average Price: Approximately €50 for two people
Address: Tv. do Poço da Cidade 60, 1200-043 Lisbon
Contact: +351 213425931
Website: www.casanostra.pt/
Top French Restaurants in Lisbon
I am a big fan of French cuisine and you can try some really nice food while in Portugal. Check out some of the restaurants I've tried so far.
15. Varanda Restaurant
Anyone familiar with Four Seasons is surely accustomed to the brand´s consistent commitment to great service and luxury. The terrace overlooks the Eduardo VII Park which is just as impressive as the cuisine here.
The dining room is similarly decked out as the hotel's lobby with beautiful large floral centrepieces, a large rolling cart filled with jewel-like sweets, and chandeliers.
When you read the menu, which includes an extensive buffet at lunchtime and more gastronomic dining in the evening, the cuisine is French but some dishes are inspired by Portuguese flavours.
Average Price: Approximately €75
Address: R. Rodrigo da Fonseca 88, 1099-039 Lisboa, Portugal
Contact: +351 213811400
Website: www.fourseasons.com/lisbon/dining/restaurants/varanda_restaurant/
16. La Brasserie de L´Entrecôte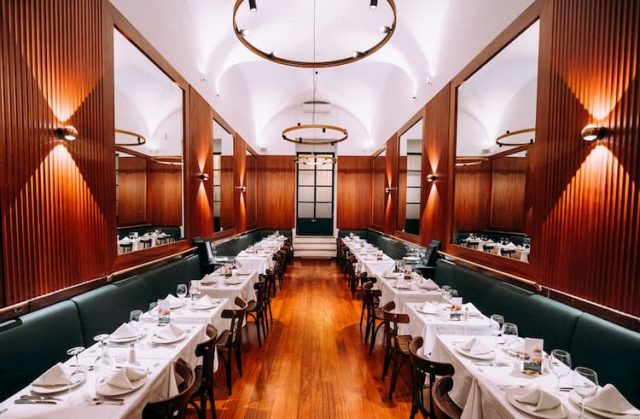 If you are adventurous and are looking for a restaurant that is one of a kind, dine in at Brasserie de L'Entrecôte.
The concept of this restaurant was inspired by the famous Café de Paris in Geneva bringing good taste and looseness together with a touch of Bohemia engaging you in conversations and complicity.
There a five Brasserie de L'Entrecôte restaurants in the country, four in the Lisbon area and one in Porto; that provides you with a reserved and warm environment that is ideal for all different meals, such as a business lunch, friends' gathering or a romantic dinner.
However, the menu never changes and is quite simple and super delicious.
Average Price: Approximately €65
Address: Rua do Alecrim, 117/121, Chiado, Lisbon
Contact: +351 213473616
Website: www.brasserieentrecote.pt/
Vegetarian restaurants in Lisbon
There's no shortage of vegan and vegetarian restaurants in Lisbon but here are some of my favourites.
17. Ao 26 – Vegan Food Project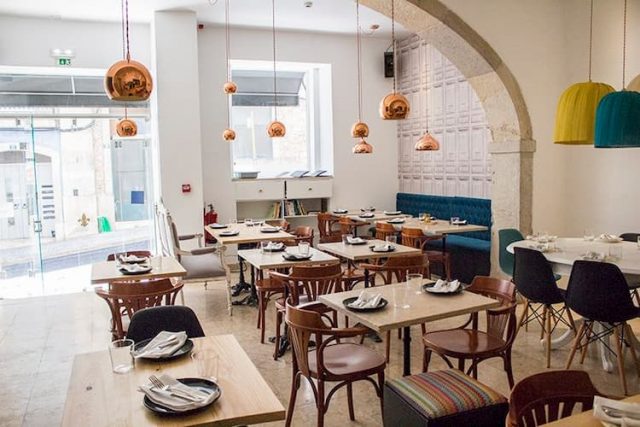 The Ao 26 Vegan Food Project is one of the only all-vegan restaurants in Lisbon that offers a full menu, and is also immensely popular and always packed.
The restaurant is quite cosy with big beautiful archways and an open kitchen where you can watch the chefs at work.
The menu is varied with vegan cheese boards, burgers, seitan steaks, and one or two local dishes, as well as a few desserts.
The lunch menu is a great value and includes a few vegan burgers, salads and sandwiches, whereas the dinner menu is a bit pricier but has more options.
Also, their daily specials are always chalked up on the blackboard. Their burgers are quite delicious and enjoyable. And if you have a sweet tooth, I would recommend trying the Oreo, peanut butter and chocolate pie.
Definitely worth a taste that you will never regret!
Average Price: €9-€16
Address: 33 Travessa do Cabral, Lisboa, 1200-073, Portugal
Contact: +351 213473310
Website: Ao 26 Vegan Food Project
18. The Food Temple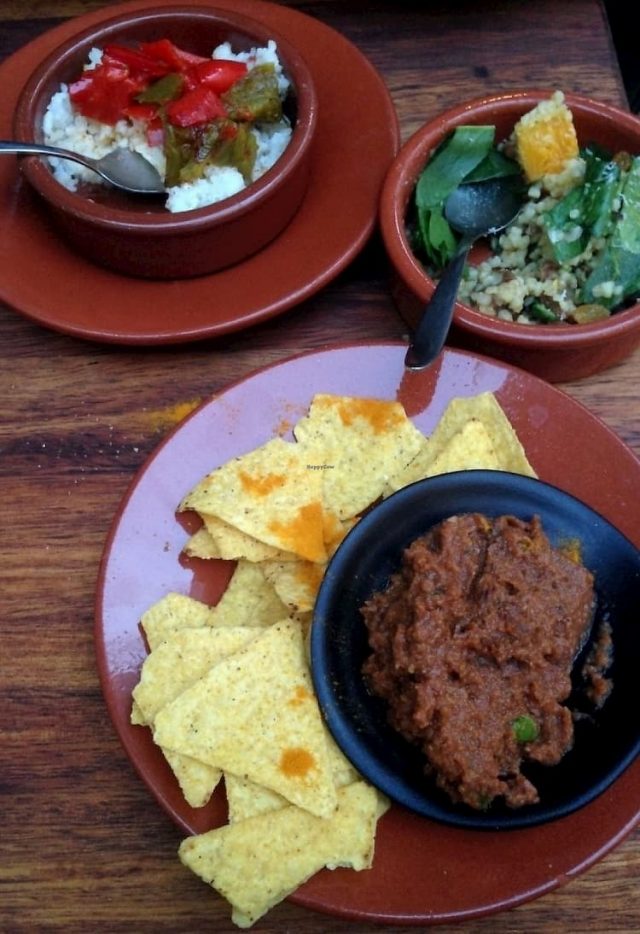 The Food Temple is a King of the vegan Lisbon scene. It is the oldest fully vegan restaurant in the city and still remains a crowd favourite. With the cosy ambience down one of Alfama's cobblestone alleyways, it is not hard to see why.
The Food Temple is a good surprise for those who like to try different meals with healthy and delicious vegetables, where you can even find some dishes with ancestry in other cuisines.
The menu changes every day, so I'm not going to spoil it for you as you would have to come with an open mind and be ready to be surprised with the uniqueness of this restaurant and its atmosphere.
Average Price: €15
Address: Beco do Jasmim 18, Lisbon, Portugal 1100-289
Contact: +351 218874397
Website: The Food Temple
19. Jardim Das Cerejas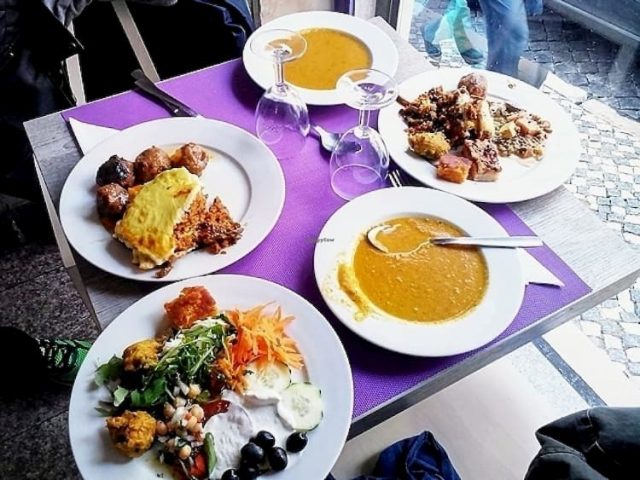 Jardim das Cerejas is a vegan restaurant located in Chiado where, for a reasonable price you can eat as much as you want from the three or four different options of the day.
The options include warm and cold food, rice and couscous, salads, pizza slices, soups and small vegetarian snacks, and not to mention the nice vegan desserts.
This is a great option for vegans and vegetarians who are near the city centre. The ambience of this restaurant is quite simple, small, cosy and friendly with an irresistible aroma of a variety of tasty dishes.
It is ideal for lovers of vegetarian food and also for the newbies as they can try different tastes, discovering a new gastronomic universe!
Average Price: Approximately €10
Address: Calçada do Sacramento 36, 1200-394 Lisboa
Contact: +351 213469308
Website: Jardim das Cerejas
20. Eight | The Health Lounge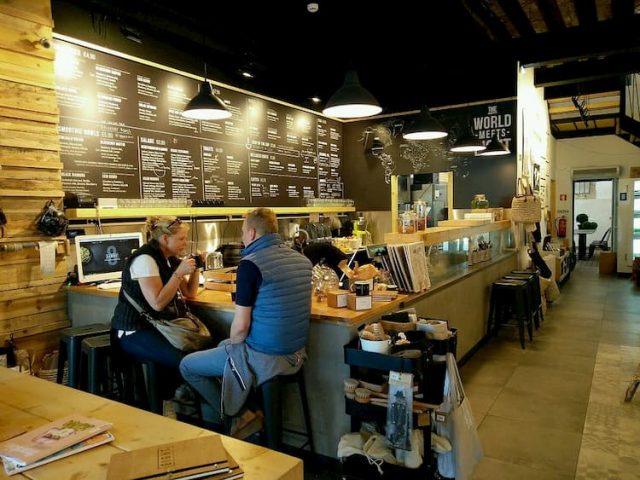 The Canadian owner of Eight The Health Lounge liked staying in cooking instead of going to school when she was little.
Many years later, she created the menu for this vegan lounge on Praça da Figueira, with a matching shop on the first floor.
She wanted to include fast food items such as smoothies, bowls, and toasties that are very nutritious.
At Eight The Health Lounge, you will find everyday design and plant-based food. Tasty smoothies, wellness shots, panini, salads, energy balls and sweet snacks without sugar or honey; only delicious fruits are some of the things you can find.
The space is quite beautiful and cosy. It is a great place to have lunch or a late afternoon snack with your friends or family.
Average Price: Approximately €10
Address: Praça da Figueira, 12A, Rossio, Lisboa
Contact: +351 218862859
Website: www.8healthlounge.com/
If you're vegetarian or vegan, you might like to read our article about being a vegan in Lisbon and some of my favourite restaurants over here.
Don't forget to sign up for our newsletter for great tips restaurants in Portugal.
Best restaurants in Lisbon
Overall, tourism in Portugal has continued to rise steadily, and if you look at the current calibre of restaurants, you will understand why.
Lisbon has established itself as a European capital filled with new-wave Portuguese cuisine and bustling street markets.
You will find that chefs are now reimaging Portuguese cooking in a way that still honours, and makes great use of, the country's bounty of produce, seafood, meat and cheese.
To conclude, Lisbon is the perfect foodie destination, with restaurants of all types. So grab yourself a bargain flight and take a foodie holiday.