You may not have heard about Évora in Portugal before, but we guarantee that this is a city you will always remember.
Let's take a small ride and explore the gateway city to Portugal's famous Alentejo region.
All about Évora
To visit Évora, you will be venturing into the Alentejo, a beautiful region in central Portugal renowned for its delicious food and beautiful countryside. Évora is actually the capital of this region, (Alentejo literally means "beyond Tagus", a river which begins in Spain and meets the ocean in Lisbon).
If you visit Évora, you will quickly discover why this city has become a must for those looking to unlock the true charm of Portugal. It's a delightful small city and easy to walk around.
When you visit Évora, you will have the chance to discover a vast array of fascinating historical monuments that can be appreciated by trained historians and casual sightseers alike.
To visit Évora means to discover that it was historically a major trading and religious centre, a fact that is reflected in the extensive variety of tourist sites, all of which are all conveniently contained within the city's ancient walls. Even if you're not a history buff, you will certainly not be bored.
In addition to its glorious past, the city is young and vibrant, with a large student population who attend one of the world's oldest universities.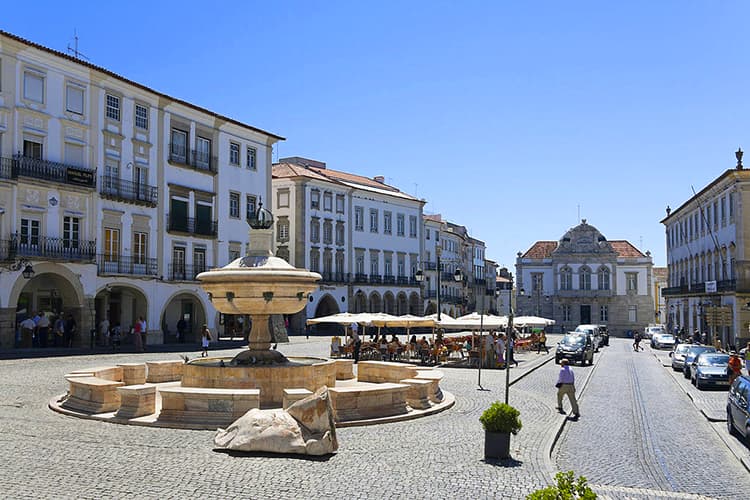 How to get to Évora
Évora is conveniently connected to Lisbon by a reliable and inexpensive public transport network that offers both rail and bus services. There are more daily bus departures than the train, but the railway has been recently upgraded and provides a more relaxing journey.
Regardless of whether you choose train or bus, a trip to Évora will take around one and a half hours and the fares are comparable at €12.50 for a single adult ticket. If you're not passing through Lisbon, it is probably better to rent a car for your visit to Évora.
Top sights in Évora
When you visit Évora, you will soon realise that there is a lot to take in.
Highlights include:
an impressive Roman temple;
a majestic cathedral;
intriguing prehistoric standing stones; and
the macabre Chapel of Bones.
In terms of exploring outside the historical city walls, Évora is surrounded by sun-baked olive groves, fortified towns and traditional villages, all of which can be explored easily by car.
Roman Temple of Évora
The Roman Temple of Évora, also referred to as the Temple of Diana ("Templo de Diana") is an ancient temple which makes a stunning impression in the historical centre of the city. It is included in the classification by UNESCO as a World Heritage Site, and no visit to Évora is complete without taking in this majestic remnant of ancient history.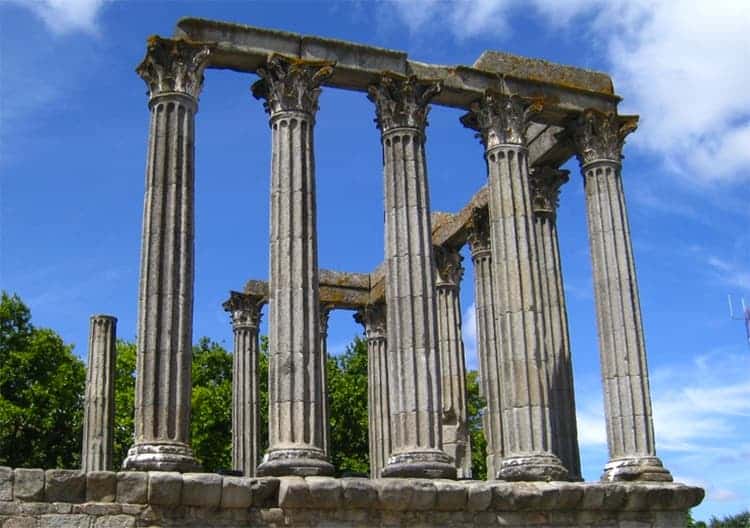 Cathedral of Évora
The Cathedral of Évora is one of the oldest and most important local monuments, perched on the highest spot of the city. It offers a breathtaking view over the historical city centre and is the seat of the Archdiocese of Évora.
Megaliths
Although located a bit outside of the historical city, these megaliths (website is in Portuguese) are not to be missed if you visit Évora! The concentration of megaliths around the city have given the region the title of the 'Iberian Mesopotamia'. The area contains a diverse selection of megaliths and boasts cave-art ("arte rupeste"), dating back to the Palaeolithic period in the Cave of Escoural ("Gruta do Escoural").
Chapel of Bones
One of the more unique sights to take in while you visit Évora, this one might leave you with chills. It is a small, interior chapel located next to the entrance of the Church of Saint Francis. The Chapel of Bones (website is in Portuguese) gets its name because the interior walls are covered and decorated with human skulls and bones.
Creepy and yet very interesting, don't you think?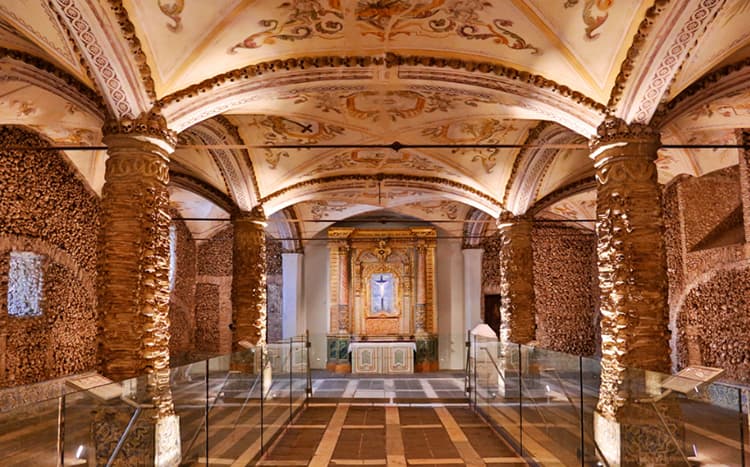 When to visit Évora
If you're planning to visit Évora, be warned that they have incredibly hot summers, making sightseeing unpleasant for some. It is usually best to visit Évora during the warm spring or autumn months.
Although the winters are typically quite mild, there is the chance of grey or wet days, so early spring is considered the best time to visit Evora. At this time, you will get to enjoy the rolling plains of Alentejo which are lush and full of flowers and the days are sunny, but not too hot.
Suggested itinerary
Although you can visit Évora as a day trip from Lisbon, it will involve a lot of travelling, especially if you are reliant on public transport. All of the major tourist sights can be seen within a day but a couple of days will you allow you to take a much more relaxed and pleasant approach.
Ideally, Évora could be explored at a leisurely pace over two days, while a third day could be devoted to visiting the pre-historic standing stones of Cromeleque dos Almendres (website is in Portuguese) and the castle at Evoramonte (website is in Portuguese).
We can highly recommend taking a tour with Get Your Guide to Évora and the Alentejo area. It saves you time and the hassle of driving yourself. Relax and enjoy the ride.
Where to stay in Évora
There are lots of lovely places to stay in Évora, including the historically important and beautifully luxurious Pousada Convento Évora, or the more budget friendly, yet nevertheless charming Stay Hotel Évora Centro.
Another exciting way to visit Évora, is to explore the variety of guest houses or agritourism available. For example, Quinta da Tapada de São Pedro has self-catering accommodation in a lovely traditional farmhouse near the old city. On this unique, farm property, you will find extensive gardens, ancient olive trees, a swimming pool and barbecue facilities. You'll also be in the company of sheep, goats, pigs and hens, and a you can divulge in a range of fruits, herbs and vegetables.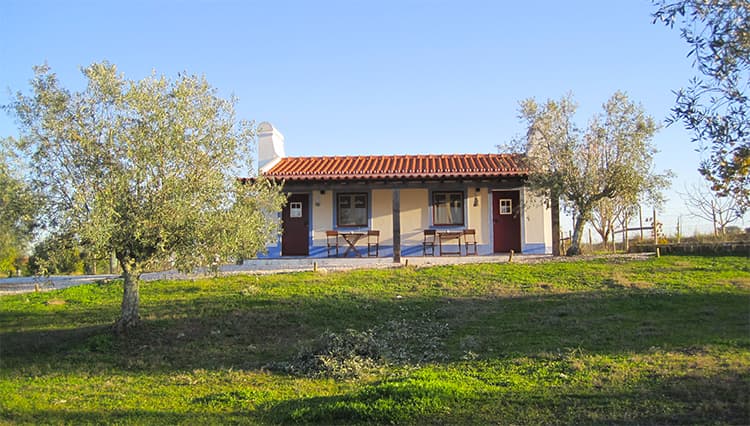 Where to eat in Évora
As you'll quickly discover when you visit Évora, Alentejo cuisine is one of the richest and most original in Portugal. Born from the need to be creative by the poor, rural farmers, the natural bounty of the land easily lends itself to delicious culinary inventions.
You will also find that nothing goes to waste in Alentejo cuisine. Entire animals are cooked and used fully – from the pig's nose to its tail. You'll find pig ears, cheeks or chicken brains on restaurants menus.
It is also worth noting that Alentejo is known as the breadbasket of Portugal so you'll find delicious artisan breads, wines, olive oil, cheese and the famous black pork.
Treat yourself: Go to Restaurante Fialho
If you're looking for a memorable dining experience, don't miss Restaurante Fialho. For over seven decades, the Fialho family has been dedicated to the art of hospitality in the Alentejan way, offering the best in genuine regional cuisine in Portugal and boasting an excellent wine cellar.
Local cuisine: Botequim da Mouraria
Run by a husband and wife, Botequim da Mouraria is the place to visit for impeccable personal service with good humour and absolutely fabulous food. They do the classics justice and you'll leave feeling like a member of their family.
On a budget? Try O Templo
Not to miss if you visit Évora on a budget, Restaurante O Templo is a much-loved, local joint. Their idea was to create a family space, with good meat and Alentejo products at honest prices, and they have done just that.
Living in Évora
For an even longer stay, Évora has the added benefit of providing great value for food and accommodation with the cost of living being significantly cheaper than Lisbon or the coastal towns. Due to its proximity to Lisbon, many expats even commute for work while enjoying the more laid-back lifestyle that Évora offers.
Hardly comparable to real estate in Lisbon, in order to understand how inexpensive living in Portugal could be, look at the prices of houses for sale in the rural regions of Alentejo.
We hope we have given you the inspiration to visit Évora and the Alentejo region of Portugal. It really is magnificent. Let us know what you think in the comments section below.
Be sure to subscribe to our newsletter. It's free and very informative packed with exclusive content about everything Portuguese.