Have you always wanted to see an ancient city and wander around it's tiny, cobblestone streets?
Come to Coimbra, a city where the rustic meets elegance.
Though Coimbra lacks the contemporary attractions of both Lisbon and Porto, what makes it quite astonishing is the traditional beauty of this centuries-old city with its multi-coloured buildings that span nearly a millennium.
Walking into the old town of Coimbra will take you back in time with an atmospheric scene of a preserved medieval village, humming with energy, politics and traditional music.
Why should I visit Coimbra?
Coimbra is a spellbinding city of poets and Fado, where, in every corner once lived a great author. It is the land of Inês de Castro and King Pedro, the two historical figures of Portuguese history. It is rich in ancient monuments that depict each chapter of the history of architecture, from Romanesque to Gothic, Manueline and Baroque. Coimbra houses one of the oldest universities in the world and some of the best preserved Roman mosaics in Europe.
If you haven't already, and absolutely love a city with history, make sure you add this to your bucket list. Coimbra is definitely a place to visit, being Portugal's easiest-to-enjoy-city; without the intensity of a big metropolis.
Where is Coimbra located?
Coimbra is located on the northern bank of the Mondego River between the central Portuguese districts of Aveiro and Viseu. Its main north-south railway connects Lisbon and Porto, which means that there are many fast and direct services.
Getting to Coimbra from Lisbon Airport
You can visit Coimbra by car, train or bus. But if you want to have a relaxed trip, Portugal has reliable public transport so there is no need to hire a car to travel from Lisbon Airport to Coimbra.
If you want to go by train, take the Aerobus from Lisbon Airport to Oriente railway station. From there you can catch the Alfa Pendular (€22.50) which is the fastest service with a high standard of comfort and free wifi. This will take around one and a half hours, followed by Intercidades (inter-city service) (€16.50), which takes almost two hours to Coimbra-B station.
By bus, you can take the Aerobus to Sete Rios bus terminal. From there, there are frequent coach services such as the Rede Expressos to Coimbra which will take you about two and a half hours (€13).
Getting to Coimbra from Porto Airport
The Francisco Sá Carneiro airport in Porto is 11 km (6.8 miles) away from the city, so the easiest and cheapest way will be to take the Metro which is connected to the airport. Follow the signs and take line E (Violeta) from the airport to Campanhã railway station. The Metro runs every 20 minutes and the trip will take 40 minutes (for around €2 per trip).
Just like Oriente, there are two types of train services from Campanhã railway station. Alfa Pendular (fastest, yet most expensive) and the Intercidades. The Alfa Pendular trains run almost every hour and takes less than an hour to get to Coimbra-B. Intercidades takes slightly more than an hour but costs €11.50.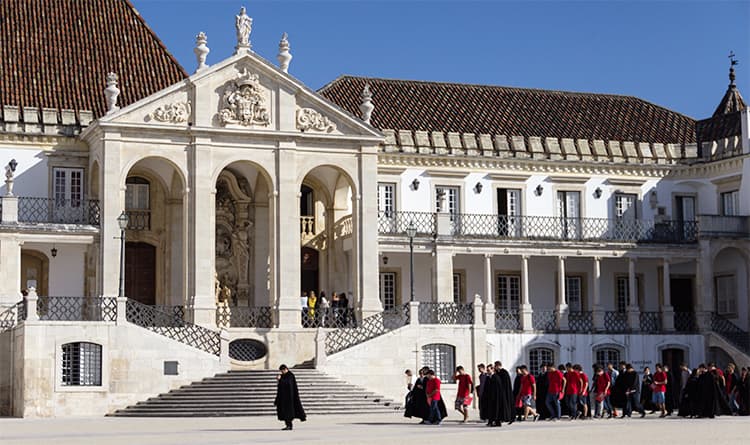 What is the weather like in Coimbra?
When you visit Coimbra, you will find that it is marvellous all year round, as every season has its advantages. August is the hottest month, with an average temperature of 23°C (73°F) and the coldest is January at 11°C (51°F). December is the wettest month with an average of 150 mm of rain. The climate is cooler than in Lisbon and, at times, warmer than Porto.
Temperatures are mild with warm summers that do not reach above 30ºC (86°F)  and cooler winters, where temperatures tend to be around 14ºC (57°F). It provides a climate to suit all tastes.
During the hot, summer months, you can enjoy the sandy beaches of Figueira da Foz. Drive down to the coast where you can spend an afternoon by the beach in the company of the profound blue Atlantic Ocean with spectacular waves.
Take a romantic walk, relax or play sports in the city's green parks, gardens and avenues.
Spring is also a wonderful time to visit Coimbra. The city is much more alive with people out on the street, making the most of the warm weather.
During the cooler months you may have some rain. Coimbra's green landscape and nearby mountain ranges are nurtured by these waters that fall mainly from November until February.
Autumn is the less busiest time of the year, with copper-red leaves drying up and falling from the trees. The nights aren't as warm as it is during summer and spring, but is still possible to dine in or take evening drinks with your family and friends.
What is the best time to visit Coimbra?
If you're on a budget or just don't want to spend a fortune on one trip, we recommend travelling to Coimbra during the month of September. At this time, temperatures are still warm but hotels are a lot cheaper. Expect to pay approximately €69 per night for two people. That's 30% less per day compared to what you would pay in August. Try to avoid visiting Coimbra during peak season as you would expect to pay more for your hotel or vacation rental.
Where to stay in Coimbra
Whether you stay for one night in this charming, riverside city or for several days, there are various hotels and hostels to choose from that are well-located and great value for your money.
Here are a few to try:
Or why not treat yourself with something a little on the higher end with these four to five-star hotels that feature on-site restaurants with sweeping city views, in-room massage and private terraces. They are often closer to the city centre which makes exploring the main sights a breeze.
What to do in Coimbra
There are so many things that you can do in Coimbra. This beautiful city has a fascinating history that dates back to Roman times. Plenty of Coimbra sights and attractions will keep you occupied for at least a couple of days.
Here are the top five places to visit during your stay in Coimbra.
Joanina Library ("Biblioteca Joanina")
This library has a peculiar architecture and is regarded as one of the most beautiful and must-see places in Coimbra, due to its unique style.
University of Coimbra Alta and Sofia
A hilltop campus which is one of the oldest colleges in Europe and has become a popular tourist attraction with its historic architecture.
Old Cathedral ("Sé Velha")
The old cathedral was built in an elegant Renaissance style. When visiting, make sure you also see its Gothic cloister from 1218. Concerts often happen on the medieval church's steps where former students of the University of Coimbra, dressed in their black suits and long black cloaks, gather to sing Fado and serenade the city.
Santa Cruz Church and Monastery (Igreja e Mosteiro)
Starting with its architecture, this captivating church is definitely a must-see with its Gothic-style, numerous glaring design flaws and an organ that can only be played by four people. The ancient church is the final resting place of Portugal's first King Afonso Henriques and his son, Sancho.
Portugal dos Pequenitos
If you are visiting Coimbra with your family, don't miss the opportunity to visit this amazing theme park full of mini-sized buildings representing Portuguese colonies. You will enter a world of beauty and history that has stood for over 75 years. Visiting this park should be on your to-do list especially if you have kids. They will love it!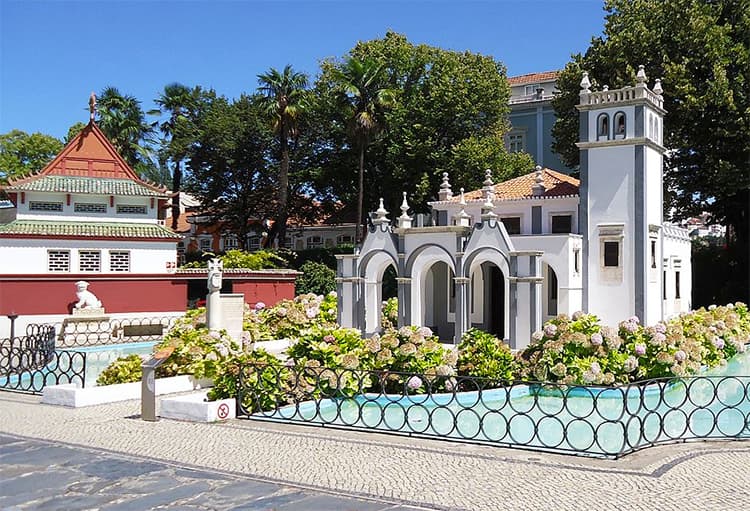 If you feel like taking a tour, there are some great deals on Get Your Guide including wine and food tours, day tours and walking tours.
What to buy in Coimbra
During your time in Coimbra, you will find a lot of souvenirs that will catch your eye when it comes down to shopping. The narrow streets are full of little shops selling locally made arts and craft works for all tastes, especially in the area around the Old Cathedral.
There are several markets that are well worth a visit and malls of various sizes offering high street names, eateries and leisure facilities.
There are also several book shops, the largest of which is Livraria Bertrand, which has a good-sized collection including some foreign language titles. You will also find a collection of postcards to send to your loved ones back home.
Coimbra has plenty of cafés and restaurants to drop in and have a drink or two while soaking up the atmosphere of this delightful, ancient city.
How much does it cost to travel to Coimbra?
It all depends on your budget and the amount of people you travel with. For the most part, Coimbra is an incredibly affordable destination. Food, accommodation, wine are all reasonably priced. You can make it really cheap, especially when compared to other European countries.
As long as you're not splurging on a ton of booze or dining at overpriced touristic restaurants, you'll find it easy to save money while still enjoying yourself.
How much money will I need in Coimbra?
We worked out that the average daily price to visit Coimbra is roughly around €82. Food for two in one day is around €38. A hotel room for two will cost around €69 per night. And any additional costs for activities such as tours will cost an extra €60 to €80 per couple. These are the average travel prices that have been collected from other tourists to help you plan your own travel budget. So treat yourself these holidays, as this charming historical city awaits you.
Did we convince you to visit Coimbra? Do you have any experiences to share? Feel free to leave a comment below.
We publish new content every day so be sure to subscribe to our newsletter to get notified of the latest tips for your visit or move to Portugal.