I've lived in Portugal for almost a year now, and if there's one place I tell everyone I meet that they must visit that place is Cascais.
Find out about the weather, when to go, best hotels, things to do, restaurants to eat at, and costs to consider when you visit this lovely sea town.
A day visiting Cascais in Portugal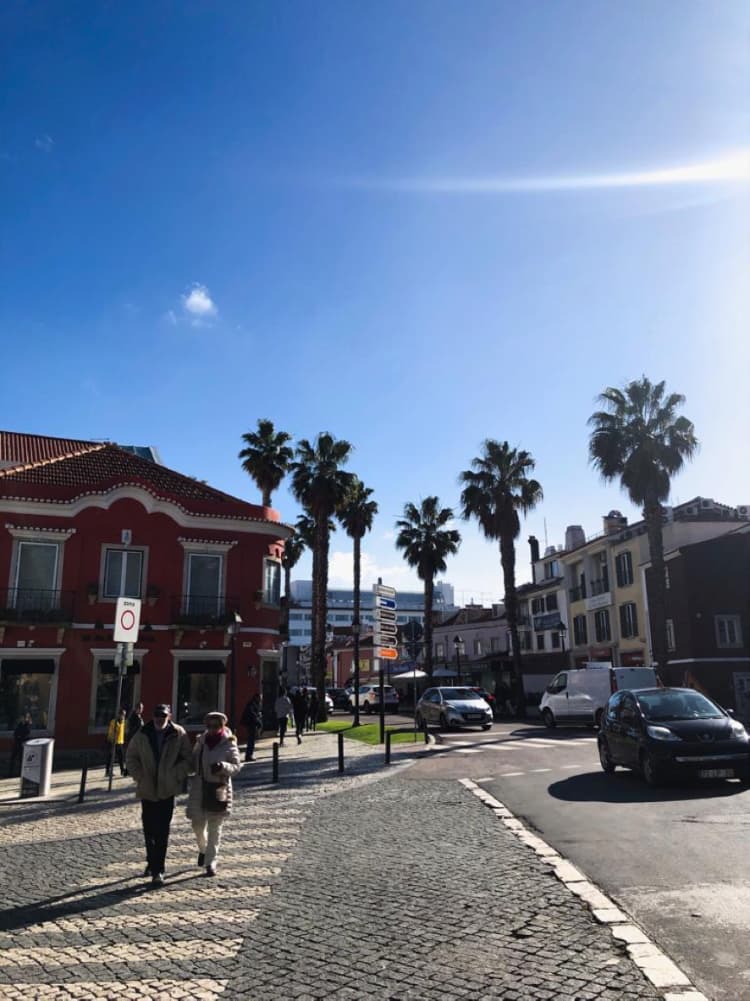 I visited Cascais again recently and thought it fitting to share my experiences and tips with you. In a nutshell, Cascais is a picturesque coastal town, 30km west of Lisbon, filled with crystal clear water, Malibu-Barbie houses, fresh seafood and sandy beaches in Portugal.
Easily accessible by train from the centre of Lisbon, Cascais can be explored in just one day. Or if time is a luxury you can afford, I highly recommend renting a beach-side villa or booking a hotel room for a week and enjoy lazing by the beach – that's my dream vacay!
Pack Your Swimsuit, Cascais Gets Hot!
Like the rest of Portugal, Cascais is blessed with long and hot summers, perfect for splashing around in the water or improving your tan. The spring and autumns seasons are also pleasant while winter is mild and sometimes wet.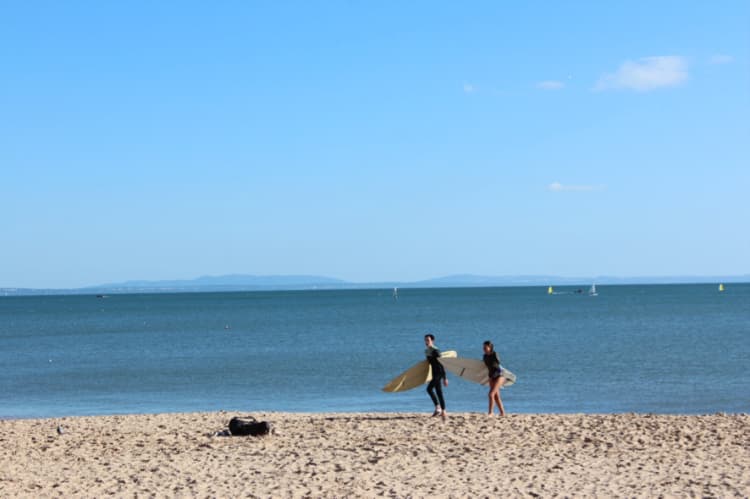 For beach-goers, the ideal months to visit are from May until the end of September. The sea temperature, however, is still quite icy even in the summer months, reaching around 21 degrees.
Things To Do in Cascais
Get Sandy and Wet, with Plenty of Water Sports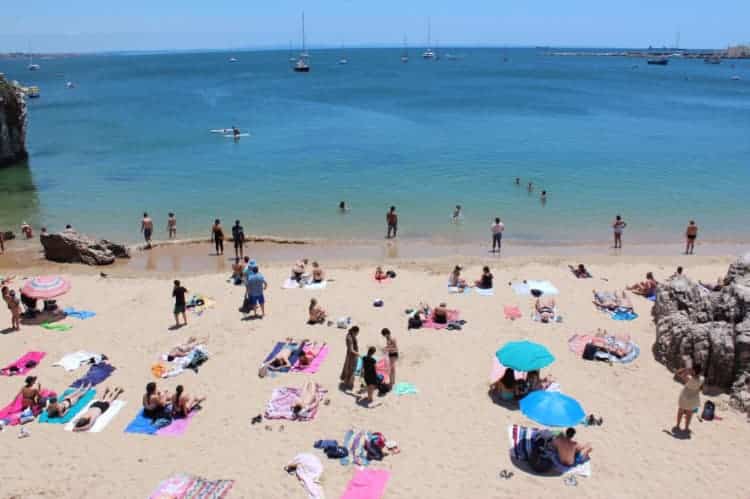 In the summertime, you will probably struggle to squeeze in your beach towel on Rainha Beach (Praia da Rainha) alongside hundreds of other keen beach-goers.
While Cascais is not a surf beach, there are plenty of water activities to enjoy in the bay like kayaking, jet-skiing, beach volleyball, paddle boarding and more!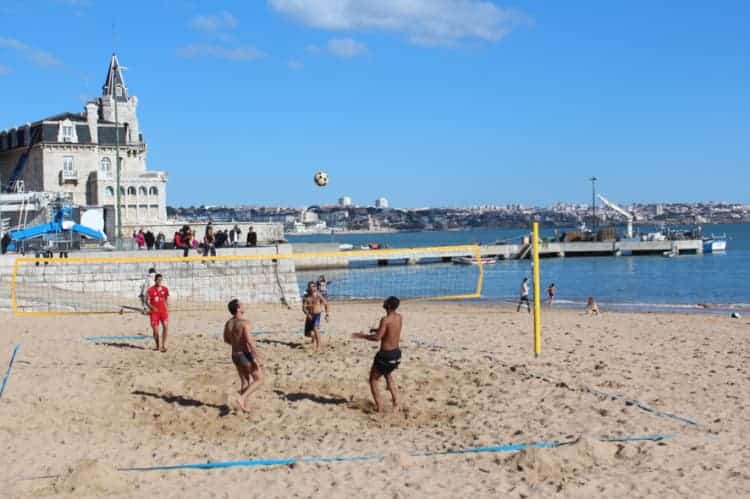 If you are a surfer don't get down, you can read about our favourite surfing beaches in Portugal here.
Walk Along the Dramatic Coastline, Boca de Inferno
Just outside the historic centre of Cascais, is an interesting cliff formation, its name translated as "Hell's Mouth".
Boca de Inferno is located 2km west of the centre and can be accessed by foot or bicycle by following the coastline from the marina. If you visit in the winter time, you will witness hell's mouth in full force with waves crashing wildly around the cliffs.
Satisfy Your Sweet Tooth at Santini's Gelati
A trip to the beach isn't complete until it's finished off with gelati. And for the best gelati in Cascais, head to Santini's.
Open since 1949, the gelateria was founded by Italian immigrant Attilio Santini and has since been serving fresh, handmade ice creams to the beach-goers of Portugal.
Fortunately for the rest of the country, Santini's has also opened shop in Lisbon's centre, Belém and Porto. My favourite flavours are chocolate (classic!) and the peanut-salted caramel combo (yum!).
If you are feeling like having a different kind of snack, check out our list of best snacks you can have in Portugal.
Sip on Cocktails and Boogie by the Beach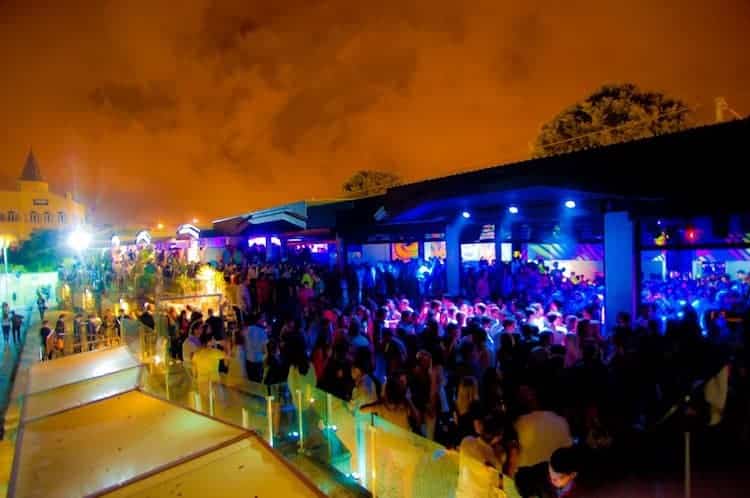 The nightlife in Cascais is quite varied with a selection of restaurants, bars and clubs to suit any night out. For a quirky hangout by the Marina, Hemingway's is perfect for cocktail-lovers and features a DJ on the weekends.
For more of a 'later' party, Tamariz offers clubbers two dance rooms, outdoor terrace and even a karaoke room for those brave enough (or drunk enough!) to try.
Alternatively, if you want to go dancing in the centre of Lisbon, we've listed our favourite dance spots in another article here.
Take a Day Trip to Sintra, the Jewel of Portugal
If you're planning a trip to Portugal, you have surely been told to visit Sintra. And yes, you must.
The "jewel" of Portugal is just a 30-minute bus (417) ride away from Cascais and the perfect way to fill a day outside of the coastal town. You can read more about what to do in Sintra in another article we've written here.
Book a full day tour from Lisbon to Cascais, Estoril and Sintra with this great offer.
Restaurants in Cascais, Seafood Galore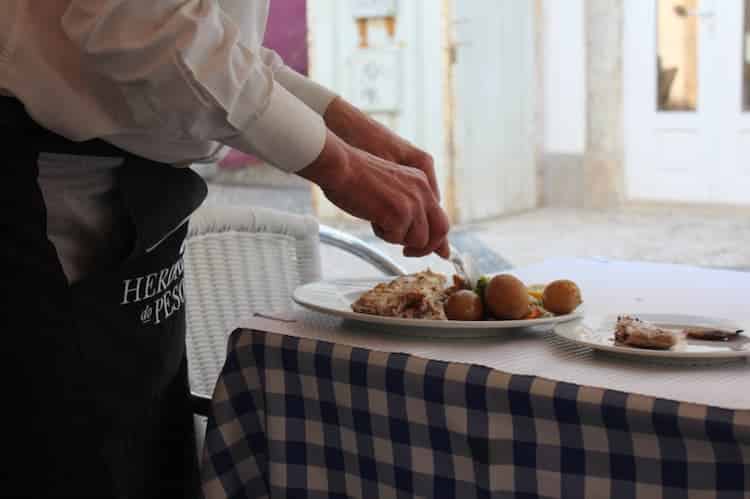 As a seaside town, restaurants in Cascais are known for serving excellent seafood dishes. While I haven't eaten at every restaurant in Cascais, I can certainly recommend Restaurant Camões in the town's center for fresh seafood in Portugal.
When there recently, I enjoyed the classic Portuguese sea bass and my sister tried picanha, a Brazilian meat dish served with pineapple, rice and vegetables. Both our meals were tasty, and the waiter even removed the bones from my sea bass for me.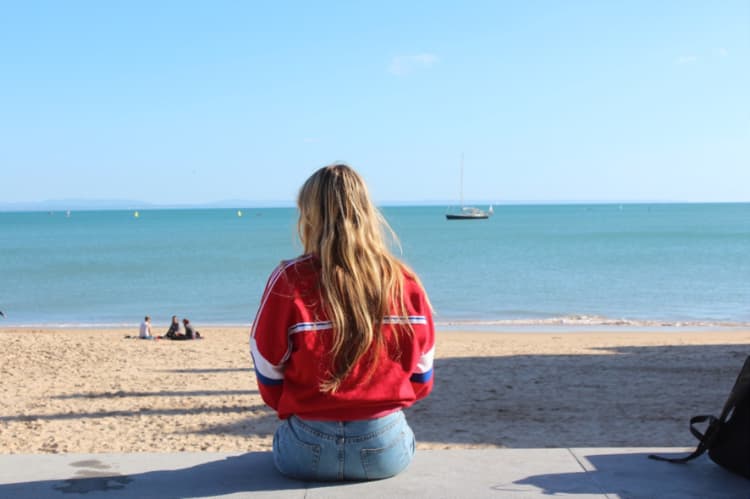 When I visit Cascais, I normally prefer to buy take-out and eat on the beach. For others with the same idea, I highly recommend the kebabs, fries and other hot snacks from Cascais Kebab located on the street corner just before turning off to the Rainha beach.
Other restaurants still on my list to try are Restaurante Dom Pedro I for local dishes, Fortaleza do Guincho for panoramic views of the coast, and Lamassa for fresh handmade Italian pasta. This particular restaurant is close to Cascais, in Estoril but it's really worth a trip there from what I've heard.
Accommodation for Everybody, Lush or Budget-Friendly
I like to think of Cascais as the Beverly Hills of Lisbon, so for a lavish beach getaway, there are plenty of five-star hotels around to accommodate. For a luxury hotel, I recommend the Grande Real Villa Italia Hotel & Spa or the Hotel Quinta da Marinha Resort.
The Grande offers surreal views of the Atlantic Ocean and is an actual adaptation of the old houses where King Umberto II of Italy lived while exiled in Portugal from the 50s-80s. While the Quinta provides the perfect balance of beach and mountain views and even has a golf course!
If you're backpacking or travelling on a budget never fear, there are plenty of beach hostels located in the centre.
Cascais Bay Hostel has a rooftop terrace, where they serve barbecue dinners and is located just a minutes' walk from the beach.
For surfers, Nice Way Cascais Hostel & Surf Camp feature surf classes and an outdoor swimming pool!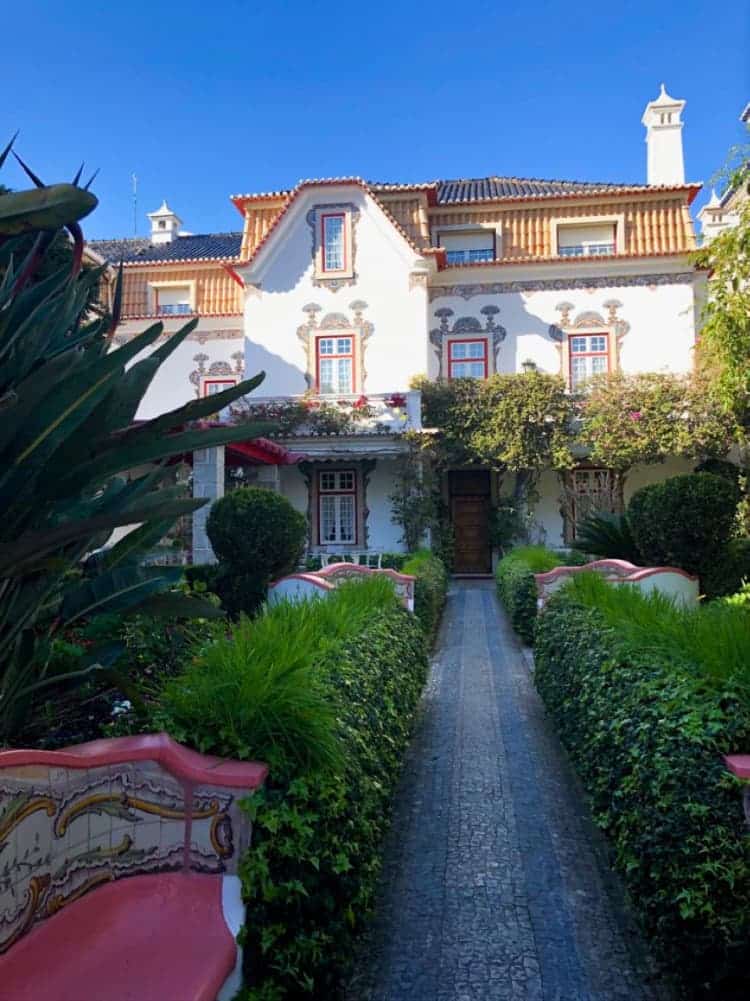 For the inbetweeners, my choice is without a doubt the Pergola House, a guesthouse, for adults only, in the heart of Cascais' historical centre.
Residing in a beautiful manor house, the guest house is embedded with traditional architecture, garden terrace, wooden floors, ceilings, and rooms furnished in different styles.
The house is exquisite and surely the most photographed in Cascais!
Costs to Consider in Cascais
Portugal overall is a relatively inexpensive holiday destination. Flights can often cost less than €100 return with budget airlines when travelling within the EU. Accommodation varies from as little as €10/night for a hostel stay to €120/night for a five-star hotel.
Food in restaurants can be pricey if the restaurant is right on the beach but in the town's centre meals average €10-15. The journey to and from Lisbon by train is as little as €2.25 each way, and beer just as cheap, averaging €3 for a pint!
Ready to visit Cascais?
After reading all this, I am sure you agree that Cascais is one of Portugal's prettiest towns. New and returning visitors flock to its beachside every summer, and some never leave!
Visit Cascais for the perfect beach escape full of sand, water, seafood, cocktails, countless places to take pictures and make memories.
Do you want to know more about Cascais? Let us know your questions in the comments below. 
For more articles about visiting Portugal, sign up to our newsletter.