Olá todos! (Hello all!) Here you'll be able to find everything you need to know about the fastest and cheapest way to fly to Portugal.
Today, we will be talking about flights to Portugal with some explanation on what to expect from each airline.
These tips should help you to choose the best flights for your visit.
How do you fly to Portugal?
It's quite easy to get to Portugal from most countries around the world. During the summer season, some airline companies offer direct flights from major cities to Lisbon, Faro, Porto and even the Azores.
Of course, it is always better and cheaper to book your flight in advance but we know it's not always possible. So be patient with your search. It might really pay off to do some research and determine which airline or alliance of airlines best suits your needs.
We'll help you with some tips while searching for your flights to Portugal.
Travelling from the US
From the US, you should consider whether you want to have a direct flight from  to Portugal or whether you are okay with connecting through an airport elsewhere in Europe.
If you want a direct flight, it is better to choose US Airways (part of American Airlines), who flies non-stop from Philadelphia to Lisbon.
Or you can choose any airline which has the best price for you. Delta and their partners KLM, Air France will connect you through Amsterdam or Paris. Lufthansa will connect you through Frankfurt. British Airways and Iberia will connect you through either London or Madrid.
If you want to book a flight to Portugal from Boston, Iberia and American Airlines may be the best options but they will have short layovers. The price is about $772* for a round trip.
From Chicago, you can only fly to Portugal with a layover. American Airlines, Iberia and Aer Lingus will provide you with flights from Chicago to Lisbon with a layover in London, Madrid and Dublin, respectively. The price is from $742* to $1,394*.
Travelling from Brazil
To go from São Paulo to Portugal, it is best to go in summer as there are a number of direct flights. The price for a round, non-stop trip is about R$2,560* with TAP Air Portugal or Azul Airlines.
Of course, there are flights to Portugal all year round. In November, you can go from São Paulo to Lisbon with the help of Iberia, KLM or Air France with long connections in Madrid, Amsterdam or Paris. The price is around R$2,595*.
Travelling from European countries
From London
There are many low-cost carriers from various parts of Europe to Lisbon and other Portuguese airports. From London to Lisbon you can easily find a flight with EasyJet. The great thing about this is that you can get from any airport in London to any airport in Portugal! The lowest price in November is £49.48* and in June it is £57.56* for a round trip.
By the way, with Ryanair you can fly from London Luton direct to Faro starting in April each year. They fly from London Stansted to Faro, Lisbon or Porto and the prices are pleasantly surprising. It is possible to find direct flights from £16* to £40* one-way. For example, the cheapest trip with Ryanair in November will be from London Stansted to Lisbon for £45.99* and in June it's possible to get to Porto for £73.42*.
British Airways will only get you to Lisbon or Porto. You can fly to Lisbon in November for £164* and for £173* in June.
TAP Air Portugal will fly to Lisbon, Porto and Faro.
The prices with EasyJet and British Airways are around £130* during the summer and £215* and £189* during autumn to winter seasons. A new airline, Wizzair, also offers some very cheap flights from £17.99* (one-way) if you travel in the winter time!
From Dublin
KLM will help you to get from Dublin to Lisbon directly. It is cheaper to go in winter: a one-way ticket with a transfer in Amsterdam will cost you around €147*. In July, you'll probably pay approximately  €250*.
British Airways is slightly more expensive and has a three-hour transfer in London.
Ryanair usually has a large range of prices from €40* to €250* for a one-way flight from Dublin to Lisbon, Porto or Faro.
From Paris
EasyJet offers a non-stop, round trip for about €126* which goes from Paris (CDG) to Lisbon. Vueling Airlines offers about the same price but options vary.
We can always rely on Ryanair to get anywhere in Europe with flights to Portugal at around €70* and sometimes cheaper.
During the summer, the prices are lower with most airlines and, one can find a flight for around €100 for a round trip.
Travelling from Asia
From Singapore
Lufthansa offers the best flight option to Portugal from Singapore with one stop for three hours (the shortest possible connection), the price is S$1400*. All in all, it normally takes 17 hours and 40 minutes and with one layover.
Other airlines providing flights in this direction are Emirates, KLM, British Airways, Finnair and Qatar Airways.
From Hong Kong
A very good flight from Hong Kong to Lisbon takes 19 hours and 40 minutes with one stop for two and a half hours and the price is around HK$5365* per round trip with KLM.
We also found other airlines such as Emirates and British Airways with numerous offers in prices and flights.
How to search for flights to Portugal
There are a number of websites which were created to make the process of searching for a flight very easy and all of them differ quite a bit from each other.
Before booking any flight to Portugal, it's a good idea to go through the Portugal Travel Guide and read some feedback and reviews from customers and analyze their comments as it will help to make the right choice.
Expedia is very easy to use and offers good prices.
JustFly always warns you if the flight is poor as sometimes the price can be very nice but the layover may last many hours.
Also, it can be a good idea to search for a flight at the airline company's own website so that you know for sure it has the best offers.
The best companies to fly with
First of all, it's necessary to decide on your direction. As we've seen, there are a number of different routes you can take depending on your origin. There are five international airports in Portugal and a number of local ones which we will list below.
So, according to the airport you are going to, you have to choose the best journey for you.
There are a number of companies which offer flights practically from anywhere to Portugal for example: KLM, Air France, Iberia, TAP Air Portugal , Emirates, Turkish Airlines, etc. and there are companies that offer fantastic prices within Europe, such as Ryanair, EasyJet or Wizzair.
Nowadays, it's possible to find flights for all tastes and budgets. All you need is some time and patience to research the best options.
TAP Air Portugal is our number one airline in Portugal. Find out more here.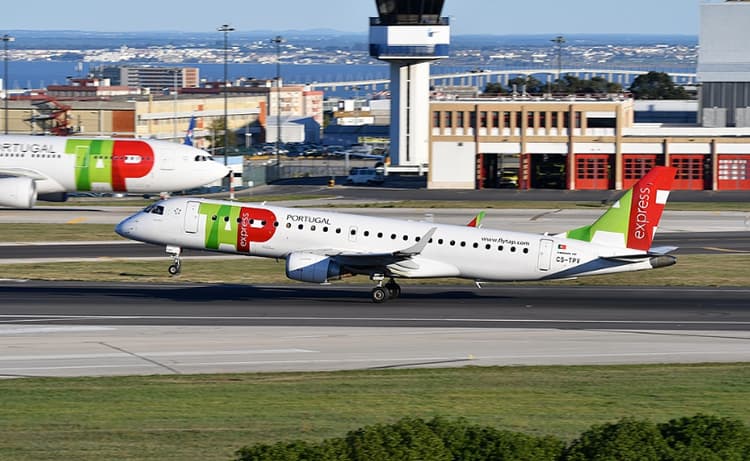 The best time to book a flight to Portugal
Sometimes it's better not to specify the dates in your search, just look at the whole month because sometimes there are huge variations just by going one day earlier or one day later.
According to the travel website, Kayak, the biggest savings to go to Faro, for example, can be made when you book a month in advance. The flights are 80% cheaper. The best month to book is in January when it costs 52% less. If you want to save some money, don't book your flight to Faro in August as it's 22% more expensive.
So, depending on the airline and your destination, it is possible to find a bargain whether you book 25 days in advance or at the last minute. Travel websites such as Kayak or Skyscanner can be a big help.
Airports of Portugal
Lisbon Airport (LIS)
The busiest Portuguese airport is Humberto Delgado Airport, known as Lisbon Airport (LIS). It is located just seven kilometres (4.3 miles) from the Lisbon, the capital of Portugal, and is the main international gateway to the country.
Lisbon Airport is an important European hub to Brazil, the largest European hub to South America and also a European hub to Africa. It is the 20th busiest airport in Europe by passenger traffic. There are two terminal buildings, the second one was opened in 2010. TAP Air Portugal is headquartered in Lisbon Airport which also serves as its hub.
Check out our all-in-one guide to Lisbon Airport.
Porto Airport (OPO)
Porto Airport (also known as Francisco Sá Carneiro Airport), is the second busiest airport in the country. It will take you 20 minutes to get from the airport to the center city of Porto. The airport is a base for EasyJet, Ryanair, TAP Air Portugal and its subsidiary, TAP Express.
Discover more about Porto Airport here.
Faro Airport (FAO)
Faro Airport or Algarve Airport, is located four kilometres (2.5 miles) west of Faro in Portugal. During the summer months, the airport becomes very busy since the Faro region is a popular tourist destination. The airport became a hub for the first time in March 2010, when Ryanair decided to base seven of its aircraft there.
Visiting Faro? Find out what to do and see in Faro.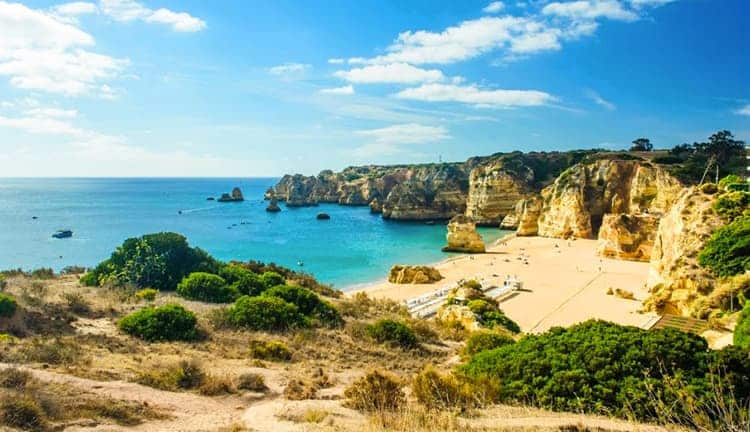 Madeira Airport (FNC)
Madeira International Airport Cristiano Ronaldo, commonly known as Madeira Airport, or Funchal Airport, got its new name in 2016 from the international football star, Cristiano Ronaldo, to honor his success during the Euro 2016 games.
It is one of the most dangerous airports in the world due to its position between the ocean and high mountains, which makes for a difficult approach.
The airport is located 13km (8 miles) east-northeast of the regional capital Funchal. It mostly hosts flights to European destinations due to the importance of Madeira as a leisure destination. It is the fourth busiest airport in Portugal.
Madeira is an amazing place. Find out more here.
The Azores Airport (PDL)
Ponta Delgada Airport or João Paulo II Airport (named after Pope John Paul II) , is the fifth international airport in Portugal which is located on the island of São Miguel, in the Portuguese archipelago of the Azores. The Azores is an archipelago composed of nine islands, each island with its own airport.
The islands are situated 1,300 km (808 miles) west of continental Portugal and 900 km (559 miles) northwest of Madeira. The airport has scheduled domestic flights to all islands of the Azores, Madeira and mainland Portugal. It also accommodates international flights to and from Europe and North America.
Check out what makes the Azores so special in: The Azores: An Oasis in the Middle of the Atlantic Ocean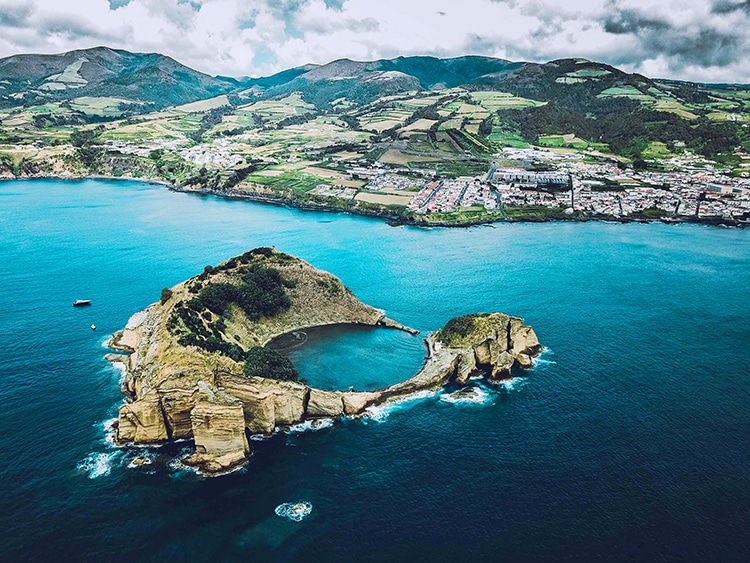 Let's fly to Portugal!
So, as you can see, there are plenty of variations on how to book a flight to Portugal from any part of the world. It's possible to find a bargain for any tourist.
Portugal's airports are welcoming guests every day of the year.
* Please note that the prices quoted here are based on prices found at the time of writing. Please check with your airline for current prices.
Did you find what you were looking for? Do you have any experiences to share? Feel free to leave a comment below.
We publish new content every day so be sure to subscribe to our newsletter to get notified of the latest tips for your visit or move to Portugal.