So you're a vegan and you're coming to Lisbon.
Well, we have put together a little guide for you to help you on your way.
It's not all salads and chips. You might be surprised to find some very tasty options indeed. Read on and you won't go hungry in Lisbon!
Is it easy being a vegan or vegetarian in Lisbon?
The accessibility of living vegan in Portugal has increased significantly in recent years. With more and more people deciding to transition to a vegan lifestyle, the food scene in Portugal has adapted and done a good job of it.
Eating vegan in Portugal no longer means living on salad and potatoes and as the demand for vegan food in Portugal increases, you can even find some very creative adaptations of traditional Portuguese dishes.
It's getting better with many more Lisbon restaurants and cafes offering plant-based menus, there's sure to be something for the most discerning vegan to enjoy.
On the other hand, if you prefer to stay in and cook at home, being vegan in Portugal is also much easier than it used to be. Most standard grocery stores now offer a variety of ingredients for vegan cooking and more bio shops, with an even larger variety, are opening each year.
Being vegan in Portugal can also help you meet new people! Many of the places listed below organise events and vegan meetups. They host gatherings that focus on a vegan lifestyle and bring individuals who enjoy a plant-based diet together. Here are some suggestions on how to enjoy the country to the fullest while being vegan in Portugal.
Vegan restaurants in Lisbon
The Food Temple
The Food Temple is the oldest vegan restaurant in Lisbon and they've only been getting better with age.
In the likewise old and cosy Alfama neighbourhood, this quaint location makes being vegan in Portugal a pleasure. As the menu changes every night, you can eat here all week and never get bored.
They typically offer one main dish, a soup and a variety of tapas. Being vegan doesn't mean you have to miss out on the fun of a shared small-dish meal. For that, and a bunch of other reasons, The Food Temple is a great starting point for eating vegan in Portugal.
Opening times:Wednesday to Sunday for dinner only from 7:30pm to midnight. Closed on Mondays and Tuesdays.
📍Beco do Jasmim 18, Mouraria, Lisbon.
Ao 26 Vegan Food Project
Boasting a friendly, helpful staff and a welcoming environment, Ao 26 Vegan Food Project is the kind of place people come back to time and time again. With a good value lunch menu that includes a rotating cast of mains and soups, Ao 26 is a great place to fill your belly with delicious vegan burgers, salads and sandwiches.
The prices go up a bit in the evening, but there are more options and their desserts are to die for.
Offering vegan cheesecakes, brownies, mousses and other delights, be sure to save room to at least share a dessert with your dinner mate.
Opening times: Tuesday to Saturday 12:30pm to 3:30pm. Monday from 12:30pm to 6:30pm and 7:30pm to 11pm. Closed on Sundays.
📍Rua Vitor Cordon, 26, Lisbon.
Jardim das Cerejas
Jardim das Cerejas is the place to go to get your vegan buffet on. Offering a large selection of soups, salads, mains, sides, the all-you-can-eat setup is good value for dinner at €10.50 (in Chiado), and even better value for lunch at €8.50 (drinks and desserts are separate in both cases).
The food is Indian-influenced while offering plenty of dishes suitable for a western palate. There are always four or five hot dishes to choose from along with a salad bar and soup of the day.
In addition to their original location in Chiado on Calçada do Sacramento, they recently opened a second restaurant at Rua Andrade Corvo, near the Picoas metro stop.
Opening times: Open daily from 12pm to 3:30pm and from 7pm to 11pm.
📍Calçada do Sacramento 36, Lisbon.
📍Rua Andrade Corvo 7B, Lisbon.
Primo Basílico
If you're an expert when it comes to vegan pizza, a trip to Lisbon wouldn't be complete without a stop at Primo Basílico near the Fado Museum in Alfama. They usually feature at least two vegan options and the toppings change every day.
The staff is always super friendly and will be happy to answer any questions about the pizza and help accommodate any dietary wishes. Loaded with fresh veggies, these are pizzas you can feel great about eating.
Opening times: Tuesday to Friday 12.30pm to 3pm and 6pm to 11pm. Saturday from 12.30pm to 11pm. Closed on Sundays and Mondays.
📍Rua dos Remédios 37, Lisbon.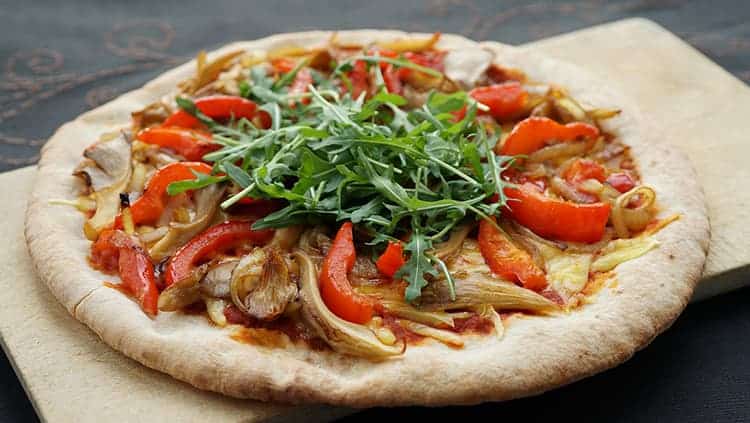 The Therapist
Located in Alcântara's trendy LX Factory, The Therapist is always a good choice. True to their name, rest assured that you will feel better when you walk out of this place than you did when you walked in.
They always have vegan options available and they use fresh, organic ingredients to craft colourful plates of healthy veggie food.
They have a lunch deal with a soup, main, and water for €8.50 that will always leave you feeling like you just did something good for yourself.
Opening times: 9:30am to 6pm daily.
📍 Rua Rodrigues de Faria 103, Lisbon.
Foodprintz
If you're looking for some yoga on the side, while eating vegan in Portugal, Foodprintz is your place.
It's one of those places you start missing as soon as you walk out the door. The service is friendly, the food is good (with a menu made exclusively of non-animal products), the atmosphere is welcoming and the prices affordable.
On the top floor in the cafe, they have avocado and pineapple toasties for €2.50, homemade vegan nut cheeses from €4.50 to €9, hearty dishes at lunchtime and banana and cinnamon ice cream for dessert for €3.50. On the ground floor, there are yoga classes.
Opening times: Monday to Friday from 9am to 7pm. Saturdays and Sundays from 10am to 6pm.
📍 Rodrigo da Fonseca 82A, Lisbon.
Vegan and vegetarian supermarkets in Lisbon?
Although there are surely enough vegan restaurants to keep you going for a while, it is also completely possible to create great meals at home while eating vegan in Portugal.
Most Portuguese supermarkets now stock a range of vegan-friendly products including almond and soy milk, as well as meat and dairy alternatives (the selection varies but the bigger the store, the better luck you'll have).
There are also quite a few health food supermarkets and bio shops throughout the city, check Google maps to see what's in your neighbourhood. You can always count on these standbys in Lisbon to find everything you need to cook vegan in Portugal.
BioMercado Open Monday to Saturday 9am to 8pm. Sundays from 10am to 8pm. Closed on Mondays. Address: Av. Duque de Ávila 141B.
Go Natural Open Monday to Friday 9am to 8 or 9pm.Saturdays from 10am to 8pm and Sundays vary depending on location. Address: There are eight locations throughout Lisbon.
Miosótis Open Monday to Saturday 9am to 9pm. Closed on Sundays. Address: Rua Latino Coelho, 89 (São Sebastião metro station, close to El Corte Inglés).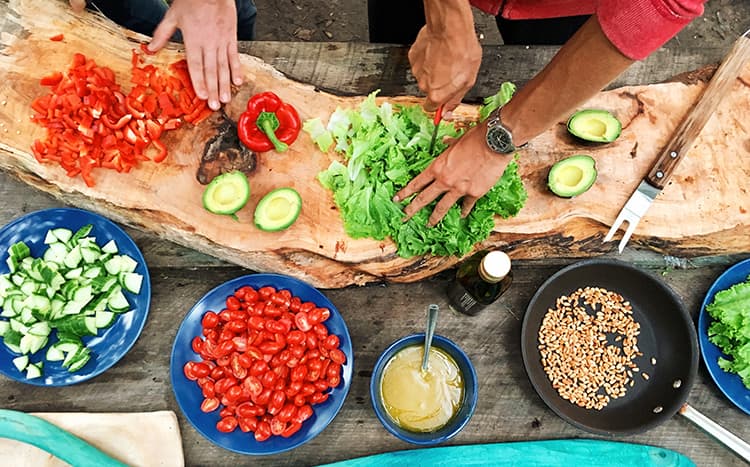 Vegan alternatives to Portuguese classics
Of course, one of the hard things about sticking to a vegan diet while travelling is that you can start to feel like you're missing out on some of the local specialities.
Luckily, a lot of vegan restaurants have stepped up to the plate, creating delicious alternatives to classic dishes, so you can still indulge in local dishes while being vegan in Portugal.
The Bifana and Francesinha
The Bifana is a pork sandwich that's available as a snack in cafes all over Portugal, and the AO 26 Vegan Food Project offers a vegan Bifana that's made with seitan. They also make a pretty tasty vegan Francesinha. Originating in Porto, and typically containing more than three types of meat, the Francesinha is normally anything but vegan.
Thanks to Ao 26's creative cooks, it doesn't have to remain off limits.
Alheira
Alheira is Portuguese sausage that's traditionally made up of a melange of different meats, the tasty alternative available at Veganeats restaurant will have you wanting to bring along your meat-eating friends to try it for themselves.
Arroz Doce
The Portuguese love their sweets, but they're generally full of milk and eggs. Arroz Doce, or Sweet Rice, is no different. Thankfully, Terra offers a vegan-friendly version that uses dairy alternatives and it still tastes just as sweet.
Being vegan in Lisbon is not that hard after all
All in all, there are lots of great places to enjoy while eating vegan in Portugal. The Portuguese are super-friendly and staff at most restaurants and shops are happy to try and accommodate you the best they can.
Don't be shy about asking questions and remember that you can absolutely have a great time eating vegan in Portugal. Just remember to say 'Obrigado"!
Did you find enough vegan options here? Do you have any experiences to share? Feel free to leave a comment below.
We publish new content every day so be sure to subscribe to our newsletter to get notified of the latest tips for your visit or move to Portugal.