We have prepared a short guide that will take you on a journey through the Portuguese wine regions and show you where you can find some of the best wines the country has to offer.
Understanding the Portuguese wine tradition
Portugal is one of the oldest wine regions in the world as wine traditions go back to the Roman Empire.
Portuguese wines are one-of-a-kind because of a long-term isolation of many grape varieties that grow only in Portugal. You'll never find them anywhere else in the world.
Portuguese wine regions
There are many wine regions in the country from Vinho Verde to the Algarve as well as the islands of Madeira and the Azores. Here, we will list the best wine regions of Portugal. Some of them are even UNESCO world heritage sites such as the Douro Valley and Pico Island wine regions. As a result, more and more enotourism (or wine tourism) is becoming popular in Portugal.
Let's take a look at what there is to know about the wines and regions.
Douro Valley
The Douro Valley are hills along the Douro River, where, in the steep slopes the grapes for wine are thriving. It's not far from Porto, approximately 100 km (62 miles). And it is the oldest wine region in the world! Here, one of the most famous Portuguese wines is produced: Port, of course.
In this region it is also possible to taste Tinto Douro (red wine), you can find a bottle for between €12 to €15. If you are collecting wines, you should look into some expert wine ratings and you should find something for around  €55 to €60.
White wines are also produced in this region, but it is a little harder to find them. Douro Branco is a crisp white wine with very light fruity flavours.
We highly recommend taking a tour through the region and trying the wines as you go.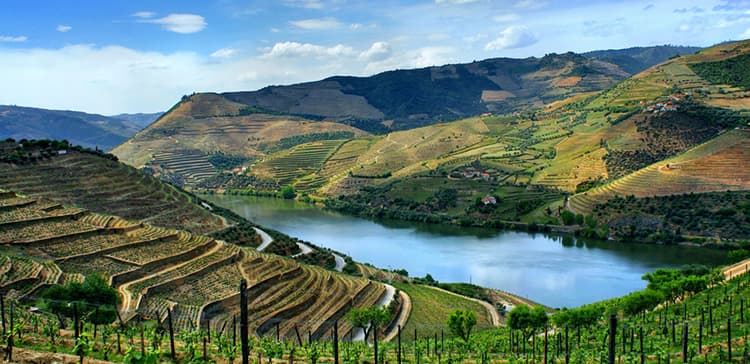 Vinho Verde region (Minho region)
In the north, you will find the biggest wine region in Portugal which got its name after the Minho River. This region is influenced by the Atlantic Ocean breeze and here Vinho Verde or "green wine" is produced. It is usually served young when it is at its best. Verde, in this context, refers not to the colour of the grape but to the grape's state, it is a little unripe.
This is the best region where you can taste fine white and rosé wines.
We recommend you give these a try:
Branco Vinho Verde – a white, fruity wine with a lemonade-like flavour;
Rosado Vinho Verde – this rosé wine has red berry flavours and is found mainly in the south of Minho region.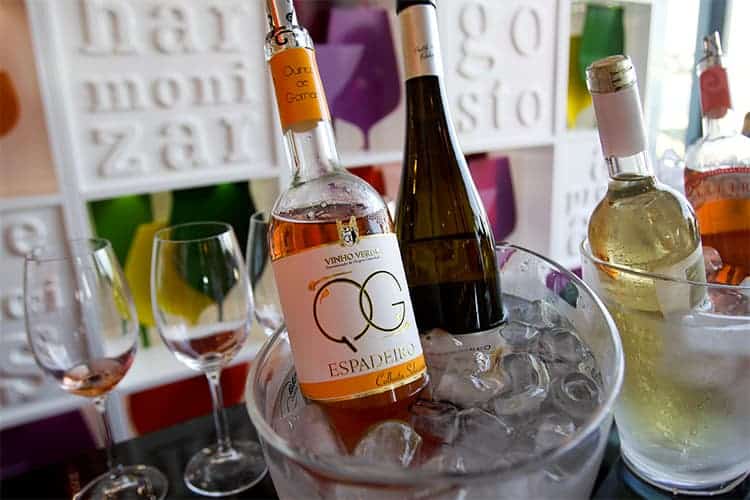 Alentejo
The Alentejo region is located southwest of Lisbon. The climate here is very hot and dry which makes it difficult to produce white wines, so this region is more popular for red wines. There are still some rosé and white wines made here though which are of an excellent quality.
Some regions producing delicious red wines in Alentejo are:
Cortes de Cima;
Redondo;
Borba; and
Reguengos.
Lisboa wine region
The Lisboa region northwest of the city of Lisbon, is right next to the Atlantic Ocean and is one of the most dynamic regions which produces a lot of wine. The vineyards are wind-stressed and it is difficult to ripen the grapes. There are various vineyards in Lisboa and most of the wines are popular internationally. Here, it is possible to find good quality wines at a reasonable price (around €12 per bottle).
Some famous wine localities in the Lisboa region are:
Alenquer
Bucelas
Colares
Arruda
Madeira
Madeira is a stunning island where you can not only have wonderful holidays, but also taste some really good wines. There are a variety of wines which will suit any preference. Madeira wines are made in a variety of styles ranging from dry wines which can be consumed on their own or as an apéritif to sweet wines usually consumed with dessert
So many Portuguese wines to choose from
There are a number of other regions which produce great wines like:
Bairrada in the centre of Portugal;
Dão;
Setúbal Peninsula;
The Algarve;
The Azores islands of Pico, Terceira, and Graciosa.
If we take a closer look at red and white wines, we'll notice how they are different in taste from region to region. For example, Alentejo reds tend to be rich and full-bodied; Bairrada red wines are tannic and robust; Dão reds are intense and a lot less tannic; Douro reds are Portugal's most robust and full-bodied.
White wines are mainly crisp, refreshing and full-bodied. And the first region which comes to mind when speaking about whites is Vinho Verde of course. Branco Alentejo produces light-bodied and full-bodied white wine while Branco Beira have light, chalky white wines.
The best way to taste most of the wines at once is to visit a wine festival or take a wine tour over several regions. Wine festivals are held in every region, but you'll have a chance to taste only some varieties.
Portuguese wines are affordable and delightful
Wines are quite inexpensive in Portugal. You can find very good options for very reasonable prices in any supermarket or online. If you are going to a restaurant, there is no need to take your wines with you. First of all, most of the restaurants have very good wines with pleasant prices; secondly, it is not allowed in most places. If you do decide to take a bottle with you, we advise you to call the restaurant in advance and ask if it is allowed.
To help you when shopping for wines, here is a list of some well-known brands with prices less than €15 per bottle:
Quinta da Aveleda (Vinho Verde) – a white wine with a fruity flavour and aromas of apple, lemon and pea;
Paxis Red Blend (Lisboa) – a tannic red wine with a taste of dark berries;
Mural Reserva (Douro) – a full-bodied, tannic red;
Loureiro (Vinho Verde) – a crispy white wine, full-bodied with a lemon flavour;
Catedral (Dão) – a full-bodied red wine, tannic with a fruit and berry tartness;
Castelo do Sulco Reserva (Lisboa) – a red wine with red fruits flavour.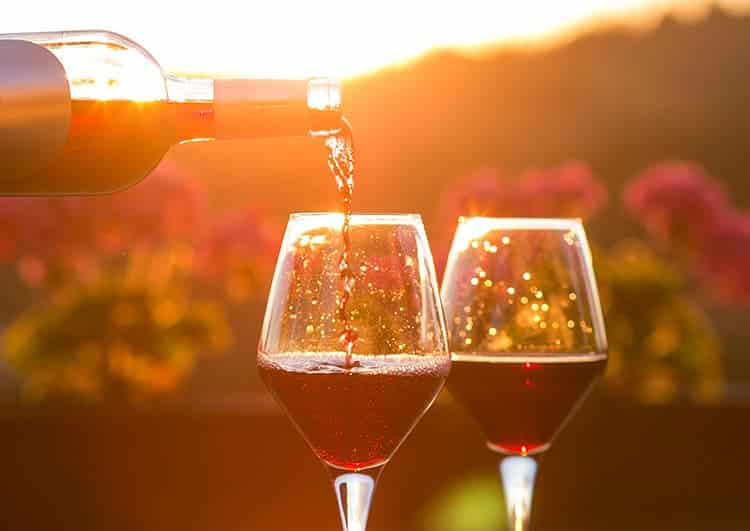 And here is a final topper for you: Did you know that about half of the world's cork comes from Portugal?
There are many varieties of wine in Portugal and thankfully it is possible to taste these "nectars of the Gods" in every part of the world. But we think the best wine is the one you have when you relax by the Douro River or sit in a good Porto restaurant. Cheers!
We hope you learnt a little about Portuguese wines here. Do you have any experiences to share? Feel free to leave a comment below.
We publish new content every day so be sure to subscribe to our newsletter to get notified of the latest tips for your visit or move to Portugal.