Are you planning a trip to the wonderful city of Porto or the surrounding vicinity?
If so, will you be arriving by plane?
Here's all you need to know and more about Porto Airport.
Your guide to Porto Airport
We agree that sometimes arriving to an airport for the first time can be a little daunting, especially when you're not fully prepared of what to expect.
Our aim is that the following brief, but concise guide will put your mind at ease by making sure that all bases are covered with regards to planning your arrival or departure.
In the following text you'll get the low down on essential elements including size, layout and location of Porto Airport, airport facilities and amenities, current operating airlines, the fastest and most economical ways to travel to Porto city centre, plus details of recommended, nearby hotels.
About Porto Airport
Located a mere 11km (just under 7 miles) to the north of the city centre, Porto Airport is officially known as Francisco Sá Carneiro Airport, a tribute to the former, Porto-born, Portuguese Prime Minister who tragically died in an air disaster on his way there in 1980.
Visiting Porto
With the old town of Porto being a UNESCO World Heritage Site, the city is increasingly becoming one of the must-visit European destinations. The allure of the city has seen a steady rise in passengers passing through the doors of the individual airport terminal and last year this peaked to more than 10 million.
A spacious and modern airport
The contemporary, innovatively designed passenger terminal building spans three floors and is substantial in size with the arrivals hall situated on the ground floor and the departures hall on the third floor. The modern infrastructure incorporates a glass wall in the departures hall, overlooking the departing aircraft.
There are five huge skylights in the main hall, allowing natural daylight to enter the terminal building, adding to the customer experience.
It's little wonder that it has been consistently voted one of the best European airports of recent years.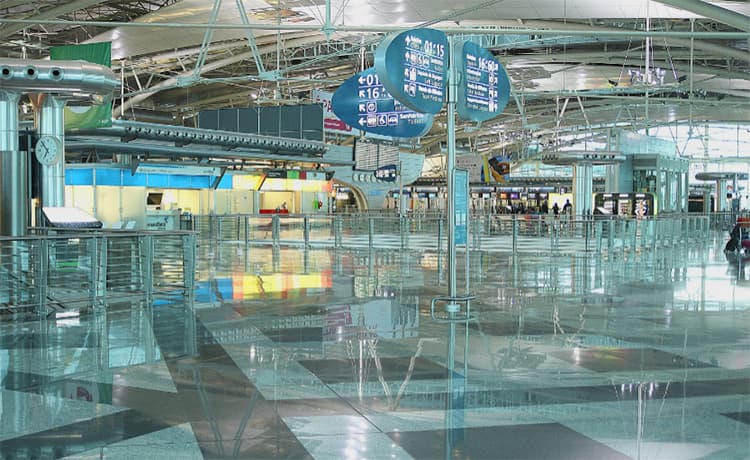 Facilities and amenities at Porto Airport
Porto Airport boasts a wealth of facilities and amenities catering for your every need whilst passing through.
Shopping at Porto Airport
These include a wide variety of shops selling everything from souvenirs, magazines and handy-crafts to clothes, luggage, sunglasses and electronics. Most of the shops open at 5.30am and close at 10.30pm, however, the well-stocked, airside duty free shop opens a little earlier at 5am.
You will also find a pharmacy on the third floor which is open from 8.30am until 11pm and a post office on the ground floor  which is open between 9am until 8pm.
Food and drinks in Porto Airport
Whether you fancy a quick coffee or a bite to eat, or if you feel like simply unwinding with a drink or two, the assortment of bars, restaurants and cafés is more than adequate.
Household names such as Burger King and Costa Coffee are intertwined with regional eateries such as A Francesinha, Douro and La Pausa, each serving typical Portuguese dishes.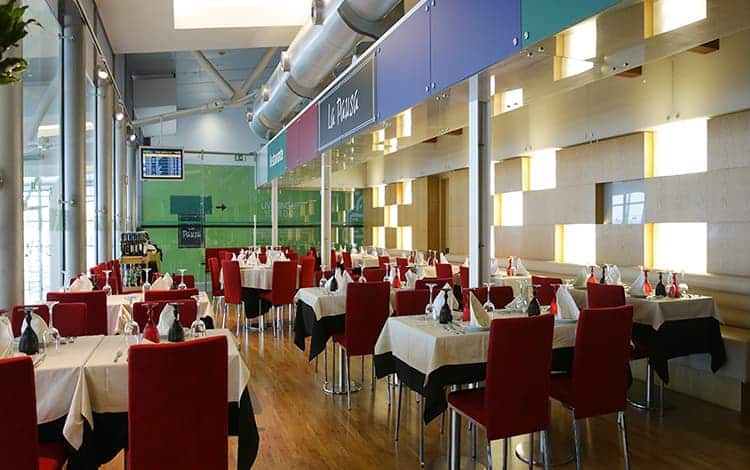 Other facilities at Porto Airport include:
Free wifi;
Banking services and ATMs throughout;
Currency exchange desks;
Free water bottle filling stations;
Children's play areas;
Baby-changing facilities;
Information desk;
Storage lockers;
Showers;
Travel agencies;
Free mobile phone charging;
Medical first aid services;
Luggage wrapping service; and
VAT refunds.
Another great utility is the MyWay Assistance Service which caters for passengers with reduced mobility, assisting them with either the departure or arrival part of their journey.
Renting a car from Porto Airport
Finally, most of the major international car rental companies in Portugal operate out of Porto Airport and their offices are located in the arrivals lounge.
There you will find:
Operating airlines at Porto Airport
With Porto Airport being very popular amongst short-haul passengers, most of the serving airlines are of the low cost variety with only one or two exceptions.
Some of the many airlines that currently fly to and from Porto Airport are:
Getting to and from Porto city centre
The main forms of transport to and from Porto city centre are bus, Metro, shuttle, taxi or Uber and with the airport being only a short distance away, travel times are minimal.
The most cost-effective travel options are via bus and Metro with an adult, one-way trip costing €1.95 for the bus and €2.60 for the Metro. The journey for either option will take you around 30 minutes and services run at regular intervals.
There are even night buses available if you arrive later than expected or if your flight has been delayed.
Another travel option is the Airport Shuttle Bus, however, although being a quicker choice, prices are around three to four times higher than those of a standard, public bus.
Not a fan of public transport?
No problem.
You can choose to travel by taxi or Uber, reaching the city centre in around 10 minutes. Prices for a standard taxi are usually between €20 to €30. If you'd prefer to take Uber, the price will be around €17 or €18.
You can also book a private transfer from your hotel in the city to Porto Airport for only €23 for up to four people.
Hotels near Porto Airport
For those travellers too weary to make their way to the city centre or need to catch an early morning flight, there are plenty of hotels within the immediate vicinity of Porto Airport which vary in price.
In terms of proximity (all within walking distance – under 500 metres or 1640 feet from the terminal building), value for money and popularity, listed below are our favourites:
Porto Airport is convenient and modern
We trust that this essential guide provides you with all of the necessary information needed to prepare you for your transition through this passenger-friendly, well-equipped airport.
From the welcoming, helpful and considerate staff right through to the wide array of consumer options and onward travel links, whatever your reason for visiting Porto Airport, we're sure that you'll have a relaxing, pleasurable, stress-free experience.
Did you have any questions or experiences to share? We welcome your feedback.
Don't miss a thing about visiting Portugal. Make sure you sign up for our newsletter today!