Portugal is enjoying something of a moment.
Topping European getaway lists and popping up in tourism articles in publications worldwide.
While pictures of Lisbon's picturesque streets, complete with its 1930's trams, or Porto's incredible waterfront are familiar sights, few tourists venture to the atmospheric and historical city of Braga.
Why should you visit Braga?
If you're looking for a slice of authentic Portugal, the sleepy northern city of Braga is the perfect spot to enjoy traditional Portuguese food and hospitality away from the tourists. Nestled among the hills between the fantastic Peneda-Gerês National Park and the coast, it's a stop off the beaten track that's well worth it.
Where is Braga?
Braga is about an hour's drive from Porto and also the Peneda-Gerês National Park, and less than 70 km (43 miles) from the Spanish border.
To get to Braga from Lisbon, it'll take roughly four hours by road or by train, five if you take the bus from Sete Rios bus station.
The nearest airport is Porto, and there are companies which offer shuttle buses directly to and from Braga (Getbus operates a service starting at €8).
When is the best time to visit Braga?
Like most of Portugal, Braga has a moderate climate all year round, with August usually being the hottest month and January the coldest.
If you want to make sure you avoid the rain during your visit, it's best to pick sometime in the months of June to September, though the quieter months of spring (March to May) and the autumn months of October to November could also be nicer for those who prefer slightly cooler temperatures for sightseeing.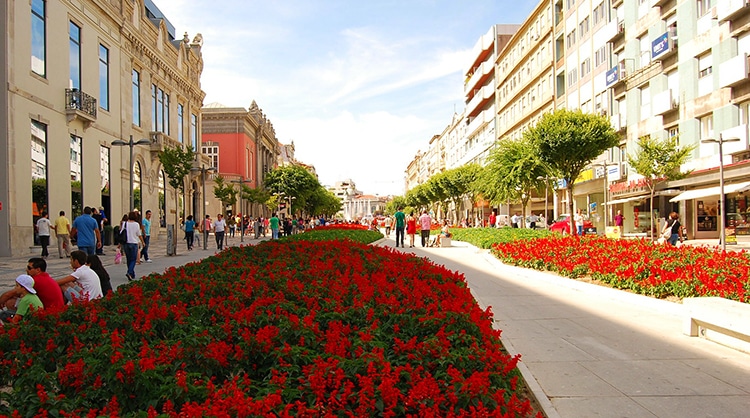 Festivals in Braga
Braga is home to a number of cultural festivals, and coinciding with these could greatly enrich your trip.
The Braga Theatre Festival (Mimarte) sees theatre pieces performed in the streets of the city, and usually takes place in June or July. This year should be its 20th edition.
The summer months are a busy time for festivals in Braga. The Braga Jazz Festival will be taking place in July this year, which features international as well as local jazz artists.
Autumn is also filled with musical delights with the Festival Para Gente Sentada taking place towards the end of the year, as well as the world-renowned Semibreve, an electronic music and art festival, which will take place this year at the end of October.
Where to stay in Braga
If you're looking for a place to stay when you visit Braga, then there are a number of high and low cost options to consider.
Hostels
If you're passing through Braga on a backpackers budget, then there's a selection of hostels to choose from.
Among the low-priced, highly-rated hostels in the Lisbon city is the Collector's Hostel. Close to the city centre in the historic area, this hostel offers beds in shared dorms for €17.50, or doubles for €22 per person, with breakfast included.
Hotels
If your budget is a little higher, then there are also many excellent mid- and high-range hotels to stay in when you visit Braga.
Mid-range
Amelia's House (website is in Portuguese) offers clean and simple rooms, with access to a communal kitchen and breakfast included. Prices start at €41 per night.
Braga Heritage Lofts (website is in Portuguese) has a selection of simple and modern rooms with kitchenettes. Located in central Braga, prices start from €58 per night.
Another option in central Braga is Pateo de Janes, a welcoming guesthouse with friendly staff, with rooms starting at €42 per night.
High-range
If you're looking for luxury accommodation when you visit Braga, try the Vila Galé Collection. This grand hotel is housed in an incredible 16th century building in the centre of Braga, and has a spa as well as indoor and outdoor swimming pools. Prices start at €110 per night.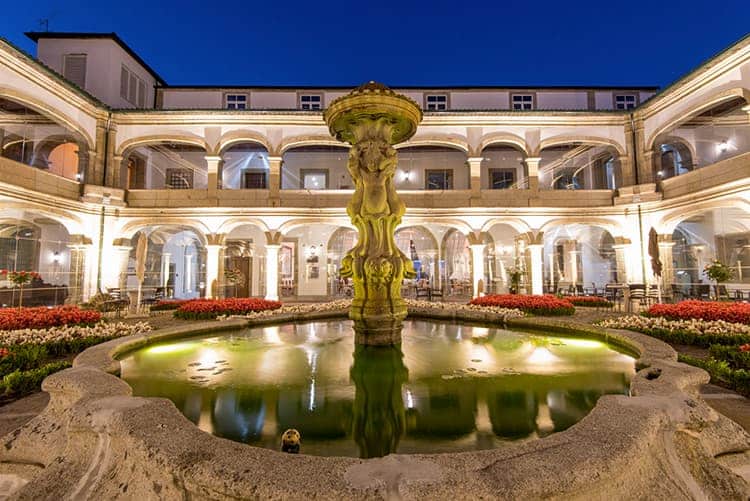 For a more tranquil option, try the Do Parque Hotel situated near the sanctuary of Bom Jesus do Monte. This picturesque hotel also includes a spa, and prices start from €65 per night.
Airbnb
If you prefer to stay in accommodation sourced through Airbnb when you visit Braga, there are many good suggestions to consider.
Apartamento Central costs €40 per night for two guests, and the charming apartment comes complete with a fully equipped kitchen and living room.
Penthouse Historic Centre costs €72 per night and sleeps four people. This penthouse apartment in central Braga boasts incredible views in a stunning location, with a large terrace and a pool table.
If you choose Comodità Braga, you get an entire apartment for €30 per night for up to four people, in a more tranquil area a bit further from the centre.
Things to do in Braga
Visit the amazing churches
The city of Braga is known for its religious history as it's one off the oldest Christian cities in the world, so unsurprisingly, churches feature heavily on the list of must-see sights.
When you visit Braga you will most certainly want to visit the postcard-perfect Bom Jesus do Monte, and climb its 577 steps.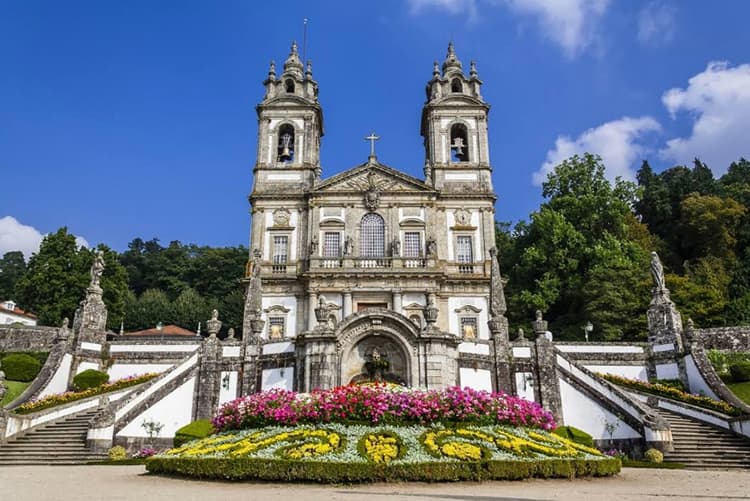 Equally impressive is the Braga Cathedral, which dates back to the third century and is one of the most historically significant buildings in the whole of Portugal. Within the cathedral complex there is also the Igreja da Misericórdia, one of the only renaissance churches in the city.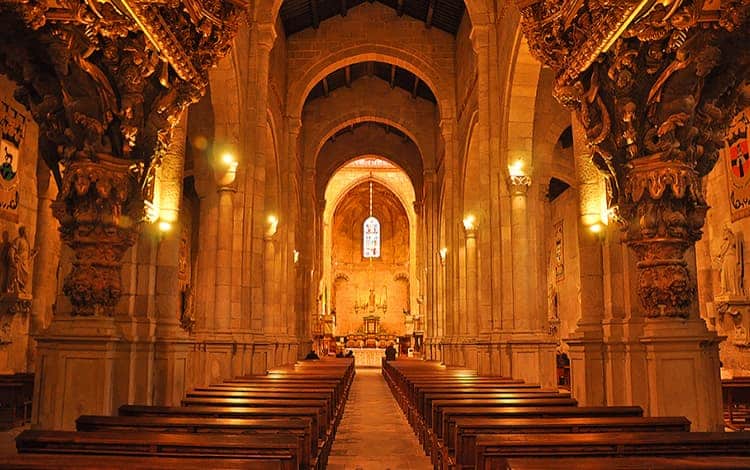 Other impressive religious monuments include the Church of Santa Cruz ("Irmandade de Santa Cruz"), as well as the Monastery of St Martin of Tibães, which is known for its ostentatious decoration.
The Sanctuary of Our Lady of Sameiro is a neoclassical wonder which is also worth a visit.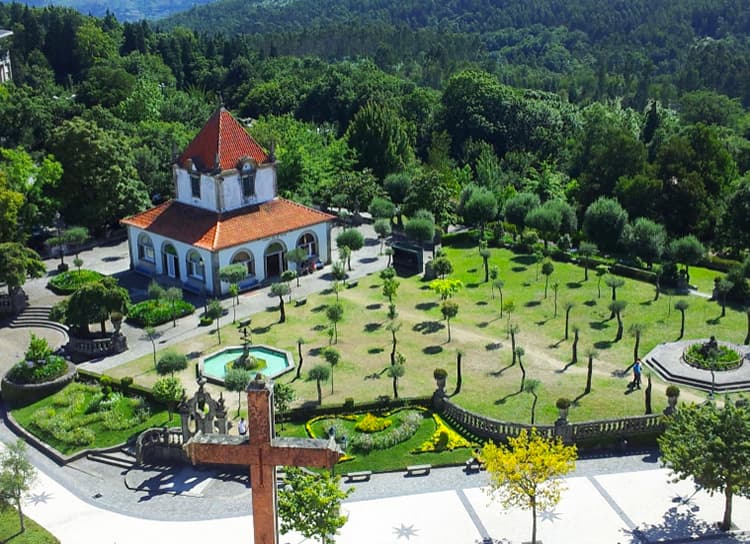 Walk around the city
The lively Rua do Souto, which begins at the arch of the new gate and ends at the impressive Praça da República is a must-do walk through Braga.
The incredible facade of the Raio Palace is also worth a look.
Braga is also home to a number of beautiful squares and gardens, like the garden of Casa dos Biscainhos, and the Garden of Santa Barbara.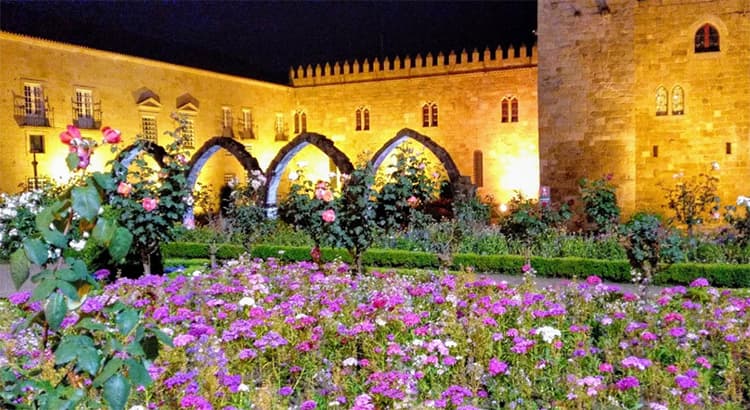 Take a day trip near Braga
There are also many great spots to visit less than an hour from Braga. The nearby city of Guimarães is only half an hour's drive away, and is essential for all those interested in Portugal's history.
For nature lovers, the National Park of Peneda-Gerês is less than an hour's drive, and is famous for its picturesque valleys, rivers and waterfalls.
In the summer months, the river beach of Adaúfe also makes for an excellent day trip from Braga, with its cool, crystalline waters offering some respite from the heat.
Where to eat when you visit Braga
Braga has a wide variety of restaurant options, which are largely incredibly affordable in comparison to the higher prices in Porto and Lisbon.
For typical regional and Portuguese food, head to Restaurante O Jaco (website is in Portuguese) near the city hall.
If you're looking for some petiscos or Portuguese tapas, then we recommend trying the reasonably priced restaurant Tabuas, Copas e Outras Cenas or Petisqueira Confianza, for a more intimate setting.
Vegetarian travellers will want to check out Gosto Superior for some excellent plant-based dishes.
For a friendly dinner with the locals in a quirky setting, try Retro Kitchen.
How much will it cost to visit Braga?
For two travellers, a two-night stay in Braga in a mid-range hotel can cost as little as €100 per person, including food, accommodation and travel to and from Porto airport.
What is life like in Braga?
The cost of living in Braga is lower than most other cities in Portugal, meaning that those who live there will have more money to spend if earning the same salary.
As a small city, the pace of life is a little slower, however it is also home to the University of the Minho, which brings a lot of youthful energy and nightlife to Braga.
Did you enjoy this article about Braga, Portugal? Do you have any tips to share? Feel free to leave a comment below.
Discover Portugal and BE part of Portugal. Sign up for our FREE newsletter today and never miss a thing.