Have you heard of Aveiro in Portugal?
No? Well keep reading. It's a real treat.
Aveiro is a fantastic little city full of beauty and things to see and do. We are sure you are going to love it.
Visit Aveiro in Portugal
Aveiro is an unusual and remarkable town. Its economic growth has been driven by the surrounding salt pans and the shallow coastal lagoons. There is a lot of love for this prosperous town, known as the Venice of Portugal.
It is a city that is an absolute pleasure to visit, with its youthful, energetic buzz and its narrow streets and typical colourful houses. But what makes it so fascinating is its uniqueness, characterised by its bold, Art Nouveau buildings, picturesque water canals and its pretty boats, all of which are now adapted for tourism.
If you have not been already, Aveiro is certainly a place that should be visited during a longer stay in the Porto region.
What to do when you visit Aveiro
There are lots of things that you can do during your visit to Aveiro, including, the main tourist sites, city tours and other activities that revolve around canals, lagoons and beaches. There is much to take in: The architecture, amazing art, superb food, interesting museums and salt production history.
Here are the top three things that you can do during your stay in Aveiro:
Book a Moliceiro boat cruise
One thing that is quite delightful to see and is highly recommended when first arriving to Aveiro, is to take a cruise in the Moliceiro boats. With motifs that depict scenes from the town's history, these brightly coloured boats are now seen as a much more classy way of transporting tourists around the town's canals.
With a short cruise along the central canal, you will be able to view some of Aveiro's agricultural roots, historic buildings and modern developments. The Moliceiro tour starts at 10am and run until 6.30pm. These tours cost around €8 for a 45-minute cruise. Definitely worth doing!
Or, if you would like a little longer guided tour from Porto, there is a wonderful four-hour tour that takes you all around Aveiro including a boat cruise. They will even pick you up from your Porto hotel.
Explore the Art Nouveau scene
Along the main canal in downtown Aveiro is a series of buildings and façades that are inspired by the romantic Art Nouveau period. The bright colours are mixed with fluid and curved lines which make these architectural treasures stand out from the rest. And do not miss the Art Nouveau museum. The museum building is worth a visit even just to take a look at the striking architecture. Also visit the tea house, Casa de Chá, as a special local treat.
Visit the Aveiro Museum
Previously known as Mosteiro de Jesus,  a convent for women that was built in 1458, the Aveiro Museum ("Museu de Aveiro") is well worth your time. There, you will find the Church of Jesus ("Igreja de Jesus") with its beautiful architecture that is characterised by the glazed tiles and its golden colour. You will also discover the portrait of Princess Santa Joana as well as a peculiar collection of Portuguese baroque art.
Visit the beach
Aveiro is a largely unexplored, unique Portuguese town that is surrounded by an area of outstanding natural beauty. But the city is not located on the coast and the two main resort towns, Costa Nova and Barra, are a short bus ride away from the town centre.
Costa Nova Beach is quite stunning. It has clear, crashing Atlantic waves making it a perfect location to spend a few hours relaxing.
Barra Beach is located to the north of Costa Nova. In contrast, the beach is divided into two sections by a long pier and is combined with the northern headland allowing the beach to be sheltered from the Atlantic rollers. This makes it more suitable for those seeking calmer waters to swim in.
Both Barra and Costa Nova are worth visiting, be sure to have a look at the rainbow-striped fisherman cottages in the area. Reminiscent of doll's houses, these little buildings were once used to store fishing gear, but some are now used as accommodation. Visitors are commonly seen snapping photos of (and with) these unique buildings.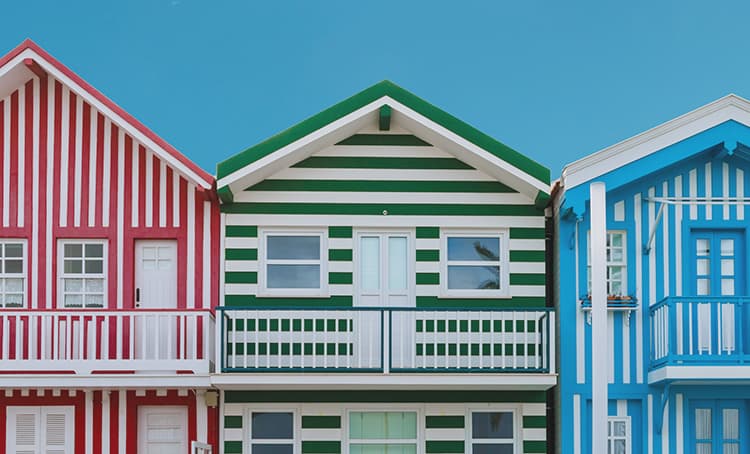 For full day tours from Porto or Gaia, have a look at what's on offer from our friends at Get Your Guide. We highly recommend these tours.
When is the best time to visit Aveiro?
The weather in Aveiro makes it an ideal destination for people who like their temperatures not too hot and not too cold. The peak of summer is in July and August, but it stays pleasantly warm from April until October. These months are also the driest and thanks to the cooling breeze which rolls off the Atlantic, night-time temperatures in Aveiro are never too high.
Winter in Aveiro is the wet season, with relatively high levels of rainfall between October and February and often into April and May. Frosts are rare during winter in Aveiro, thanks to the low altitude. On average, daytime temperatures often sit around 15°C (59°F) making this a pleasant choice for those who are looking to spend some time in Portugal in the off-season.
The best time to visit Aveiro would be a time when you can soak in the experiences and enjoy every moment of your trip without worrying about tourists and crowded spaces.
Late spring and fall are the best times to visit Aveiro.
The busiest season in Aveiro is in late summer when hotel rooms are a lot pricier. We recommend visiting Aveiro during the month of September when temperatures are still warm but room rates are much cheaper.
How many days do you need to visit Aveiro
Although Aveiro is smaller and less-explored than other major cities of Portugal, we recommend that you plan to stay for a night or two. Aveiro makes the perfect stopover if you are travelling between Lisbon and Porto. Not only that, it is a quick and affordable day trip if you are nearby.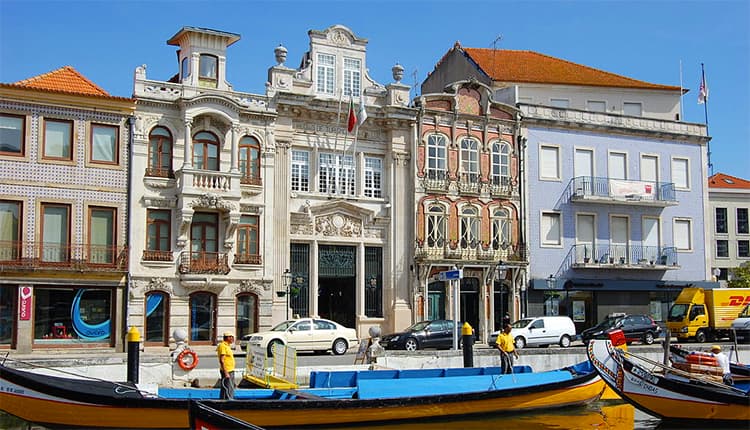 How to get to Aveiro
From Porto Airport
Unfortunately, there are no direct buses between Porto Airport and Aveiro but it is easy to get there by Metro and train. Even though it may take longer, both are fairly frequent, straightforward and inexpensive.
You can take the Metro do Porto Line E from the Airport to Campanhã station. From there you can catch the train to Aveiro which runs every 20 minutes on weekdays and holidays. The train ride will take about 30 minutes and costs only €2.60 for a four-zone ticket.
Keep in mind that the Andante ticket is rechargeable, so if you are coming back to Porto, don't throw away your ticket. Tickets are sold at the airport tourist office, but if it's not open, you will need some coins for the ticket machines that are provided there.
From Lisbon Airport
If you are not planning to spend time in Lisbon on the way to Aveiro, you will need to get from Lisbon Airport to Oriente station. This is very simple using the Lisbon Metro from the Airport station. Trains run to Oriente station every few minutes. The journey only takes about five minutes.
You can also catch the local Carris city bus number 744 to Oriente.
If you are planning to spend more time in Lisbon, you can catch a train to Aveiro from Santa Apolónia station near the city centre. The main trains in Portugal are operated by Comboios de Portugal.
We also have the Alfa Pendular and Intercity ("Intercididades") trains that can take you from Lisbon to Porto.
By bus from Lisbon
From Lisbon Airport you will need to make your way to the Sete Rios Bus Terminal. This is roughly around 5 km (3 miles) away and is linked to it by the Metro line. You can take any train to the end of the line at São Sebastião, then change to the Azul (blue) Line for a two-stop ride to Jardim Zoológico station. Trains run every few minutes and the journey will take around 25 minutes and cost €1.95.
From there, the coach service, Rede Expressos, can take you to Aveiro in about three hours and 15 minutes.
How to get around in Aveiro
When you get to Aveiro, you will notice that it is an easy and walkable city. There are less steep hills to walk up and the roads are mostly flat which is great for those who like to walk or ride around with a bike. Bike hire is also available with bike stations in various locations.
If you prefer to catch public transport to get around the city a lot quicker and easier, there are plenty of local buses (website is in Portuguese). Fares are around €2 each trip.
Where to stay in Aveiro?
Aveiro is often visited as a day trip from Porto, because it is easy to get to and it offers a range of unique sights and activities. You can make your holiday much more enjoyable if you stay a night or two. There are a huge range of hotels to choose from.
Here are a few we can recommended.
Hotel das Salinas
Hotel das Salinas is a top choice for a hotel in Aveiro. It is located in the city centre and overlooks the city's central canal, views of the Art Nouveau houses and traditional Moliceiro boats.
The hotel offers ultra-modern rooms with wooden furniture which gives it a nice cozy feeling. A breakfast buffet is included or you can order a famous Portuguese Continental breakfast delivered to your room. They also have some self-catering studios where you can enjoy cooking with the family.
Hotel Moliceiro
Another top choice is Hotel Moliceiro, a charming four-star hotel in the centre of Aveiro featuring views of the Aveiro Lagoon (Ria de Aveiro). The hotel offers bright rooms decorated with classical furnishings with a modern touch.
The Moliceiro serves a buffet breakfast that is well-prepared with seasonal ingredients. After a day of sightseeing, you can relax while enjoying a refreshing drink at the hotel's elegant bar.
Hotel Aveiro Center
If you're on a budget and want to go for something that is not too fancy, but still provides the comfort you need during your stay, we recommend Hotel Aveiro Center. It is a small, three-star hotel that is a short stroll from the central canal ("Canal Central da Ria de Aveiro"). Yes, it's so close!
This small and cosy hotel features personalised service and a family-like atmosphere which will give you the experience of the countryside in the heart of the city.
If you need more information on local attractions of Portugal, including boat tours and other activities when you visit Aveiro, you can go to the front desk of your hotel and the friendly staff will be happy to give you some local advice.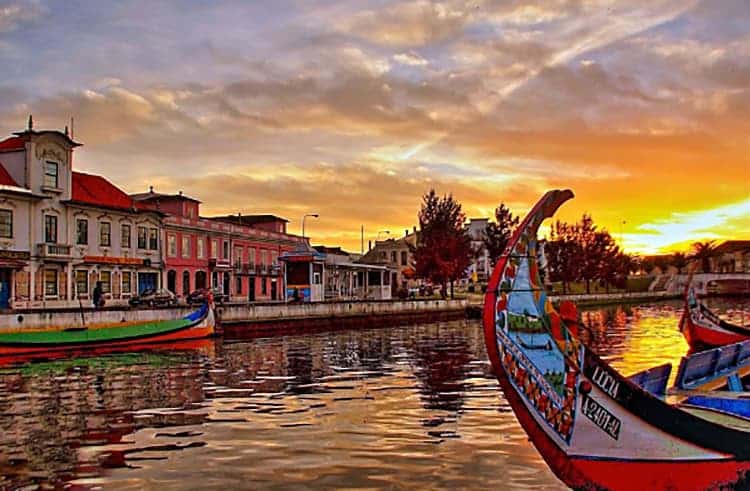 Where to eat in Aveiro
There are a number of fantastic restaurants, bars and shops within a short walking distance from the hotels listed above.
When you visit Aveiro, you will find that it is a uniquely different Portuguese destination with a rich history based on its traditional fishing industry and proximity to the ocean. Being close to the water has strongly influenced the types of cuisine in the region, which is predominately based around seafood.
You can try many recognisable Portuguese flavours across Aveiro. Here are three top choices of restaurants that will make your stay worthwhile.
Salpoente
Salpoente is located in Cais de São Roque in Aveiro. The restaurant is built in two former salt warehouses which are part of the city's historical heritage. It is quite elegant and tranquil, reinventing traditional Portuguese cuisines that are exemplary and of superior quality for all tastes and trends, including the most common dish: Salted cod (bacalhau).
Armazém da Alfândega
A must-visit, top quality restaurant in Aveiro that serves meals with traditional influences, at reasonable prices without losing the regional identity. Armazém da Alfândega was opened about a year ago on Largo do Rossio, with decoration inspired by local traditions and harmonised with contemporary design. This restaurant invites you to savour a cuisine where the flavours of the sea occupies a prominent place.
Restaurante O Bairro
An informal natural ambience with superb specialities reinvented by the creative chef Restaurante O Bairro uses the best local ingredients for their traditional delicacies which are excellently presented.
You can find Restaurante O Bairro at Largo da Praça do Peixe 24. It will not disappoint you. After all, the ingredients arrive every day, fresh, from the market next door.
Famous delicacies you must try in Aveiro
If you think Lisbon has a lot of pastry and bakery shops, you are in for a surprise!
Aveiro has to be the Portuguese city with the most pastry and bakery shops ("pastelarias") you can find per square metre. You can't miss it because there is at least one in every corner.
So, what to try? How about…
Ovos Moles de Aveiro
Every pastry and bakery shop in Aveiro sells the famous "ovos moles" which are little egg sweets. Locals will tell you that some "ovos moles" are better than others and the best ones are sold at Confeitaria Peixinho (website is in Portuguese) and Maria Da Apresentação Da Cruz Herdeiros (website is in Portuguese), two neighbouring stores right in the city centre of Aveiro Rua de Coimbra.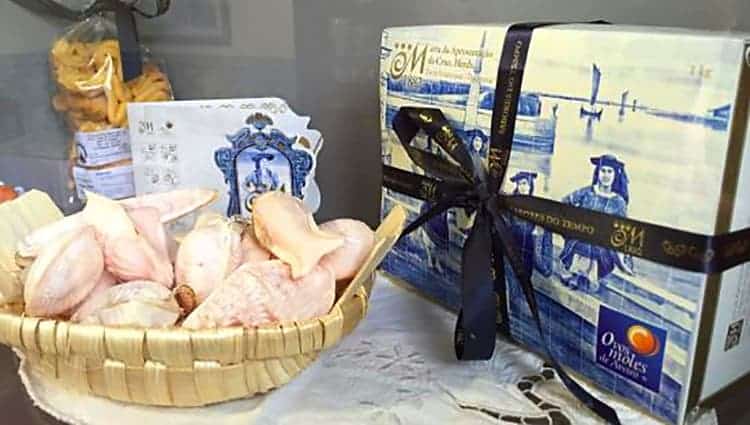 Tripas de Aveiro
In comparison to the favoured "ovos moles", "tripas" are the underdogs of Aveiro sweets. These semi-baked-waffle-doughs taste like they are made in heaven. They are the most comforting and versatile baked sweets around town. You can eat it on its own like a plain waffle with a touch of icing sugar or cinnamon or take it to the next level with a filling of your choice such as chocolate, egg custard, jam, ham and cheese, or whatever suits your taste. The list goes on.
Make time to visit Aveiro, Portugal
We hope we've covered everything you need to know for a wonderful trip to Aveiro. It is great that Aveiro is so close to Porto, because it makes for an excellent short visit from the city. So, start planning your day trip from Porto or Lisbon and enjoy!
Do you have any questions? Let us know if you have been to Aveiro and what your favourite part was in the comments below.
Stay in touch and subscribe to our free newsletter today!