Which fish and seafood should you try in Portugal?
In this article, you'll find all about you need to know about fish and seafood in Portugal so you know what to order at Portuguese restaurants.
Let's take a look at the best options.
What is so special about the fish and seafood in Portugal?
Why is Portugal so famous for fish and seafood?
Did you know that the coastline of continental Portugal is approximately 934 km (580 miles) long? It's easy to understand why, from ancient times, fishing was the only way of getting food.
It is therefore expected that seafood and fish are the main ingredients in the national cuisine.
Discover the most traditional Portuguese food and what you should try.
Nowadays, more and more gastro tours are made to Portugal, as tourists want to experience these simple, fresh and delicious dishes. There is a great variety of  fish and seafood in Portugal.
The Portuguese love their fish and seafood so here is a list of the most popular for your to try.
Tuna ("atum")
Canned tuna is very popular all over the world, but when you are in Portugal, it is better to try a tuna steak in a restaurant or grill it yourself. There are a number of recipes with different sauces and marinades. You will probably also see tuna pâte served with your bread at a restaurant.
Sea Bream ("dourada")
Dourada is one of the most popular species of fish in Portugal as well as the turbot and sea bass. Dourada is high in iodine – a vital mineral for your health. It is usually grilled and served with salad and potatoes.
Alfonsino ("imperador")
Alfonsino is a deep-water fish with a slightly sweet flavour and is found in temperate and tropical waters (Pacific and Atlantic), but the biggest fisheries are located off the coasts of Portugal, Japan, and New Zealand.
Atlantic wreckfish ("cherne")
Atlantic wreckfish are also a deep-water fish and can be found on the ocean bottom where they inhabit caves and shipwrecks. It is found in the north-east Atlantic and off Madeira and the Azores. Good steaks can be made with wreckfish and is usually either grilled or baked.
Seabass ("robalo")
Seabass are found in the north-east Atlantic and the Mediterranean and has a mild flavor with a buttery texture similar to chicken, although the taste depends on the type and the cooking method.
Octopus ("polvo")
Octopus is found in the north-east Atlantic and the Mediterranean and off Madeira and the Azores. When properly cooked, an octopus is not chewy and tough, but light and similar to a chicken taste too. It is often served as a salad for an entrée.
Oysters ("ostras")
Oysters are found in the north-east Atlantic and along the Portuguese coast. In Roman times, oysters were considered a powerful aphrodisiac, but there is no scientific proof of that. Anyway, if you like oysters, you'll have a chance to eat plenty of them in Portugal.
Shrimp ("camarão")
Shrimp are widespread and can be found near the seafloor of most coasts. Is there anyone who doesn't like shrimps? It's a good finger food and a great addition to a cold beer.
Stone crab and spider crab ("sapateira e santola")
Stone crab and spider crab are found off the Azores and in the Mediterranean. Crabs have a very mild and tasty meat, but you have to work hard in order to get it. They are called the crustaceans kings of Portugal.
Cod ("bacalhau")
We'll pay a bit more attention to bacalhau (the Portuguese word for cod). It's not a fresh, just caught cod, but for a salted and dried cod. It is surprising, but there's no name for this fresh fish, it is instead called "fresh salt cod" (bacalhau fresco).
But why do they eat it only salted and dried?
Imagine you are in the 15th century, you have no refrigerators, no preservatives and you have to go to sea for 10 months. What would you do with the produce you caught? How would you save them during this time on your ship?
The answer is SALT. You would dry and salt everything possible. Cod is the best variety of fish for this method as it is low in fat and oils.
This wonderful and lifesaving technique (for sailors) came from the fishermen of Newfoundland, a Canadian island off the east coast of North America, and was shared all over Europe.
Today, the Portuguese can't imagine their life without this salted and dried fish. You may think that cod is caught off the Portuguese coast, but it's not. Actually, bacalhau is caught in much colder waters near Norway, Iceland, and Newfoundland.
Bacalhau is a part of the most famous dishes in Portugal, and, what is important for such a religious country; it is served at Christmas and Easter time.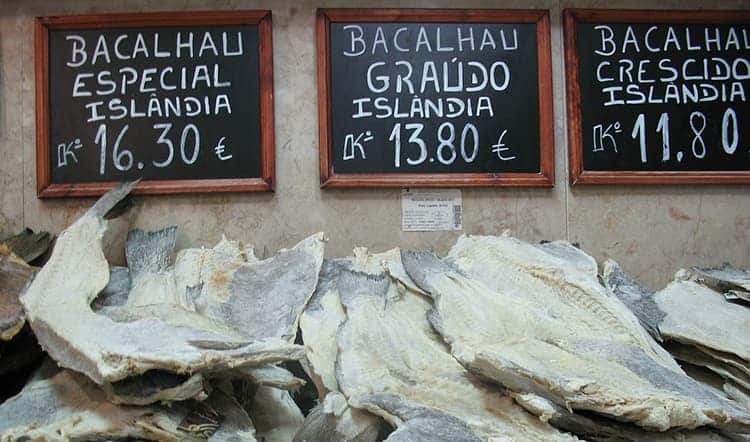 Bacalhau recipes
One of the easiest recipes to make is "Bacalhau à Lagareiro". It's cod fillets baked and served with potatoes and smothered in olive oil. Here's the recipe to try it yourself.
"Bacalhau à Brás" is the most favorite and popular dish in most of Portugal. The fish is shredded and fried, then mixed with small bits of potatoes (like crispy french fries) and eggs. Usually, "Bacalhau à Brás" is topped with olives and parsley for extra flavour. Try the recipe here.
"Bacalhau com Natas" is a very popular way of cooking bacalhau in Portugal. It is an oven-baked recipe consisting of bacalhau, onion, fried potato and cream.
"Bacalhau com todos" is "codfish with everything" in Portuguese which consists of boiled codfish, boiled vegetables (potato, carrots, and cabbage) and hard-boiled eggs and is served with a drizzle of olive oil.
It can be said that bacalhau is "the king" of traditional Portuguese cuisine and "the queen" is…
Sardines
They say it is "the queen" of the summer time only, but I can't agree with that notion as all year round, it is possible to buy canned sardines.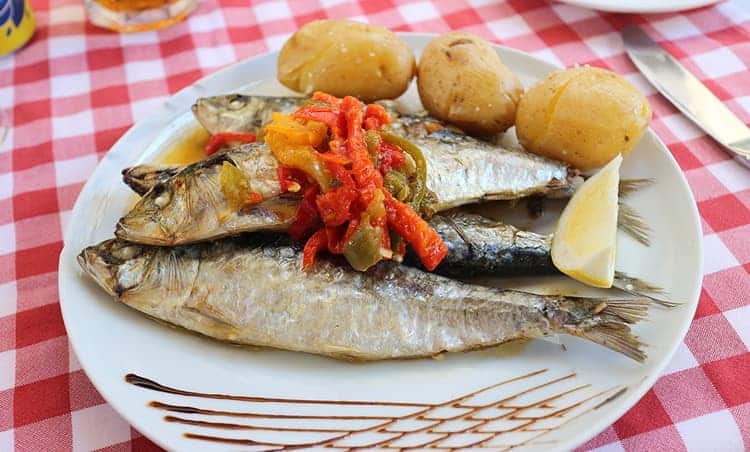 Why the sardine is called the queen of summer?
Sardines are in season only from March to October, between June and August they are at their best. During this period there are a number of festivals dedicated to sardines.
But one festival which is not devoted to sardines, is associated with this fish for sure. It is the Feast of Saint Anthony or the Lisbon Sardine Festival. Where's the sense? What brings Saint Anthony and sardines together?
Saint Anthony, also known as Saint Anthony of Padua, is the patron saint of Lisbon and was a Portuguese Catholic priest who died in Padua. The story goes that once in Italy, he was ignored by people during his preaching, so he decided to turn to the fish away.
They all came to the shore to listen to him and at the end, the Saint blessed the fish and they swam away. People around were deeply impressed by what they saw and turned to God. Through this miracle, the city of Rimini was purged of heresy.
In order to become a Saint one has to make at least two miracles. So, Saint Anthony is associated with this miracle. That is why he has some connections with fish and sardines are the fish caught during this summer period when the feast is held.
The Feast of Saint Anthony is an annual summer festival starting on the 12 or 13 June, when Lisbon is decorated with lights and streamers and you can smell grilled sardines in the air. They say that 13 sardines are eaten every second during this festival.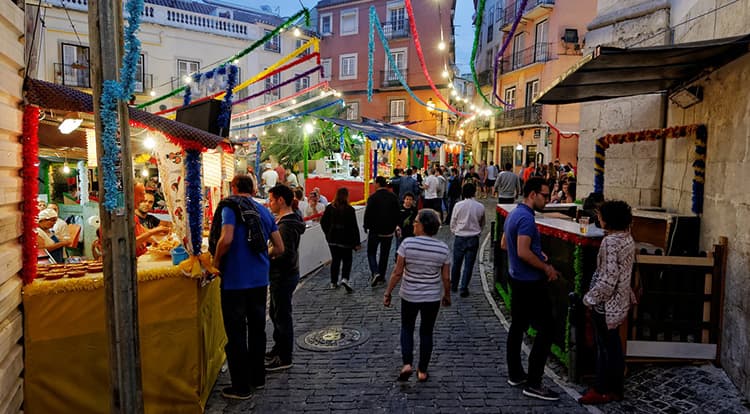 But sardines are popular not only because of that holiday, it is possible to taste them all year round. The canned varieties are really tasty too. Sardines are full of things that are good for you, like omega-3 fatty acids and calcium and are prepared in either olive, sunflower or soybean oil.
There are a number of companies which produce canned sardines. The packaging is always very bright and colourful. You can find these in every supermarket and souvenir store in Portugal so they make great souvenirs to bring back home.
Want to know more about Lisbon? Check out: Visit Lisbon: Your Guide on the Weather, Hotels and Things to See and Do
Where can you taste the best seafood and fish in Portugal?
In a beer factory ("cervejaria")!
A 'cervejaria' is a pub or a brewery that serves several sorts of craft beers and fresh seafood. Usually, after making your order, you'll receive your beer with some pieces of bread (which is crusty with melted butter) or the appetisers you chose off the menu.
It can take a while so have another beer and some more appetisers. It can also be a bit expensive, but the freshness of the seafood and the traditional Portuguese delicacies make it worth it.
Apart from the pubs, you can also go to a seafood restaurant ("marisqueira") and try an "Arroz de Marisco", for example, which is a Portuguese seafood and rice dish.
If you compared it with Spanish "paella", you will find it is more saucy and juicy, with no crunchy bits of shell.
Lisbon restaurants
Try Nunes Real Marisqueira in Lisbon. It is not overcrowded and serves traditional Portuguese food recipes.
Also in Lisbon is Marisqueira M, where you can also taste seafood specialities of good quality and reasonable prices.
We believe the most popular seafood restaurant is Cervejaria Ramiro which offers, not only great beer but also quality seafood. The only thing is that you'd better book a table well in advance as it is very popular and long queues might spoil your evening out.
Porto restaurants
If you are in Porto you should visit Restaurante Zizi where you will always find fresh shellfish or amazing pasta with seabass.
A Marisqueira de Matosinhos offers reasonable prices for shellfish and lobsters.
Find out more about visiting Porto here.
Fresh fish markets in Portugal
When talking about seafood and fish in Portugal, we should mention the fish markets. It is a part of Portuguese culture to go to the markets.
There aren't so many countries that still have them in every city so, it is also a kind of tourist attraction in Portugal. As seafood and fish are at first place in Portugal, fish markets are widely spread all over the country.
If you're staying in self-catering accommodation, then a trip to one of the many fish markets is an absolute must. It's cheaper than in any supermarket and it gives you a better choice as the variety of seafood and fish available is unbelievable. And the atmosphere is incredible, you have to experience it for yourself.
Here are a few suggestions:
Mercado da Ribeira
The largest market in Lisbon is Mercado da Ribeira which also has a large food pavilion. It is the best place to look for all sorts of seafood, especially for 'bacalhau'. The food court offers a variety of snacks and full meals.
Mercado de Angeiras
Mercado de Angeiras is a big fish market in Porto where top chefs prefer to buy seafood for their restaurants.
Matosinhos market
Matosinhos market is another famous market in Porto, where you can just walk around to see a whole variety of sea products.
Cascais fish market
Cascais is a coastal resort town and worth visiting itself, but some tourists go to the fish market first just to see all the local fish.
Visiting Portugal is a gastronomic adventure
Finally, I'd like to add that apart from visiting Portugal to go sightseeing, you should try a gastro tour as seafood and fish in Portugal is beyond words. You could try this half-day Porto Food Tour, for example.
We guarantee that if you taste Portuguese cuisine once, you'll want to do it more and more.
Did you find enough information about seafood and fish in Portugal? Do you have any experiences to share? Feel free to leave a comment below.
We publish new content every day so be sure to subscribe to our newsletter to get notified of the latest tips for your visit or move to Portugal.