You might be wondering why you should visit Bragança in the far north of Portugal?
We promise it's worth the trip and here's why.
About Bragança in Portugal
Bragança has been around for many centuries. Some archaeological findings show that human settlement in the area goes as far back as the Palaeolithic era. It was also once inhabited by the Celts and known as 'Brigantia' and later 'Juliobriga' during the Roman colonisation of the area.
Most of the historic sites around Bragança are still in their original condition from the way they were centuries ago.
Bragança gained prominence during the medieval period in Portugal as the House of Braganza which produced 15 monarchs of Portugal and five Brazilian monarchs.
Where exactly is Bragança?
Bragança is in the northeast part of Portugal, about 255 km (158 miles) from Porto, 515 km (320 miles) from Lisbon and 22 km (14 miles) from the Spanish border and is close to some towns in Spain such as Zamora, León and Salamanca.
How to get to Bragança from Porto
Getting to Bragança by car
Going by car from Porto to Bragança takes a little over two hours and it's a pleasant drive through the countryside and hills of northern Portugal.
Public transport to Bragança
Unfortunately, there is no train service to Bragança. However, if you are in Lisbon, you can take a train to Porto and then catch a bus going to Bragança.
Porto to Bragança by bus takes a little over three hours. Tickets for a return trip per adult with Rede Expressos are around €25.60.
Alternatively, you can try Rodenorte where a return ticket will cost around €28.60.
Getting to Bragança from Lisbon
Driving to Bragança from Lisbon
If you are driving, get ready for a long road trip as this drive will take just under five hours!
Taking the bus from Lisbon to Bragança
The journey from Lisbon to Bragança takes almost seven hours by Rede Expressos bus and costs about €40.80 return for an adult ticket. The buses leave from the Sete Rois or Oriente bus terminals in Lisbon.
What to do and see in Bragança?
Here are five historic sites in Bragança that are a must-see.
Visit the historic medieval Castle of Bragança ("Castelo de Bragança")
Castelo de Bragança is an unmissable monument in Bragança which was built in the 13th century and is known for its emblematic main tower and preserved surroundings. There is also a military museum in the castle which houses weapons and armour from the middle ages in Portugal. It gives an insight into the Portuguese military and conquests.
You can also walk on the wall of the tower and get magnificent views of the city.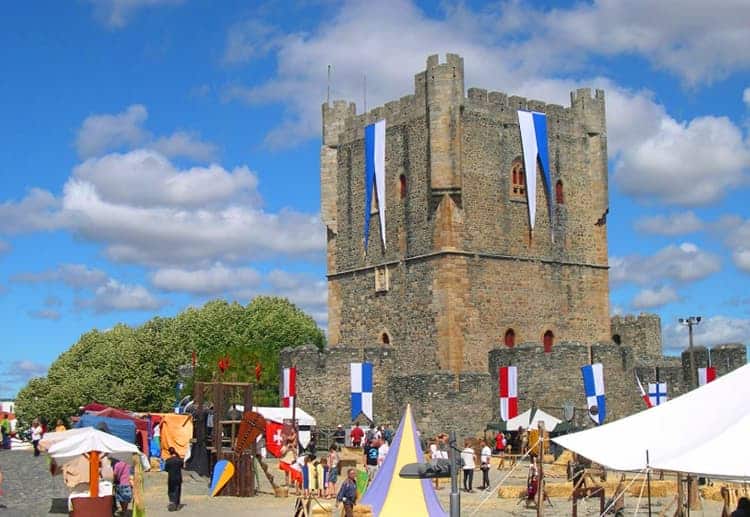 Interact with nature in Montesinho Natural Park ("Parque Natural de Montesinho")
Montesinho Natural Park is one of the largest natural parks in Portugal and a natural habitat for many different animals like the Iberian wolf, roe deer, wild boar and many others. When you walk through the park you will be able to enjoy the beautiful landscape and unspoiled nature.
There are also a few villages that have been preserved along with the park. One village you should not miss visiting is Rio de Onor right on the Spanish border.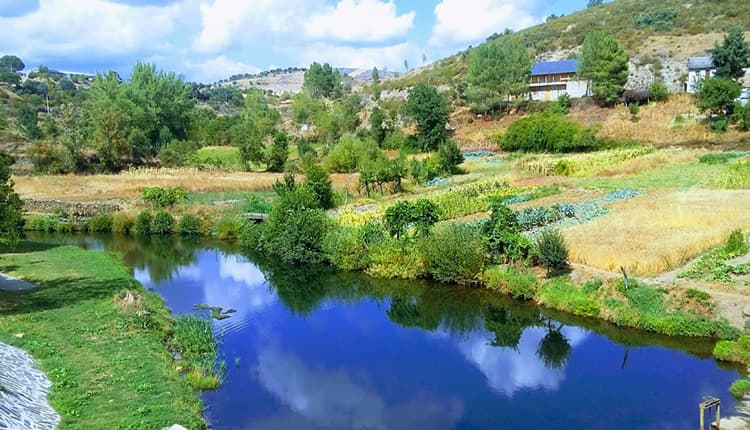 Domus Municipatis
Near Bragança Castle is the uniquely designed town hall, Domus Municipatis. It is one of the most symbolic monuments in the region. It was once used as the meeting place for the council of the city and it's also known to be the oldest town hall in Portugal and has been excellently preserved.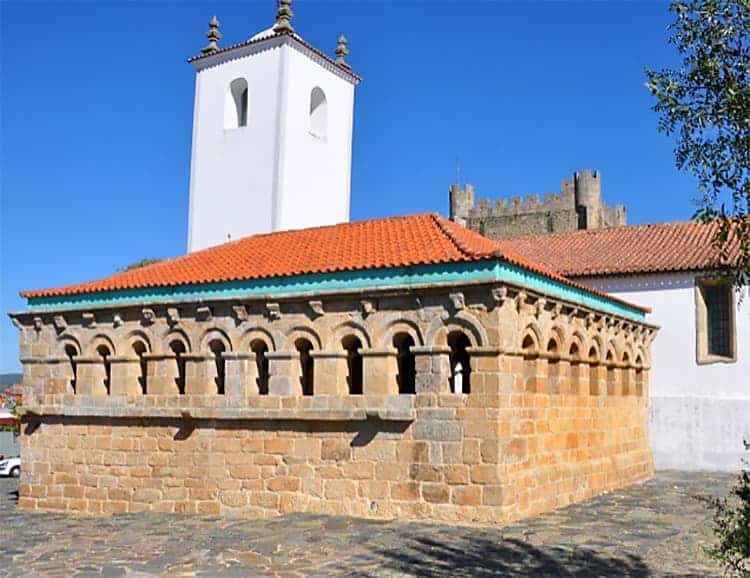 Santa Maria Church ("Igreja de Santa Maria")
Another historical site worth seeing in Bragança is Santa Maria Church. It is believed to be one of the oldest churches in the region and was constructed in the 16th century with a baroque style and features a beautifully painted ceiling as well as a magnificently designed altar.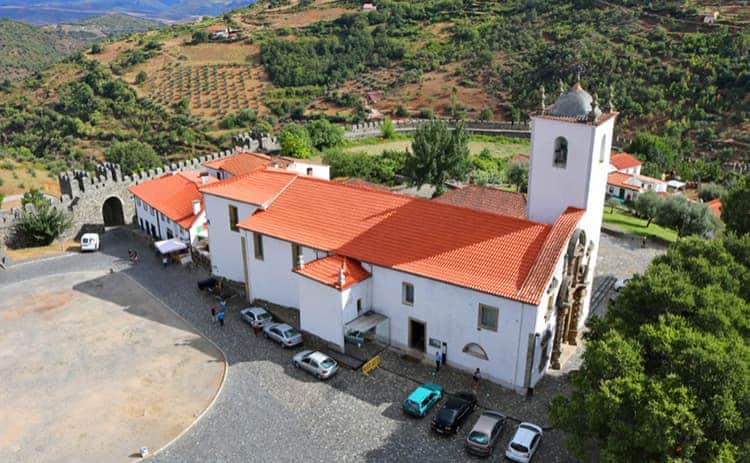 Graça Morais Contemporary Art Museum ("Centro de Arte Contemporânea Graça Morais")
For the art lovers, be sure to stop by the Graça Morais Contemporary Art Museum designed by the award-winning architect, Souto Moura. The museum was opened in 2008 and houses the works of Graça Morais a painter who lived in Bragança as well as works of other national and international artist.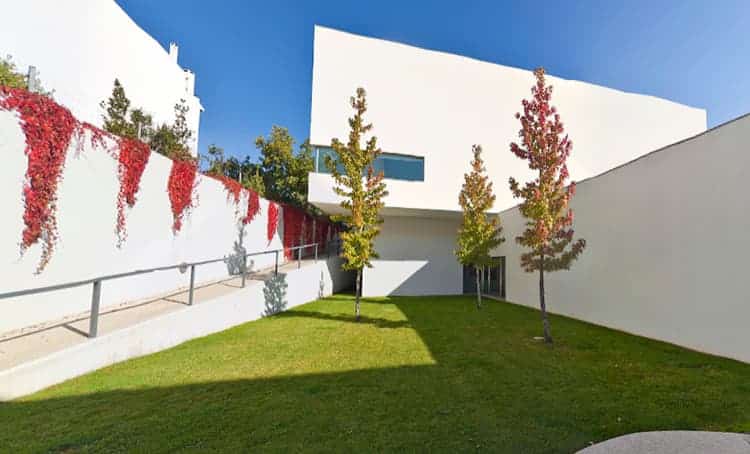 What's the weather like in Bragança?
Bragança's climate is Mediterranean, like the conditions in Porto. The winters are very wet while the summers are very hot. The winter season in Bragança is also colder than in Lisbon and the Algarve.
From historical weather trends, July is the hottest month in Bragança while December is the wettest month and January is the coldest month.
Overall there is lots of sunshine throughout the year with the average yearly temperature being about 15°C (59°F). It is also one of the few cities in Portugal that experiences snow!
When is the best time to visit Bragança?
The best time of the year to visit Bragança would be between June to September. The weather in Portugal is generally good for outdoor activities and sightseeing, although it could get very hot during these months, especially in July and August.
You can also visit in the spring from March to May as it is a comfortable temperature, although there is still some probability of rain.
If you don't like rain you should avoid visiting Bragança during the months of December and January as these months, historically, see a lot more rain.
How to get around Bragança?
Most of the sites in and around the city centre can be reached easily by walking, although it could be a bit challenging because it's a hilly city.
If you don't want to walk, there are local buses that go through the city centre and historical areas of the town, so that's a good alternative for exploring the urban area.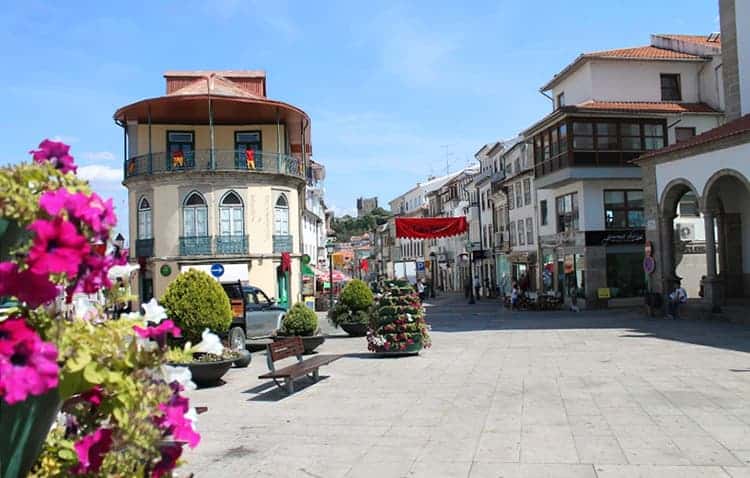 To venture into other parts of the city, it is advisable to rent a car because public transport is limited.
Where to eat in Bragança
A trip to Bragança without a little wining and dining of the local delicacies would be incomplete.
Here are our top picks for you to try:
Restaurante Solar Bragançano has local Mediterranean and Portuguese cuisine with a rustic ambience and is located right in the historic centre.
Address: Praça da Sé 34.
Restaurante Tipico O Javali is a little north of the city centre and offers traditional Portuguese food and it is fairly priced.
Address: Rua Quinta do Rei 7
Restaurante "O Careto" offers deliciously made traditional Portuguese cuisine. It is advisable that you book before going as it's very popular.
Address: Varge (just outside of Bragança city centre.)
G Pousada is an amazing restaurant in the Pousada da Bragança Hotel with Mediterranean, European and contemporay Portuguese dishes all made with local ingredients.
Address: Rua Estrada do Turismo
Also, do not forget to taste the chestnut honey which is very common in this part of Portugal.
Where to stay in Bragança
Here is a list of the best hotels in Bragança:
Pousada da Bragança
Pousada da Bragança is a modern hotel set on the hill of the old town in the city of Bragança. The rooms offer great views of the city walls and the castle.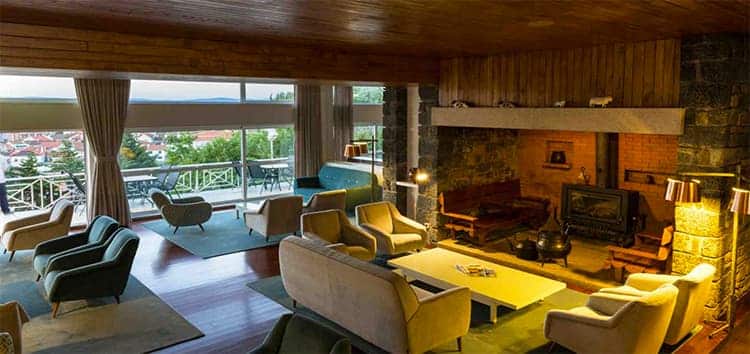 Hotel Tulipa
Hotel Tulipa (website is in Portuguese) is a medium-sized, family-run hotel situated in the historic centre of Bragança. The price and location make it a good base to stay and explore the city. There is also free street parking in the vicinity.
Baixa Hotel
Baixa Hotel (website is in Portuguese) is a modern hotel situated in the town centre. It is decently priced and represents good value for money. The hotel also has a lounge and bar.
Hotel Estalagem Turismo
Situated about 3km (under 2 miles) from the city centre surrounded by nature, Hotel Estalagem Turismo offers peace and quiet for travellers looking for accommodation in a calm and serene environment. The hotel also features an excellent restaurant that serves delicious Portuguese cuisine.
Hotel Ibis Bragança
Hotel Ibis Bragança is an inexpensive, modern and comfortable hotel with good facilities in the city centre of Bragança.
Is Bragança worth visiting?
Bragança in Portugal is a historical place for a relaxing vacation.
If you are looking for a vacation that takes you back to the medieval times in a virtually unknown tourist destination in Portugal, then a visit to Bragança would be ideal.
It is a well-preserved town with most of its historical sites still in its original state. The stunning views from the city's citadel and castle are highlights of visiting Bragança, and the Montesinho Natural Park is also a great place to unwind surrounded by the natutal beauty of the northern Portugal countryside.
Is Bragança a good place to live?
Generally, life in Bragança moves at a slower pace when compared to cities like Lisbon and Porto. It's an ideal place for people looking to retire as there isn't too much hustle and bustle and it is generally very quiet.
Also, property prices are very low (both for renting and buying) which makes the cost of living much lower than the big cities in Portugal. For example, a one-bedroom apartment in the city centre is less than €250 a month!
Living in Bragança may also be good for expats who want to live in a laid back city without too many tourists but in terms of economic opportunities, there isn't so much happening there. Also, the nightlife is not as hip as Porto or Lisbon.
Explore Bragança, savour their great local gastronomy and see nature in its purest state.
We hope you enjoyed this guide to Bragança, Portugal. Let us know in the comments below.
Visiting Portugal? Make sure you subscribe to our newsletter for more tips and advice from locals on the best of Portugal.