This guide will introduce you to the Lisbon airport, and help you plan your next vacation in Portugal.
We'll discuss what the Lisbon airport is like, which airlines fly to Lisbon, and how to make your flight to Lisbon as smooth as possible.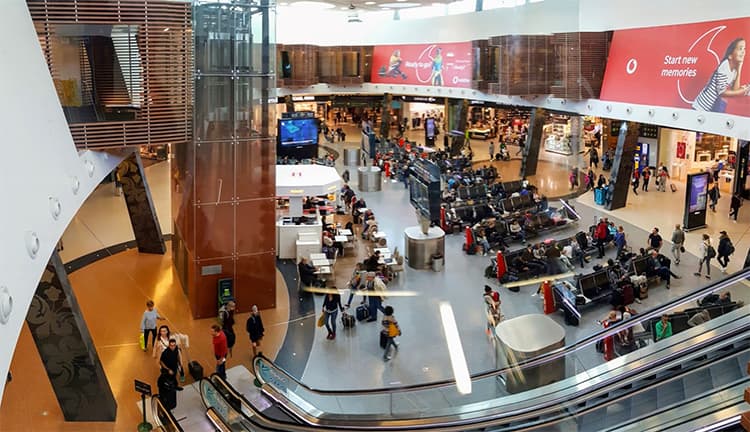 Lisbon's Humberto Delgado Airport: An overview
Air travel to and from Lisbon is pretty easy. This is largely because the airport is small and easy to navigate. There are two terminals in the Humberto Delgado Airport. Terminal 1 is in the main building and is bigger and better organized. Terminal 2, to the south of the main airport building is home to the low-cost airlines.
The first thing to mention is how close the airport is to the city. Most places in the city take a short 15 to 25 minutes to reach in a cab. The taxis to the city are very cheap and well worth it, unlike most other city airport taxi transfers. There are also buses and, conveniently, a metro station located directly at the airport itself.
Planning to visit Portugal and have no clue on which travel insurance to pick?
Check out these options:
World Nomads
Simple and flexible travel insurance, even if you've already left home.
Get a quote: [ins-worldnomads]
HCCMIS Atlas Travel
Built for individuals traveling outside their home country for more than 5 days – includes coverage for COVID-19 (SARS-CoV-2)*
Get a quote: [ins-hccmis]
Planning to visit Europe? Get Schengen Zone Insurance
Check out these options:
Axa Travel Insurance
Extensive protection and 24-hour assistance
Get a quote: [ins-axa]
Europe Travel Schengen
The number 1 global insurance with 24-hour assistance
Get a quote: [ins-schengen]
Looking for the best health insurance in Portugal?
Check out these options:
Cigna Global Health Insurance
Get access to an extensive global network with 24/7 multi-lingual support, in-house clinical treatments, and more.
Get a quote: [ins-cigna]
Allianz Worldwide Care
Your medical expenses will all be covered when living abroad.
Get a quote: [ins-allianz]
Beware, being a small airport, when it's quiet you will be able to get through security and to the gate in a matter of 15 minutes but when its busy it could take more than an hour. As is often the case with small airports, when they are crowded, chaos ensues. Budget more time than necessary if you're planning a Christmas, New Year, or mid-summer trip to or from Lisbon airport.
The airport sees around 29 million visitors per year, so it can be fairly congested at times considering its size. There are plans to eventually build a new airport.
What to expect at the Lisbon airport
For EU flights, we would recommend leaving an hour and a half before the gate closes as your proposed ETA at the airport. If you have luggage to check in the hold this time should allow for you to organize that too.
If it's an international flight, you should plan two hours ahead of the gate closure time written on your boarding pass. This will be more than enough time, but it's better to be safe than sorry.
Identification
If you're an EU citizen and are travelling to another EU country in the Schengen zone, you can simply bring along your ID card. However, if you're travelling internationally or to a country outside of the Schengen zone like the UK, you will need your passport.
You'll also find passport control to be after all the duty-free shops, so don't miss a fight by spending too long shopping.
Services at the Lisbon airport
Lisbon airport has all of the typical airport amenities including Wifi throughout the airports operated by VINCI. There are also cafés, restaurants, and duty-free stores.
At the airport there are also bureau de change services in both departures and arrivals, to help with your travel money conversion needs. The rates at these outlets can be unpredictable and high though, we would always recommend using a digital-only bank like the Transferwise borderless account for travel money needs. Read our article here for a comparison on digital-only banks.
Parking facilities are also available at Lisbon airport for long and short stays. However, if you're leaving Lisbon for a trip a taxi would be far less costly than parking your car for the duration. The open-air parks for long stays cost €5 per day.
Flights to Lisbon, Portugal
The most popular airlines connecting Lisbon to other European cities are TAP, Air France, Easyjet and Ryanair.
TAP Air Portugal is the official airline of Portugal, and is far more civilized and comfortable than the budget airlines. With a regular ticket booked through their site each passenger is entitled to a 32kg bag as well as a carry-on bag. Whilst the ticket prices may appear initially higher than the budget airlines, you make up the costs in savings on luggage, as well as food and drinks provided during the flight. Staff are also very professional and friendly in my experience too.
Air France has a similar level of service to TAP. You will only be entitled to a 23kg bag with a regular economy seat mind.
Easyjet and Ryanair are based in Terminal 2, which is the smaller, older and less efficiently run wing of the airport. You will find the cheapest tickets on these airlines, particularly if you book in advance.
Unless you travel extremely light you will always need to pay extra to add baggage on Ryanair now. They have even lowered the included hand luggage allowance to a purse size — not even a small rolling carry-on anymore — unless you pay extra. One hack of this system is to pay for priority boarding at €12 which entitles you to an extra trolley bag in addition to the purse-sized bag, rather than adding the case for €25.
Easyjet still allows a small trolley case, but only one per passenger. If you cannot fit any extra bags you have into the other trolley case at boarding, you might be subject to pay €60 extra.

Flying from Lisbon to Faro, Porto, or Seville
Faro
Flights from Lisbon to Faro, booked three months in advance, cost around €150 round-trip, per person. The flight takes 45 minutes only and is operated through TAP. We would recommend hiring a car over flying to get from Lisbon to Faro, particularly if you are 2 or more. The route is really simple to find and easy to drive. It will work out cheaper and it will take a similar amount of time without the faffing around at security with the separation of liquids and so on.
Porto
Flying to Porto is a little bit cheaper at around €80 round-trip per passenger. The flight, operated by TAP Air Portugal, takes just an hour.  We would recommend taking a train or driving over taking the plane in this case also. Portugal is really quite a small country and the distances are not long at all. Considering the hassle that flying can be these days, the train and car options appeal a lot more. Not to mention renting a car will save you money.
Seville
The flight to Seville is again around €80 round-trip through Ryanair or around €140 round-trip through TAP. The duration of the flight is 1 hour and 10 minutes. In this case we would recommend flying over driving, as its quite a lot of distance to cover in the car and takes more than 4 hours to drive.
Airport transfers from the Lisbon airport
Cabs
When you arrive in Lisbon airport you can find a cab to most places in the city for no more than €13. There are taxi ranks outside the departures and arrivals of both terminals.
Rideshares
If you want to get an Uber, or better still a Bolt, you should walk to the right out of arrivals and go up the escalator in Terminal 1. You can meet your driver just across the zebra crossing in the car park. This is dead easy and can cost around €7 to €10.
Rental cars
At Lisbon airport you will, of course, find rental cars. A warning, in summer the lower end of the budget rentals can be a complete nightmare. Certain car hires have their parking and car collection a 15-minute bus ride away from the airport, for which you will have to wait in line to even get on the transfer bus. It's been known to take hours to pick up rental cars from some of the lower-end rental companies in high season. So make sure to pick a reputable company and to plan enough time in your trip to get the car (and drop it off!).
Book your hotel with Booking.com
With Booking.com you can book the best hotels in Portugal for the cheapest price. Get instant confirmation, pay 0 booking fees and even cancel your booking for free at most hotels. 
Booking.com -
Find the best prices and prepare your trip to Portugal today
Metro
As previously mentioned, the Metro station is situated directly at the airport itself. You'll catch the Aeroporto – Saldanha line, which will take you to downtown Lisbon in about half an hour. The airport buses go to Rossio and Praça de Espana and cost €4 per person.
Airport transfers
Airport transfers offer total convenience, especially if you're travelling with family or lots of luggage. It's also one less thing to worry about if it's your first time in Portugal, because you'll have the certainty of a friendly, English-speaking person waiting for you at the gate.
Keep in mind you can also use airport transfers for longer trips, for instance, if you land in Lisbon but need to go to the Algarve. Here's our recommendation for a reputable airport transfer company, Welcome Pickups.
Tips for traveling to Lisbon
When planning your trip to Lisbon, or flying home from Lisbon make sure to give yourself enough time — particularly if you are travelling during high season or using rental cars. Organization is key for having a great holiday anywhere, and especially as it's a small airport that can get very crowded!
Be sure to plan your flights, airport transfers, and car rentals well ahead of time. You'll often get far better deals for booking accommodations early, too.
Lisbon Airport FAQ
How can I find cheap flights to Lisbon?
Search for the cheapest flights to Lisbon through Ryanair and EasyJet.
What is the best airline to Lisbon?
TAP Air Portugal and Air France are both excellent airlines for flights to and from Lisbon.
Where is the main airport in Lisbon?
The main airport, and only airport, is Humberto Delgado, otherwise known as Lisbon Portela Airport.
Are there many flights to Lisbon from Boston, New York City, or London?
Yes! Lisbon operates international flights, and there are daily direct flights from Boston. You may have to do a connecting flight through London if it's a long haul flight.
How much are flights to Lisbon from Boston, New York City, or London?
Round-trip flights to New York and Boston costs around €400. London to Lisbon routes are around €150 return.