Are you thinking of day trips from Lisbon?
Do you want to visit less popular tourist places in the capital city?
Have you considered Almada Portugal? The answer is probably no. However, if you fancy adventures away from the bustle of the city, then Almada Portugal is a good alternative.
In this article, you will read everything you need to know about Almada Portugal as well. Here is why you should visit this lovely town on the other side of the river from Lisbon.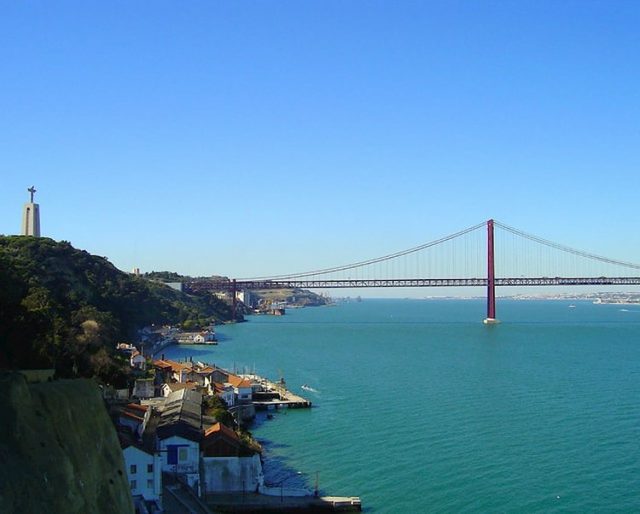 Where is Almada?
Situated on the south bank of the Tagus River, popularly called "the other side of the river".
Almada is home to the famous statue of Christ the King, which was built in 1959.
How to get to Almada?
To get to Almada from Lisbon, there are a few ways to go. You can go either by bus, train or boat and in some cases a combination of different means of transportation.
Getting to Almada by bus
The bus transport service to Almada is run by Transportes Sul do Tejo (TST).
The buses to Almada from Lisbon usually depart from the following stations;
Areeiro – Bus 160
Cidade Universitária – Bus 176
Praça de Espanha Lisboa – Bus 152
These stop at S. João Baptista Square, in the centre of Almada, where you can use the Sul do Tejo Metro to get around the municipality.
Getting to Almada by train
You can also get there by train through the Fertagus rail network. You catch this train at any of the following train stations in Lisbon; Roma/Areeiro, Entrecampos, Sete Rios or Campolide stations towards Pragal.
From Pragal, you can get several buses that will take you into the town. This train gives you the unique opportunity of travelling over the Tagus River on the iconic 25 de Abril bridge. The view from up there is priceless and one to treasure.
The trip can take between 30 minutes to 40 minutes and over an hour if you are going to Setubal. You can see the train schedule here.
Getting to Almada by boat
If you fancy a quick boat ride to the other side of the river, you can catch a boat to Almada from Cais do Sodré. The boat shuttle service between Cacilhas and Cais do Sodre is available every day between 5 am to 1:20 am.
A one-way trip from Cais do Sodre is €1.30, while a return costs €2.60. You can buy and charge the Viva Viagem reusable card at the vending machine in the station or from the attendant at the station.
The trip to Cacilhas is usually about 20 minutes. Then from Cacilhas to other neighbourhoods in Almada, you can take between 20 to 40 minutes to reach your destination.
Getting to Almada by car
Alternatively, you can always go by car or taxi. From Lisbon, the drive to Almada takes about 20 minutes via the A2 motorway. See directions here.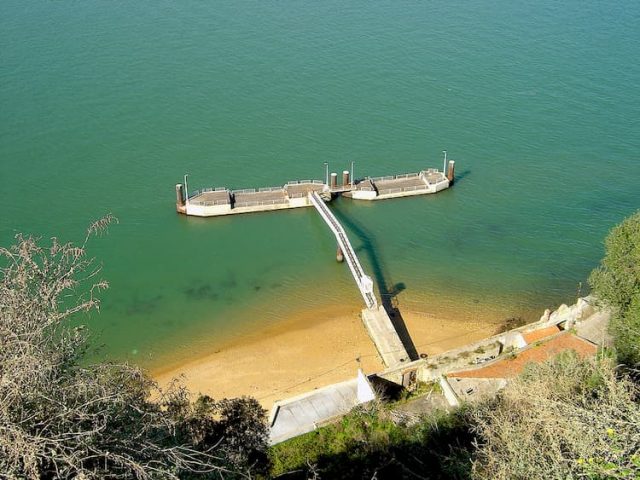 Almada Portugal weather
This is a Mediterranean climate. So, typically the summers are hot and dry while the temperature is mild in the winter. The overall average temperature in Almada is usually between 16°C to 34°C, with January being the coldest month. August is normally the hottest month.
The best time to visit Almada in Portugal is anytime between March to November. In these months the weather is mostly pleasant with a somewhat warm temperature and little rainfall.
If dry weather is what you are after, the months with the lowest chance of rain are July, August, and June.
Best things to do in Almada Portugal
Almada is filled with fun activities to do, whether you are with your family, friends, or decided to go on a spontaneous break by yourself.
Below, we'll tell you about 6 different places you can easily visit in Almada, and nearby. Don't miss out on these places.
Costa da Caparica and Costa da Caparica coastline
Arguably one of the best coastlines and beach in the Lisbon area. It is a popular place for both tourists and locals looking to enjoy the beach and do some surfing. Due to its size, there is always space for lots of people to relax without really disturbing each other.
The town itself makes for an alternative holiday destination to Lisbon for those looking for a quieter environment with proximity to the beach.
Book your private shuffle to one of the best areas on the south-side of Lisbon here.
See also Costa da Caparica: The Perfect Travel Guide for Things to Do and More
Boca do Vento elevator
Lisbon is a city of vantage viewpoints. This elevator ride to the clifftop allows you access Jardim do Rio which gives you magnificent views of the Almada riverside area and Lisbon.
Almada forum
If you are looking to do some shopping in this area, this is where to go. It is one of the biggest shopping malls in the Lisbon area.
There are several designer stores there and outlets of popular brands like Zara, H&M and more. There are also lots of restaurants too.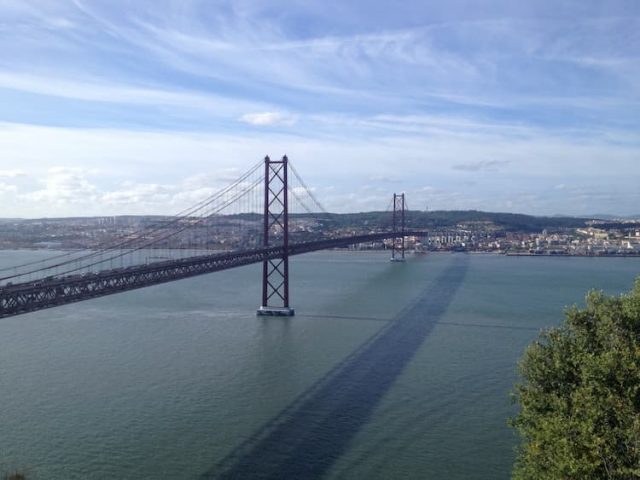 Parque da Paz
Interested in a nature walk in Almada? Parque da Paz is the perfect place for that.
It is a calm and quiet green park where you can relax, walk, jog or even meditate. If you want to, you could also have a mini picnic to chill with friends and family.
See other places around Almada
If you decide to base in Almada during your visit there are a few other places you can visit easily from here. You can go to Setubal, which is renowned for seafood. While you are there, you can also see Parque Natural da Arrábida.
Curious about visiting Setubal? Read Setúbal: A Laid-Back Fishing Town So Close to Lisbon
Sesimbra, a lovely fishing village with nature and wonderful scenery is also another choice. To know more about visiting Sesimbra see: Sesimbra Portugal: Your Guide for Things to Do, Where to Stay and more
Sintra as well can be visited from Almada, there you will see a host of royal palaces and interesting tiles.
The Belém district in Lisbon is also an interesting place to visit from Almada, as it is home to numerous monuments, such as Belém Tower, the monastery of Jerónimos and many others.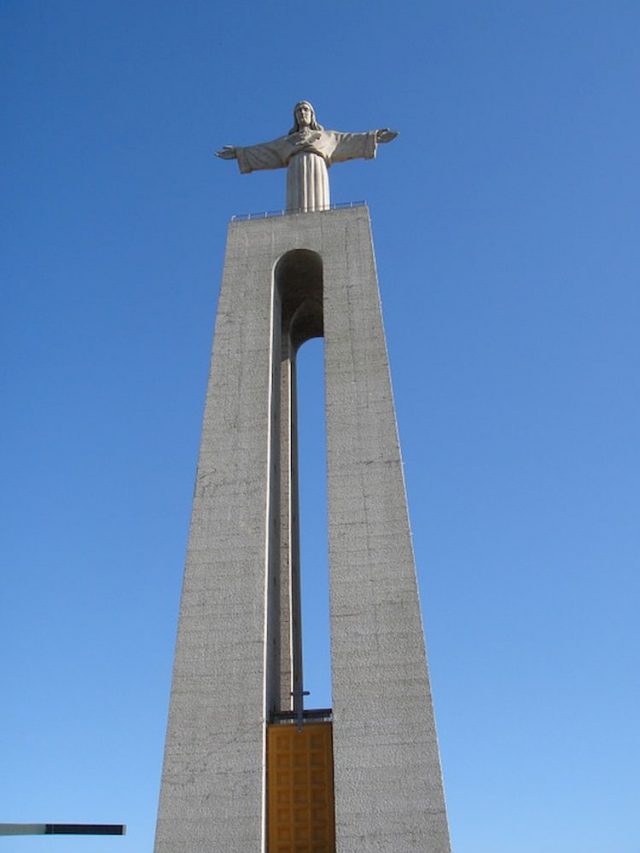 Statue of Christ the King (Santuário do Cristo Rei)
One of the main reason tourists go to the other side of the river is to see this statue. It was modelled after Christ the Redeemer statue which is found in Rio de Janeiro.
The surrounding area of the statue gives great views of the Tagus River, 25 de Abril Bridge and Lisbon from the other side. It is indeed an ideal spot for "instagrammable pictures".
If you can go to the top of the statue, which costs about €5, you will be rewarded with an unobstructed magnificent panoramic view of the Lisbon metropolis.
If you want to book a walking tour around Almada, you can do so by clicking this link.
Almada Hotels
Mercure Lisboa Almada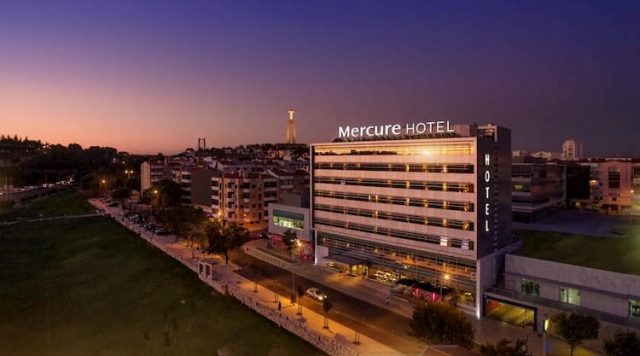 Situated near the Cristo Rei statue and the highway, this hotel is an excellent choice for those visiting with a car. The rooms here also offer nice views of the city.
It is only a 20-minute drive from Lisbon airport.
The average price per night is € 81. Check the availability here.
Address: Rua Abel Salazar, 9 – Pragal, Almada, 2805-313, Portugal
Hotel Residencial Colibri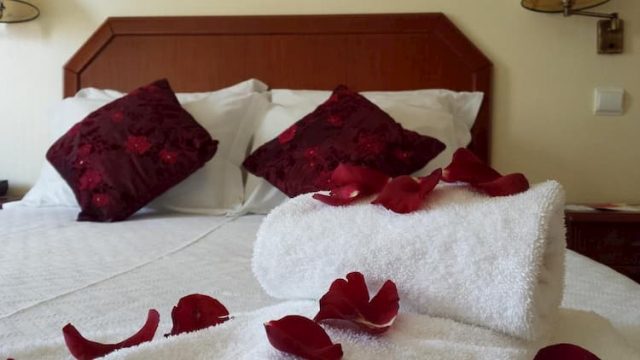 This hotel is situated in Costa da Caparica and only 400 meters from the beach.
It is also only a 20 minutes bus ride to Almada.
The average price per night is € 72. Book Check the availability here.
Address: Av. 1 de Maio, no 10, Costa de Caparica, Almada, 2825-392, Portugal
Quinta do Tagus Village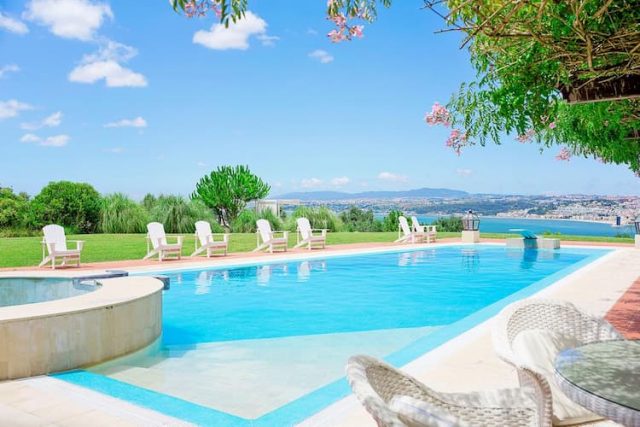 Overlooking the Tagus River, Quinta do Tagus offer breath-taking views of Lisbon as well as a calm and relaxing atmosphere as it is far from the city.
The hotel also features a large garden and swimming pool.
The average price per night is € 110. Check the availability here..
Address: Costas de Cão, Monte de Caparica, Almada, 2825-075, Portugal
Casa do Criativo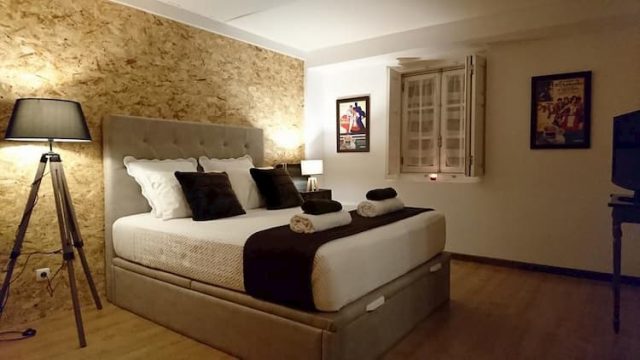 Situated in the old town of Almada, this accommodation option offers quick access to the city centre.
The average price per night is € 68. Check the availability here.
Address: Rua Serpa Pinto 33, 2800-202 Almada, Portugal
Almada restaurants
Meating Steakhouse
As the name implies, it's a steak house. Meating steakhouse is in Cacilhas and offers a wide variety of meat dishes and mouth-watering desserts for decent prices.
They also have a good selection of drinks as well as signature cocktails.
Address: Rua Candido dos Reis, 72 e 74 Cacilhas, Almada 2800-269, Portugal
Taberna do Relojoeiro
This is a small and cosy restaurant in Almada to enjoy traditional Portuguese dishes. Taberna do Relojoeiro is also very far from the touristic areas so you can expect to enjoy an authentic Portuguese experience here.
Address: Rua Uniao Piedense | 50 C-d, Almada 2805-249, Portugal
Restaurante Galeria
Restaurant Galeria is also a good dining option. They have different European, Mediterranean and Portuguese dishes as well as some vegetarian-friendly dishes.
Address: Rua Antonio Sergio 3 3A | Cova Da Piedade, Almada 2805-089, Portugal
Ponto Final
At Pinto Final, you will get great views of the Tagus River as well as enjoy very delicious meals. You should also know the menu here is mostly made up of seafood. Meat and vegetarian dishes are limited here.
Also, you should try to book ahead to ensure you get a seat.
Address: Rua do Ginjal 72, Almada 2800-285, Portugal
Atira-te ao Rio
Situated by the river, Atira-te ao Rio is the perfect restaurant to eat delicious meals as well as catch a lovely sunset in Lisbon. Reservation is strongly recommended.
Address: Cais do Ginjal 69-70, Cacilhas, 2800-284 Almada, Lisbon 2800-284, Portugal
Is Almada a good place to visit?
In my opinion, it is a good place to visit. It is calmer than Lisbon and generally an escape from the hustle and bustle of the city. You can also enjoy great seafood here. It is also only about a 20 minutes' drive from the Lisbon airport as well as central Lisbon.
In all, I would say it depends on the kind of holiday you are in Portugal for or more specifically Lisbon. For a quieter and more relaxing holiday, I would say Almada, but for more engaging and nightlife-related travel experience I would suggest Lisbon.
However, you do not generally need to base your holiday in Almada Portugal as you can also visit as a day trip from Lisbon.
It is quite inexpensive and not too stressful to visit from Lisbon as there is a good public transport connection to the other side of the river.
A quick trip to Almada from Lisbon could be seeing the Cristo Rei Statue, nature walking in Parque da Paz, eat great seafood, catch the sunset from the other side and then head back to Lisbon.
Find out more about Portugal, subscribe to our newsletter.