Anyone lucky enough to spend Christmas in Portugal is in for a treat. Whether you're an expat spending your first holiday season in Portugal, or a visitor looking for holiday festivities, we've got you covered.
Read on to learn about Christmas traditions in Portugal, the most delicious Portuguese holiday dishes, and the best ways to celebrate Christmas across Portugal.
All about Christmas in Portugal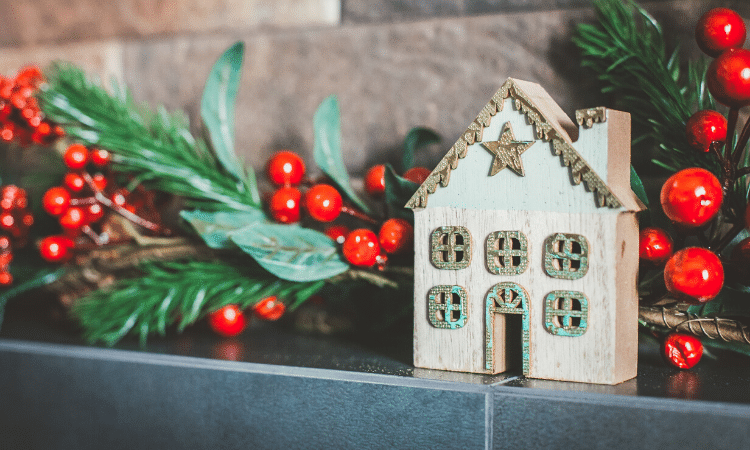 If Christmas in Portugal means one thing, it's family.
The beloved holiday traditions of Portugal always include time with loved ones. But even if your family is far away – as so often happens in expat life – the country is definitely filled with the Christmas spirit.
Embrace a few Portuguese Christmas traditions, and definitely get out to see some of the holiday events around the country. You'll start to feel more at home in no time!
Holiday greetings
Boas festas! This means "happy holidays" and is the perfect all-purpose Portuguese greeting for this time of the year.
You can also wish your friends Feliz Natal (Merry Christmas) and Feliz Ano Novo (Happy New Year).
And if you really want to practice your Portuguese, try this: Tenha ótimas férias de Natal! That means "Have a great Christmas vacation!"
Christmas traditions in Portugal
Immaculate Conception Day
Dec. 8 is Immaculate Conception Day, a national holiday in Portugal. It's the official start of the Christmas season, and honors Mary, mother of Jesus.
Because it's a national holiday, plan on banks and other businesses being closed so people across Portugal can be with their loved ones. You might find a few restaurants open, but if you're making plans to go out, definitely check ahead.
It's after Immaculate Conception Day that Portuguese folks start setting up their presépios (nativity scenes), along with Christmas trees and other familiar Christmas decor.
Presépios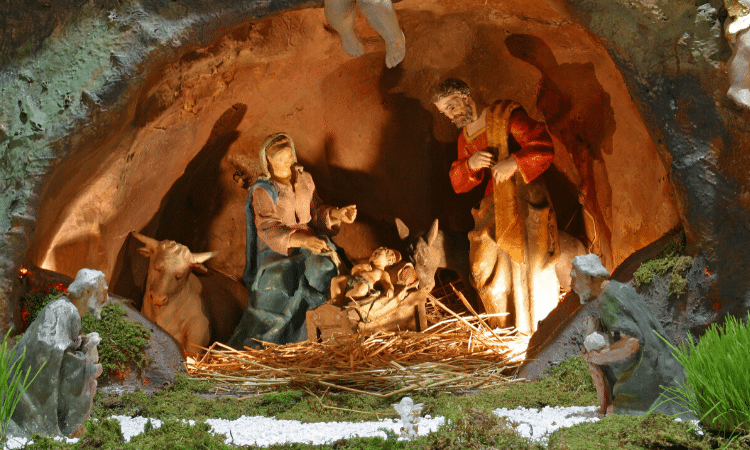 In the weeks leading up to Christmas, one tradition you'll see just about everywhere in Portugal is the presépio.
While Christmas trees are fairly common now, they haven't been the fundamental Christmas decoration that they are in the US or UK. Instead, just about every house in Portugal displays a traditional presépio.
Big or small, ornate or simple, the presépio is the centerpiece of holiday decorations in Portugal. A family's presépio is often lovingly handed down from generation to generation.
Kids in Portugal often get into the Christmas spirit by collecting moss or small stones to help decorate their family's manger scene.
But not with the baby Jesus – yet!
The manger is set up without baby Jesus until Christmas Eve. Then, just before the family leaves for Christmas Eve church service, parents tuck baby Jesus into the presépio when the kids aren't looking.
Arriving home after the service, children rush to see the "miracle" of Jesus' arrival in the presépio. Some say if the kids are naughty, the baby Jesus won't appear – and there won't be any presents. It's a Portuguese take on the "naughty or nice" list!
Businesses, not to be left out, display some of the biggest, showiest presépios around during the holiday season.
And if you're looking for a truly local experience, lots of towns in Portugal create live nativity scenes, with people in costume (and animals!) recreating the Christmas story for an adoring public.
Christmas trees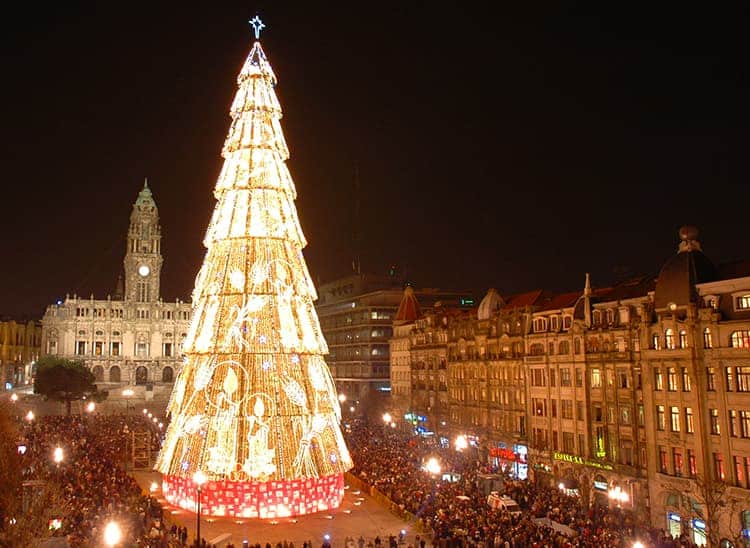 The presépios are everywhere, but you'll still see quite a few Christmas trees in Portugal.
They're not ubiquitous as they are in the US, though. Live trees aren't sold on every street corner, as an expat might be used to. However, Christmas trees have grown in popularity over the past few decades, with many families simply opting for artificial versions.
If you're in need of a major moment of Christmas spirit, be sure to catch the official tree lighting at the Praça do Comércio in Lisbon. It's not a real tree, but there's a lot of holiday sparkle.
For 2019, this annual tradition takes place on Nov. 29, at around 6 pm. Mayor Fernando Medina will be there to hit the "on" button and light this year's Christmas decorations.
Christmas markets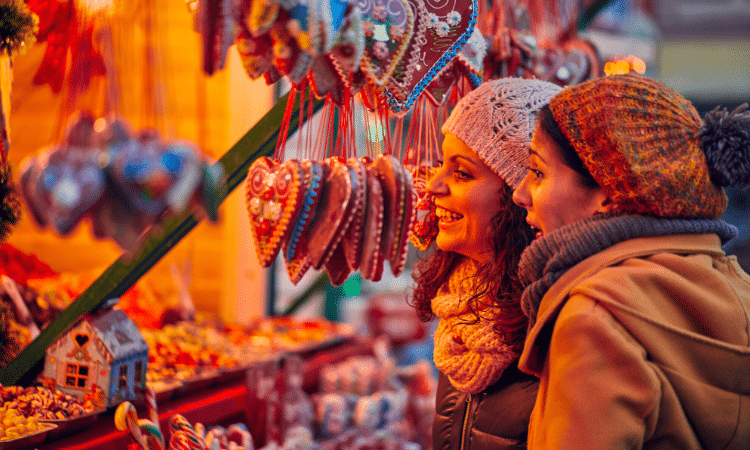 Growing in popularity over recent years are Christmas markets across Portugal. While not the snowy scene you might expect in more northern climes, the Portuguese Christmas markets are wonderful as well.
Whether you're looking for a traditional, German-style Christmas market – reindeer and all – or a unique combo of local art, handcrafts, and flea market treasures, Portugal has it.
Read more about our favorite markets here.
Christmas Eve celebrations in Portugal
Expats and visitors to Portugal might be surprised to learn that the height of Christmas celebrations in Portugal happen on Christmas Eve, often late in the evening of Dec. 24 and into the wee hours of Christmas morning.
Consoada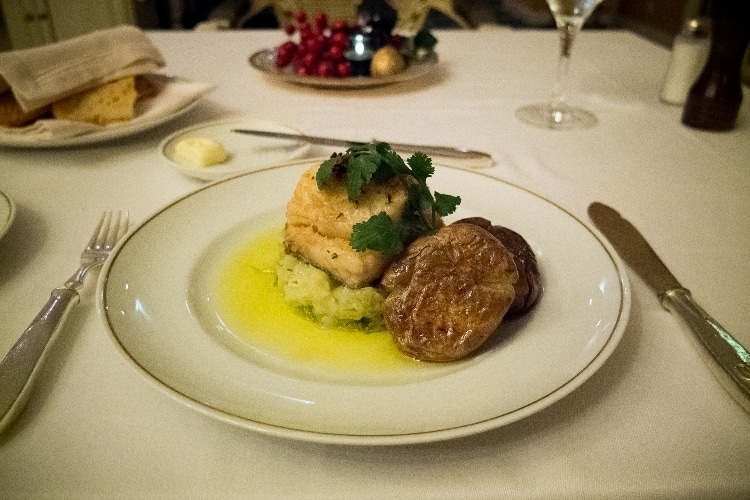 Consoada is the traditional Portuguese dinner on Christmas Eve.
Nearly every house will feature Portugal's national dish, bacalhãu (dried, salted cod), as part of Consoada. Bacalhãu de Consoada is a relatively simple recipe of cod with cabbage, potatoes, boiled eggs, and a hearty amount of olive oil.
In Northern Portugal and the Algarve, you'll see octopus served as a traditional Christmas meal.
Roast turkey has made more appearances on the Christmas table in recent years, but it's not as traditional. In the north of Portugal, lamb or goat have traditionally had their place. In southern Portugal, you're likely to see pork.
Christmas sweets
Don't forget the sweets! At Christmas, you'll see tables covered with an array of sugary treats, like filhós, sonhos, and fatias douradas.
Filhós are deep-fried dough – often made with pumpkin – sprinkled with cinnamon and sugar.
Sonhos, which literally means "dreams," are similar to filhós. Light and airy, these fried dough puffs are often rolled in cinnamon and sugar as well.
And fatias douradas? Translated as "golden slices," they're a tasty Portuguese take on French toast, fried in butter. It would be rare to find a Christmas table in Portugal without fatias douradas.
Then there are broas de Natal, which are sweet, oval-shaped biscuits. Normally made with sweet potatoes, ground almonds, eggs, sugar, and orange peel, they're absolutely delicious.
And don't forget Bolo Rei and Bolo Rainha (King Cake and Queen Cake, respectively). These are Portuguese-style fruitcakes full of dried fruits and nuts. Bolo Rei has candied fruit on top, while Bolo Rainha has extra nuts.
Putting out shoes
Instead of hanging up a stocking for Santa, here in Portugal, kids lay out their shoes for Pai Natal (Father Christmas) or the baby Jesus. When everyone leaves for church on Christmas Eve, presents appear like magic.
Missa do Galo
Right after Consoada comes the Missa do Galo (Mass of the Rooster). It might be a midnight mass, as is traditional, or a slightly earlier service.
Either way, the highlight of Missa do Galo is when everyone at the church lines up to kiss an image of the baby Jesus.
Christmas madeiros
Christmas madeiros (bonfires) are truly one of the homiest Christmas traditions in Portugal.
In some areas – Castelo Branco and Bragança, for instance – you'll often see Christmas bonfires in the parking lot of the local church. Folks will gather around, chat, and share holiday greetings after mass.
One of the most fascinating traditions happens in In the region of Penamacor, in central Portugal. Most towns in the region collect wood – always on Dec. 7 – for a Christmas Eve bonfire.
The tradition goes that young men who were being conscripted into the Portuguese military would steal the wood. Their goal, of course, was to have the largest, brightest fire outside their own church.
These days, the wood is donated – but young men still celebrate by "stealing" it for their local bonfire.
In Penamacor itself, you can see the Vila Madeiro (Village of Wood), quite possibly the biggest Christmas bonfire in all of Portugal.
Huge logs, even entire trees, are hauled into town on a long parade of decorated tractors. It's a festive scene, with music, food and drink, local goods for sale, and even a live nativity scene with the local schoolkids.
Finally, on Dec. 23, the whole community gathers for a massive bonfire – with bombeiros (firefighters) standing by. It's big enough to burn for days, even into the New Year.
Opening gifts with the family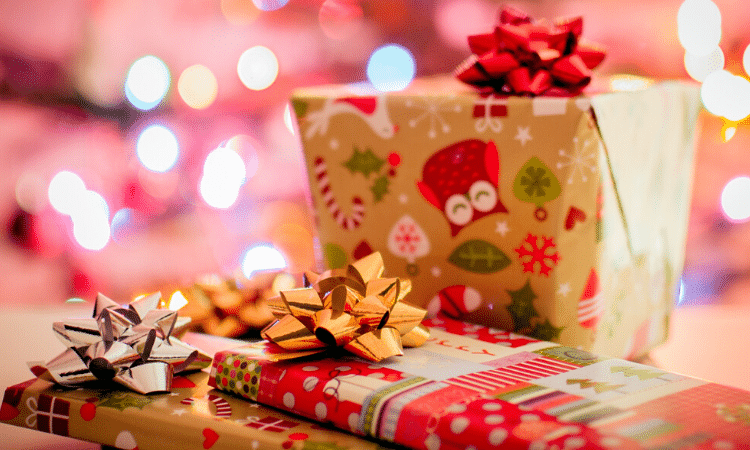 It wouldn't be Christmas without a few presents to open, right?
In Portugal, some families open a few gifts after midnight mass and save the rest for Christmas. Others, especially if they're not at a late-night church service, wait until Christmas morning.
Christmas Day
Dec. 25 is actually much quieter than Christmas Eve. It's a great time to sleep in (after going to midnight mass) and snack on leftovers.
One common Christmas Day dish is roupa velha (literally, old clothes). It combines any bacalhau left over from Consoada with an egg or two.
Holiday business hours
Plan accordingly. As you might expect, most businesses close very early on Dec. 24 and stay closed through Dec. 25.
Then it's business as usual starting on Dec. 26. Unlike the UK, Portugal doesn't celebrate Boxing Day.
Weather in Portugal during Christmas
December is one of the coolest months in Portugal, with temperatures ranging from 15 degrees C (59 F) to 7 degrees C (45 F).
Despite the cool temps, it's still usually sunny and the Lisbon area is often nice enough to enjoy lunch or a drink outdoors.
To the north in cities like Porto, it's much colder and often very rainy.
Go south to the Algarve, and the weather is a bit warmer. It might be on the windy side, but it will be sunny most of the time.
For the warmest possible Christmas in Portugal, visit Madeira.
Dreaming of a white Christmas? You can even have that in Portugal. Just head north toward the Serra da Estrela. You can even go skiing at Portugal's only ski resort!
Christmas hotspots in Portugal
Christmas in Lisbon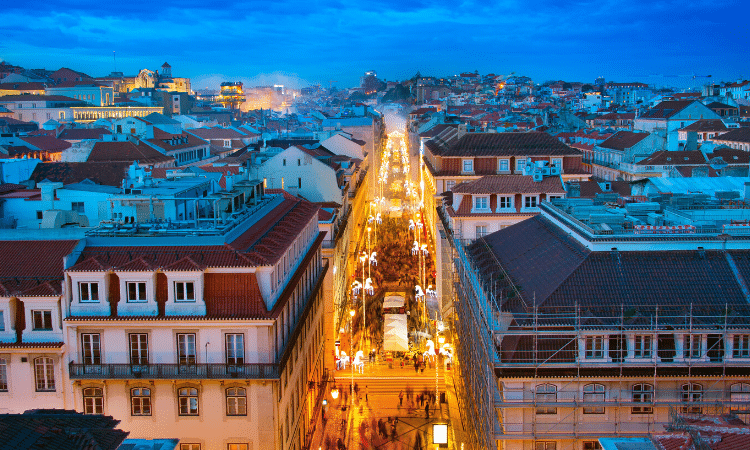 From festive restaurants to Christmas markets, ice rinks to classical concerts, Lisbon truly sparkles this time of the year.
If you're planning to be in Lisbon, make time for a tour of our beautiful capital to check out the Christmas lights.
Why not splurge and try the Four Seasons Hotel Ritz Lisbon – and be sure to book soon. It's a busy time of year!
Christmas in Madeira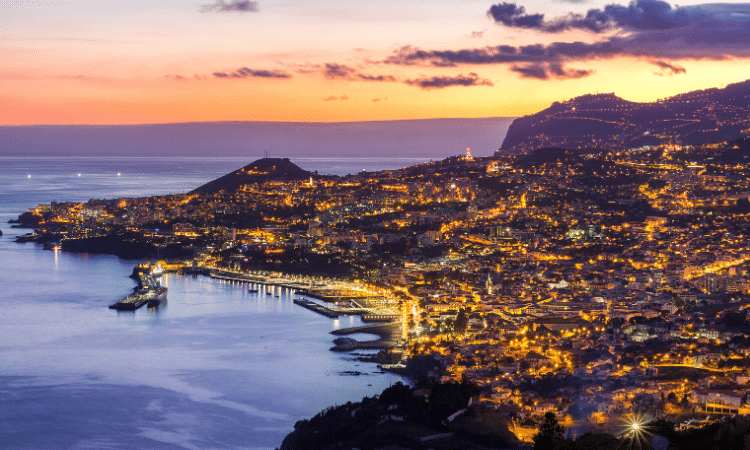 The island of Madeira is a good-weather Christmas gift, right in the middle of the Atlantic. Temperatures at Christmastime are between 20 degrees C (68 F) and 25 degrees C (77 F), ideal for shaking off the cold of winter.
If falling asleep to the sound of ocean waves is your dream holiday, check out Hotel Jardim do Mar. This small hotel in west Madeira offers a restaurant, bar, and panoramic ocean views. Plus, it's just a 5-minute walk from the beach and close to the village of Calheta.
All rooms at Hotel Jardim do Mar feature a balcony – be sure to ask for one with an ocean view.
Madeira Island Aiport and Funchal are just a 45-minutes drive away, and there's free parking on site.
A Christmas in Madeira is like nothing else in Portugal. If you're planning to visit the pearl of the Atlantic soon, you can even book a tuk-tuk trip specially designed to show you the Christmas lights in Funchal.
Christmas in Porto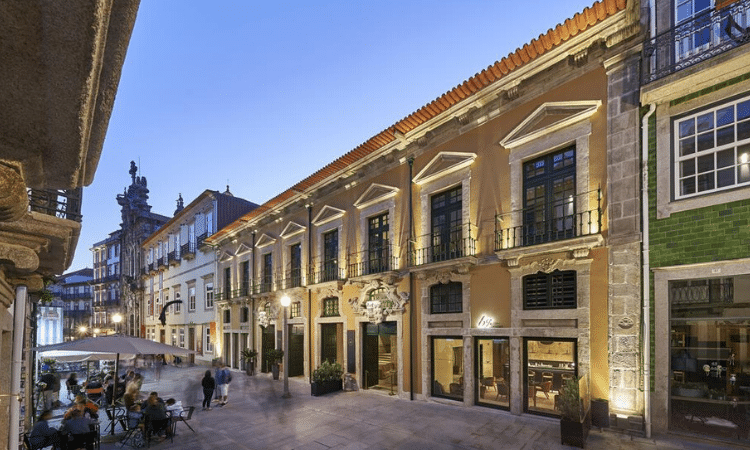 Though often cold and rainy in December, Porto makes up for this with tons of charm and Christmas spirit.
Throughout December, you can enjoy concerts, Christmas fairs, and markets. We suggest you book a few days at PortoBay Flores and go see the Christmas lights in all their glory.
You can even take this tour that includes a Port wine tasting.
Read more about visiting Porto here.
Christmas in Serra da Estrela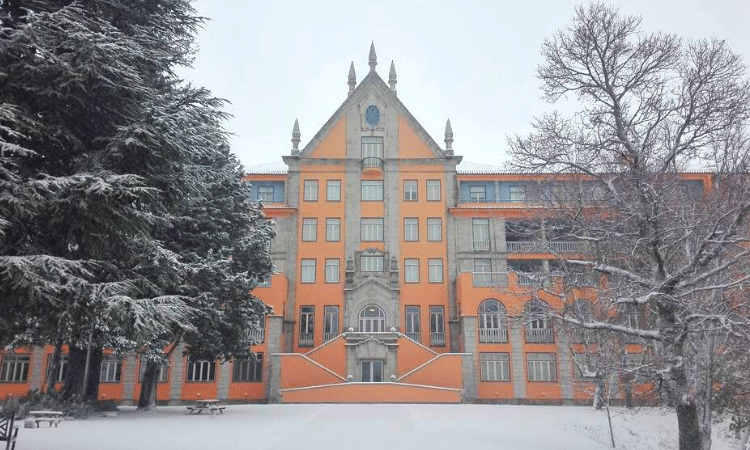 It's sure not the Alps, but Serra da Estrela has its own wintry charm as the only place in Portugal where it snows. The scenery is spectacular, and it's a delightful area for a romantic holiday getaway.
Consider booking a trip to the Pousada da Serra da Estrela, and spend this Christmas snuggling in style.
Book your hotel with Booking.com
With Booking.com you can book the best hotels in Portugal for the cheapest price. Get instant confirmation, pay 0 booking fees and even cancel your booking for free at most hotels. 
Booking.com -
Find the best prices and prepare your trip to Portugal today
How to get here
The holidays are a busy time throughout Portugal, so if you want to experience a Portuguese Christmas, don't procrastinate!
Once you've got your airfare and hotel booked, give yourself a break and schedule an airport transfer ahead of time. It's a nice way to kick off a vacation, and an affordable perk.
Next Up: New Year's in Portugal
After Christmas Day, you'll have a few days to catch your breath, and then it's New Year's Eve in Portugal! Find out how to spend the best New Year's Eve here.
Enjoy the holiday season in Portugal
If you are willing to experience a different kind of Christmas from the traditional British or American Christmas, then spending the season in Portugal would be an ideal choice as it offers a unique experience.
Also, don't forget to subscribe to our newsletter and receive the latest tips for your visit or move to Portugal.