Looking for an island getaway? Want to stay within Europe?
Visit the Azores ("Açores" in Portuguese) and you'll have the opportunity to experience unspoiled nature in the middle of the Atlantic Ocean.
Hot springs, lakes, waterfalls, a lack of mass tourism, are all things you can look forward to if you decide to visit the Azores.
An autonomous region of Portugal, when you visit Azores, you'll quickly discover that these islands have a history and culture all their own.
Everything you wanted to know about the Azores
Where are the Azores exactly?
The Azores is a group of nine major islands and eight islets located about 1,500 km (932 miles) from Lisbon and 3,900 km (2,423 miles) from the east coast of the United States. The Azores are naturally grouped into three geographic areas, logically referred to as east, central and west Azores.
The eastern island group consists of São Miguel, Santa Maria and the Formigas Islets. The central group is Terceira, Graciosa, São Jorge, Pico and Faial. The western group includes Flores and Corvo islands.
What is the best island to visit in the Azores?
São Miguel is the largest and most populated of the islands and is home to over half the population of the Azores. It is also the most popular destination and if you visit the Azores, you'll find a concentration of activities taking place there.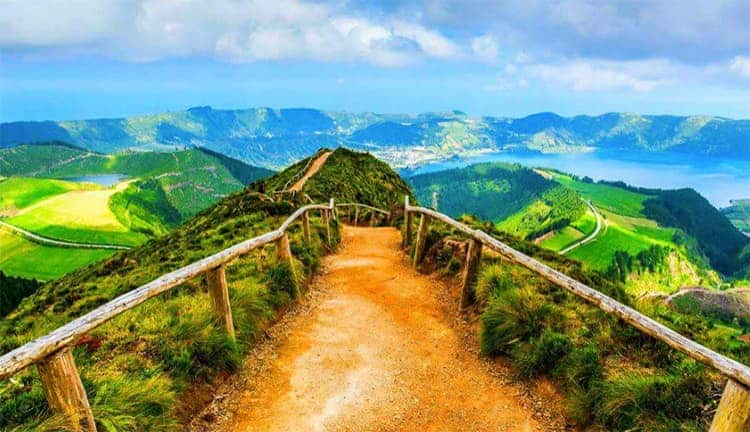 Climate in the Azores
Offering a delightful climate, you can visit the Azores year-round and expect to enjoy warm, temperate days. Moderate rainfall with little season variation means temperatures stay relatively stable but be aware that November to March is considered 'winter' and is therefore a bit cooler and wetter than the rest of the year. Temperatures can vary between 10°C (50°F) and 20°C (68°F).
The summer months, June to September can reach 25°C (77°F), and will provide very warm air and comfortable sea water temperatures (around 22°C (72 °F) in July and 23°C (73 °F) in August and September). This is worth taking into consideration if you're planning lots of strenuous outdoor activities.
What is the best month to visit the Azores?
As with many places, it is recommended to visit the Azores in the spring from March to May, when temperatures are on the rise, but have not yet peaked and the islands are in bloom.
Can you fly direct to the Azores?
To visit the Azores from most countries means a stop in Lisbon, on the mainland of Portugal. It takes about two hours to fly from Lisbon to the Azores and there are several daily flights to the island of São Miguel, Terceira. and Faial, as well as weekly flights to Pico Island.
Getting around the islands of the Azores
To travel between the islands, there are several possibilities. You can use the inter-islands flights and ferries. The ferries are cheaper, but they operate less frequently.
On the islands themselves, you can use taxis, buses or rent a car. There also many opportunities for great cycling or walking.
Is English widely spoken in the Azores?
Yes, though the main language is Portuguese, most people speak English at least on all of the islands in the archipelago.
Top experiences in the Azores
See geysers in action
To visit the Azores means having the opportunity to see the region's majestic geysers. Unlike the ones you'll find in Iceland, these are surrounded by tropical vegetation. The geysers at Furnas are situated at the crater of one of the most active volcanoes of the islands and are a must-see if you visit Azores.
Discover numerous waterfalls
The number of waterfalls you can see when you visit the Azores is countless. Some require a bit of hiking, but many are also accessible easily from the road. The hidden ones may offer a slightly more rewarding experience and don't forget to bring your swimsuit as many also offer the possibility of swimming.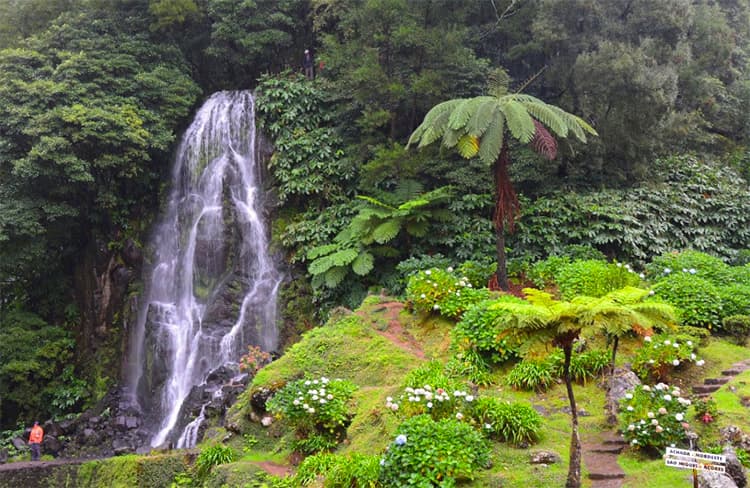 Relax in the hot springs
If soaking in warm water is more your style, you'll also find what you're looking for in the Azores. The islands boast numerous hot springs that are an absolute delight to swim in. The thermal pools of Furnas, for example, are surrounded by palms, ferns and conifers of a subtropical Atlantic forest, making for a pretty surreal experience. Try Poça da Dona Beija for a relaxing, spa-like day.
Take a hike you'll remember forever
The Azores are also known for some truly great hiking trails. In São Miguel alone, you can find 21 official trails each offering a unique experience. Hiking and walking trails are clearly marked and easy to follow, the hardest part will be choosing which ones you want to do with so many different options available.
Watch whales and dolphins up-close
When you visit the Azores, you'll have plenty of opportunities to spot whales and dolphins. In fact, according to the tour operators of the islands, you have a 97% chance to encounter these creatures on one of their trips. They use powerful binoculars and guide the boats from the shore to the location of the dolphins and whales.
Wander through lava caves
If you're looking for adventure inland, you'll also find plenty of options. In the centre of Terceira, you can descend 100 metres (328 feet) into an ancient lava tube. You'll be able to enter the magma chamber of a real extinct volcano! It's a pretty unreal experience as you're able to look up and see the sky through the cone high overhead. Mosses and ferns have flourished inside the upper parts of the cave, creating a beautiful, green hue.
Have a tea party
The Azores is home to the only industrial tea plantations in all of Europe. Located on the islands of São Miguel, Gorreana and Porto Formoso, tea factories produce phenomenal blends of tea. When you visit the Azores, you can take a trip to these plantations to learn more about how the tea is made and taste it exactly as it is intended to be experienced.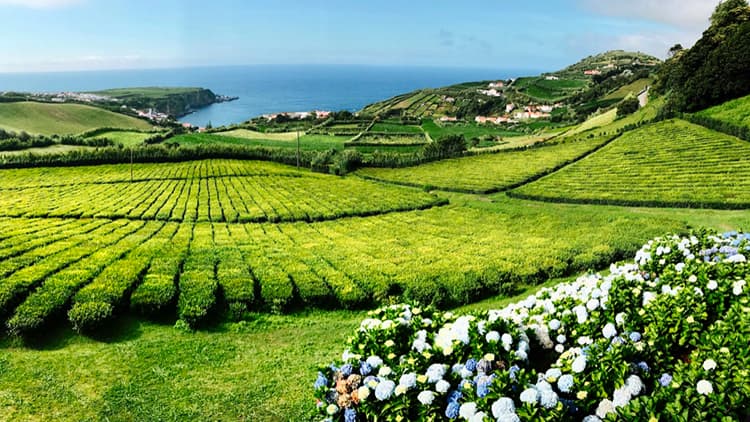 Enjoy local cuisine
When it's time to eat, you'll be treated to the unique Azorean cuisine. A rich, hearty, peasant-based style of cooking, which features seafood, spicy stews, sweet desserts, and rich dairy-based creations. Famous for their deliciously decadent dairy products, cows in the Azores tend to be used for milk rather than for meat.
The Portuguese Breakfast often consists of a small glass jars filled with local yogurt, bread spread with rich butter, and coffee with lots of steamed whole milk.
Pineapples ("ananas") are also a regional treat and something you must try when you in the Azores. Grown on the island of São Miguel, these sweet fruits are exported heavily to mainland Portugal and are frequently seen on the menu of Azorean restaurants for dessert.
Mackerel is another local delicacy you'll encounter often. This elusive, little fish is found everywhere along the coast of these islands, making it the best bet if you want a fresh catch. The traditional way to cook local mackerel is to fry them and serve them up as a side dish. It is worth noting that they are typically consumed in their entirety. Head and all!
If you subscribe to our newsletter, you will never miss a thing about everything Portuguese. Join today. It's 100% free!
Book a tour
If you want to visit Azores, but don't have time to research and plan a trip, there are lots of great tour packages available.
You can choose how many islands you want to visit, the pace of the activity and whether you want to go all-inclusive or just stick to the basics.
If you'd like to organise a few days on your own while using a tour provider to flesh-out your itinerary, you can choose a full or half-day excursion. All tours are led by friendly, local guides.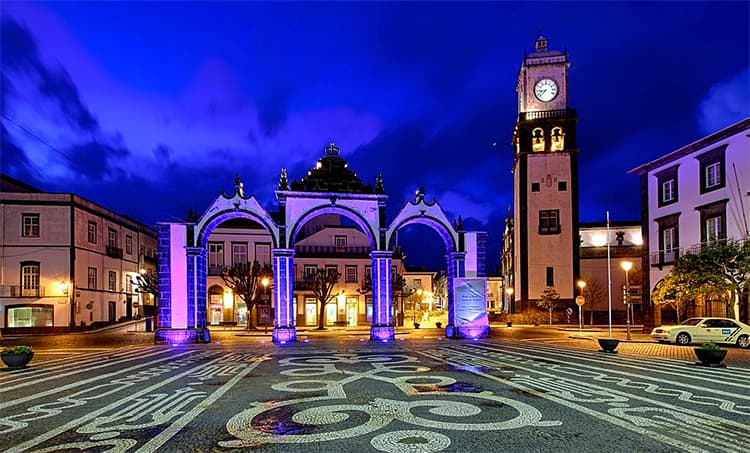 The Azores is a paradise and a natural wonder of the world
A wonderful destination for those looking for adventure or relaxation, the Azores is a beautiful and serene destination full of, tall mountains, wonderful flora and fauna and lovely wineries in Portugal. There is something for everyone from romantic getaways to family fun days. Enjoy your vacation to the Azores.
Ready to move? Read all about living in the Azores here.
Also, read about Angra do Heroísmo, one of our top favourite Azores towns.
Have you been to the Azores? Did you have any experiences to share? Any questions we didn't cover here? Join the chat and leave a comment below. We'd love to hear from you.