Olá, Amigos! (Hello, friends!) Here, you will be able to learn everything you need to know about which Portuguese cities are the best to live in.
Today, we will be writing about the characteristics, places to visit, climate, population, job availability and quality of life of some of the best cities Portugal has to offer.
What are the best cities to live in Portugal?
Below, you will find our list of the 10 best Portugal cities. The cities appear in alphabetical order, but you could throw a dart at this list and you would still pick an excellent city to live in. In addition, we have added a description of some of these cities on the list, to make it easier for you to decide.
Pick 10!
Here is our top 10 cities to live in Portugal:
As promised, we selected a few the cities from this list and dug a little deeper to provide some more details for you so you can get a taste of what they have to offer.
Live in Aveiro
One of the best cities to live in Portugal is, undoubtedly, Aveiro.
Aveiro is located on the west coast, at about 45 to 60 minutes' drive south of Porto and is one of the Portuguese cities that has expanded most in the last decade. It is a beautiful city, full of life, mainly in the summer.
Aveiro offers you basically all you need: beautiful nature and sights, the Aveira Lagoon ("Ria de Aveiro") and its traditional boats ("moliceiros"), multiple shopping malls with numerous stores you can choose from and a university where you can invest in yourself, if you want to.
The weather is not always perfect, it tends to get grey and windy during winter. It is not as sunny and hot as some other cities in this list, but the almost 79,000 people who live in the city enjoy Aveiro's particular beauty and are clearly not bothered by some wind.
Aveiro has many industrial zones around the city, which explains the many job offers that come up almost daily.
In terms of accesses and public transportation, Aveiro is developing more and more each year. There is public transportation to almost every part of the city, but there are some zones that don't have public transportation after 8.30pm.
"The Portuguese Venice", as it's known, has a great deal to offer. At least visit Aveiro and we promise, you will not regret it.
Live in Braga
Braga is a city located north-east of Porto, well in the northern region of the country. The city today is a result of many historical and religious events that occurred in Portugal's long history.
Its great monuments, such as the sanctuary, "Bom Jesus do Monte" and the cathedral, "Sé de Braga", make it a beautiful place to visit. However, living in Braga might be even better. Braga was considered one of the cities with the fastest growing population of about 137,000 people, and with the youngest population (on average) in Portugal. That clearly indicates a certain preference for the city.
It could be the easy access, the public transportation (that seems to be great) or simply the hundreds of job offers that make Braga one of the best cities to live in Portugal, but we think that the most important factor would have to be the experience.
From the cuisine to the sight-seeing, from its monuments to its rich cultural agenda, you can instantly fall in love with this amazing city.
Live in Coimbra
Another one of the best cities to live in Portugal is Coimbra, also known as the "City of Knowledge". It is widely known for its university, the oldest in Portugal. Located between Lisbon and Porto, it is one of the cities with the best and oldest student tradition in Europe. Bathed by the river Mondego, the city allows you to really enjoy nature while you work or study day after day.
From September until July, more than 20,000 students add to Coimbra's 100,000 population. However, maybe it is the transportation system or the city's expanse, that you don't feel like the city is too crowded at all.
The hundreds of job offers make it a relatively competitive city and the growing economy is visible in the development of the city.
Between the hundreds of Erasmus students and the hundreds of people from abroad that come to work in Coimbra, the city is a multicultural nest and makes you feel instantly at home.
Try visiting the university and all the monuments in the area, experience the life the city gives you and its cultural agenda and you will quickly understand why it is one of the best cities in Portugal.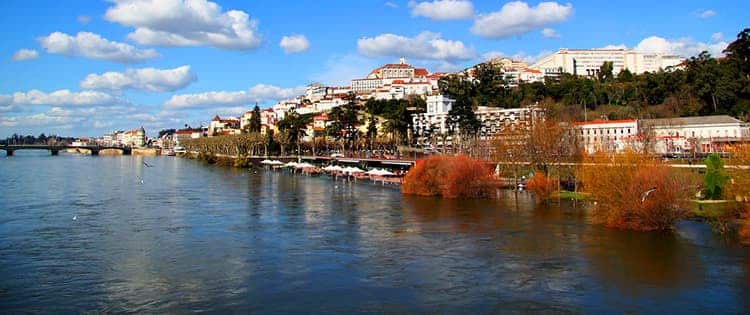 Live in Évora
Speaking of historical cities, if you would like to live in one of them, but you don't appreciate cold weather very much, let us introduce you to Évora. Évora is the main city in the southern central region of Portugal called Alentejo. The temperatures are almost always a little above the country's average.
Although the population is only about 56,000 people, Évora has much to offer, from wonderful cuisine to ancient architecture, places to visit, public spaces designed to help you relax, numerous job opportunities, a university and a lot more.
The whole city is surrounded by the ancient city walls. In the centre of the city, you can find the Roman Temple of Diana.
 Around the temple, the typical white houses of this region surround the Cathedral of Évora ("Sé de Évora"), a beautiful, gothic structure built in the 12th century.
The population of Évora enjoys the calm life of a relatively small city. The lack of rush hours and the lack of crowds make this one of the best cities to live in Portugal. It provides all the services you need for a good day-to-day life with many choices for your free time.

 Imagine the possibility to simply going out when you want to, stop off at the nearest cafe and order an espresso and a regional pastry, like a "St. Clair's Pastry", made from a 250-year old recipe. And now imagine doing so without worrying about parking places or hundreds of people on the street just because it's a Sunday. Great, right?
And speaking about food, keep in mind that the Alentejo region is another region of Portugal that presents delicious and flavourful food and boasts some of the best wines in the world. You can thank us later.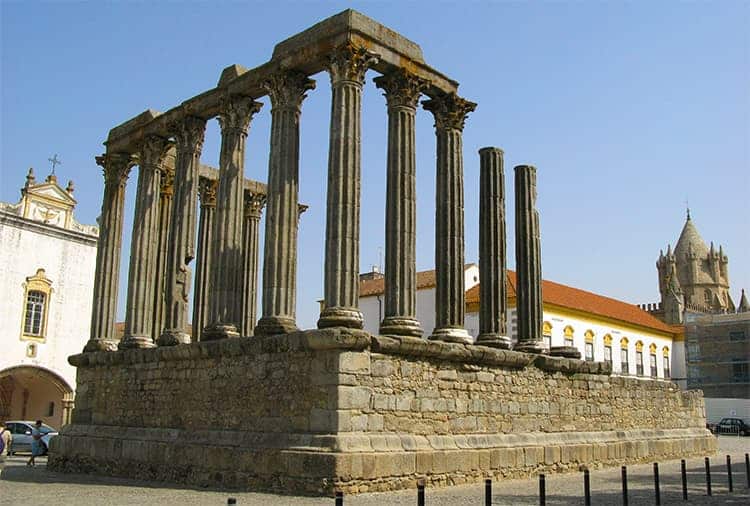 Live in Faro
You might have read a little about Faro already on our other pages. We talked about everything you need to know if you're interested in visiting or moving to Algarve.

 But, let's talk a little more in-depth about Faro, the main city of Algarve.
Faro is the biggest city in the southern region of Portugal and it definitely deserves its place on this list.

With its fantastic climate and beaches, Faro is one of the most inviting cities in Portugal, confirmed by the 65,000 people living there.
You might think that being a city located at about a 2-hour drive from Lisbon would be a disadvantage, but you would be wrong. The distance between Faro and the capital lead to the development of the city. And now you can have it all in Faro, everything from great healthcare and education to culture and leisure. Even an airport!
Concerning job opportunities, there are more than a hundred of them coming up every day. And if working in the fishing industry or with tourists is your cup of tea, Faro will definitely be one of the best cities you could choose to live in.
From March until September, the city changes and thrives with the thousands of tourists that want to enjoy the beach of Faro.

 Housing in Faro could be a little more expensive than average. However, given all the pros the city offers you, we consider this to be a small price to pay. Besides, the foreign population is higher in Faro than in most of the country. Chances are you'll feel right at home.
If you have already visited Algarve or Faro, you know what we are talking about. If you haven't already, you'll see when you'll get there.
Live in Guimarães
Guimarães is located in the northern part of the country, relatively close to the city of Braga. The city was founded in the 12th century and it is considered to be the 'Cradle City' ("Cidade Berço"* . That is because, historically, it was from this city that the first king of Portugal begun conquering and forming Portugal.
Going on a trip to Guimarães is simply amazing. Living there is even better!
 History is all around you; in the streets, in the buildings, and in the air. Just visit the old city centre and you will see what we are talking about. 

But don't think for one second that Guimarães is just an old city.
It's amazing architecture, history and vibe were beautifully integrated with the dynamism and necessities a modern city must have in order to accommodate and make proud its 150,000 thousand people population.
Just to give you an idea, Guimarães was nominated for the European Culture Capital in 2013 and won the European Sports City award in the same year.

 Although the climate could get a bit rough in the winter, we consider it to be an excellent city to live, work and raise kids.
And the opportunities are huge. Every day you can find hundreds of job offers.

 Whether you're thinking about living in Portugal or just visiting Portugal, Guimarães is clearly a place to consider.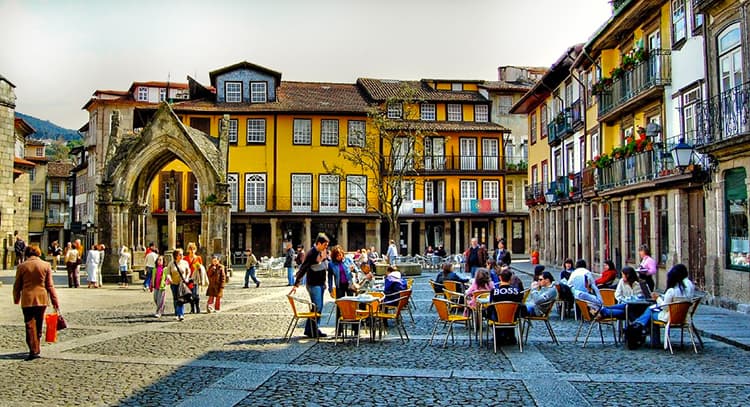 Live in Lisbon
As it would be expected, the capital city of Portugal has to be one of the best cities to live in Portugal.
Lisbon, located close to the Atlantic Ocean, has been one of the fastest growing cities in the country. With its hundreds of job offers, thousands of students and people from abroad, Lisbon is known to be a city that gives you the possibility to really do whatever you would like to and live your dream.
It is difficult to sum up what makes Lisbon so special. Try visiting Lisbon and you will understand. You will find everything you really need for a good life; extremely good weather, glorious beaches and interesting places to visit. We truly believe that you will never, ever, get bored in Lisbon because it has the richest cultural scene in the country.
You can easily travel from one point of the city to the other using the public transportation network and visit every single monument, church or new restaurant you wish. And the best part is, you will not even feel like you're in a city with over 1 million people.
If you don't mind the downsides of living in a big city like rush hours, long lines at the supermarket or days when there are just too many people, Lisbon gives you everything you need and is, probably, the best city in Portugal.
We publish new content every day so be sure to subscribe to our newsletter to get notified of the latest tips for your visit or move to Portugal.
Live in Porto and Vila Nova de Gaia
Porto and Vila Nova de Gaia are two of the oldest cities in the country. They say that the country's name comes from these two cities, Porto and Gaia ("Porto-Cale"). It really is difficult to talk about one city and not talk about the other, therefore, we decided to present you with both. You can decide which one would be your favourite city to live in Portugal.
Separated by the river Douro, these cities have always been linked together, whether by boats that travel between the northern and southern shores or by the bridges that were built later on.
In total, there are about 400,000 people that live in both cities and the economy of the northern part of the city is steadily rising, as proven by the hundreds of job offers that pop up every day.
Living in Porto (and Gaia) is a unique experience. Although the weather is not as sunny and warm as in the central or southern parts of the country, you can really experience the intensity of living in northern Portugal. People from the north are really intense and passionate, but like everybody in Portugal, they will be the first to help you in distress.
Just like Lisbon, you will not be bored living in Porto, Portugal, not even for one day. The city is known for always having something to entertain you in one of its theatres. During the weekends, you can appreciate street artists, excellent food and fresh air. You can choose to visit monuments or just go shopping. It's up to you!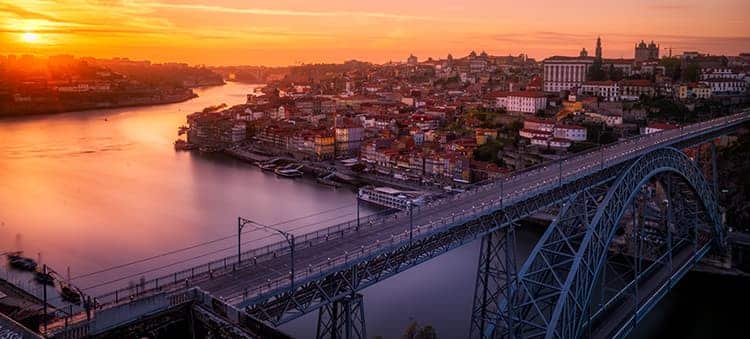 Live in Viseu
Viseu is a city in the central region of Portugal, at about a one-hour drive from Coimbra, home city of about 68 thousand people.
We are not the only ones to think that Viseu is one of the best cities to live in Portugal. In fact, the city was considered the best city to live in Portugal (multiple times!) and one of the best cities to live in Europe.

 We think that the main reason for these nominations is the happiness of the population of Viseu.
And how could they not be happy? They have it all, from culture and cultural activities to great schools, great healthcare services, geography, and cuisine. The public facilities are very well prepared and the public transportation is very reliable. Plus, the housing is not expensive and there are hundreds of job opportunities that come up every day.
Fun fact: Viseu is known in Portugal as "the city of the roundabouts" because there are lots of them in the city.

 But hey, don't just take our word for it. Visit Viseu and see for yourself.

 We recommend you visit the old centre of the city and go inside the Cathedral of Viseu and the "Misericórdia" church. And then just walk through the old streets of the city and enjoy all it has to offer.
Don't forget to stop in one of the city's green zones and enjoy the good weather. 

Once you're there, take the opportunity and go ice-skating at Palácio do Gelo Shopping. Yes, you heard us right. It is a shopping centre with an ice-skating rink!

 Have fun!
So, the best city to live in Portugal is…
As we said in the first part, we can't point to one of these cities and say it's the best one to live in Portugal. We can, however, reinforce that there are more than 500,000 people from abroad that consider Portugal their new home, and most of them live in these cities.
Remember, the weather can be a little different from city to city. So to is the size, the architecture and the local cuisine. But all of them have many cultural activities and places to spend your free time, a good web of public transportation and all the services you need for a good quality of life.
You might also like: Moving to Portugal, a Guide to Visas, Documents and Regulations
Besides, if you do choose to live in one particular city, that does not mean you can't visit another one. Portugal has one of the best motorway networks in Europe and, since Portugal is a small country, everything is a short drive away.
Do you agree with our list of the best cities to live in Portugal? Do you have any experiences to share? Feel free to leave a comment below.