Porto definitely is one of the best cities in the world, full of history in every corner and plenty of new things to do.
The best way to move through the city is by bus, Metro, train or other means we are about to tell you.
Read through this guide about public transport in Porto and don't miss any of the popular spots.
Public transport in Porto: What are the options?
Several options can be named when you are talking about getting around one of the greatest Portuguese cities. Porto is quite big if you look at the metropolitan area, but the historical area can be visited on foot easily.
Porto's downtown is the place where you find all the historical buildings and well-known places, such as:
Livraria Lello is the famous bookstore which inspired the Harry Potter movies.
However, if you are not a fan of walking too much or if you also want to take a stroll by the sea (in Matosinhos, for example), it is best if you use public transport in Porto. The most used means are the Metro and bus, but we are going to explain a few more options so you can find the best way to get around in the city.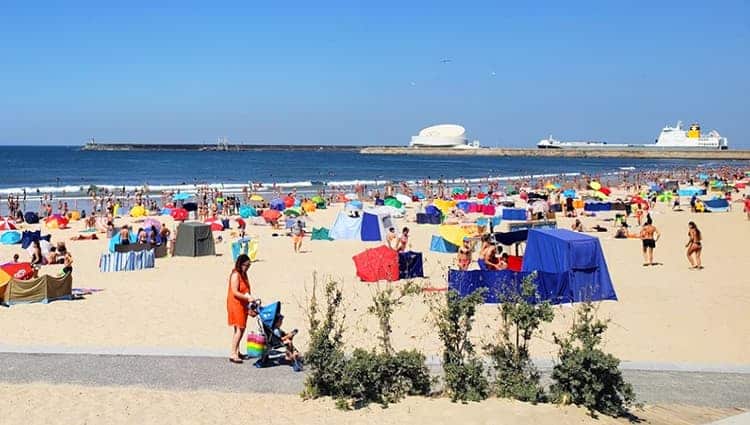 Keep in touch with bePortugal for all the best tips and advice about visiting and living in Portugal by subscribing to our FREE newsletter today.
Getting around Porto by bus
There are a lot of os buses going around in the city and, honestly, they can get a bit confusing, especially if you are visiting Porto for the first time and you do not know where to go or how.
Although there are a lot of bus lines, this definitely is one of the most used by locals, since the Metro does not get to as many places as buses do.
When you talk about public transport in Porto you need to talk about STCP, the company that operates buses in the city. They are quite distinguishable: you only need to look for the white and blue buses.
If you want to get around the city by bus, you need to know the place where you want to go to and then, find the line you need to hop on. The lines appear at the front of the bus (on the top) and usually have three numbers.
You can go to the official STCP site to simulate your journey. By doing that, you will be given the exact line you need to travel on and the schedules for the day. There is also an app in case you want to have that information always with you.
How about discovering Porto with a tour bus guide? Find out more about Porto's hop-on, hop-off tours here.
How much does it cost?
On the STCP prices page (most of this is in Portuguese, but it's not too hard to see the zones and costs) you can check all the prices, but you usually only need to spend €2 on each journey. The ticket is bought once you get on the bus and you need to validate it right after you purchase it. The validation machines are also found inside the bus.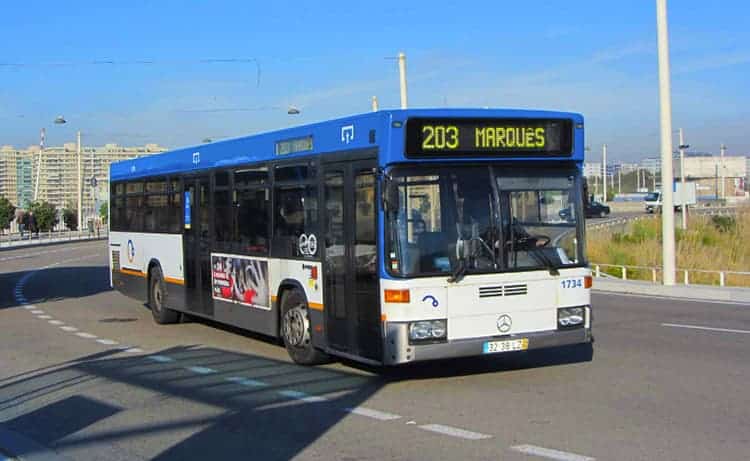 Getting around Porto by Metro
Public transport in Porto is widely known to be fast and easy to use. The main reason why is the Metro. In fact, this is the cheapest and most comfortable way to get around the city while you can still enjoy the view.
Most lines go underground, but others come to the surface whenever it's needed. If you like to appreciate Porto's beauty, we would recommend you to go from Porto to Vila Nova de Gaia by Metro. The Metro crosses the river by the Luís I Bridge and the views truly are astonishing.
There are six main lines in the Metro do Porto system (the company which operates the Metro in the city): A, B, C, D, E and F. Each line as a colour associated with it, so you should easily identify them. Depending on the places you want to visit, you pick the fastest line and hop on.
The ticket prices depend on the zones in which you travel. Some are cheap and others more expensive. You can use the Metro do Porto Journey Planner if you need some help picking the line you want. You only need to put in the departure and destination places and you should be just fine.
How much does it cost?
A normal journey costs €1.20 and will take you to most places. There are, however, more expensive zones, but we would advise you to ask for some help at the station you are departing from since you normally find specialised staff that are willing to help you.
You should buy your ticket before going on the Metro station. The machines are located in each station and are ready to be used in different languages. Then, you should validate the ticket in the electronic machines (black and yellow ones) at the entrances before entering the trains.
There are also daily tickets available, but the price depends on the zones you are travelling to. You can check the prices on the Metro do Porto prices page here (unfortunately this page is in Portuguese), but they can go from €4.15 to €18 and are valid for 24 hours. Don't lose that card because you can recharge it at any time.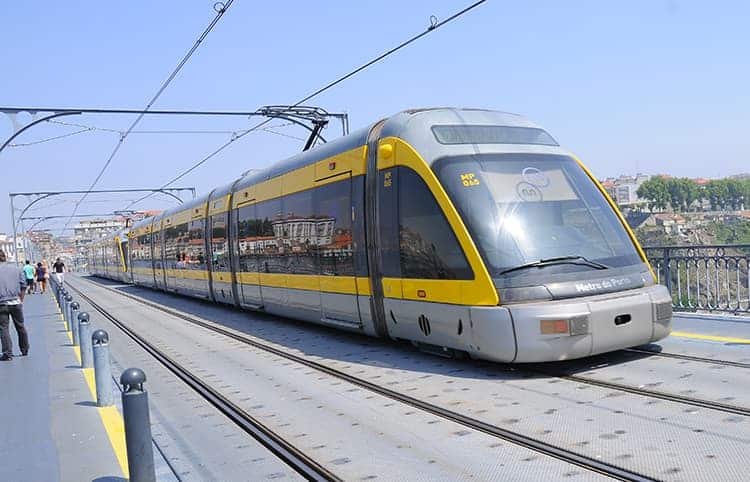 Getting around Porto by train
To be fully sincere, the train is not the best option to get around the city. It is, however, the best choice if you want to visit other cities nearby. This is because the trains are mainly used by locals (especially students) that live far from Porto and work or study there.
Trains are operated by CP (Comboios de Portugal) and connect nearby cities that you can also visit if you have the time. For example, you can get to Braga or Aveiro in an hour, Espinho (very popular for surf lovers) in half an hour or Lisbon in three hours – if you leave from São Bento Station.
How much does a train fare cost?
Ticket prices vary depending on the length of the journey. They can cost €1.50 or €20, so you really need to be careful about what you are buying.
The tickets can be bought in each station at the machines or in the train. At the CP website, you can simulate your journey and see how much it will cost and at what time the trains depart.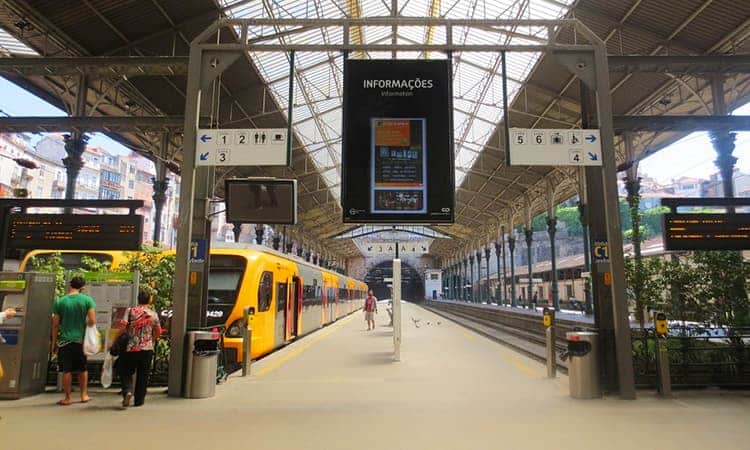 Getting around Porto by tram
Trams are particularly known in the city and its history, as well as the way it looks, makes it one of the most popular forms of public transport in Porto. We recommend that you at least try this means of transportation since it is so peculiar and represents a part of Porto's history.
Trams are also operated by STCP, the same company that operates buses in the city. In fact, there is a Porto Tram City Tour especially prepared for locals and tourists that want to get to know the city with a new perspective.
How much is the tram?
Tickets are available on board for single journeys which costs €3 and are valid for one trip only.
Trams cannot be compared to other means of transport since they are very much different and don't operate as fast or get to as many places as other means do.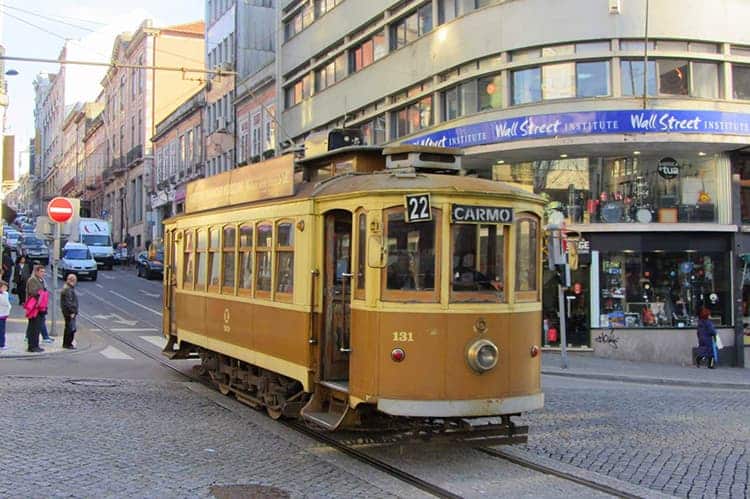 Get a Porto Card
If you are visiting Porto for more than two days, you should look into getting the Porto Card. It is a city pass that you can buy online and besides giving you unlimited journeys in public transport in Porto (as the ones mentioned above), it also offers amazing discounts in 170 places like restaurants and café plus free access to 11 and a free visit to a Port wine cellar.
Make sure you check all the options available as there are passes for one , two, three and four days. This Porto Card is very worthwhile as a one day pass is only €13.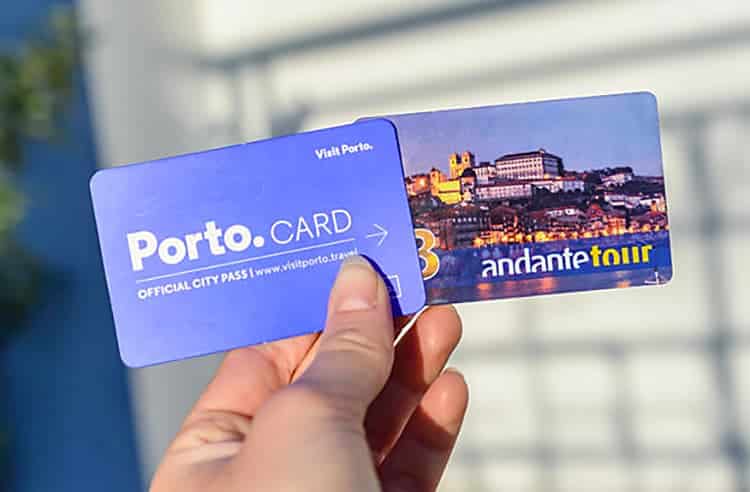 Renting a car in Porto
Even though it is not the best option, we also want to tell you a little bit more about renting a car in Porto.
Let's say you are staying for five days. A hire car can cost more than €40 per day, which is a lot. Plus, you would need to park it somewhere and not all the hotels have free garages. In fact, almost every car park in Porto will cost you (even if you park it in the street).
To find out more about renting a car, read our article on Car Rentals in Portugal.
Do you have any questions about public transport in Porto? Let us know in the comments below.