This guide will tell you about the best beaches near Lisbon, where they are, and what they're like.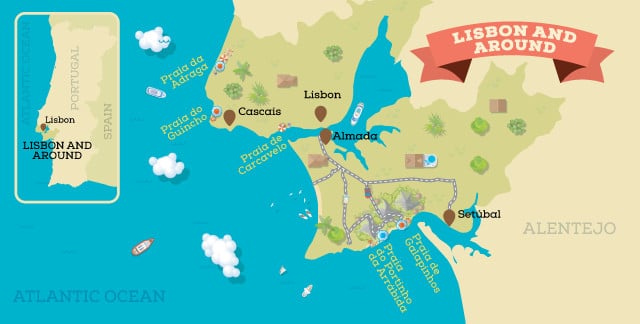 Your guide to Lisbon beaches: 2020 update
If you're staying in Lisbon, you might think that it's far away from Portugal's beautiful beaches. You'd be wrong. There are gorgeous beaches near Lisbon. Some are even accessible by public transport and they are really beautiful!
Want to know more about the best beaches throughout Portugal? Check out our full article on Portugal beaches here.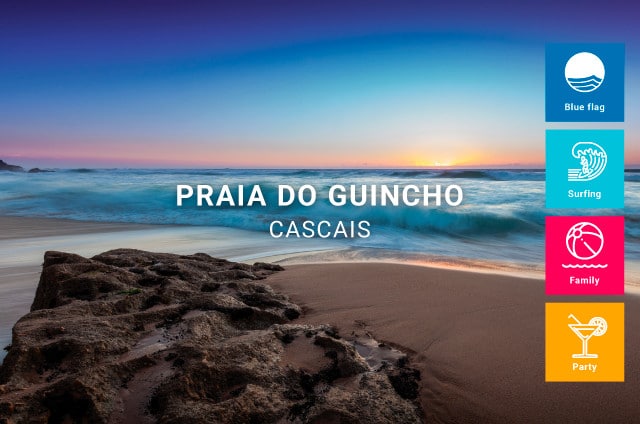 Praia do Guincho, Cascais
The beach at Guincho is a favorite amongst surfers, as it has some great waves. The beach itself is small but very beautiful with golden sands and dunes dotted across it. It can be partially reached by public transport if you get a train to Cascais and take a bus or taxi for the last leg of the journey to Guincho.
The beach has a fantastic restaurant and bar hidden up to the end of the stretch of sand where they have a big food menu, cocktails and fresh seafood. If you want to have a lighter snack right on the beach itself the restaurant owns a small beach kiosk where they offer sandwiches and salads throughout the day.
Book your hotel with Booking.com
With Booking.com you can book the best hotels in Portugal for the cheapest price. Get instant confirmation, pay 0 booking fees and even cancel your booking for free at most hotels. 
Booking.com -
Find the best prices and prepare your trip to Portugal today
It is definitely family-friendly, but primarily this beach will be great for the surfers and adventurers amongst us. It can get quite windy too, so make sure it's a nice warm day if you are just going there to sunbathe.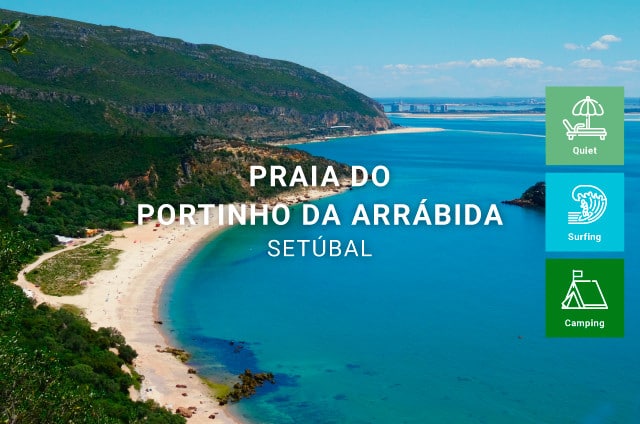 Praia do Portinho da Arrábida, Setubal
The beautiful cove in Setubal is not far from Lisbon, but difficult to reach without a car. This is possibly the most beautiful location to look out into the Atlantic from above the beach, and can even be incredibly beautiful to visit this Lisbon beach during the winter time when it's often enveloped in a fog.
The beach is located in a national park, and has very beautifully clear waters so you will have a great chance to see a variety of sea life and wildlife around this beach. Don't try to take fish from the water here though as it's a protected area.
The beach is located between Setubal and Sesimbra and you can arrive there in 30 minutes from Lisbon airport.

Praia de Galapinhos, Setubal
(Quiet, good for kids, Hidden gems)
Another stunning beach in the region of Setubal, Galapinhos beach has a textbook tropical beach appearance, with some straw sun loungers, a small crescent of golden sand and a beautiful horizon. It will take around 40 minutes to reach from Lisbon airport and is definitely a family friendly beach. This beach also won most beautiful beach in Europe by the European Best Destinations guide.
This beach characterizes this natural region of Arrabida close to Lisbon, with the beautiful marine plants and cliffe edges that surround it. It's not a bad place to watch the sunset either. There are excellent seafood restaurants in the area but facilities on the actual beach don't exist apart from a snack stand.
To get to this beach from the Lisbon airport will take just under an hour.

Praia da Adraga, Sintra
(Quiet, Blue flag)
A favorite of the locals, and slightly less busy than the better-known neighboring beach Praia Grande. Be warned that despite this beach being nestled in a cove with high cliff edges, it's still very windy. The beach itself is quite close to Cabo do Roca, which is the westernmost point of Europe.
The dark rock formations in the shore make this beach really beautiful to look at but perhaps a little dangerous to swim in, particularly with young children. There are tunnels and grottos here so exploring is definitely possible here and something that makes the beach more family-friendly.
There are also facilities at this beach, although its remote. And there is a parking lot too, but this fills up quickly in the summertime, so be sure to get down here early.
It takes a short 25 minutes to get to Sintra from Lisbon airport.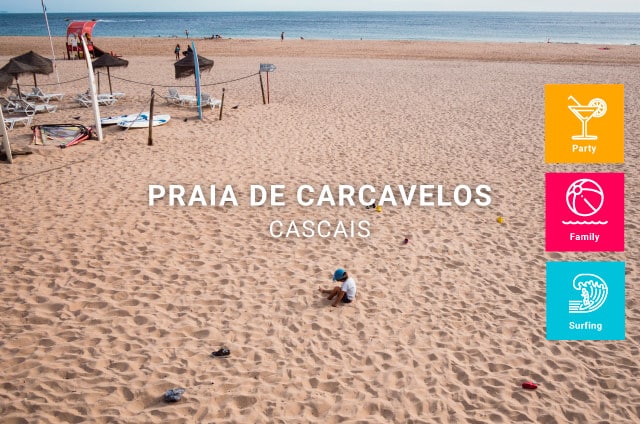 Praia de Carcavelos, Cascais
On the way to Cascais, the train from Lisbon stops at a town called Carcavelos. This beach is probably the closest and most accessible by public transport from the city of all the nearby beaches. The train leaves from Cais do Sodré on the green metro line, and will take a short time to take you right to the doorstep of this beach.
While it is not a deserted nor never-ending stretch of sand, the beach is pretty and is backed by the São Julião fort. The beach is popular with local people from the town and also with Lisbon residents and tourists, particularly in the summer months when it can get quite crowded.
From Lisbon airport, Carcavelos is 25 minutes drive.
Planning to visit Portugal?
Make the best of your trip with our tips.
FAQ
Is there a beach in Lisbon, Portugal?
Yes, there are beaches in the Lisbon district of Portugal. The city of Lisbon is about 15 miles from the ocean, but thanks to efficient public transit, you don't need a car to visit beaches near Lisbon. Four popular beach areas near Lisbon are Cascais, Costa da Caparica, Serra de Sintra, and Serra da Arrábida.
What is the best beach in Lisbon?
One of the best beaches near Lisbon is Carcavelos, near Cascais. It's kid-friendly and easy to get to, with plenty of restaurants and shops. Hop a train at Lisbon's Cais do Sodré train station, then walk just 10 minutes from the Carcavelos station to the beach to join surfers, sunbathers, and families.
How far is Lisbon from the beach?
The city of Lisbon is about 15 miles from the ocean. It's accessible by train, bus, or car. The closest beaches to Lisbon are near Costa de Caparica – long, sandy, and beautiful. They're a 20-minute drive, unless you hit (inevitable) traffic on the 25 de Abril bridge.
Can you swim in the sea in Lisbon?
Yes, you can swim in the sea near Lisbon, though the city itself is actually 15 miles from the ocean. Look for Blue Flag beaches. These are beaches that have passed high standards for water quality and cleanliness. Some beaches near Lisbon do get big waves and might not be good for swimming.