If you are planning a trip to Lisbon, Portugal, then this is the article for you!
Here, you will be able to find all you need to know about Lisbon – from when to visit, what to do and see, where to stay, what to eat and more.
Got your attention?
Why you should visit Lisbon, Portugal
Discover the beautiful city of Lisbon ("Lisboa" in Portuguese) and the best reasons to visit Lisbon. We will approach numerous topics like the weather, places to visit, places to shop, where to stay and the cost of these things.
There are many reasons to visit Lisbon, below you'll find out the most popular ones.
Where is Lisbon?
Let's start from the beginning: location.
As you probably already know, Lisbon is the capital of Portugal. Portugal is a Mediterranean country in the Iberian Peninsula, right next to Spain, with a huge coastline on the Atlantic Ocean.
One of the coolest things about Lisbon is that the city is located close to the ocean, which means you can enjoy the sun and the beaches almost all year long.
When is the best time to visit Lisbon?
Just like the rest of Portugal, Lisbon has a mild Mediterranean climate. This means that the four seasons exist, but the most noticeable ones are winter and summer.
Winter is somewhat rainy and windy, but don't worry, it doesn't last long and even on those days, you'll still be able to see some sunshine.
Summer, however, makes it worth visiting Lisbon! Although summer officially begins in June, you can enjoy really good weather starting from March with temperatures already getting up around 20°C (68°F).
That means you have almost nine months of the year with the weather on your side and can do (almost) whatever you want!
For more details on the seasons, check out our article: Lisbon Weather.
Top things to see and do in Lisbon, Portugal
The truth is that Lisbon is like a whole world in one city, so you should try to allocate more than one day to visit Lisbon.
Lisbon is a city of contrasts. You can easily find a mix of:
Ancient buildings;
Contemporary buildings;
Post-earthquake buildings; and
Dictatorial era buildings.
We thought about a list of very special places you should visit in Lisbon. Most of the time, it's not only about the place, it's about the experience it provides you.
We've done the hard work and listed our Top 5 Lisbon Tours here. Check it out now.
Downtown Augusta Street, the Rossio Square and "Terreiro do Paço"
Augusta Street ("Rua Augusta") is a very famous street in downtown Lisbon. It is a typical Portuguese street with the "Calçada Portuguesa" (Portugal's unique pavement style) and the beautiful Portuguese building style.
This street connects two very important squares that are also worth visiting: the Commerce Square ("Praça do Comércio" or "Terreiro do Paço") and the Rossio Square ("Praça do Rossio").
Try starting your walk in the Rossio Square, then walk down Augusta Street and end up in "Terreiro do Paço". This is a very enjoyable walk towards the river Tagus ("Tejo").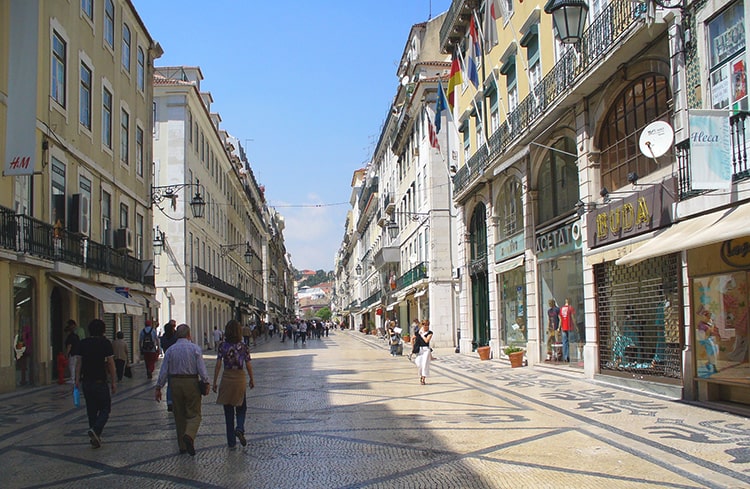 The Santa Justa Lift
While you're on Augusta Street, try finding the Santa Justa Lift ("Elevador de Santa Justa"), also called the Carmo Lift ("Elevador do Carmo"), and take it up to the top. When you get there, you'll find out why it's worth it.
From this viewpoint, you will have a unique panoramic view over Lisbon.
You should see:
Terreiro do Paço;
Saint Jorge's Castle ("São Jorge Castle");
The Lisbon Cathedral ("Sé de Lisboa"); and
The Tagus River ("Tejo").
Hint: You can also visit Saint Jorges Castle, the Cathedral, the National Pantheon or get your feet wet in the Tagus river.
We publish new content every day so be sure to subscribe to our newsletter to get notified of the latest tips for your visit to Portugal.
Lisbon downtown: "Chiado"
Here is another great zone to visit; Lisbon downtown. If you follow our advice, you will surely be absolutely amazed by the: architecture, streets, people, restaurants, street artists and cafés.
Speaking of cafés, we recommend trying "Café A Brasileira", a café from 1905, and take a picture with Fernando Pessoa, the famous Portuguese poet.
Visit the Chiado Warehouses ("Armazéns do Chiado"). As the name suggests, these are some very old warehouses in the area which gave way to a large modern shopping centre that you might enjoy visiting.
Tram number 28 ("Elétrico 28")
If you don't have much time to spend in the area, try hopping on the 28 Tram. For the Portuguese in the area, it is a common (and most appreciated) means of transportation.
However, for tourists, it is a quicker way to get to know numerous historical sites of Lisbon. If you have the opportunity, try catching it near "Cemitério dos Prazeres"– a beautiful cemetery located on the border of the Estrela and Campo de Ourique neighborhoods.
If you're lucky enough, you might see some artists performing "Fado" (a unique Portuguese music style) live, on the tram.
You can book a tram ride and walking tour of the Alfama region before getting there, through our good friends at Get Your Guide. You get instant confirmation after booking and there is a really easy cancellation policy if you change your mind. This three-hour tram tour includes a live guide and booklets in English. To book, click here.
25th of April Bridge "Ponte 25 de Abril", docks, and Belém
If you decide to travel towards the river Tagus ("Tejo"), follow it until you get below the 25th of April Bridge and enjoy the view.
You can also enjoy a good espresso at the bars and restaurants beneath the bridge (this area is called the "docks"), while contemplating the statue of Jesus Christ ("Cristo Rei"), on the other side of the river. If you wish, you can also visit and climb up the "Cristo Rei". Take a train across the bridge or board a boat to get to the other side.
In case you wish to continue walking along the riverside, go on until you reach Belém. That's a must see.
Take some time to visit these famous attractions:
The Monument of the Discoveries ("Padrão dos Descobrimentos");
Belém Tower ("Torre de Belém");
the MAAT (Museum of Art, Architecture, and Technology).
Pastel de Belém
You can stop and have a picnic on the grass near the Belém Tower or you could enjoy a delicious and traditional "Pastel de Belém" at the traditional factory and café, Pasteis de Belém. This is a typical type of pastry that will definitely surprise you.
As mentioned, you will most probably need a few days to visit all the places Lisbon has to offer. You can always try getting more information by visiting one of the Lisbon's Tourist Centres.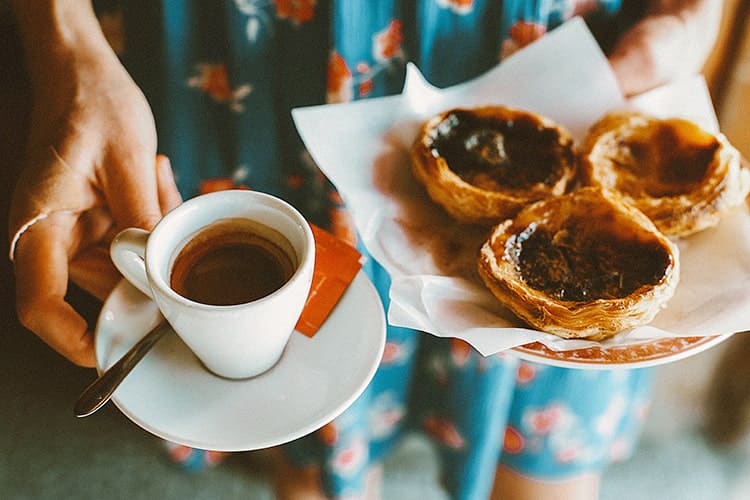 Want more? Have a look at Facts about Lisbon.
Where to stay in Lisbon, Portugal
If you are coming from out of town and don't have anywhere you could crash for a few days, we might be able to help you.
Depending on your budget, you could stay at one of the best hotels in Lisbon, like:
For a lower price (but still high quality) you could try a hostel or guesthouse like:
To know more about hostels, you might like our article: 10 Best Hostels in Lisbon.
Other activities in Lisbon, Portugal
As we mentioned before, Lisbon has a world to offer. You only need to have time to enjoy it all.
Beaches in Lisbon
We've already talked about the places to visit. But just so you know, there are a lot of beaches you can go to in the area. Try venturing to the Praia de Carcavelos at Avenida Marginal on the way to Cascais and have a look at the surfers. Or you could go to Estoril or Cascais and enjoy the spectacular beaches.
You might also consider going to some beautiful beaches that extend from Costa da Caparica to Sesimbra, south of the Tagus River.
If you'd like to know more about Lisbon's beaches, check out this article: Lisbon Beaches: A Full Guide to Lisbon's Best Places to Swim and Surf
Shopping in Lisbon
In case you are interested in shopping, Lisbon offers you a huge variety of stores. In the "Chiado" area and on Augusta Street, you'll find many typical small stores.
If you are looking for high fashion stores, try Liberdade Avenue ("Avenida da Liberdade").
Eating in Lisbon
If, on the other hand, you wish to enjoy some really good food, you could visit the TimeOut Market (also known as the "Mercado da Ribeira") in Cais do Sodré for a market-like food concept. But truth be told, any restaurant that will present you with a good "Bacalhau" or "Feijoada" dish is really an excellent option.
Want to know what the most typical Portuguese foods are? Have a look at: Portuguese Food: The Dishes You Need to Try in Portugal
Is Lisbon expensive to visit?
Well, that really depends. The cost of living in Portugal is not as high as in the rest of southern Europe, therefore Lisbon is probably cheaper than other capitals.
Cost of flights
There are a lot of flights for €150 or less from numerous places in Europe if you buy in advance.
Don't get lost at the airport, read this handy guide to Lisbon Airport.
Cost of accommodation
The accommodation like hotels in Lisbon Portugal can be really inexpensive, depending on your personal choices. But count on about €30 to €50 per night per person.
You can find more details in our article: Lisbon Hotels.
Cost of transportation
Public transportation is really cheap and you can always get a daily ticket (about €6) and use the bus, tram, Metro, ferry and some train services as many times as you wish within 24 hours.
Cost of food
We would say that for the whole experience you might pay about €10 to €15 for a typical lunch if you order the Menu of the Day, and about €15 to €20 for dinner.
Therefore, say you experience Lisbon for five days, eat good food and stay in good places, visiting Lisbon can be as cheap as €600 (flight included) or less.
How long should you spend in Lisbon, Portugal?
It all depends on what you would like to see and what time of the year you come to visit. For example, I would allow about three or four days if you are coming in winter or spring and just plan on seeing the city sights.
If you like museums, you should read: Top 15 Museums in Lisbon.
When the weather gets nice and warm, you could easily stay a week because there's always a day out at the beach, or visiting the castle at Sintra or taking your time to enjoy the sun in many gardens and parks the city has to offer.
Want to see which monuments in Lisbon are the most important? Check out our Top 10 Monuments in Lisbon.
Is Lisbon safe for tourists?
Yes, absolutely. Lisbon has a really low crime rate in comparison to a lot of big European cities. In most areas of Lisbon, you can walk around at night without a problem. The locals are very friendly and helpful in case you need something or some help.
Of course, as in most busy touristy areas, you should always keep an eye on your belongings and watch out for the usual pickpockets.
You'll never forget your visit to Lisbon in Portugal
So there you have it. Beautiful city, beautiful landscape and architecture, delicious food, excellent vibe, and many, many places to visit. All in one: Lisbon!
One last tip: Get yourself a Lisbon Card here and enjoy unlimited public transport, access to 23 museums and discounts in many shops and restaurants for only €19 for 24 hours! It's really great value, trust me!
Did we convince you to visit Lisbon? Do you have any questions for our team of locals? Let us know in the comments below.