Thinking of visiting Lisbon? Not sure on how you should plan your days?
Perhaps you're already here but overwhelmed with wide variety of things to do in Lisbon and the limited time to do so.
Well… we have good news for you.
In this article, you'll be able to find everything you need to know about things to do in Portugal.
Today, we will be taking you around our beautiful, ancient city to share some of the popular destinations in Portugal to gather the best experiences you will have whilst visiting this amazing city.
We have chosen 25 to get through, so let's go!
The best things to do in Lisbon
Why Lisbon?
Lisbon is the capital city of Portugal and has become a huge tourist destination. A must-visit European city! It is an all year-round tourist city and there are always things to do in Lisbon be it in the coldest winter months or the hottest summer months, Lisbon has got something special for everyone.
Let's get started on our top 25.
1. Belém Tower ("Torre de Belém")
Torre de Belém is a five-floor architectural masterpiece built between 1514 and 1520 on the waterfront north of the Tagus river. The tower was classified as a World Heritage site by UNESCO in 1983 because of the significant role it played in the Age of Discoveries. As one of the most iconic areas of the city, Belém is located to the west of central Lisbon and houses the most important landmarks and museums in Lisbon. A visit to Belém Tower should probably be on the top of your 'things to do in Lisbon' list.
2. Jerónimos Monastery
Jerónimos Monastery is called "Mosteiro dos Jerónimos" in Portuguese and is also located in the Belém neighbourhood. The monastery is one of the most ornate, religious buildings in Portugal and it's known as the place where explorer Vasco da Gama spent his last night before sailing to India in 1497. This is one of the most popular tourist attractions in Lisbon and is a spectacular building to visit. There are often exhibitions and events which run throughout the year.
3. Monument to the Discoveries ("Padrão dos Descobrimentos")
This enormous monument is a sculptural beauty of grand architecture depicting Vasco da Gama amongst other explorers. Padrão dos Descobrimentos is located in the Belém area along the waterfront of the Tagus River, right on the old harbour of Belém, where many these voyages of discovery originated. The monument houses a small museum that details the history of Lisbon and you can even go up to the top for a splendid view of the area.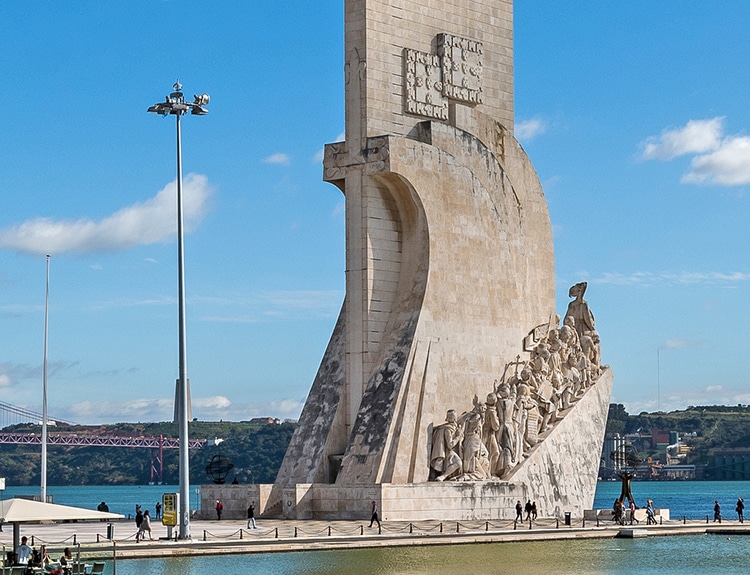 4. Incredibly amazing nightlife of Bairro Alto
A definite thing to do in Lisbon is experiencing the amazing nightlife in Bairro Alto (the high neighbourhood). This district situated in the Baixa Chiado area of Lisbon and is filled with a variety of bars, pubs and amazing restaurants. Further down the hill in Cais do Sodré, you have the famous Pink Street which has some really cool nightclubs that bounce until the early hours of the morning. If you are looking to have a crazy and unforgettable night in Lisbon, then Bairro Alto should be on your list of things to do in Lisbon!
5. A day trip to Sintra
Sintra is about a 30 minutes train ride from Rossio Station. Sintra offers a variety of beautiful palaces, castles and a scenic environment. The most notable castle is Pena Palace ("Palácio da Pena") which sits at the summit of a hill in the Sintra mountains above the town. It is one of the finest tourist attractions of Portugal and exemplifies the 19th century Romanticism style of architecture. Exploring this UNESCO World Heritage Site is most certainly a thing to do in Lisbon.
6. The Sanctuary of Christ the King statue ("Cristo Rei")
Another great monument in Lisbon is the statue of Christ which overlooks the city of Lisbon from the Almada district, a few minutes away from Lisbon. The giant statue was inspired by the Christ the Redeemer statue in Brazil. From the top of the Cristo Rei, you get a perfect view of the iconic 25 de Abril Bridge and the Tejo Estuary.
7. Praça do Comércio
Praça do Comércio is the large square located near the Tagus River in downtown Lisbon and is regarded as the main public square in the capital city. Around the sides, you will find plenty of cafés and restaurants and there is usually something going on in the square itself. At the centre is the statue of King José I created by Joaquim Machado de Castro, one of Portugal's most famous sculptors. Close by is the Rua Augusta Arch ("Arco da Rua Augusta") which leads to other parts of the city.
8. Enjoy seafood at Cascais
Cascais is a scenic, seaside town away from the ever-busy city centre of Lisbon only 45 minutes by train ride west of Lisbon's Cais do Sodré station. Relax on the beaches during the summer and enjoy the best seafood available in this charming town.
9. Estrela Basilica ("Basilica da Estrela")
The Basilica da Estrela is one of the most ornate churches in Lisbon and is an architectural beauty (Rococo styled architecture) characterised with elaborate ornamentation, a huge dome and an array of statues. Located on the western edge of Lisbon opposite the Jardim da Estrela park, it is usually a good place to relax and enjoy the weather in the warmer months. You can get there with the tram 28 which stops right in front of the building.
10. São Jorge Castle ("Castelo de São Jorge")
São Jorge Castle is located at the top of the São Jorge hill which happens to be the highest hill in Lisbon. As one the most symbolic monuments in Portugal enjoy amazing views of Lisbon at the summit of this historic and spectacular castle.
11. MAAT (Museum of Art, Architecture and Technology)
MAAT is the newest art museum in Lisbon in the Belém neighbourhood and was designed by the award-winning architect Amanda Bevete. You will often find national and international exhibitions with contributions by contemporary artists and architects. For the avid photographer, this is an awesome place to capture amazing pictures during your visit to Lisbon.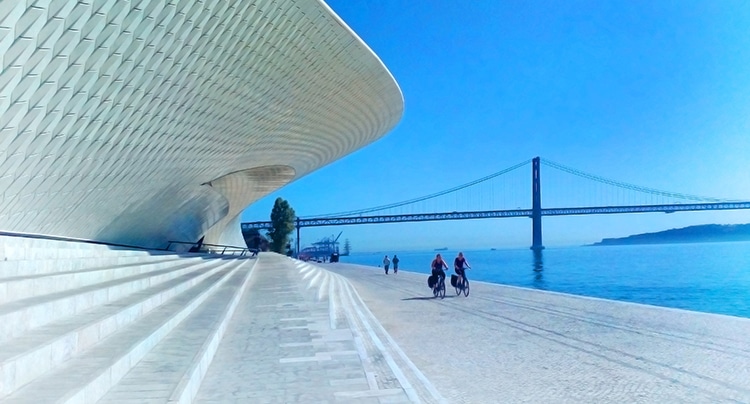 12. Gulbenkian Museum
A famed museum that displays arts dating back to the 20th century, the Gulbenkian Museum houses a magnificent collection of Egyptian, Greek, Roman, Islamic, Asian, and European art. There's also a white marble statue of 'Diana' by French sculptor, Jean-Antoine Houdon. You can also find exquisite silverware made by François-Thomas Germain, once used by Catherine the Great. Be sure to see René Lalique's jewellery, considered to be one of the most unique in the world.
13. Lisbon Zoo ("Jardim Zoológico")
In the centre of Lisbon you will find the Lisbon Zoo which houses about 2,000 animals of 300 different species, living in their natural habitats. The park is a pleasurable and refreshing place to visit and is designed for conservation and breeding of endangered species as well as other recreational activities. This is a great day out for all the family.
14. Sunset at Santa Catarina lookout ("Miradouro de Santa Catarina")
Catching a sunset at the terrace of Miradouro de Santa Catarina is an unforgettable experience as it's the perfect place to hang out with friends, enjoy the ambience of the area whilst enjoying music from street musicians. There are also many side attractions in the neighbourhood.
15. Lisbon Oceanarium
The Lisbon Oceanarium is a mind-blowing masterpiece with over 8,000 marine creatures waltzing through huge tanks of sea water. This place is certain to give you a captivating underwater experience. An unmissable stop and totally worth it!
16. Dine in Mercado da Ribeira (Time Out Market)
We recommend to at least have one meal in the Time Out Market to try out some traditional Portuguese dishes. In the large, airy, indoor space with numerous restaurants, you will be spoiled with the variety on offer. There are also bars and a club on the upper level. A sure thing to do in Lisbon. So good that it should not be missed.
17. A visit to Alfama
Delve into the disorientating alleys of Moorish Alfama, one of the oldest districts in Lisbon, which was once the heart of the city. Alfama is the home of Fado music, a popular genre of music in Portugal. When in Alfama, be sure to visit the Fado Museum. Alfama is an artistic neighbourhood with walls filled with amazing graffiti. The streets, people and the views will make Alfama an unforgettable experience.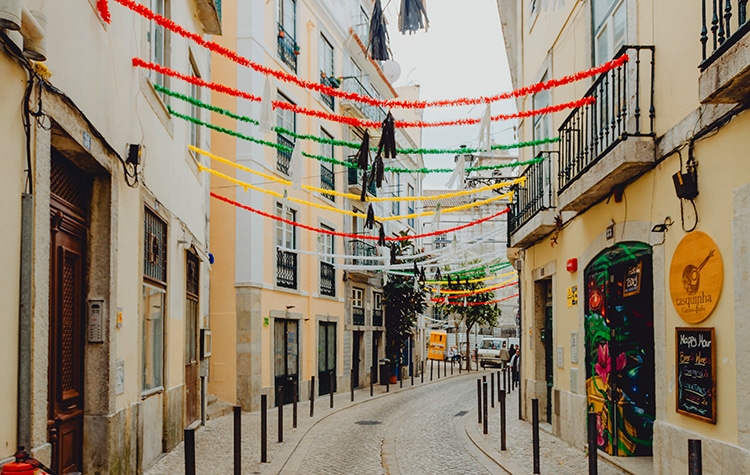 18. Costa da Caparica beaches
One of the nicest stretch of beach just few minutes away from the capital city is the Costa da Caparica area. Close to Lisbon, this Atlantic coast attracts beach lovers who want to get a tan, surf the waves or enjoy a picnic in the sand with friends and family. It's definitely worth experiencing especially if you visit Lisbon in the summer.
19. LX Factory
LX Factory is an artsy area filled with craft shops, cafés and restaurants hidden away from the main attractions of Lisbon city. You can spend a whole afternoon in this inspirational location.
20. Tram 28E
A rattling ride on the popular Tram 28E route takes you through the most historic, touristic and hilly parts of the city. It takes about one hour starting from Martim Moniz to Campo de Ourique and is an easy and unique way to get to most of the touristic attractions.
21. Rossio Square
The first thing you will notice about the Rossio Square is the mosaic ground, a traditional-style pavement used for many pedestrian areas in Portugal. Used as a popular meeting point for the locals, it is surrounded by many shops and cafés, some of which date back to the 18th century. There, you will also find a popular ginjinha (cherry liqueur) shop where the typical Lisbon spirit can be tasted just be sure to ask for the cherries at the bottom.
22. Orient Museum ("Museu do Oriente")
The Orient Museum houses collections of Portuguese and Asian art which are the most important exhibitions of the historical encounters between the West and the East. Some notable collections include 17th and 18th century Chinese and Japanese screens, Namban works of art, a porcelain collection bearing the coat of arms of the Companhia das Índias and a collection dedicated to the cultures of the peoples of Timor. At the top of the museum there is nice restaurant with breath-taking views. Worth visiting!
23. Thieves Market ("Feira da Ladra")
This is a popular flea market in Lisbon. It is very large and the variety of things you can find is huge! If you are into shopping at flea markets, you should visit.
24. Drink a shot of Ginjinha
Ginjinha is a Portuguese liqueur made by infusing ginja berries (sour cherries) in alcohol and there are many little shops selling ginjinha at the counter. Some places offer this shot in a little chocolate cup making the experience even more decadent. Therefore, a trip to Lisbon would be incomplete without drinking Ginjinha and we would recommend it as one of the things to do in Lisbon.
25. Eat a custard tart at Pastéis de Belém
Known internationally as "Portuguese custard tarts", these delicious, hand-made delicacies are usually sprinkled with cinnamon or powdered sugar at Pastéis de Belém. This is also something we think you must try when you visit Lisbon.
There you have it, 25 things to do in Lisbon
There are so many things to see and do we could keep going all day. All in all, everyone can find something to do and though Lisbon is not a huge city, it is packed with little treats around every corner. Enjoy!
Did you find enough to do and see in Lisbon here? Do you have any experiences to share? Feel free to leave a comment below.
We publish new content every day so be sure to subscribe to our newsletter to get notified of the latest tips for your visit or move to Portugal.