Feeling unsure about how to travel around Portugal?
Do you want to find the most cost-effective and most comfortable option?
In this article we will talk about what types of public transport you should use depending on your travel needs.
Portugal offers a wide variety of transportation services such as trains, buses, trams, metros, taxis, and planes. Public transport in Portugal is safe, clean, mostly reliable and affordable.
How to travel around Portugal by train
Portugal has a broad railway network, making it easy to travel between destinations. Whether you travel to towns in the north or want to see the coastal caves of the Algarve, the reliable train system in Portugal provides a great way to discover the country with picturesque scenery.
Type of trains in Portugal
There are six main types of trains in Portugal:
Regional;
InterRegional;
Intercities ("Intercidades");
Alfa Pendular;
Fertagus; and
Celta.
Regional
Regional (R) is slower and stops frequently. If you are on a budget and not in a hurry to get to your destination, then this type of train will suit you the most. The trains are pretty comfortable and have have air-conditioning. They are second class quality only so sorry, no first class travel here.
Interregional
Interregional (IR) is reasonably fast, running mainly on secondary lines.
Intercidade
Intercidades (IC) is the long distance express train connecting the capital of Lisbon to many other larger Portuguese cities. The trains all have air-conditioning and you can get a first class or a second class seat.
Alfa Pendular
Alfa Pendular (AP) deluxe trains are the fastest way to get around Portugal with speeds of up to 220km per hour (137 miles per hour). It connects all of the major cities in Portugal. They offer a mini bar, meals, wifi, audio and video channels. It is also the priciest option you can choose.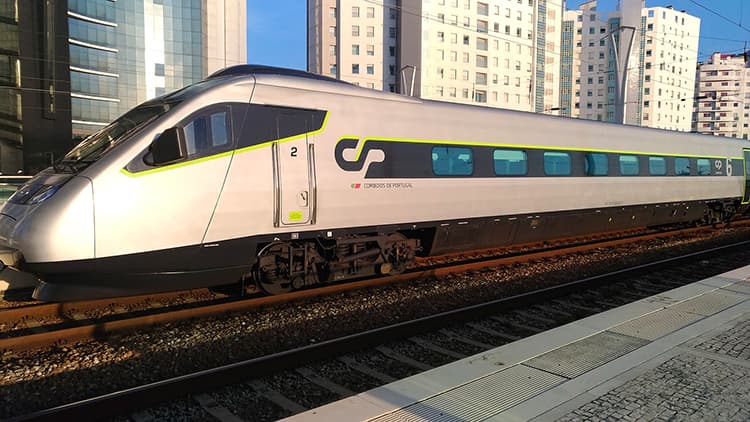 Fertagus
Fertagus (FERT) (website is in Portuguese) is a private operator running suburban trains from Lisbon across the Tagus River ("Tejo") to Setubal and serves 14 stations. They all have air-conditioning with second class seats only.
Celta
Celta (CEL) are international express trains that run between Porto and Vigo with stops at Nine, Viana do Castelo and Valença operating twice a day.
Main train stations in Portugal
Here is a list of the main train stations in Portugal
In Lisbon there are:
In Porto:
In Coimbra:
To see the Comboios de Portugal (CP) train map of Portugal, click here.
Train ticket prices in Portugal
The train transportation in Portugal is very affordable compared to a lot of western European countries.
I recently travelled to Porto paying only €25 for one-way on a second class train. If you buy a return ticket you can get 10% discount for long-distance journeys, but only if you book your trip in advance.
Discount train tickets
Comboios de Portugal (CP) (the state-owned railway company) offers various discounts for children, youngsters, senior citizens and more.
Here are a few of the options you can take advantage of:
Family & Friends 50% discount. Discount applies for weekends for groups of three to nine people.
Children half-price. Children under the age of three can travel for free in Portugal and they can enjoy further discounts between the ages of three to 12 years old.
Trainsharing up to 50% off. If you travel with a group of three or four people on the Alfa Pendular or Intercidade trains on Tuesday, Wednesday or Thursday, you can get up to 50% discount.
Senior citizen 50% off. Discount applies for people aged 65 and above. As long as you provide your age with your ID, you get 50% discount on train prices.
Youth ticket 25% discount if you travel with Alfa Pendular or Intercidades tickets up to the age of 25.
Find more discounts for specific occasions at the CP website here.
Travelling around Portugal by bus
The networks of these bus companies cover most of the country's main towns and local destinations. Compared to other national bus services in Europe, I found Portugal's to be clean, comfortable and with a window seat the scenery makes a pleasant journey.
Major bus companies in Portugal
Rede Expressos
Some of the major bus companies have united under Rede Expressos. Their website offers services between almost every major city and smaller towns across Portugal as well as to Spain. You can reserve your trip online. They offer onboard media, free wifi and power sockets.
You can travel to Porto or Faro for only €19 even if you don't book your ticket in advance and you are eligible to get discounts if you have REFLEX Card.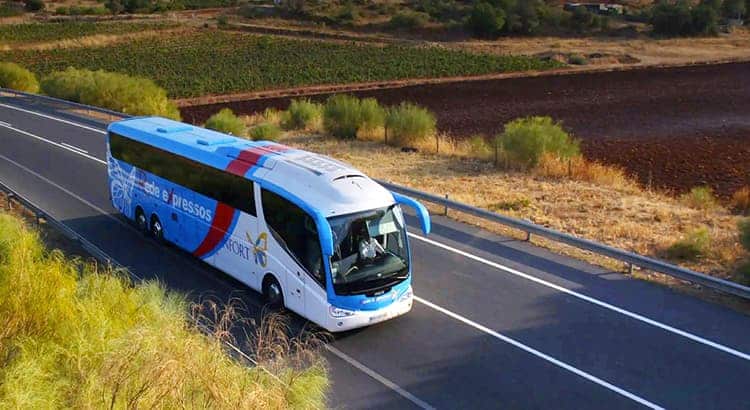 Rodonorte
The Rodonorte bus company is serving the north of Portugal with services radiating out of Vila Real. Rodonorte buses connect with:
Eva bus
The Eva bus company operates in the Algarve region. If you are planning to travel across the whole region, Eva bus offers a very affordable option to accomplish that.
With their tourist pass, you are eligible to use vast network of intercity transport. A three-day pass costs €30.40 and a seven-day pass costs €38.
Metro in Portugal
The transportation service in Portugal is quite broad, however only Lisbon and Porto have a metro system. Both are safe, clean and most of the time efficient. During the day, the metros run very regularly, but in the evening you might have to wait up to 10 to 12 minutes to catch one.
Metro in Lisbon
Currently, Lisbon Metro has 56 stations and four lines:
Red: São Sebastião to Aeroporto.
Yellow: Odivales to Rato.
Blue: Amadora este to Baixa Chiado.
Green: Cais do Sodré to Telheiras.
The Lisbon Metro opens at 6:30 am and closes at 1 am. However, note that some stations close before this time.
A single ticket is €1.50 and a daily ticket costs  €6.40. At the moment, a monthly Viva card costs  €36.70 which is due to decrease in April 2019 to €30.
Click here for the Lisbon Metro map.
Metro in Porto
Porto's Metro has 6 lines and 81 stations.
Line A (Blue): Estádio do Dragão to Senhor de Matosinhos.
Line B (Red): Estádio do Dragão to Póvoa de Varzim.
Line C (Green): Estádio do Dragão to ISMAI.
Line E (Purple): Estádio do Dragão to Aeroporto.
Line F (Orange): Fânzeres to Senhora da Hora.
Porto Metro opens every day at 6 am and the last train departs at 1 am. Depending on the time of day, the metro can pass every 4 to 15 minutes.
The cheapest ticket is €1.20, and can go up to €5.20 depending on how many zones you need to go through.
Click here for the Porto Metro map.
Be sure to subscribe to our newsletter for all the best tips about travelling to Portugal.
Portugal airports
Mainland Portugal has three international airports, Lisbon, Porto and Faro. These three airports cover the entire country, and provide numerous international routes.
Lisbon Airport
Lisbon Airport is located within the city limits and is connected to the Metro and bus network, making it very convenient to travel to the city centre. The highest number of international flights depart from this airport.
In Lisbon, the low-cost airlines arrival is handled by terminal one but passengers depart from terminal two The only way to go from terminal one to two is by a free coach.
Have a look at our full guide on Lisbon Airport here.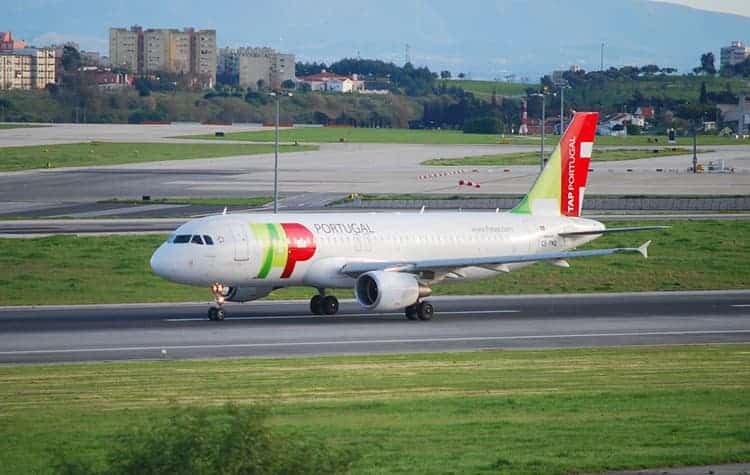 Porto Airport
More and more low-cost airlines travel to Porto and the number of flights from outside of Europe is increasing. The Porto airport is well-connected to the Metro and is easy for onward travel.
For more detailed information, read: Porto Airport
Faro Airport (Algarve Airport)
Faro is located in Algarve and is a beloved destination for tourists, especially from the UK. The number of flights and passenger levels fluctuates during the year with most travellers passing through the airport during the summer season.
There is almost no public transport from Faro airport, so you should think about the transportation to your accommodation prior to your flight.
Fo a full guide on getting to and from Faro Airport read: The Algarve Airport: Tips to Plan Your Trip to The Algarve, Portugal
Driving in Portugal
As I previously mentioned, public transportation in Portugal is very convenient, fast and affordable, however, if you prefer to be more flexible and visit small towns and villages where otherwise you couldn't get to, driving a car might be the best solution for you.
If you decide to rent a car, there are multiple car rental services you can choose from. Rentalcars is a good site where you can compare the prices between companies.
With most companies offering free cancellation, you can always get your money back if you spot a better offer or change your plans. Car hire is typically charged per 24-hour period. Whether you travel alone or with family or friends, you will find many options to choose from. You can find small cars for only €11.88 per day.
You might find cheap weekly deals, so try to change your search for seven days and see if it's a better fit for you.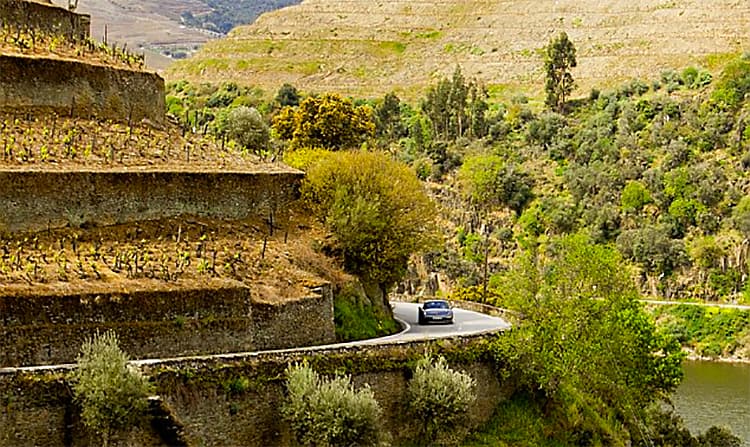 You should also be aware of toll roads in Portugal (website is in Portuguese). This means that you will be expected to pay to drive on certain roads. This is more frequent in the north of Portugal, but it is worth being aware of this for any trip you may take.
A car rental should include a chip on the windscreen to allow you to pass through the toll booths quickly. Sometimes they include these costs in the rental price and sometime you have to pay extra at the end. It's worth asking the car rental company about this when you pick up your car.
Also, you should know that petrol/gas costs in Portugal are amongst the top 10 most expensive in Europe.
Taking taxi, Uber, Taxify or Cabify in Portugal
Taxis in Portugal
Most licensed taxis in Portugal will have a taxi sign on the roof and the driver's identity will be displayed inside the cab. Lisbon's taxis are painted black and green or cream. By law, all taxi fares are calculated using a taximeter, so always insist that the metre is running..
Are Lisbon cabs safe?
Yes. All drivers have to be registered and their registration card will be displayed in the car. You might find the driving culture different to what you are used to. But if you are a super cautious person, I would recommend using an app like MyTaxi (website is in Portuguese) where you can see the driver's profile and reviews from other passengers.
The basic Lisbon taxi fare is €0.47 per km, and there is a minimum fare of €3.25 when you get in.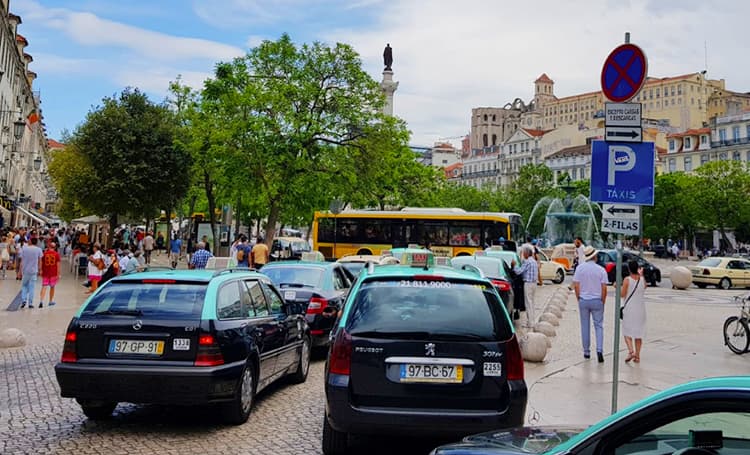 Uber in Portugal
Uber has become a very popular solution to turn to amongst tourists especially. The app is easy to use and the cost of the service is very low unlike in a lot of other European cities. Sometimes I pay only €3 to €4 for a 10 minute trip.
Find out more here: Uber in Portugal.
Other alternative taxi hailing apps
Taxify (now called Bolt)
Bolt (formerly Taxify) taxi service has become very popular in Portugal, especially in Lisbon. Although they're only offering €3 free credit to new customers, they're usually one of the cheapest options overall.
Cabify
Cabify is only present in Latin America, Spain and Portugal. This service is only available in Lisbon and Porto. The fare is relative cheap at €1.10 per kilometre.
Enjoy your journey with affordable transportation in Portugal
The best way to choose which method to use will be down to your destination. If you travel in between cities on a budget and you are in less of a rush, I would recommend travelling by bus, otherwise upgrading to a faster and more comfortable train is recommended.
For more flexibility on your journey and to get to more remote locations, driving a car is the best way. Just be aware of aspects like parking, tolls and fuel.
With the beautiful Portuguese scenery, most journeys regardless of method, can be a nice way to sit back and see Portugal on the move.
Let us know in the comments below if you have any question on transportation in Portugal.