If spending more time than just your holidays in the Algarve ever crossed your mind, this story is for you.
Here, you will be able to find everything you need to know about living in the Algarve, Portugal.
Today, we will be writing about what it's like to live there, the community, job opportunities, the best cities to live in, the cost of living, and other useful tips.
Living in the Algarve, the region
Located about 200 km (322 miles) south of Lisbon, the capital city of Portugal, the southern region of Portugal is called the Algarve and it is one of the most emblematic regions in Portugal. Known best for its beautiful beaches, delicious food and spectacular weather with long, hot and sunny days, it is a virtual paradise for locals and tourists alike.
It is one of the most visited regions in Europe in the summer time and tourists call it the 'Florida of Europe'.
If you have never visited the Algarve, do so soon and you will understand why. You may even be able to book a flight directly to Faro, so you can bypass going to Lisbon first.
Why live in the Algarve?
From the east to the west of the Algarve, tourists fill the region in the summer months. It really is interesting to talk about the reasons to visit the Algarve, but today, we thought we could address those of you who would like to live in the Algarve for the whole year and enjoy all the region has to offer.
The weather and the beaches
One thing is for sure: The Algarve usually has the best weather in Portugal. You can really feel the benefits of the Mediterranean climate in the Algarve. The summers are long and hot and the winters are usually mild and not as cold as in the rest of the country.
As you would expect, nice weather is the perfect excuse to go and enjoy the beach even after your working hours.
What a nice way to end your afternoon, right?
Cost of living
Portugal's cost of living is considered to be one of the lowest in southern and western Europe. It may be because of the low minimum national wage, but the fact is that it is not expensive to live anywhere in Portugal (generally speaking).
The Algarve is no exception. Depending on your profession or your goal, you could have a calm and steady lifestyle in the Algarve for less than in most European countries.
We will talk about this in a little while, but the fact of the matter is, that rent and house prices can vary, but, as in the rest of the country, the food, healthcare, and general services are fairly cheap.
Renting or buying a house
You could be wondering "Ok, but what do you mean by 'can vary?".
Well, prices are most certainly more expensive than the average price in the rest of the country. But remember, the region thrives on tourism for about four to six months of the year and it is also one of the preferred regions for people from abroad to retire. That inflates the prices, for sure.
However, in order to give you an idea, we did a little research and on average you will pay about €1,500 per square metre. But that's on average, excluding some outliers. We did find apartments for less than €500 per square metre up to almost €3,000 per square metre.
You might also be interested in: Rent an Apartment in the Algarve, the Best Tips and Advice
Personal preferences
For example, you could find a very nice, central place to buy and to live in, in the biggest city in the Algarve, Faro, for about €2,000 per square metre. But keep in mind that we are talking about an apartment in a nice, clean, secure place with a pool.
If you don't mind living in a smaller area, like for example in Loulé, it won't be too difficult to find a really good new or almost new apartment for about €1,500 per square metre on average.
The cost of a house in the Algarve really depends on your preferences and on what you are willing to pay.
The same applies with the rent prices. For example, you could find an 89 m² (958 ft²) apartment for €400 per month, as easily as you could find a 90 m² (969 ft²) for €1,200. It all depends on the location, the city, and the conditions the house is offering.
But with some research, you will most certainly find something that suits your requirements.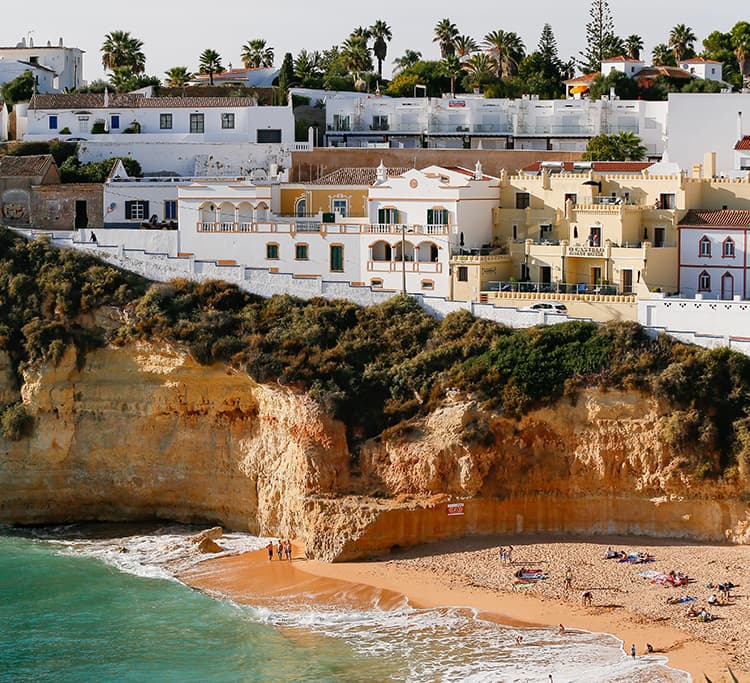 Transportation
Another thing you may be wondering about is transportation and how to get around. That also depends. If you have your own car, it's very easy to get across the Algarve in a maximum of two and a half hours, from east to west. Driving from Faro to Lisbon takes only two hours. You could also take a plane that takes about 45 minutes. There are many options.
If you don't have a car and don't wish to have one, it won't be a problem. There are buses you could take to travel from one place to another in the Algarve region. If you need to get to Lisbon and don't want to fly, you can take the train.
Each day there's at least one train from Faro to Lisbon and back.
Getting around in the bigger cities of the Algarve, like Faro or Portimão is also easy, given the public transportation system the cities have. So, it really isn't very complicated.
Below you can find the main transportation companies that serve the Algarve:
Will I be able to find a job?
Well, it depends on what you are looking for.
If you are interested in working in the Algarve, the first things you should be asking are: Which area you want to work in and what time of the year you wish to work?
For example, it is really easy to find work in hotels, restaurants, bars or cafés, mainly in the summer. There are a lot of job offers for qualified people in most of the region at that time of the year because of peak tourism.
Another area that might interest you is the fishing industry. Think about the possibilities!
If you don't work in fishing or tourism-related areas, it can be a little more complicated, but not impossible, of course. Although the big companies are not located on this part of the country, there are still lots of job offers in very different areas every day.
Take Faro, for instance, it is the biggest city in the Algarve and has many job offers and dozens of new ones appear each day, check out the Faro job board at Net Empregos (in Portuguese).
What city should I choose?
Choosing a city in the Algarve is easy.
If you can't work in tourism or fishing industry, choose Faro, at least in the beginning.
If you can work in tourism or fishing, chose the city you identify best with.
On the other hand, if you just want to retire in Portugal and choose the Algarve as your destiny, by all means, choose the one with the beaches or the sights you like most. It's up to you.
The best-known cities are:
Sagres;
Lagos;
Portimão;
Faro;
Tavira.
But there are many beautiful towns that can provide you with a quality of life you can't even begin to imagine, like: Alvor, Carvoeiro, Olhão, and others.
It all depends on what you like doing, what you are looking for and how you want to spend your free time. It is worth noting that each year, there are thousands of people from abroad that begin living in the Algarve. For example, from 2015 to 2016 there were 5,000 people who settled in the Algarve. The majority decided to retire in the Algarve whilst others are young adults that came to study at the Algarve University and decided to stay.
What are the downsides?
When we think about it, there are not a lot of cons about living in the Algarve. The most notorious would have to be the fact that Faro is the only big city in the region. So, if there's something you can't find in Faro, you will probably have to go to Lisbon.
But think about all the pros!
Can you imagine living in a place where the ocean is only a few minutes away from your door? Wherever you choose to live!
The Algarve is a place with spectacular nature, good weather and awesome, fresh food and the best part is that it gains so much life every year with the tourism peaks!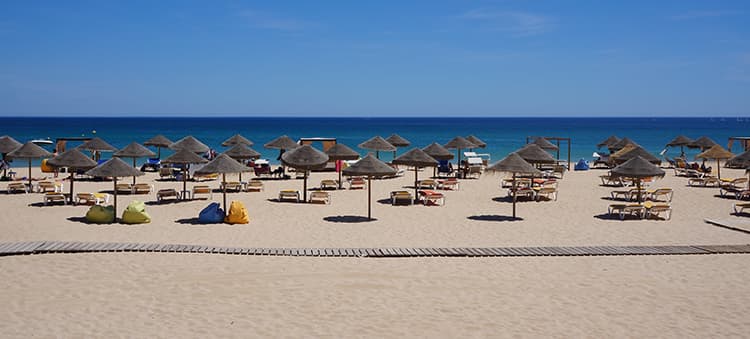 Living in the Algarve really is unique
If you are thinking about moving to Portugal but you are not interested in living in Lisbon, consider this option. You won't regret it!
Did we convince you to consider living in the Algarve? Do you have any experiences to share? Feel free to leave a comment below.
We publish new content every day so be sure to subscribe to our newsletter to get notified of the latest tips for your visit or move to Portugal.

Disclaimer: Our posts might contain affiliate links, which means we earn advertising fees if you make a purchase. There's no extra cost to you, it just helps us keep the website going.