Olá todos! (Hello all!) Visiting Lisbon soon and want to know what the weather will be like?
Here you'll be able to find everything you need to know about the weather in Porto.
Today, we will be writing about what to expect at different times of the year, some average temperatures and tips on what to wear.
Lisbon's weather
Lisbon is one of the warmest capital cities in Europe. Since Portugal enjoys a Mediterranean climate, the weather provides mild winter months and very hot summer.
What is the weather in Lisbon like right now?
Now. Let's look at each season.
Autumn in Lisbon
Autumn in Lisbon is still quite warm and very nice for walking around although, it gets a bit chilly at night, so you may need a jacket or a sweatshirt. You are still able to enjoy outdoor coffees, dining on the terraces or relaxing in one of the many parks in Lisbon city.
September still gets hot like with summer temperatures during the day, but it drops fast at night. From mid-October to November, you will probably experience some rainfall and it becomes colder as the temperature continually drops.
The ideal clothing for this season would be a light, woolly jumper and a good jacket or layers of clothing which can be easily removed when it gets hot. A nice pair of boots too! You may also want to get an umbrella for those rainy days.
Autumn temperatures and rainy days
September
October
November
Average daytime temperature
26°C (79°F)
22°C (72°F)
18°C (64°F)
Average night-time temperature
17°C (63°F)
15°C (59°F)
12°C (54°F)
Average rainy days
3
8
9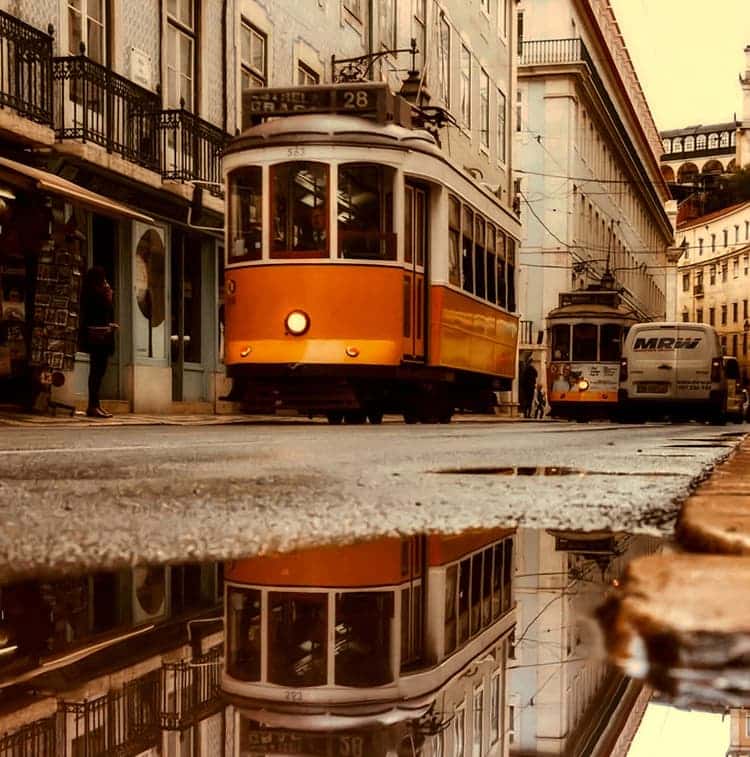 Winter in Lisbon
Winter in Lisbon is mild compared to most European countries. Temperatures still reach a high of 16°C (61°F) during the day with some sunshine and drops only as low as about 8°C (46°F) at night.
That said, winter in Lisbon usually gets a lot of rain and gusty winds. December is probably the wettest month in Lisbon and temperatures begin to feel very cold. Lisbon's coldest month is January and there are still many rainy days.
February's weather is slightly warmer than January with fewer rainy days. Boots or warm shoes are necessary, as are jumpers, scarves, long trousers and warm pyjamas. It is also necessary to carry an umbrella or raincoat for the winter in Lisbon. It very rarely snows in Lisbon in winter, even on the coldest days.
Winter temperatures and rainy days
December
January
February
Average daytime temperature
15°C (59°F)
15°C (59°F)
16°C (61°F)
Average night-time temperature
9°C (48°F)
8°C (46°F)
9°C (48°F)
Average rainy days
10
10
9
Spring in Lisbon
The weather in Lisbon is generally good in Spring. It becomes a little warmer as it begins rains less and less. You will get more sunshine during the day, although it is still a bit chilly in the mornings and at night.
March marks the start of spring with some remnants of winter as it still rains a bit, but the temperatures go up one or two degrees, making it warmer than winter. The month of April sees some rain too, but the temperatures begin to gradually climb up and it is often warmer during the day.
In May, the weather becomes much warmer as it welcomes the summer. There is also some chance of a few rainy days so keep that umbrella handy. Ideal clothing for spring in Lisbon would be a light jacket, long pants and a good pair of sneakers or boots.
Spring temperatures and rainy days
March
April
May
Average daytime temperature
18°C (64°F)
20°C (68°F)
22°C (72°F)
Average night-time temperature
10°C (50°F)
12°C (54°F)
14°C (57°F)
Average rainy days
7
7
5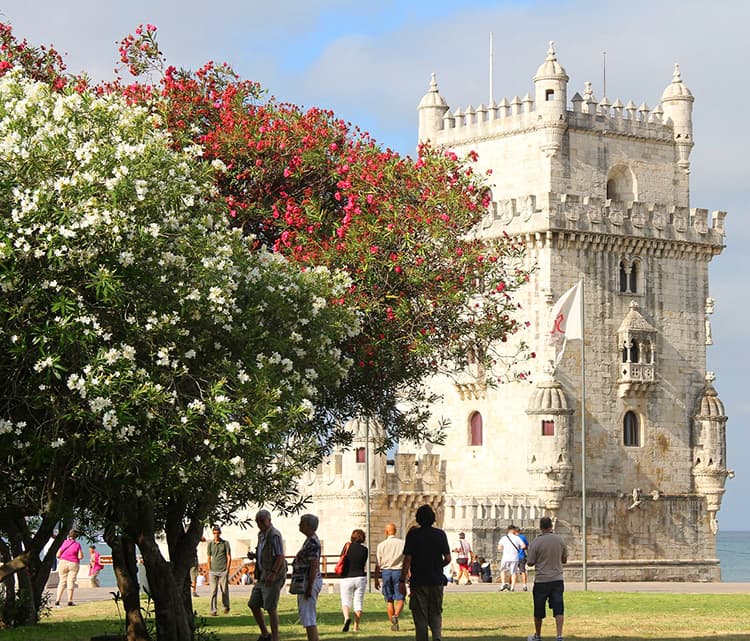 Summer in Lisbon
Lisbon's summers can be very hot. You can expect long hours of sunshine with little or no rain. Humidity levels and wind speeds during the summer in Lisbon are generally low.
June is the beginning of summer and the coolest month of summer. Tourists begin to flock into Lisbon to enjoy the summer festivals and the pleasant weather.
July and August are the hottest months as the temperatures soar to sometimes 43°C (109°F). This is usually the best time to go to the beach to get a tan or swim as the water is relatively warm. Because of the high temperatures, clothing for the summer in Lisbon means you can wear shorts and sleeveless tops most of the day and a light jacket for cooler nights.
Summer temperatures and rainy days
June
July
August
Average daytime temperature
25°C (77°F)
28°C (82°F)
28°C (82°F)
Average night-time temperature
16°C (61°F)
18°C (64°F)
18°C (64°F)
Average rainy days
2
0
1
Heading to the Algarve? Check out Algarve weather now.
Lisbon has great weather all year round
Whether you like hot weather or prefer a fresh, cool day, Lisbon is in a perfect position to offer both. There are plenty of activities for each season for you to enjoy.
Did you find enough weather information for Lisbon? Do you have any experiences to share? Feel free to leave a comment below.
We publish new content every day so be sure to subscribe to our newsletter to get notified of the latest tips for your visit or move to Portugal.