Olá, amigos! (Hello, friends!). If you've found this article, there's a big chance you're interested in living in another country or living in Portugal as an Expat. I guess somewhere where it's affordable, international, beautiful and preferably, sunny?
Let me guess… Lisbon? That's right?
But you probably have some questions about it, like "what's the cost of living there?" or "is Lisbon the right city for me"?
We have good news for you.
All about living in Lisbon
Here you'll find the ultimate guide on living in the Portuguese capital. Keep reading to know more about renting, jobs, leisure, online expat groups and more!
Where exactly is Lisbon?
In the south-west corner of Portugal, close to the Atlantic ocean, you will find Lisbon. It is both a riverside and a seaside city. The massive river that stretches through the city is called the Tagus ("Tejo").
The greater Lisbon metropolitan area is home to around 2 million people and reaches a total area of about 3,000 square kilometres (1158 square miles).
The Lisbon labour market
Lisbon is the place in Portugal where more job offers pop up every day. It is also the place where,  statistically, there are more chances for an expat to find a job.
It depends on the area of your work, but there are a lot of job offers that require language mastery (apart from Portuguese) and Portugal has grown in different areas such as:
Digital
Technological
Tourism
Start-ups
Job Hunting in Lisbon – top websites
A quick search on net empregos, one of Portugal's popular job hunting platforms using the filters 'Lisbon' and 'customer service' or 'help desk', will return about 300 offers that include a mastery of some foreign language.
You can get similar results for 'tourism'. There are a lot of options; so take some time to sift through the myriad of job offers and different areas. You may like to check out some other platforms such as:
If you are more of a freelancer or digital nomad, you might have some luck with these:
Weather in Lisbon
Lisbon has probably the best weather in Portugal. It can get very hot in summer and quite cold in winter, but usually just for a few days each year. The weather is usually good all year-round with lots of sunny days.
If you want to find out more about the weather, check out Lisbon Weather, the Ultimate Guide with Tips For What to Expect
Cost of living in Lisbon
Lisbon has the highest cost of living in the country. We have covered a best-case scenario for the cost of living in Portugal and Lisbon is usually the outlier, mainly because the cost of essential services like water or electricity are taxed higher and household expenses are completely different there.
Renting a house in Lisbon
Unlike the rest of Portugal, the housing prices are not as friendly in Lisbon. If you do a quick search on any rental company sites, you will quickly see that the prices are usually higher than €600 per month on average for an apartment.
If you are patient, you might find a cheaper price, but you are faced with another problem: the selection process. The selection process to rent a house in Lisbon can take a long time and it gives you no guarantees.
It's getting expensive to rent in Lisbon
If Lisbon's prices do not scare you or you are able to afford it, it should be smooth sailing to get a nice apartment in a good location. If, on the other hand, you struggle with the costs, get on as many platforms and sites as you can and never stop looking for better alternatives.
It might just be a matter of time and patience. Plan ahead before coming to Lisbon because you may not be able to afford an apartment on your own. If you are willing to share an apartment with other people, you might find prices of around €200 to €300 per month for a room.
Buying a house in Lisbon
If you are looking to buy a house in Lisbon be prepared to spend a considerable amount of money. Prices can vary between €3,000 to €7,000 per square metre, depending on the location, condition, and age of the building.
Whether you are buying a house to live in or as an investment, be sure to research thoroughly; compare different prices in the same area, get a feel for the zone, ask people who live or work there if the area is safe and consider working with an agency if you feel lost or can't find any help.
If you're looking for an agent to guide you through the property buying process in Portugal, it could be worthwhile to employ the services of a buyer's agent. One company offering these services is Goldcrest Advisers.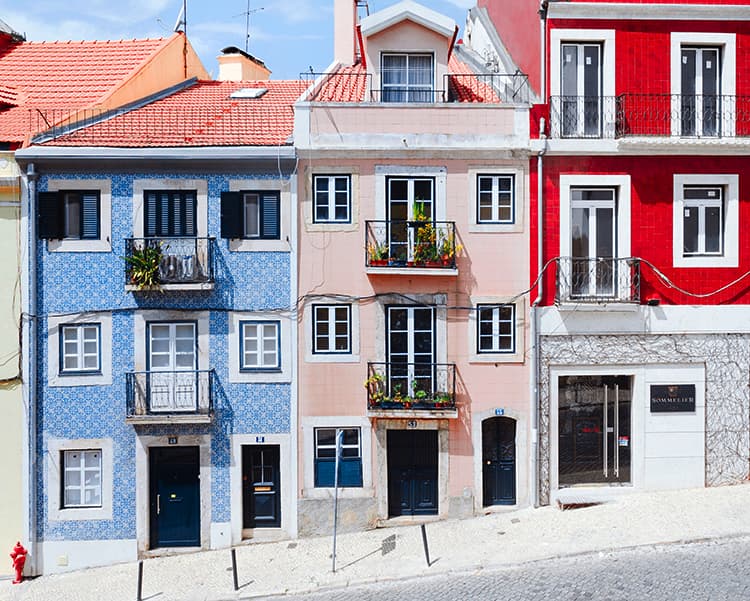 Best neighbourhoods in Lisbon
Central
Speaking about renting or buying a house in Lisbon, living in the outskirts of Lisbon can be expensive and time-consuming. If you prefer a more central location and are comfortable with not owning a car or not getting around by car very much, you should try to move closer to the metro or train stations.
These neighbourhoods might be a good fit:
Alameda
Areeiro
Entrecampos
These three neighbourhoods are central but are not located in the Lisbon downtown area. You might consider living there, but generally speaking the closer you get to downtown, the smaller the streets get and the more difficult it is to drive around with a car and you will probably have to pay more for parking.
We think that those three neighbourhoods are somewhere in the middle. They can still be expensive when compared to the outskirts, though, and you might pay about €600 (maybe more) for an apartment.
Going a little further away
If you need something cheaper and are willing to spend a little more time on that morning commute, you may consider moving to Almada or Oeiras.
These suburbs are located in the outskirts of Lisbon city but still have a fairly decent transport system (it is time-consuming though). For some people, living this far from work (if you work in central Lisbon) can be daunting without a car.
If you live in Almada, you can quickly and easily cross the river by train or by boat which are both faster than by car (the traffic on the bridge is hellish, every day!).
In Almada or Oeiras you can expect to pay about €100 or €200 less on your monthly rent payments than for the same type of apartment in Lisbon.
Keep in mind that the area you live in can be a deciding factor in landing a specific job because employers often ask questions related to where you live. They simply want to know how it will work for you to get from point A to point B in the city.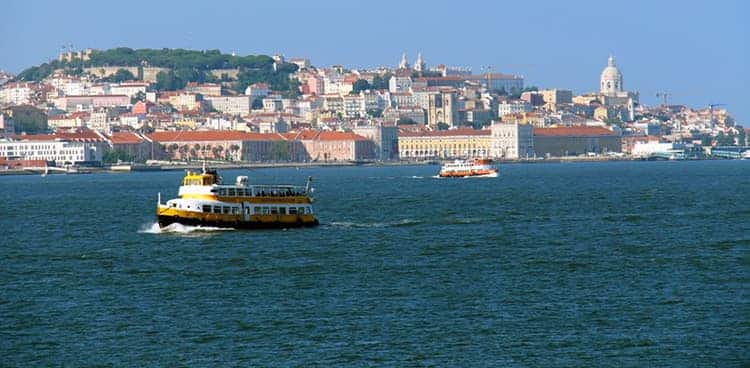 Transportation in Lisbon
Let's talk about getting to a from Lisbon and getting around the city.
Lisbon Airport
Speaking about getting from A to B, the Lisbon Airport (Aeroporto Humberto Delgado) is located very close to the city and you can get there easily by taking the red metro line.
It is a decent international airport with an annual capacity of about 25 million passengers per year so there is a good chance you can find a fair amount of direct flights to almost anywhere in Europe and a decent amount of flights to the rest of the world. Portugal can be a perfect base to explore the continent or the world!
Public transport
The transportation networks in Lisbon are fairly good. There is a decent metro (subway), bus and train network that can get you pretty much everywhere you need you go, even if you live on the other side of the river or further from the city centre.
Of course, the further you move from the city centre, the scarcer the transportation gets. The traffic is not good, though. You should avoid getting around by car if you can because you will probably spend hours stuck in traffic.
The best course of action is to plan your accommodation, transport system and workplace in harmony with one another. This is not always possible, we know, but you get the idea.
Leisure in Lisbon
Lisbon, as the capital city of Portugal, offers basically everything you can think of when it comes to leisure. You can probably find everything you want in Lisbon to keep you busy; from surfing, gyms and rock-climbing to medieval sword fighting.
Yes! Medieval sword fighting!
From cinemas, music festivals, museums, monuments and theatres to nightclubs and Irish pubs; from fine dining to nature and street soccer. Take your pick, you will most certainly find something that suits you to do in Lisbon.
Pros and cons of living in Lisbon
Let's see a simple list so you don't get bored:
Pros
Everything you want to do for fun,
Central location to travel from,
The highest number of job offers,
Great weather,
A good public transport network,
Cultural centre,
A higher amount of housing, businesses and investment opportunities compared to the rest of the country,
Close to beautiful beaches,
Cons
Noisy and crowded (for folks who like their quiet)
A higher cost of living
Traffic
Lisbon expats
If you are interested in moving to Lisbon or want to connect with people from around the globe and learn about their experiences, have a look at these Facebook groups:
Life in Lisbon
We've covered a little about the basics of living in Lisbon, but we will be covering all the topics above in more detail in the near future so stay with us.
Remember that Lisbon is a big city in a small country and it's a great idea to start planning and informing yourself if you want to visit or move there. We will be glad to have you with us!
Did you find this information about living in Lisbon useful? Do you have any doubts or questions we can help you with? Feel free to leave a comment below.
We publish new content every day so be sure to subscribe to our newsletter to get notified of the latest tips for your visit or move to Portugal.