Looking forward to visiting the Algarve? Going there by plane?
Let us help you plan your trip by giving you some valuable information about the Algarve airport and how to get from there to your hotel.
Why the Algarve?
If you haven't decided already and you are searching for a fabulous place to spend your summer holidays. Ask yourself: Do you enjoy sunbathing in a nearly tropical climate? Are you passionate about discovering white heavenly beaches in Portugal?
If the answer is Yes, let me introduce you briefly to the Algarve.
The Algarve is in the southern region of Portugal and is famous for its little and cosy towns (such as Faro, Lagos, Vilamoura, and Albufeira), for the whitest sand in Europe and for being the port from which most of the caravels left to discover the world in the 1500s.
And, if you are a teenager or just young at heart in search of some fun, the Algarve offers a buzzing and  incredible nightlife. For example, in Portimão, Portugal you can find five-star clubs and of course there's the Albufeira strip where you can party all night.
Not only that, each year you can join the world-famous electro music party called the Summer Sound Festival that can last three days (if you're up for it).
If you are not still convinced yet, let me add that the Algarve will give you a lot of value for money as it's pretty cheap compared to most other summer destinations in Europe.
Take a look at our article on Visiting the Algarve for more suggestions.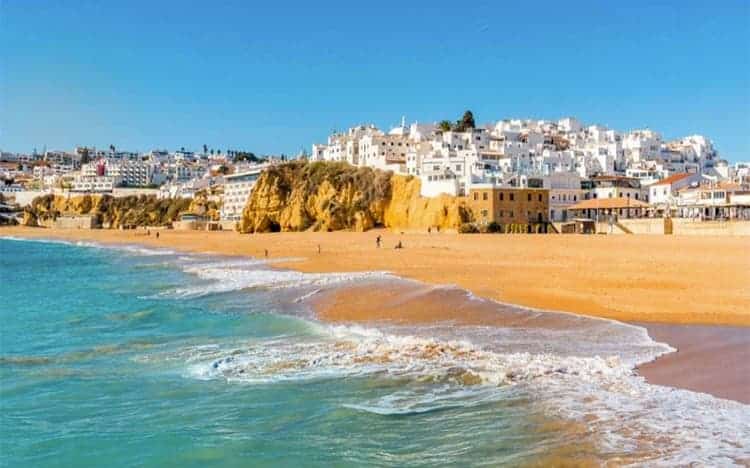 So, if you want to have the chance to have one of the most beautiful holidays ever, let's talk about how you can get there.
Don't forget to sign up for our newsletter for all the best advice on planning your holiday to Portugal.
The Algarve airport and where it is
Faro International Airport (code: FAO) (also known as the Algarve airport which is what we call it too) is the easiest way to reach this region of Portugal.
The Algarve airport opened in 1966 and it hosted almost 7 million passengers in 2015. Every year the number of people coming to the Algarve airport grows and this is due to its cutting-edge facilities on offer. There is a great lounge area, a fair number of shops, bars, restaurants and public spaces where you can relax after having bought all those last minutes souvenirs for your friends and family.
The airport has recently been refurbished and now has more than 60 check-in desks and 36 boarding gates.
The Algarve airport is located in the eastern part of the Algarve region and therefore its position makes extremely easy to get to Faro, only 4 km (2.5 miles). However, if you want to reach another beautiful town in the Algarve, you might need a little bit more of time, considering that Faro it is just one and a half hours' drive west of the Spanish border.
You can easily get to Faro by bus on routes 14 and 16 which run every day between Faro Airport and Faro city centre bus station. Click here to check timetables, and prices.
Getting from Algarve airport to Portimão
Let's say you want to go to Portimão.
By taxi, it takes about 50 minutes and will cost you around €55. There is also the option of booking an Uber as they operate in Portugal.
Another option, is to get a private transfer from the airport that will cost around  €50. Hoppa.com is a popular site that allows you to compare the cost of airport transfers. You should also check with your hotel as they may have a shuttle service that you can use from the airport.
You might also want to try to get there by bus, but you need to go to the city centre of Faro, spend around  €15 and wait two hours for the bus to get you to Portimão.
And finally, there are many hire car companies at the Algarve Airport. For a complete list, prices and availability, click here.
If you wish to compare car rental companies in Portugal, we recommend using Rentalcars.com.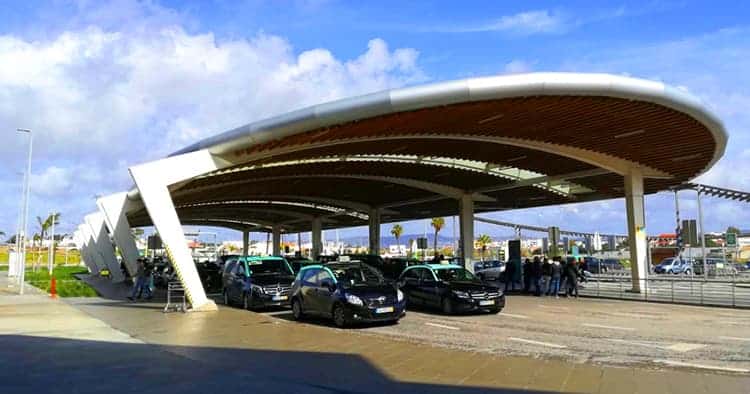 Looking for a private transfer for a group? Have a look at these great deals to various locations starting at only €28.40 per group!
Getting from Algarve airport to Albufeira
If you want to visit Albufeira instead, and go by taxi, you'll probably make it in 40 minutes spending not more than €50.
Opting for a private transfer will cost you around €25.
If you choose the bus, from Faro city bus station it will take an hour and a half, but this option might not work so well in summer as it gets very busy.
And of course, there is the hire car option or your hotel may have a shuttle service from the airport.
Getting from Algarve airport to Lagos
Let's suppose that you want to go to Lagos. In this case, if you want to get there by taxi, you will need about an hour and you will spend around €55.
If you want to get there by bus (highly recommended) you have a direct connection between the Algarve airport and Lagos and it takes just one hour and 40 minutes, and you will pay no more than €10 for the ticket.
You can also hire a car or check with your hotel to see if they have a shuttle service from the airport.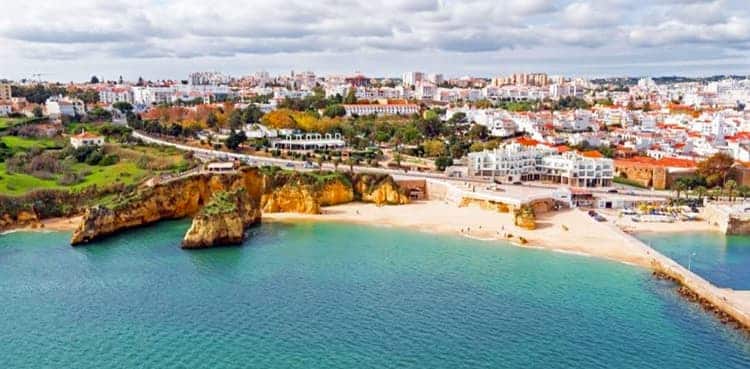 Alternatives to using the Algarve airport
You might be wondering if there are alternative ways to visit the Algarve if all the flights to the Algarve airport (Faro International Airport) are fully booked. Fortunately, there are plenty of options.
Portimão Airport
In the Algarve, apart from the Algarve airport, there is another little airport near the town of Portimão (Portimão Airport in Montes). It only offers national flights to Portugal.
For example, flights to and from Portimão go to:
Lisbon Airport
The Humberto Delgado Airport, or the Lisbon Airport, is the second best option after the Algarve Airport.
Why?
Well, it is simple: Lisbon Airport is the largest in Portugal, it is one of the major international airports in Europe and it is also the destination of many international flights coming from the United States and Canada.
Moreover, Lisbon Airport it is really well connected to the Algarve (and the Algarve airport). It is possible to get to the Algarve in less than three hours if you decide to rent a car (the drive is easy going and relatively cheap).
Have a look at Car Rentals in Portugal: Expert Advice to Save You Time and Money
If you prefer to use a bus, you need to go to Oriente station in Lisbon. It's easy to get there from Lisbon Airport as it's on the same Metro line (the Red line "vermelha") and from there, travel to the Algarve. It will take about three and a half hours and it will cost only €20 (you can buy your ticket on the bus).
It's fast, relaxing and a cheap way to start the vacation. Have a look at the bus service: Rede Expressos or Eva Transportes for more information.
There is one more option from Lisbon Airport to the Algarve
I'm not talking about the train, because it is more expensive than the bus and also takes much longer.
In the high season, from March to October, you are very likely to find a way to get to the Algarve by using BlaBlaCar. This is a car sharing site and you can usually find rides for under €20.
It is fair to say that if you want to get to the Algarve, passing through Lisbon Airport might be a really nice idea, because you can also spend some time in the stunning capital of Portugal. Lisbon has great sights to see, beautiful parks and attractions, fantastic and diverse food and so much more. If you want your summer holidays to be perfect, you should try to make a combo of Lisbon plus the Algarve.
For more about Lisbon, have a look at: Visit Lisbon: Your Guide on the Weather, Hotels and Things to See and Do
Seville Airport
You remember that before I mentioned that the Algarve Airport is just one and a half hours from the Spanish border?
Well, that's the reason why I suggest to also think about Seville Airport as an alternative to the Algarve Airport. Seville is located near the border of Spain and Portugal and so Seville Airport is a good option to go to for your visit to the Algarve.
It is smaller compared to Lisbon Airport and there are fewer international flights, but it's the sixth busiest airport in Spain and the most important one in southern Spain. It is a very good option if you are travelling from some other country in Europe and want to get to the Algarve.
From Seville Airport to the Algarve, you will arrive at your destination in an hour and a half, if you hire a car.
If instead, you decide on the bus, it will take a bit longer, but it will be much cheaper at around €20.
It is also possible to opt for car sharing like BlaBlaCar which is a good option to save time and money.
The downsides of going to Seville Airport
However, before deciding on heading for this Spanish city, you should consider these small downsides.
Firstly, if you rent a car, you will probably be charged with a cross-border fee (that you can easily avoid by opting for the bus).
The second issue with the border crossing is related to the time zone: Portugal and Spain are in a different time zone. You have to consider this when you book your transport.
Porto Airport
Porto Airport might be a nice solution to get to the Algarve. It is an international airport, the second busiest in Portugal, not far from the city centre (approximately 10 km (6 miles)) and it offers a decent amount of national flights to Lisbon and to the Algarve Airport.
This is a very good solution, especially if you travel from other countries in Europe. It must be said that these domestic flights, especially in the high season, might be expensive (around €120).
There is also the possibility to get a train from Porto to the Algarve. Personally, I do not recommend this option since it goes from the top to the bottom of Portugal, it will take you ages to get to the Algarve (about eight hours, so you can imagine how long it will take by bus).
But, if you love trains and have the time, you can have a look at tickets and timetables at Comboios de Portugal (CP).
In the case you choose to go to Porto first, you should probably spend some time in the city trying the world-famous Port wine, while you admire the calm waters of the Douro River. It is a good choice for couples: walking on the Dom Luis bridge is so romantic!
Visit Porto: Beautiful, Romantic and Home to Port Wine and Great Food
Beja Airport
If you want to go to the Algarve, another option might be Beja airport in the central Alentejo region. Originally used as a military base, Beja airport was opened to civilian flights in 2011.
Unfortunately not many international flights come to this airport. So, unless you come from the UK or Germany, this option is not great.
These are the alternatives from within Europe.
Flying to the Algarve airport from the UK, Canada and the US
Next up, we will show you some scenarios to fly to the Algarve Airport from overseas.
Flying to the Algarve Airport from London
If you fly to the Algarve from London, there are plenty of opportunities to get there in less than three hours. Ryanair and EasyJet offer a number of flights from Gatwick Airport in the UK to Faro Airport (the official name). There are three departures throughout the day from which you can choose.
In the low season, the cost of a flight is rather cheap. You might spend anywhere between €50 to €80 (£43* to £69*).
While if you go in the high season of summer, the cost increases and you are likely to spend between €120 to €150 (£103* to £129*).
In the case this scenario does not appeal to you, you might choose Lisbon Airport (and maybe spend some time in the capital!).
This route is covered by:
There are flights throughout the day and some of them are sold at reasonable prices through the year so you will probably not spend more than €110 (£94*).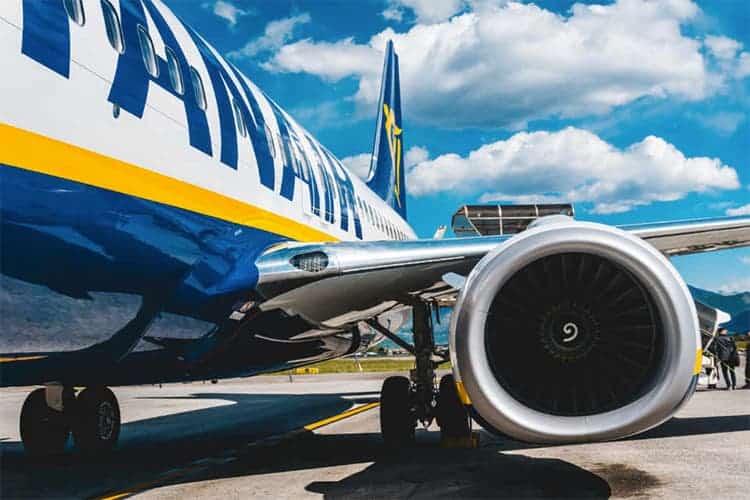 Flying to the Algarve Airport from Toronto
Let's say you fly to the Algarve Airport from Toronto's Pearson International Airport. If you fly to Faro Airport (using the official name for your booking), it will take you at least seven hours to get there and it's not cheap.
Air Canada, Lufthansa and TAP Air Portugal offer different direct connections with the Algarve, but the tickets will cost you around €750 to €1,000 (C$1,123* to C$1,497*), throughout the year, regardless of the season. If you book early enough you might find some bargains.
If instead, you are planning to land in Lisbon first, you will still have these airlines to choose from. The price and the length of time are not much different from the flights to Faro Airport.
Flying to the Algarve Airport from New York
If you leave from New York (John F. Kennedy International Airport) you can book a direct flight to the Algarve Airport (make sure to use Faro Airport when you book).
Norwegian Airways and TAP Air Portugal are the main companies that offer this service. The flight will take approximately 12 hours and will cost around €700 (US$796*), but the prices may vary hugely depending on the season and on the time of the flight.
If you opt to go to Lisbon first, there are not as many options but have a look at TAP Air Portugal as they have a few more. There are fewer flights available but the cost is cheaper even in high season. You might find a flight for around €550 (US$625*).
I don't know about you, but If I had to choose to flight from New York, I would pick this option.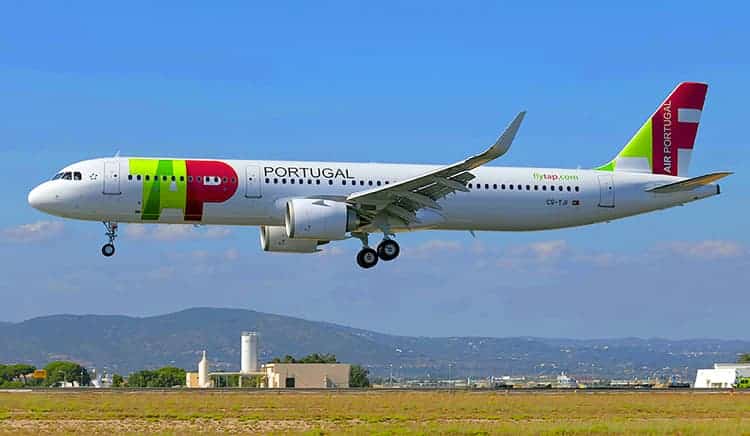 All set to fly to the Algarve Airport?
So this was a brief description of how you can fly to the Algarve airport and the options you have to get there.
Just remember to type in "Faro Airport" (the official name) when you make your booking and you now know how to get around the Algarve from there.
Enjoy your vacation!
 Did you find out everything you need about the Algarve Airport? Do you have any questions or experiences to share? Let us know in the comments below.
* Please note that the currency exchange rates quoted here are based on Bloomberg calculations at the time of writing and will likely change.