This guide will tell you about the best beaches in Portugal, where they are, and what they're like. For 2020, we've chosen a couple of beaches in each geographic region of Portugal. Plus, we've added a section on best beaches by activity.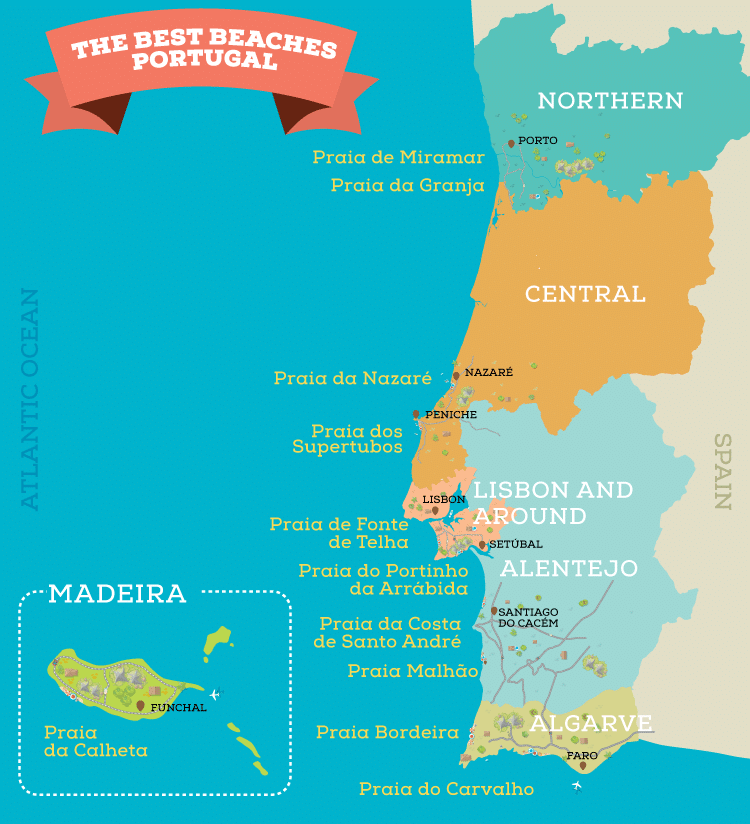 Jump to a section:
Best beaches in the Algarve

Praia do Carvalho, Algarve
This beach is a typical expression of the beauty of the Algarve region. It's located in Carvoeiro, and as one of the most commonly photographed areas on the region you can understand why when you look up at the steep limestone cliff formations and grottos that surround this beach. The beach is normally not overrun, except for perhaps the month of July.
There is a café bar directly above the beach, where you can cool off and re-fuel before heading back down to the water.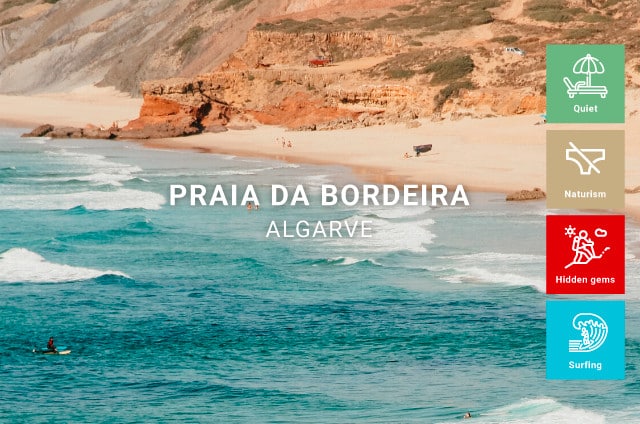 Praia da Bordeira, Algarve
For those who prefer less crowds and a wild natural aesthetic for a beach, Praia da Bordeira is unmissable. The beach is located in the Aljezur region of the Algarve, which is a personal favorite as it's not the usual part of the Algarve that tourists will take over in the summer months.
The beach is a seemingly never-ending stretch of golden sands, dotted with dunes and marine greenery. When the tide goes out, the sandy beach is one of the largest in the Algarve and the river forms little pools on the shore that make this beach a heavenly place for children too. Surfers and body boarders love it here too, for obvious reasons.
For more in-depth information, check out our full article on beaches in the Algarve.
Best beaches in the Alentejo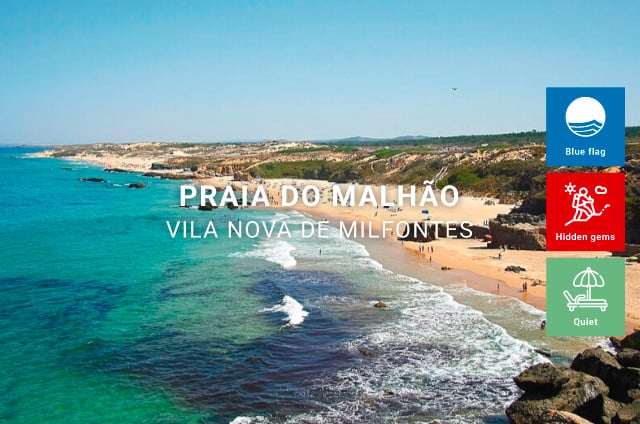 Praia do Malhão, Vila Nova de Milfontes
Situated in the Sudoeste Alentejano national park, this beach is again very wild and undeveloped. There is always plenty of space to fit the locals and tourists alike so if you want to escape the masses and have some privacy this beach is perfect for you.
Apart from the carpark, there are no facilities at this beach. It's not the best beach for families with young children, as there are quite strong currents here from the Atlantic ocean.

Praia da Costa de Santo André
This beach is unique as its situated between the ocean on one side and the lagoon of Santo André on the other. The beach itself has sand dunes and great waves for surfing, whilst the lagoon offers calm waters to families. The beach of Costa de Santo André is reportedly a great place for bird watching too.
There's plenty of parking, and despite having high biodiversity and being inside a natural park, this beach does have plenty of facilities in bars on the beach to relax and re-fuel.
Lisbon airport is the closest to this part of Portugal, the journey takes a short one and a half hours in a car
For more in-depth information, check out our full article on beaches in the Alentejo.
Book your hotel with Booking.com
With Booking.com you can book the best hotels in Portugal for the cheapest price. Get instant confirmation, pay 0 booking fees and even cancel your booking for free at most hotels. 
Booking.com -
Find the best prices and prepare your trip to Portugal today
Best beaches on Portugal's central coast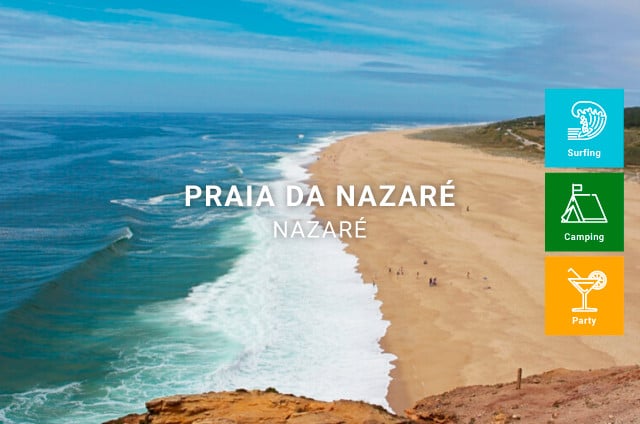 Praia da Nazaré
The beaches of Portugal's Silver Coast, Costa da Prata, are a surfer's dream and often overlooked in the beaches of Portugal worth visiting. Whilst the beach is mainly a hotspot for adrenaline junkies and seafood lovers, families are also accommodated here with the availability of plenty of facilities.
This beach has beautiful sand dunes, backed by pine trees. There are also a great selection of seafood restaurants along this beach serving the famous seafood rice. Being a local favourite, the beach of Praia da Nazaré draws a whole variety of crowds to it. In summer time it draws crowds of people because of its something-for-everyone nature.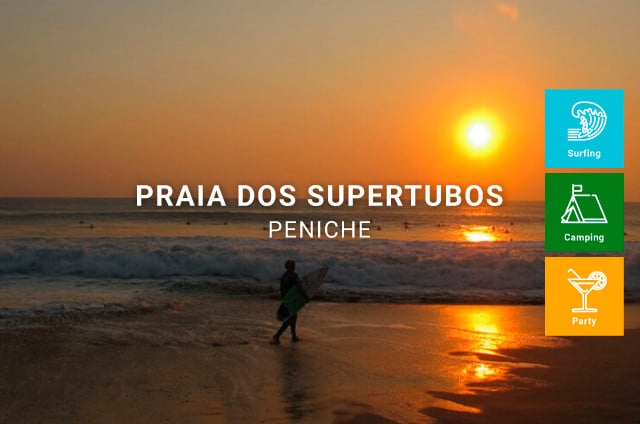 Praia dos Supertubos
Despite being a little windy, Praia dos Supertubos draws surfers and sunbathers alike. Three beach bars with loungers and food service make it an attractive place in summertime. You might want to go to the beach on a particularly hot day – so the wind doesn't bother you.
This beach isn't for the fainthearted of surfers, as it is home to some of the biggest waves in Portugal. With less of a family feel too, the beach draws a younger and sportier crowd.
At just an hour drive from Lisbon it's the perfect place to go for a day trip from Lisbon.
For more in-depth information, check out our full article on beaches on Portugal's Silver Coast.

Best beaches near Lisbon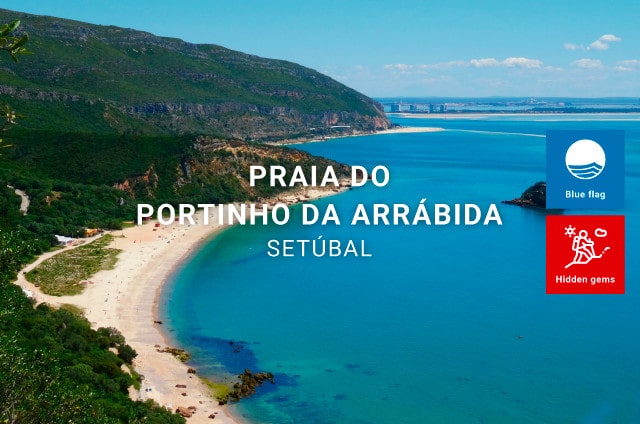 Praia do Portinho da Arrábida, Setubal
The beach is lined by luscious green forest and with a long stretch of white sand it looks like a scene straight out of "Lost". The beach is situated in a national park, as are the waters (so no fishing!).
This is easily one of the prettiest beaches in all of Portugal. It's very difficult to get to without a car, but if you do have a car it will take just 45 minutes to get to from Lisbon. Most of Lisbon's seafood comes from this part of Portugal, so you can eat very well in the local surrounding restaurants.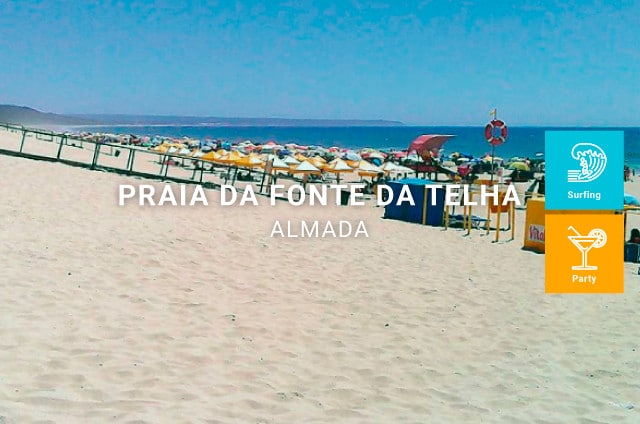 Praia da Fonte da Telha, Almada
This long stretch of sandy beach is surrounded by an old fishermen's village and some young hippie communities looking to preserve the specialness of this place. Being very close by to Lisbon, it can get crowded on the weekends, particularly in the high season as it's a hotspot for surfers and tourists alike.
The beach is between Almada and Sesimbra and is accessible from Lisbon by bus. The journey is a short 30 minutes. When you arrive, you'll find loungers in part of the beach, beach bars and restaurants and the occasional doughnut hawker walking up and down the beach
For more in-depth information, check out our full article on beaches near Lisbon.

Best beaches near Porto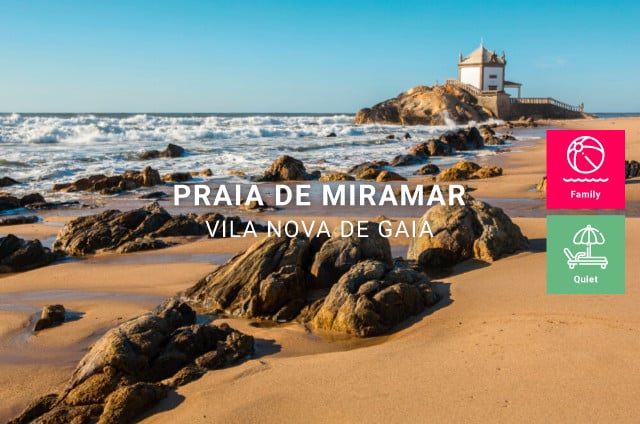 Praia de Miramar, Porto
While the north of Portugal is not always the first place that comes to mind for beach seekers travelling to Portugal, it's not overlooked by the Portuguese. The water is indeed slightly cooler, but if you like to have more space to yourself on the beach, we would recommend trying it out.
This beach with its standalone chapel, Senhor da Pedra, is known by locals as the romantic beach of the North. The old chapel quite literally juts out into the ocean, which is a beautiful thing to behold.
You can drive to the beach in just 17 minutes from Porto airport.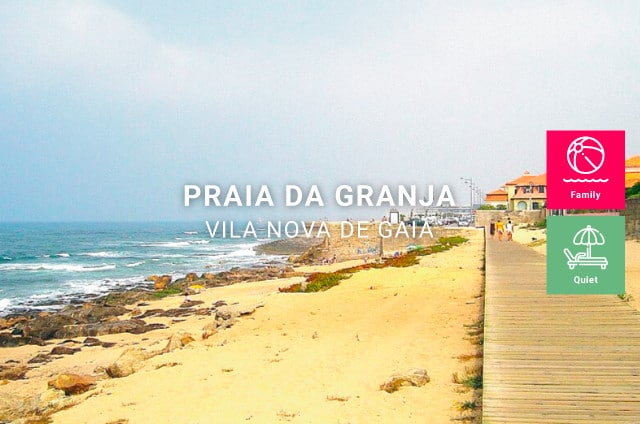 Praia da Granja
This beach has been popular for centuries, as it used to be a common place for the aristocracy to take a break from the heat of the city. The local surrounding area still has some of the grand homes they would stay in.
For more in-depth information, check out our full article on beaches near Porto.

Best beach in Madeira
Madeira, being a volcanic island, doesn't have any natural sandy beaches. With those they do have, they imported the sand from Morocco.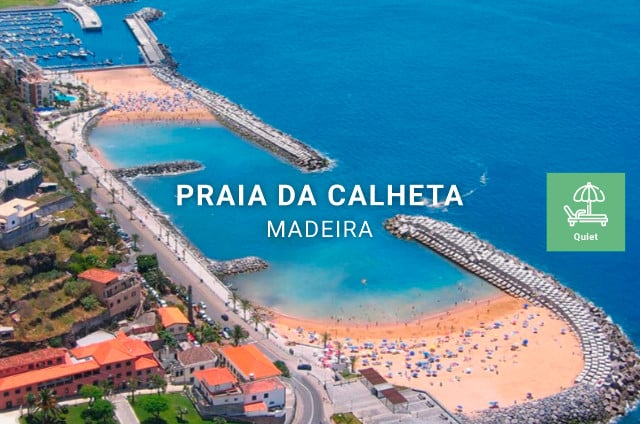 Praia da Calheta, Madeira
The very few sandy beaches in Madeira are sheltered by stone walls so they don't get blown away, which also means they are very calm and pleasant to swim in. If it's a beach holiday you're after and you're in Madeira, considering popping on the ferry to neighbouring island Porto Santo where there are far more natural beaches.
For more in-depth information, check out our full article on Madeira.
Planning to visit Portugal and have no clue on which health insurance to pick?
World Nomads
Simple and flexible travel insurance even if you've already left home. Get a Quote: [ins-worldnomads]
HCCMIS Atlas Travel
Built for individuals traveling outside their home country for more than 5 days - include coverage for COVID-19 (SARS-CoV-2)* Get a Quote: [ins-hccmis]
Axa Travel Insurance
The number 1 global insurance with 24-hour day assistance, Get a Quote: [ins-axa]
Looking for the best health insurance in Portugal?
CignaGlobal Health Insurance
Get access to a large global network with 24/7 multi-lingual support, in-house clinical treatments and more. Get a quote: [ins-cigna]
Allianz Worldwide Care
Your medical expenses will all be covered when living abroad. Get a quote: [ins-allianz]
The best beaches in Portugal: A guide by activity
We've also put together a list of beaches for any vacation activity. Here are some of our favorites.

The best beaches for surfing in Portugal
Praia da Baleia, Ericeira
The beach at Ericeira is well known for its waves. It draws surfers from near and far to flock with boards. The beach itself has old-school cabins lining it for changing after swimming, and the town has become a surfer's paradise of vegan cafés and smoothie bars.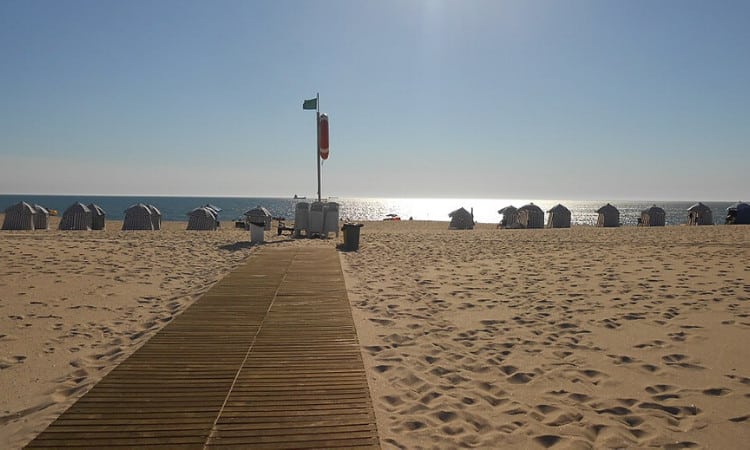 The beach is just an hour from Lisbon by bus or slightly less by car.
Claridade Beach, Figueira da Foz
Not only is this beach home to great waves and a number of surf schools, but it's possible to walk, bike and run along the beach, or wade in along the big expanse of sand.
The journey from Lisbon is around 2 hours in the car.

The best family beaches in Portugal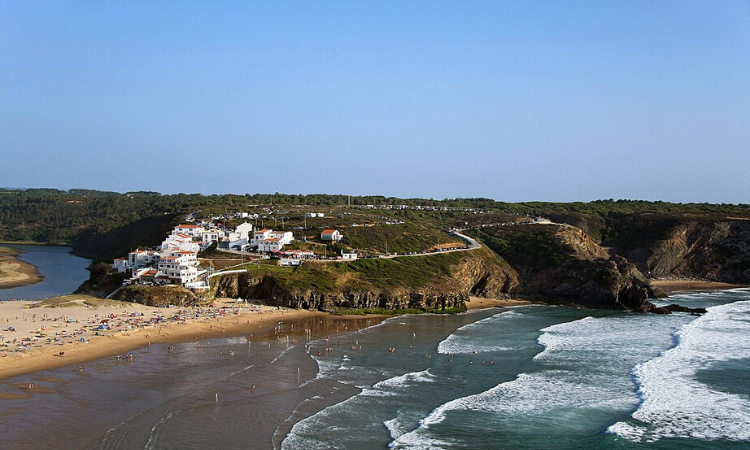 Praia de Odeceixe, Algarve
This beach is picturesque, with a lagoon forming behind the beach when the tide comes in and gentle perfectly breaking waves rolling into the shore. There is a small beach bar kiosk, and above the beach up some stairs a lovely café restaurant to get ham and cheese tostas, salads, and avocado toasts.
Odeceixe is about a 2-hour drive from Lisbon.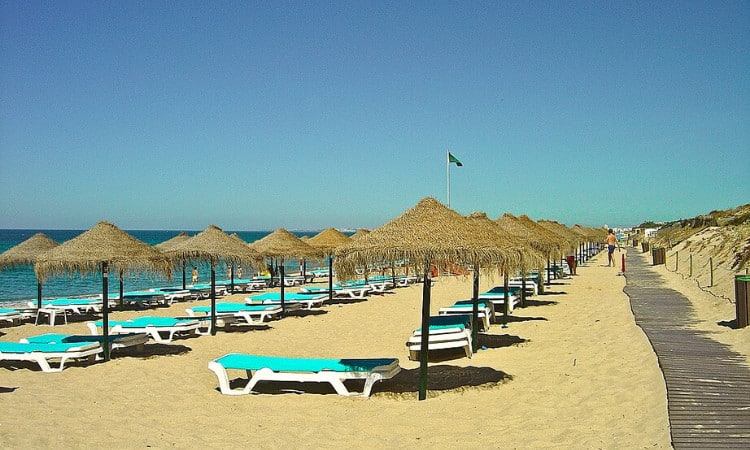 Praia do Ancão, Faro
This beach is very beautiful and fully family friendly. The long stretch of sand is manned by lifeguards all day and there are plenty of loungers and umbrellas to rent. You won't be bored here as there are water sports and a café bar to keep all the family entertained.
You can reach the beach in under an hour from Faro airport.

The best nude beaches in Portugal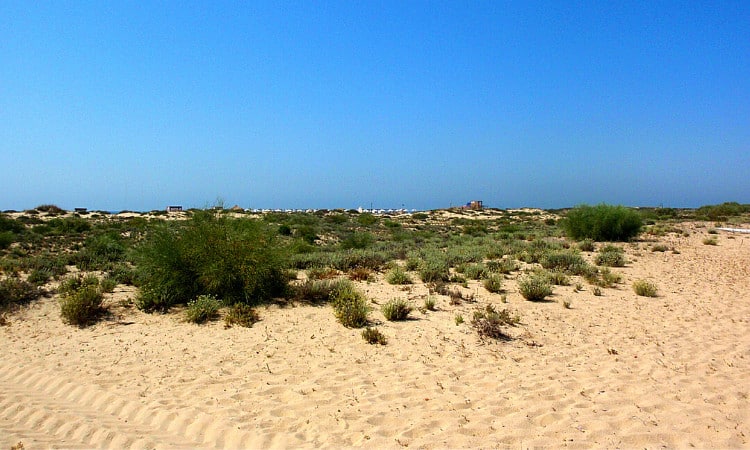 Praia do Homem Nu, Tavira
If you prefer tanning in the nude, don't worry Portugal has got you covered. This beach has been officially certified as a nude beach since the '90s. It's a bit remote and difficult to get to, but once you arrive there is a 3-kilometer beach of undisturbed nudist paradise.
You can arrive from Faro airport in just over half an hour.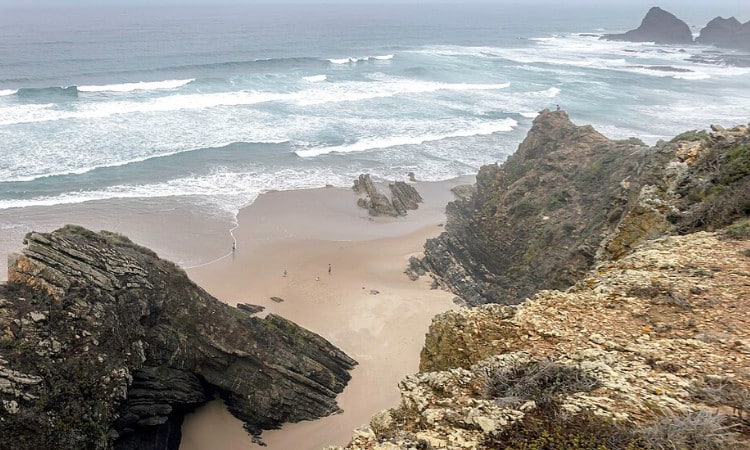 Praia das Adegas, Odeceixe, Algarve
Just nearby to the non-nudist beach on Odeceixe lies a sheltered cove, that feels secluded and peaceful. The high cliffs that surround it give it some privacy, but it is equally very close by to a carpark so there's no need to walk to far to reach the beach.

The best beaches for camping in Portugal
While wild camping is generally prohibited in Portugal, you have a number of other options. The most obvious one is to stay in campsites: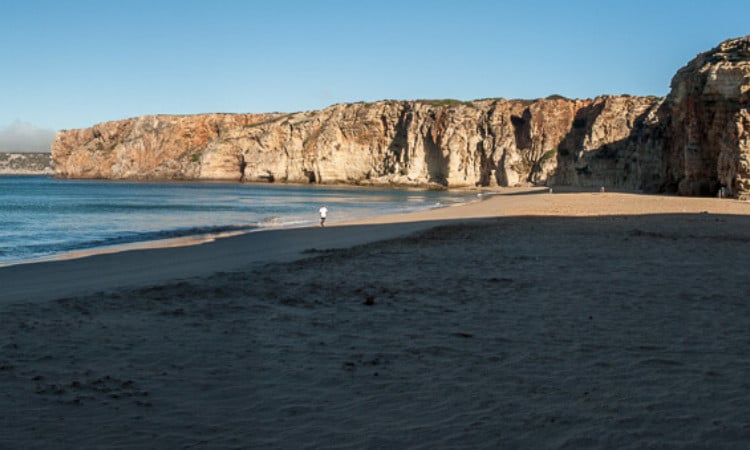 Praia do Beliche, Sagres
This beach has fantastic views and is the southernmost tip of the Algarve region. It's known as a perfect destination for surfers and campers. There is a nearby campsite with beautiful bell tents assembled in a forest. For those searching for an ecological glamping retreat look no further.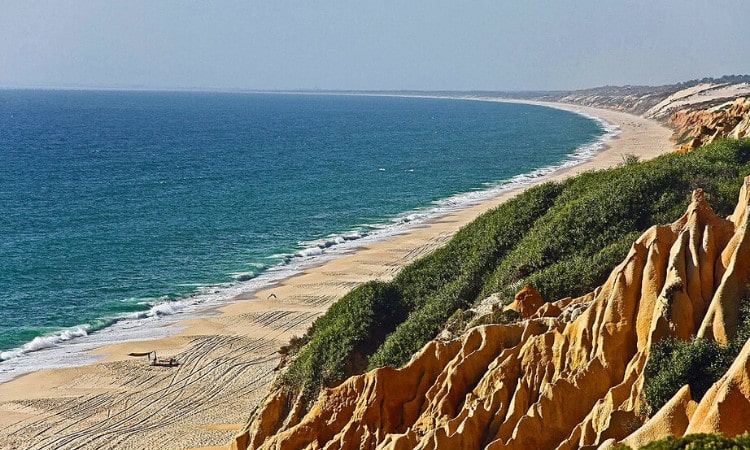 Praia da Galé, Algarve
Praia da Galé has its very own bungalow campsite built next to it. For those that want a beautiful beach, an outdoor experience but also don't want to get their hands dirty with a tent, then this is the place for you.
Planning to visit Portugal?
Make the best of your trip with our tips.
FAQ
What is the most beautiful beach in Portugal?
The most beautiful beach in Portugal is probably Praia de Benagil, in the Algarve. It's located near Carvoeiro, and is one of the most photographed beaches in the country. The easiest way to reach Praia de Benagil is by boat, so it's one of the quieter beaches in Portugal.
Does Portugal have sandy beaches?
Yes, Portugal has beautiful, sandy beaches. The most popular area for sandy beach vacations is the Algarve in southern Portugal. Vacationers love the sandy beaches in the Lisbon region, the Alentejo region, Portugal's central coast, and its northern coast, too.
Are there any beaches in Portugal?
Yes, there are tons of beaches in Portugal! You could go to a different Blue Flag beach in Portugal nearly every day of the year. In 2019, a total of 352 Blue Flag beaches were named in Portugal. Portugal's coastal beaches received 317 Blue Flags, and 35 inland beaches earned the designation.
Which part of Portugal is best?
The best part of Portugal depends on your interests. If you're a surfer or beach lover, the best spots will be on the coast, particularly the Algarve. If you like cities, try Lisbon or Porto. Portugal also has beautiful vineyards, farms, mountains, and quaint villages throughout the country.