Worried about driving in Portugal?
Don't stress, we have got all the information you need right here.
Driving in another country can be a daunting experience, especially if you aren't sure of the local road rules, where you can park or which side of the road to drive on. Today, we'll discuss all the information you need to know before getting into the driver's seat in Portugal.
Driving in Portugal is easy if you follow the rules
If you are travelling to Portugal there are a few rules you should be aware of if you're going to drive around. While we know most local Portuguese drivers don't always follow the rules, you definitely should to avoid any run-ins with the authorities.
Driving in Portugal is fairly easy. The only difficulty might be in the city centres where the streets are very narrow and the roads are made of cobblestone. The motorways are all quite new and so the road conditions are extremely good and if you don't mind paying for tolls, you will get around very quickly.
General road rules in Portugal
Driving is on the right side of the road while the steering wheel is on the left side of the vehicle;
Seatbelts are compulsory for the driver and all passengers;
Speed limits are indicated on circular signs with a red border and are in kilometres per hour: Usually 50km in residential areas, 90km on rural roads and 120km on motorways;
Mandatory signs are blue and circular, while informational signs are usually rectangular;
It is illegal to drive with headphones on;
You can only use a phone while driving if it is with a hand-free system;
You are not allowed to use green lanes on motorway toll areas unless you have an electronic toll collection device;
It is illegal to carry petrol or gas in your car;
Call 112 in case of an emergency.
Overall, Portuguese road signs are clear and easy to understand. Limits and dangers are also often indicated on the road itself. However, sometimes, the signs don't jump out at you, so be sure to stay alert for changing speed zones or other warnings.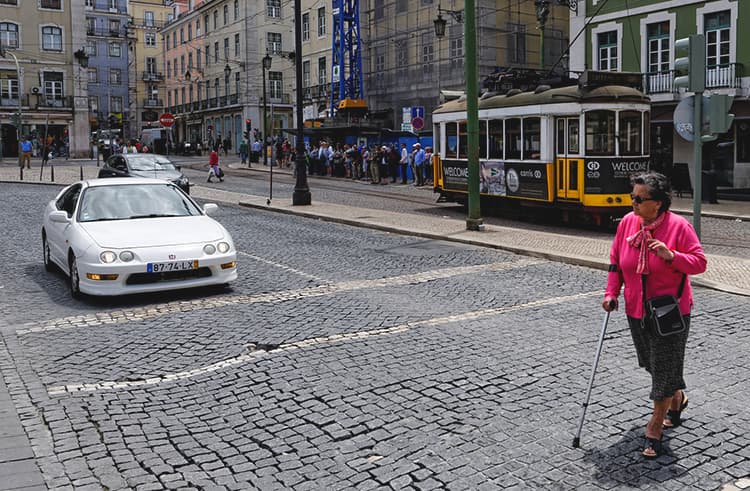 Documents required for driving in Portugal
It is mandatory to always have the vehicle registration documents inside the vehicle as well as a valid form of ID and valid driving licence;
You must have third-party insurance and the documents to prove it;
In the car, you must also carry: a reflective danger jacket, a reflective warning triangle, spare light bulbs, a spare wheel, and approved child seats if carrying children under 12 years old or shorter than 135 cm (4 ft 4 inches).
Requirements for renting a car in Portugal
You do need both an international driving permit and your driving licence to drive a rental car in Portugal however some companies will rent a car to you with just your own country's driving licence.
While the law allows you to drive from the age of 18, most rental agencies will require that you are above 21 years old or have had a driver's license for at least five years.
It is worth noting that car hire in Portugal can get booked up very quickly, especially in summer, so we recommend booking as far in advance as possible to ensure availability and cheaper prices.
Toll roads
A lot of Portuguese motorways are quite new and so most have tolls along them. The easiest method of payment is to get a V-Tag when you rent a car (most companies include it). The V is for "Via Verde" (green way) and it allows you to automatically validate each time you pass through a toll way. You sometimes have to pay extra at the rental company when you return the car.
If you don't have a V-Tag, most motorways have toll booths where you can pay the fee with cash or card.
And finally, if there are no toll booths and you have no V-Tag, you must visit a post office within a couple of days to pay the toll. The one downside of this method is that you will be charged for the entire length of the road you travelled on because you won't have evidence of when you entered the toll road. This is quite rare though.
Road dangers to be aware of in Portugal
Portugal is a fairly safe country to drive in considering that there are far less drivers on the road than countries like the US, Australia or Germany.
However, the main dangers to be aware of include:
Night driving
Some roads are not very well lit at night so be extra cautious.
Other "crazy" drivers
As in all countries, there are idiots on the road maybe speeding or drink-driving. You can't do anything about this other than keep an eye out.
The scenery
It sounds ridiculous, but Portugal is stunning and a quick glance out your window but might be a glance too long. Focus on the road and pull over to admire the country's gorgeous landscape.
How to exchange your foreign driving licence for a Portuguese driving licence
You don't typically need a Portuguese driving licence as a temporary visitor in Portugal because an international license or EU license is sufficient for up to six months.
However, if you've made the move to Portugal and want to register for a Portuguese driving licence, you will need to provide the following documents to the Institute for Mobility and Transport "Instituto da Mobilidade e dos Transportes" (IMT) office:
Proof of residency which is usually your Registration Certificate that you should have from your local council;
A completed IMT Model 13 application form;
A photocopy of your current driving licence of if you have an EU licence, you will need to hand that over;
Proof of identity (like your passport or birth certificate);
A doctor's certificate from a driving school (cost is usually €30);
€30 for the IMT fee (if may vary depending which country you are from).
If you hold an EU driving license, you will still have to renew it to a Portuguese one within two years of changing your official residency.
Alternative methods of transportation in Portugal
If you decide against hiring a car or maybe you don't have an international driving licence, then fear not, Portugal is an easy country to get around. There are coach buses running between the big cities offered by regional bus companies like Rede Expressos.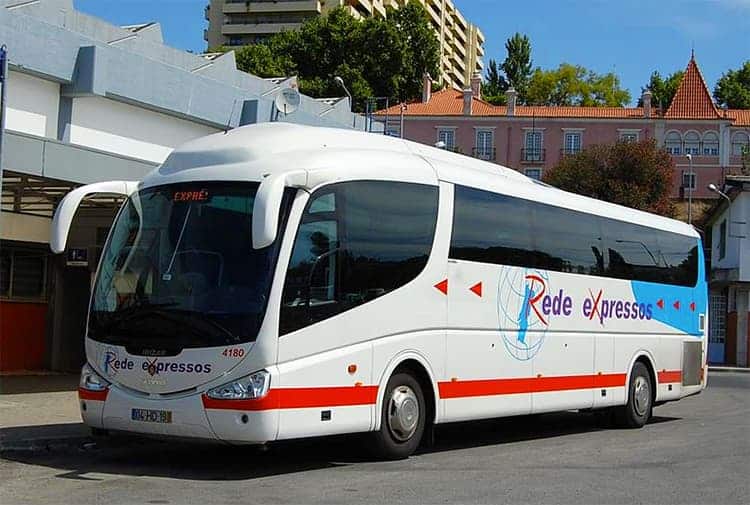 Public transport in the main cities is also very cheap and easy to use. A Metro ticket will cost you €1.45 in Lisbon and can get you from one side of the city to another.
Car sharing apps like Uber, Taxify, and Cabify also exist in Portugal and are often cheaper than local taxis and available all day, every day.
Is it worth driving in Portugal?
Absolutely, Yes. If you are planning to stay long-term or holidaying for a couple of weeks, then having a car in Portugal can be an asset.
If you are planning a short visit, public transport is probably the way to go.
Driving gives you the freedom to explore the country's different regions at your own leisure and pace. This means you can explore areas such as the coastline in the Algarve, then drive through the capital city Lisbon, and finally head up to the wine region of Porto, all at the time and day of your choosing.
Did we answer all of your queries? Do you have any experiences to share? Feel free to leave us a comment below.
Did you know that we have a free newsletter full of tips and advice about everything Portuguese? subscribe today and be part of the community.