From Porto down to the Algarve, explore each city your own way with these top 15 tours in Portugal.
Portugal has an endless list of sights and attractions, and figuring out what to do during your stay may seem overwhelming.
We have taken the time to dig deep and filter out only the best to give you the top 15 tours in Portugal.
Portugal in a nutshell
It's easy to understand why Portugal is a destination of choice which is continuing to grow in popularity.
Life here is considerably more affordable and the weather is really good compared to many of our European counterparts.
Houses aren't simply brown and grey, they're white, pink, blue or yellow. Cobblestone roads and mosaic floors pave the way in every direction, keep walking and you will find a little pastry shop with good espresso and a fresh pastry for under €2.
Continuing on your way, you may just fall in love with the Manueline style buildings amidst traditional soft Portuguese style and contemporary architecture.
Stunning coastlines and picture-perfect beaches have tourists and all of Portugal flocking to the Algarve in Summer. Lisbon boasts so many incredible viewpoints and Porto is the city for wine lovers and romantics.
Then there are the lush green volcanic archipelagoes of the Azores, and Madeira Island where locals are friendly, welcoming and more than willing to answer your questions about Portuguese culture.
But, before I get too carried away, let's get into the top 15 tours in Portugal.
If you love our content and would like to continue learning about all things Portugal, subscribe to our free newsletter here.
Here they are, the top 15 tours in Portugal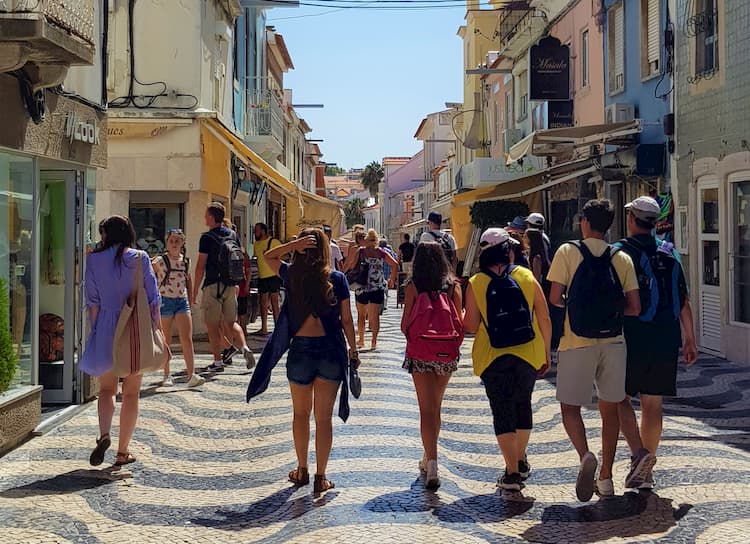 In Portugal, you have a great variety of tours to choose from. Some of these are walking tours, hop-on hop-off bus tours, tuk-tuk tours, group coach tours, boat tours or perhaps you prefer to be chauffeured around privately.
These top 15 tours in Portugal have excellent reviews and are bestsellers for a reason. Here they are, listed by location from the North of Portugal down.
Book your hotel with Booking.com
With Booking.com you can book the best hotels in Portugal for the cheapest price. Get instant confirmation, pay 0 booking fees and even cancel your booking for free at most hotels. 
Booking.com -
Find the best prices and prepare your trip to Portugal today
Braga & Guimarães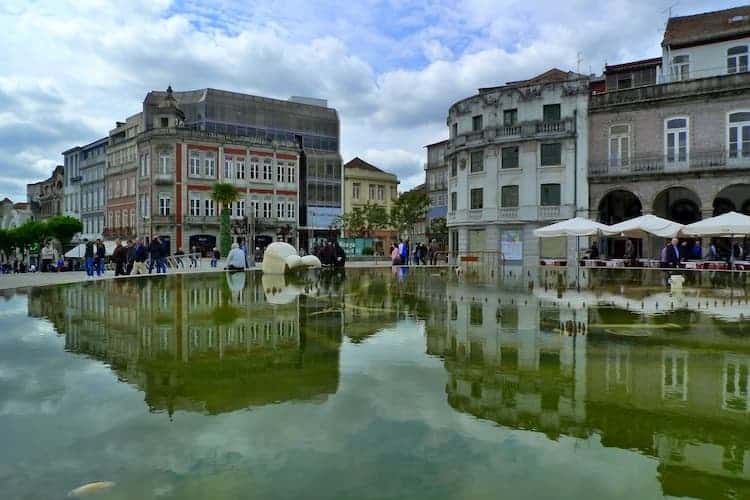 Braga is a historic and cultural city located in the far northwestern region of Portugal, it is actually the 3rd largest city in Portugal.
Guimarães, still within Braga, is a perfect example of how a town transitioned from a medieval town to a modern city. The small and charming city is a UNESCO World Heritage Site.
Braga and Guimarães full-day tour with lunch from Porto
This is an 8-hour guided tour which takes you through Braga and Guimarães, you also get to stop and enjoy a delicious Portuguese lunch.
Highlights of the tour include:
Pick up and drop off at city centre accommodation
Guide tour of Braga Cathedral, Guimarães Castle, and Paços dos Duques
Monument fee's
Typical Portuguese lunch
Free WiFi
The price is €80 per person. View the full itinerary and book your tour here.
Porto
Porto is the second-largest municipality that lies along the Douro river in the north of Portugal. It is also one of the only two Global Cities in Portugal, 2nd after Lisbon.
Porto is famous for Port Wines, rich unfortified red and white wines and FC Porto of course.
Hop-On Hop-Off Bus, River Cruise, & Port Cellar Tour
Discover Porto at your own pace with a 2 days access to hop-on, hop-off sightseeing bus tours. A Douro riverboat cruise and visit to the Calém Port Wine cellars adds amazing value.
Highlights of the tour include:
Hop-on hop-off bus ticket (valid for 2 days)
River cruise
Guided tour of the Calém Wine Cellars
Discounts on restaurants, bars, shops and other attractions
The price is €25.20 per person. View all the details and book your tour here.
If you only want to do the hop-on, hop-off bus, a 2-day ticket costs €16.20 per person. Get it here.
Private Walking Tour
Another way to experience the city is with a walk through the historic centre of Porto, also a UNESCO World Heritage Site and get an insiders view of all the main attractions. As you go along, your private guide will give you some insight into Porto's founding and formation.
This is a 3-hour half-day walking tour so wear comfortable walking shoes.
Highlights of the tour include:
Marvel at the fantastic views of the Crystal Palace Gardens
Walk along the famous Aliados Avenue
Catch a glimpse of the Douro River from Louis I Bridge
Descend down the narrow streets and staircases of the Miragaia neighborhood
Local Taxes and Fees are included.
The price is €45 per person. See the full itinerary and book your tour here.
Douro Valley Tour: Wine Tasting, River Cruise and Lunch
Relax and spend a day in the Douro Valley, enjoying the beautiful landscapes during your all-inclusive guided day tour.
Highlights of this 9-hour tour include:
Hotel pick-up and drop off
Transport by air-conditioned minivan
Free WiFi onboard
Typical Portuguese lunch
1-hour panoramic cruise on the Douro
2 winery visits
Port wine, Red wine, White wine and Rose wine and Olive oil tastings
Wheelchair accessible.
The price is €95 per person (Usually €118.75). View the full itinerary and book here.
Aveiro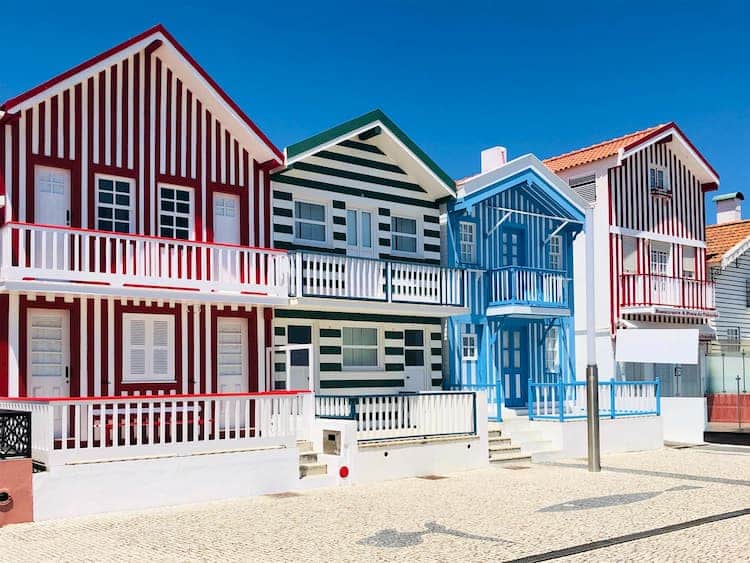 About an hour down South from Porto and well worth the trip, you'll find yourself in Aveiro, Portugal. Nicknamed 'Venice of Portugal'.
Aveiro: Half-Day tour from Porto or Gaia with Cruise
You'll certainly be putting your camera to good use as you cruise and walk through the picturesque town of Aveiro.
Highlights of this 4-hour guided tour include:
A 1-hour cruise along Aveiro's channels in a unique "Moliceiro" boat
Learn about the city's culture and its traditional connections with the river and the sea
Admire the brightly coloured houses on a walk through Costa Nova
Pick up and drop off service
The price is €50 per person. View the full itinerary and book here.
Serra da Estrela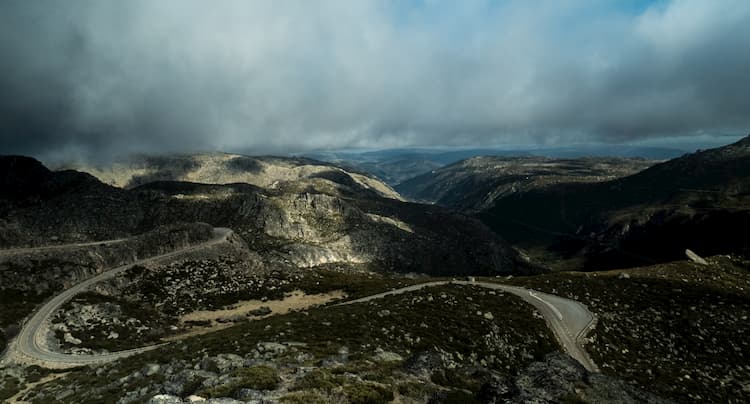 Serra da Estrela is mainland Portugals highest mountain. In February and parts of January and March, snowfall allows for a small ski resort.
The irresistible, although also smelly Serra da Estrela cheese is made here and is what its most famous for.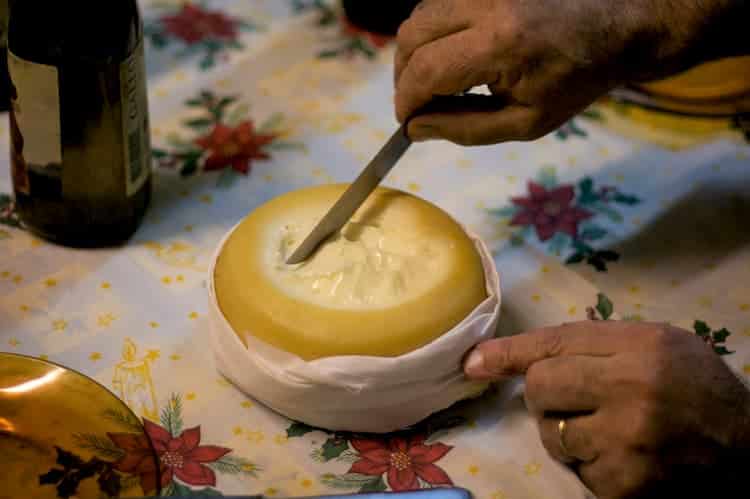 Have you ever tried Portuguese cheese? Discover this and all the other flavors here.
2 Days Tour to Heart of Serra da Estrela from Lisbon
Although day trips from Porto and Lisbon are available for visiting Serra da Estrela, a 2 to 3-hour journey there and back in one day is not fun at all. Considering the time it takes to get there, give yourself enough time to explore and enjoy Serra da Estrela over this 2-day tour.
Highlights of this 2 days guided tour from Lisbon includes:
Visit the village of Alvares Cabral and enjoy amazing views and landscapes
Overnight accommodation
Beverages
Breakfast
Hotel pickup and drop-off
Private tour
The price is €350 per person. View the full itinerary and book here.
Fátima, Nazaré and Óbidos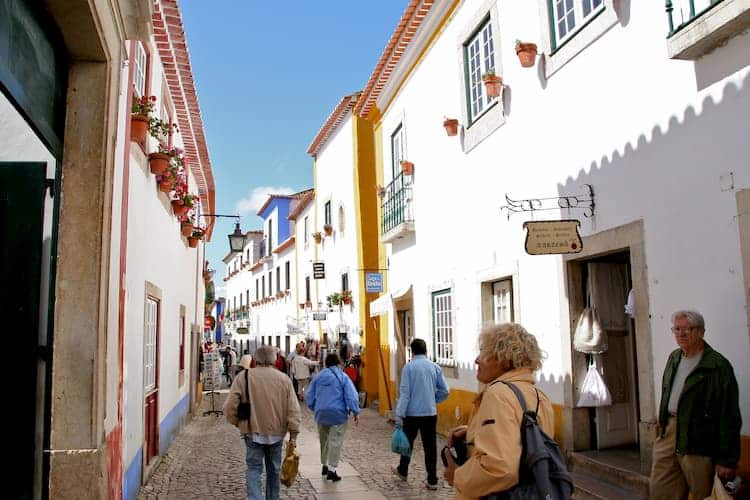 Fátima, Nazaré, Óbidos & São Martinho do Porto Full-Day Tour
Continuing down South, the centre of Portugal is also a must to visit. Fátima is home to the Sanctuary of Fátima, a Catholic pilgrimage site and other sacred sites.
Nazaré is a fishing town and surfing hotspot famous for its golden beaches and tall waves.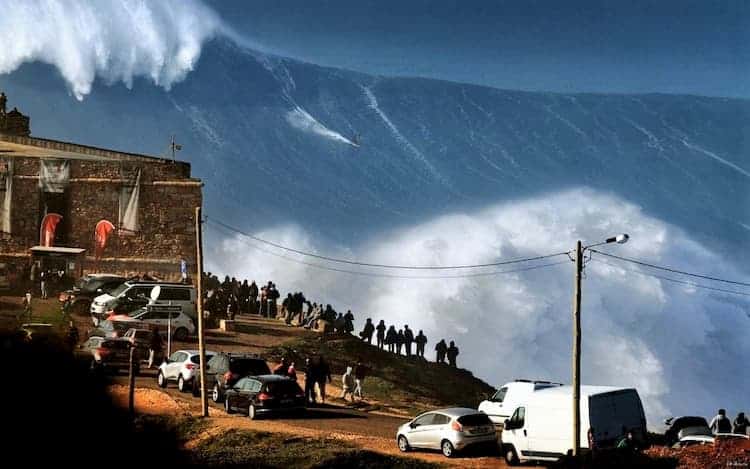 Óbidos is a small medieval city built within walls, stop for a taste of cherry liqueur in a dark chocolate cup (shooter sized).
Lastly, the tour adds a visit to São Martinho do Porto, a civil parish village now famous for the bay of São Martinho do Porto.
Highlights of your 8-hour guided tour include:
Visit the Apparitions Chapel and Holy Trinity Cathedral in Fátima
Marvel at the massive waves at Nazaré, a surfing paradise
Explore the medieval walled town of Óbidos
Pick-up and drop off at your Lisbon accommodation
Mini air-conditioned van up to 8 people
The price is €60 per person. See the full itinerary and book here.
Sintra, Cascais & Cabo da Roca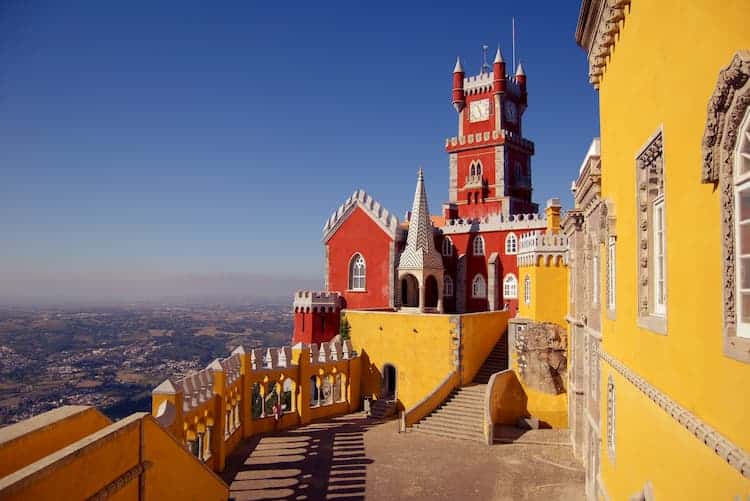 Another favourite amongst visitors and residents is Sintra, also a UNESCO World Heritage Site. The centre of Sintra is known for its 19th-century romanticist and Manueline style architecture.
Picturesque royal castles and palaces are the centres of attention although I can't get enough of the gardens that only seem short of a few fairies.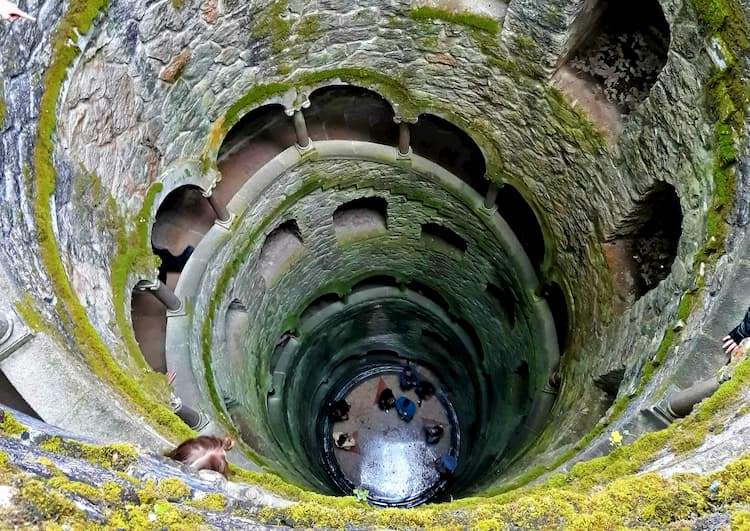 Cascais is a popular seaside resort home to one of the wealthiest communities and not too far away you will find Cabo da Roca for breathtaking views of the westernmost point of the Sintra mountain range.
Sintra, Cabo da Roca and Cascais Full-Day Tour
Explore the wonders of the most popular attractions that Portugal has to offer with this guided day tour.
Highlights of this 8-hour tour include:
Experience romantic Sintra and visit Pena Palace and the gardens
Tour Quinta da Regaleira and feel the mysticism (optional)
Stop at the westernmost point in Europe at Roca Cape
See Cascais, once the holiday destination of European aristocracy
Pick-up and drop off at your central Lisbon hotel or apartment
The price is €60 per person. View the full itinerary and book here (Entry to Pena Palace and gardens (€14) and Quinta da Regaleira (€6) is not included.
Lisbon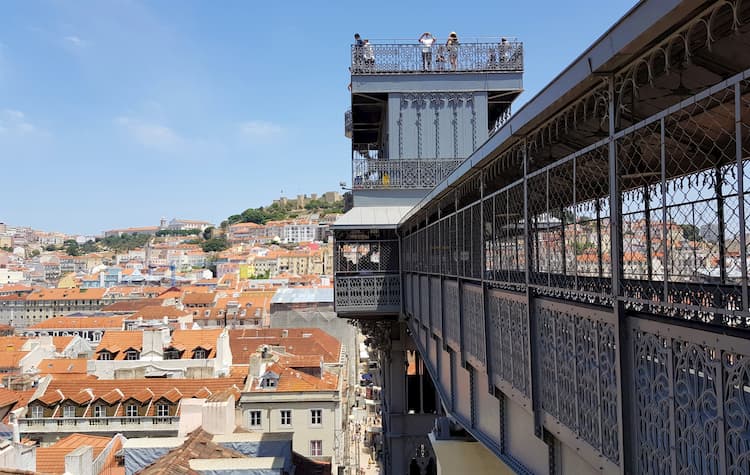 Lisbon is Portugals Capital and largest city. With so much to see and do in the trendy capital, these are a few more of the top 15 tours in Portugal.
Lisbon Essential Tour: History, Stories & Lifestyle
Spend 3 hours visiting some of Lisbon's most important attractions with a professional guide.
Highlights of this tour include:
Visit Bairro Alto, dating from the 16th century
Take in the views from Miradouro São Pedro de Alcântara
Take a ride on an iconic Lisbon tram
Explore the Alfama district, the city's oldest and most picturesque neighbourhood
Coffee and cake break
The price is €18 per person. See the full itinerary and book here.
Lisbon: Pub and VIP Club Crawl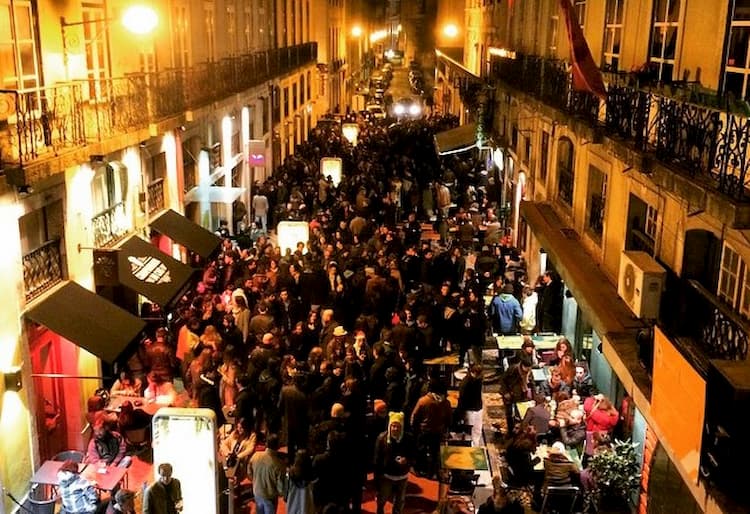 Instead of the more traditional day tours, you may want to discover Lisbon's nightlife with a pub crawl. You'll get to make new friends and awesome memories with this fun tour for the young at heart.
Highlights of this 5-hour night out include:
Discover the nightlife scene of Lisbon with local guides
Meet fellow travellers from around the world
Enjoy great drink discounts
Skip the lines to one of the best clubs in town
Get unlimited sangria or beer
The price is €16 per person. View the full itinerary and book here.
Lisbon: 2-Hour Sunset Cruise on the Tagus River with Drinks
Cruise down the Tagus River at sunset and enjoy Lisbon from a different perspective.
The highlights of this 2-hour yacht cruise include:
Watch the sunset over Lisbon aboard a yacht
See the landmark sights of the city from the Tagus River
Look at the outstretched arms of the Cristo-Rei Statue looking over the city from Almada
Welcome drink
The price is €31.20 per person (Usually €39). View the full itinerary and book here.
Algarve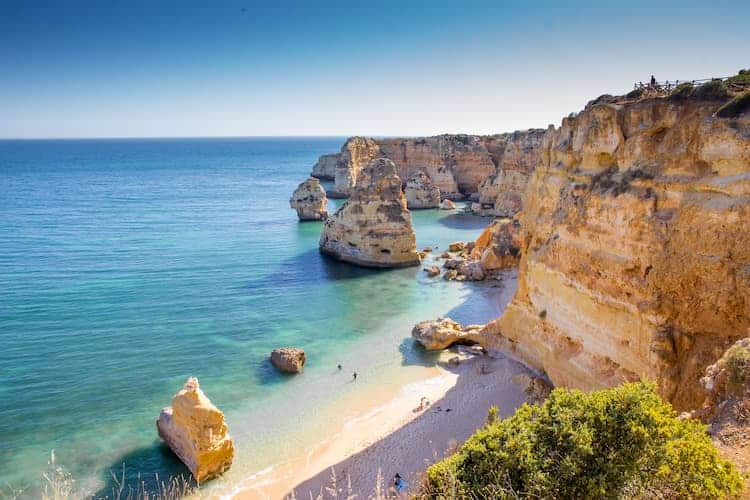 The Algarve is made of 16 municipalities, Situated on the southernmost tip of mainland Portugal, it's famous for its golf resorts, remarkable coastlines and beach caves, warmer water, soft beach sand.
From Portimão: 2.5-Hour Cruise to Benagil Caves
Look inside the spectacular rock formations of the Benagil caves on a comfortable 2.5-hour boat cruise along the Algarve coast from Portimão. Stop for a swim at a safe location, and look out for dolphins along the way.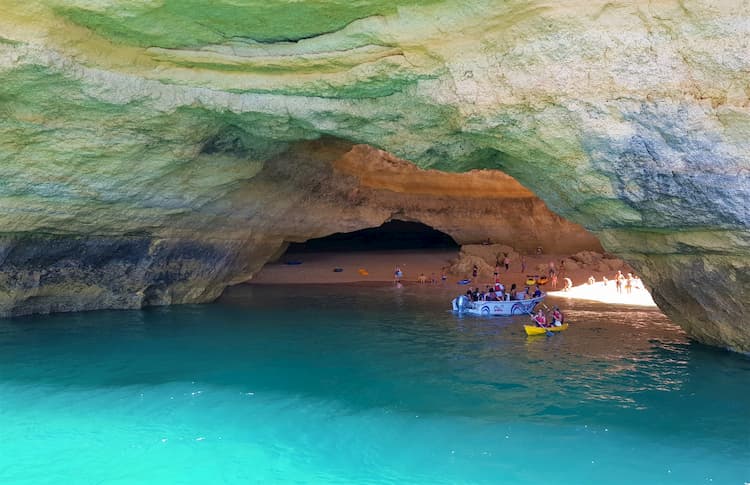 Highlights include
Explore the spectacular Benagil caves by boat
Stop for a swim at a beautiful location
Pick up from hotel in Portimão and Praia da Rocha
The price is €30 per person. View the full itinerary and book here.
I opted for a full day which includes a beach bbq on a small private beach after viewing the Benagil Caves. If you do have time to make a full day of it, I highly recommend it.
Sagres, Lagos & Silves: Western Algarve Minivan Tour
Explore the western part of Algarve, where nature and heritage go hand-in-hand. From the breathtaking views over the Atlantic Ocean in Sagres to the Moorish castle in Silves, every step is a monumental voyage through time.
Highlights of this 9-hour tour include:
Enjoy the views over the Atlantic Ocean at São Vicente Cape, the southwestern end of Europe
See the marks of ancient civilizations at Sagres fortress
Explore Lagos old town and its medieval ramparts with a guided tour or take a boat ride along one of the world's most beautiful coastlines
Visit the medieval town of Silves and its Moorish castle
Discover Baleeira, an old stronghold next to Sagres
Traditional local pastry
Transport by air-conditioned minivan with WiFi
The price is €48 per person (usually €60). See the full itinerary and book here.
Azores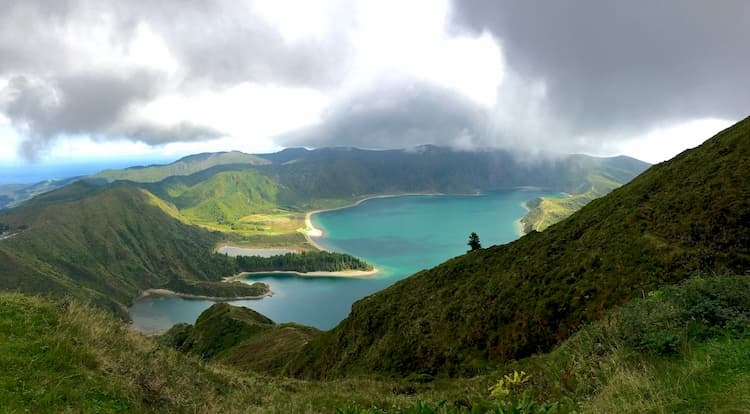 Venture off to the Azores, an archipelago made up of 9 volcanic Islands. Explore the town of São Miguel, go on a hike or take a dip in a natural hot spring.
São Miguel West Full-Day Tour with Lunch
Spend a full day taking in the beauty of the city and surrounding nature of São Miguel Island.
Highlights of this 9-hour tour include:
Visit Sete Cidades, the famous King's View, the beautiful rocks of Mosteiros, Fogo Lake, Caldeira Velha and more.
Stop at the town of Ribeira Grande and see the beautiful cliffs of São Miguel.
Head off the beaten track to see hidden natural gems
Learn about the history of the Azores from your expert guide
Lunch of traditional Azorean food, drink of your choice, dessert and coffee
All entrance fees
The price is €59 per person. See the full itinerary and book here.
Madeira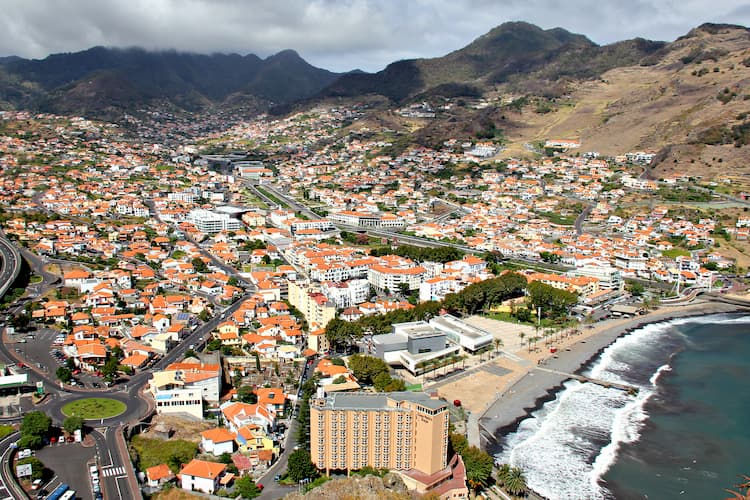 Last but not least is Madeira, an island known for its Madeira wine, gastronomy and dramatic landscapes.
From Funchal: Enchanted Terraces and Porto do Moniz Tour
Experience Madeira on a scenic drive by 4WD vehicle. In between the sightseeing, you get to stop for a swim in the volcanic lava pools of Porto do Moniz or off the black sand beach at Seixal.
Highlights of this 8-hour guided tour include:
Drive the old and enchanted roads of Madeira's northwest coast in a 4 wheel drive vehicle
Take a 20-minute walk through the Laurissilva Forest
Enjoy the warmth of the sea at Porto do Moniz or Seixal
Pick-up an drop off from hotels and guesthouses in Funchal (outside of Funchal at additional costs)
The price is €46.40 per person (Usually €58). View the full itinerary and book here.
Lisbon and Porto Card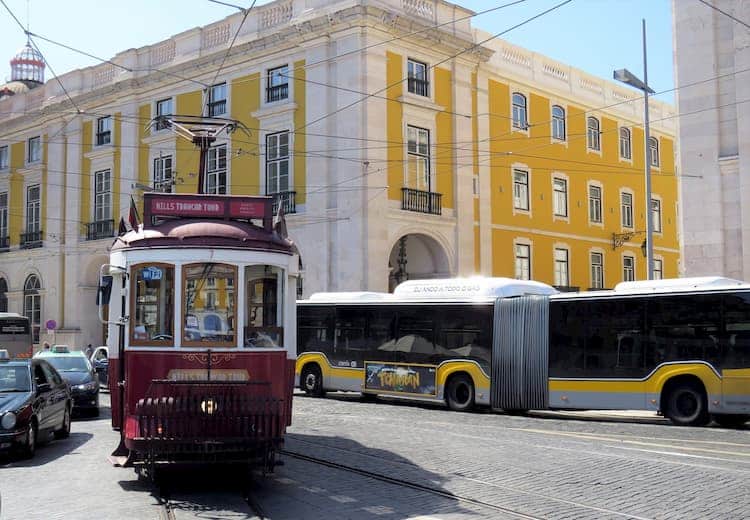 Planning to see a lot in a short period of time, or struggling to choose which attractions to visit because you're travelling on a budget?
The Lisbon and Porto card allows you to take the cap off your daily itinerary with incredible value.
Lisboa Card
Save your feet for exploring that actual sites by using your unlimited transport access between attractions.  Travel between trains, metro, buses and trams as you often as you need. Time saved means you also get to see so much more in a day.
Top attractions that are free to enter with the Lisbon card include Jerónimos Monastery,  Belém Tower, LISBOA Story Centre, Santa Justa Elevator and more! Furthermore, up to 50% discounts are available on many other attractions and tours.
If you would like to view the full list of attractions where you get free or discounted access, it is detailed here.
There are 3 ticket options to choose from:
24h card at €20/*€13
48h card at €34/*€19
72h card at €42/*€22.50
*Rate for children from 4 to15 years old.
Printed or mobile vouchers are accepted. The time allowed to use the card starts after its first validation. If for any reason you have to postpone your trip, the unused card remains valid for a year.
Get your Lisbon card here.
Porto Card
The Porto Card is similar to the Libon Card, it offers unlimited usage of public transport services such as the Metro, STCP buses, and the urban trains between Valongo and Espinho. Some private transport operators are on the free list as well.
In addition, the top attractions where entry is free with the Porto Card includes the Arqueossítio, Casa Do Infante Museum, Museum Guerra Junqueiro and the Port Wine Museum. Discounts of up to 50% are offered at many attractions and participating stores.
Take a look at the full list of all free transport operators, attractions and discounts here.
Choose between four card options (You will receive two cards; a sightseeing pass and a travel pass):
1 Day card at €13
2 Days card at €20
3 Days card at €25
4 days card at €33
Get your Porto Card with transportation here.
We hope we have made planning your next trip to Portugal a lot easier. Remember to book your tour well in advance especially if you plan to travel between June and August.