You have probably heard a lot about many charming and picturesque villages in Portugal, Óbidos is one of the most alluring of them all.
Like many traditional Portuguese towns, Óbidos Portugal features narrow cobblestoned labyrinth streets, an emblematic castle and whitewashed traditional houses.
It is also a village totally encircled with town walls.
Read on to find out more about Óbidos and things to do and see in this medieval village close to Lisbon.
Óbidos, Portugal – a most enchanting medieval village
Óbidos is also very popular historically because the town was given as a gift to the Queen of Portugal.
Also, historical evidence suggests that the Romans were the earliest settlers in Óbidos until the Moors arrived sometime around the 8th century and occupied the area for a few centuries till it was taken from them (moors) when King Afonso Henriques of Portugal eventually defeated them in 1148.
Curious about Portugal? Subscribe to our newsletter today so you don't miss out on everything about Portugal.
Where is Óbidos exactly?
Óbidos is situated in the Central region of Portugal and is only 80km (50 miles) from Lisbon.
How to get to Óbidos Portugal
Lisbon to Óbidos by bus
The trip from Lisbon to Óbidos takes one hour and a one-way ticket costs €7.95 which is purchased on board. The bus service (Rapida Verde) to Óbidos from Lisbon departs from Campo Grande bus station which can be reached easily via the yellow and green Metro lines. Please see the Rodoviária do Oeste bus schedule here.
This is the best means of public transportation to go to Óbidos with from Lisbon.
Lisbon to Óbidos by train
You can go by train to Óbidos, but I recommend going by other means of transportation because there is no direct service to Óbidos and the train station is quite far from the entrance of the town. If you, however, want to go by train, please see the Comboios de Portugal website for a train schedule.
Lisbon to Óbidos by car
Driving to Óbidos from Lisbon takes about an hour via the A8 Motorway. See here for directions . You should also know this route has tolls.
Porto to Óbidos by car
To go to Óbidos from Porto, you should take the A1 and A8 motorway. See here for driving directions. This drive takes about two hours and 30 minutes.
Óbidos can also be easily visited if you are going by car to Nazaré, Peniche, Caldas da Rainha, Coimbra or Porto.
What to do and see in Óbidos, Portugal
There is plenty to see in Óbidos but here I've selected just a few highlights which I really enjoyed.
Castelo de Óbidos
Is it possible to visit a Portuguese town without seeing a castle? The answer is probably "No".
So, when you visit Óbidos seeing the Castelo de Óbidos is a definite stop. It is a medieval castle that has existed since the 8th century when the Moors occupied Óbidos. However, it has since been converted to a 'Pousada' – a luxurious hotel, but you can still walk on the castle walls to get vantage views. You must be careful as there are no railings.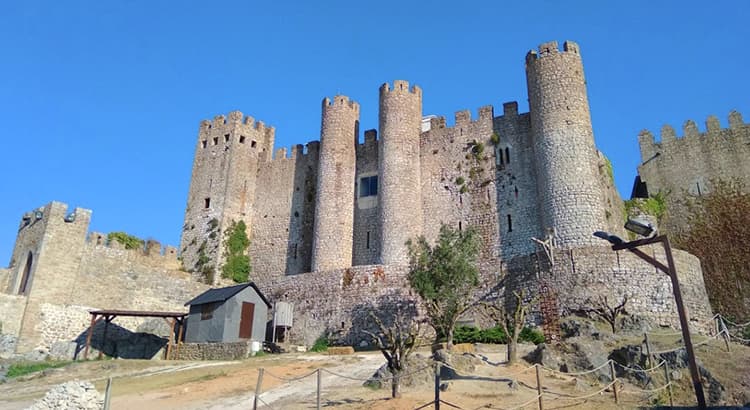 Walk through Rua Direita and the village streets
The main street in Óbidos is Rua Direita. It is filled with many traditional handicraft stalls and souvenir shops. Also walking through the village streets, you will see traditional Portuguese houses and generally enjoy a calm relaxing atmosphere.
Óbidos Aquaduct
Also known as Aqueduto de Usseira, the Óbidos Aquaduct is a water supply system that stretches over 6km with its origin from the village of Usseira. It was built at the request of Queen D. Catherine of Austria with its main purpose to supply water to Óbidos.
Kitesurfing in the Óbidos lagoon
The Óbidos lagoon (Lagoa de Óbidos) offers great kitesurfing conditions, especially during the summer. Check out Kite Control for more details.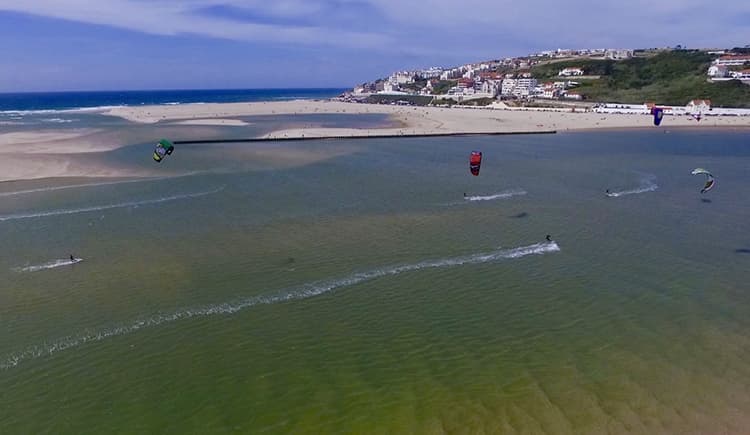 It is also a good place to go for scenic walks along the shores and beaches in the area like Praia do Foz de Arelho. You can also engage in different water sport activities here.
Have some Ginja d'Óbidos
You should also try the famous liquor of Óbidos – Ginja d'Óbidos, as a trip to Óbidos without drinking this liqueur made from sour cherries is incomplete. You can have it in a glass or in a chocolate cup which can be eaten after taking the drink.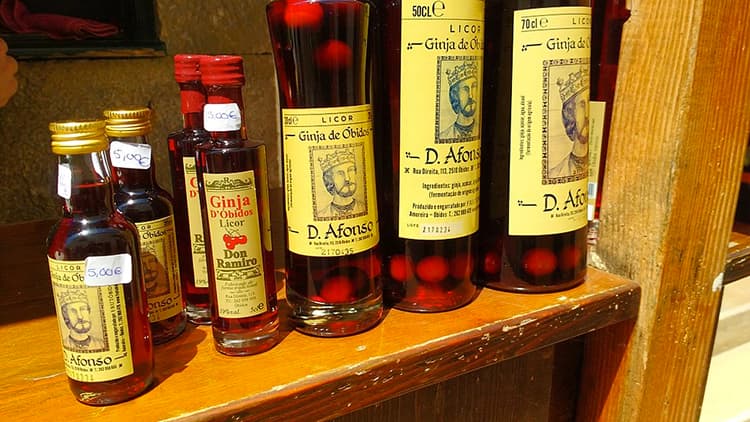 Join in the Festivals in Óbidos
Óbidos sure knows how to do festivals. There are three main festivals that happen in Óbidos.
Between April and May it hosts the International Chocolate Festival (website is in Portuguese) and in the summer between July and August, it hosts one of the biggest medieval fairs and markets (Mercado Medieval de Óbidos (website is in Portuguese)) in the country.
They are both very interesting with many performances and historical recreations.
Then there is the Christmas festival (website is in Portuguese) usually between December and January.
Other activities you can enjoy doing in Óbidos Portugal are:
Golfing
Óbidos has many outstanding courses one of which is West Cliffs Golf Course.
If you like golf, you might like: Golf Courses in Portugal.
Surfing
Peniche close to Óbidos is a go-to place for many surfers. Find out more about Peniche here.
Weather in Óbidos, Portugal
In Óbidos, the summer is usually warm and dry while the winters are cold, wet and windy. The general temperature annually is typically between 7°C (46°F) to 26°C (79°F).
The best time of year to visit Óbidos for outdoor activities is from mid-June to mid-September. You can also visit in May and Early October.
Here is the seven-days forecast for Óbidos:
Best Óbidos Restaurants
Some places you can try the regional dishes are;
Pousada do Castelo
The restaurant in the Castle of Óbidos offers excellent ambience and rich traditional cuisine. A definite place to eat in Óbidos.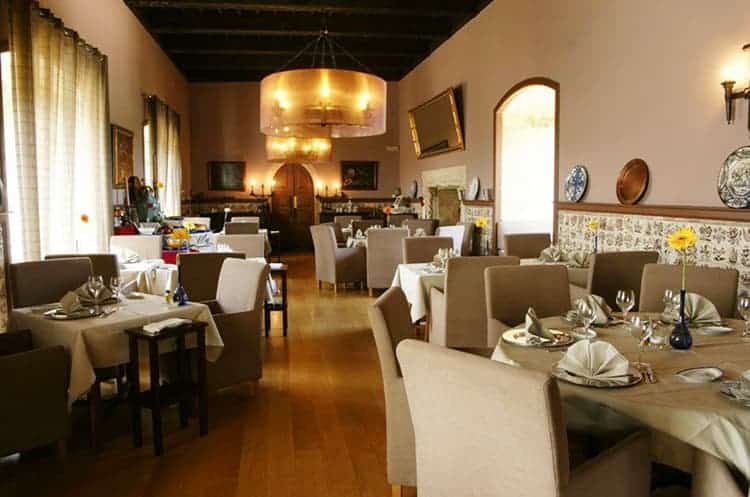 Comendador Silva
Located in the Casa das Senhoras Rainhas hotel, Comendador Silva restaurant offers excellent Portuguese dishes as well as lovely desserts and a great wine selection.
Muralhas Restaurant and Pizzeria
Muralhas Restaurant and Pizzeria is another nice restaurant to have a meal in Óbidos. Although they do not offer many local Portuguese dishes, the delicacies they have are very tasty and well presented.
Tasca Torta
Tasca Torta is a cosy restaurant located in the heart of the town with lovely décor. It is a nice place to have a meal in Óbidos and they also have great local wine.
Poco dos Sabores
Poco dos Sabores is a traditional restaurant in a small village that offer delicious local dishes as well as a great selection of wines.
Where to stay in Óbidos, Portugal
There are a variety of accommodation options in Óbidos from boutique hotels to budget hotels.
If you would like to live in grandeur in a former castle you can stay in the Pousada Castelo de Óbidos. The average price per night is €262. To make a reservation, go to Booking.com here.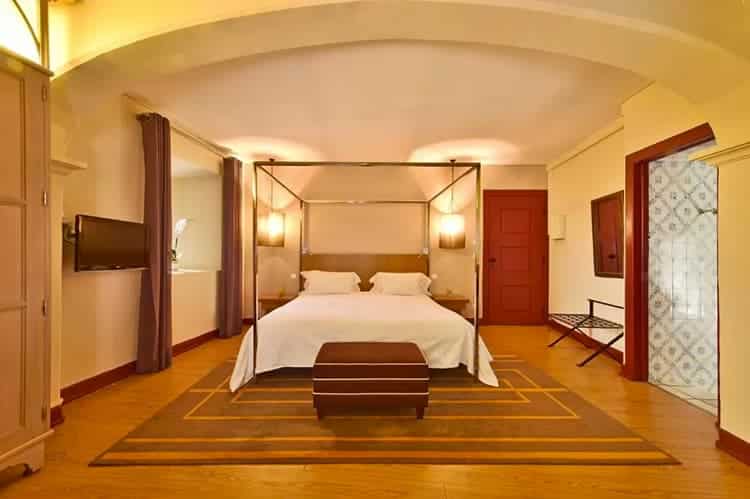 Some other options for accommodation in Óbidos are:
Hotel Louro
Located just 10 minutes away from the old town, Hotel Louro also has ample parking for those visiting with a car. The average price per night starts from €59. To book a room, click here.
Hotel Real d' Óbidos
Hotel Real d' Óbidos is a quaint hotel nicely situated right beside the walls of Óbidos close to the entrance of the town. They also have free parking. The average price per night starts from €79. For the best deals, go to Booking.com here.
Josefa D Óbidos Hotel
The Josefa D Óbidos Hotel is excellently located just right by the gate of the town. It's an excellent base to explore the town from. The average price per night starts from €68. To book, click here.
The Literary Man Hotel
Close the entrance of the town, you will also find The Literary Man Hotel, a boutique hotel in a historical building filled with lots of books. A perfect hotel for book lovers. The average price per night starts from €83. To book with Booking.com, click here.
Is Óbidos worth visiting?
Óbidos is a great place to visit especially for those seeking a relaxing holiday, although, it has become more of a touristic town now.
It still, however, retains most of its authentic Portuguese feel and is worth visiting especially in the off-peak season (late May and early October) when the crowds are less. Óbidos also makes for an interesting day trip from Lisbon.
What about doing a guided tour around Óbidos?
If you would like to be part of an organised tour or a private tour you can check out this best-selling deal on Get Your Guide which includes a guided tour from Lisbon to Fátima, Nazaré, Óbidos and São Martinho do Porto all for only €60 per person. To book in advance, click here.
That's it! A guide for you to explore the enchanting village of Óbidos, Portugal. A popular destination for locals and foreigners.
Did I miss anything out? Do you have any questions about Óbidos? Let us know in the comments below.