You know who the Virgin Mary is, right? But have you heard about the Miracle of Fátima or the Miracle of the Sun?
It's a fascinating story, but even if you are not Catholic, there are some beautiful things to see in Fátima so let us tell you all about it.
Once a tiny village hidden between Lisbon and Porto, Fátima is now the most significant Catholic pilgrimage centre in Portugal that is gathering thousands of visitors from all over the world every year.
Here is everything you need to know about this sacred place if you plan to visit.
Visiting Fátima in Portugal
A brief history
The story behind Fátima is very thrilling and thought-provoking. Do you want to know it? Here it is…
Back in the day, on 13 May 1917 to be exact, a little girl of 10 years old, Lúcia Santos, together with her cousins Francisco Marto (aged nine) and his sister, Jacinta (aged seven), were shepherding their sheep when suddenly a woman dressed in white with a bright light appeared in front of them.
While the frightened children fell to their knees and prayed, they heard a tender female voice telling them that she was the Virgin Mary herself and was there to give them important messages.
For the next five months, on the 13th of each month, the Virgin Mary appeared in the area of Fátima to share her messages with the children. She told them that she would take two of them with her when she appeared for her last message in October.
Around 70,000 people claimed to have seen strange lights from the sun on this date and thus the tale was considered believable by the church and a shrine was erected to mark the place of this miracle. It was later called the Miracle of the Sun.
In 1919, just before his 11th birthday, Francisco died, and a year later, his sister, Jacinta, also died before turning 10 years of age.
Lucia, whom the Virgin Mary said would live longer, died in 2005 at the age of 98. She was the only one who kept the secret messages from the Virgin Mary.
In 1941, the church asked her to write what the Virgin had given her. She wrote the first two messages down but kept the third one until 1943 with instructions that it not be opened until 1960. The Vatican refused to declassify this message until 2000.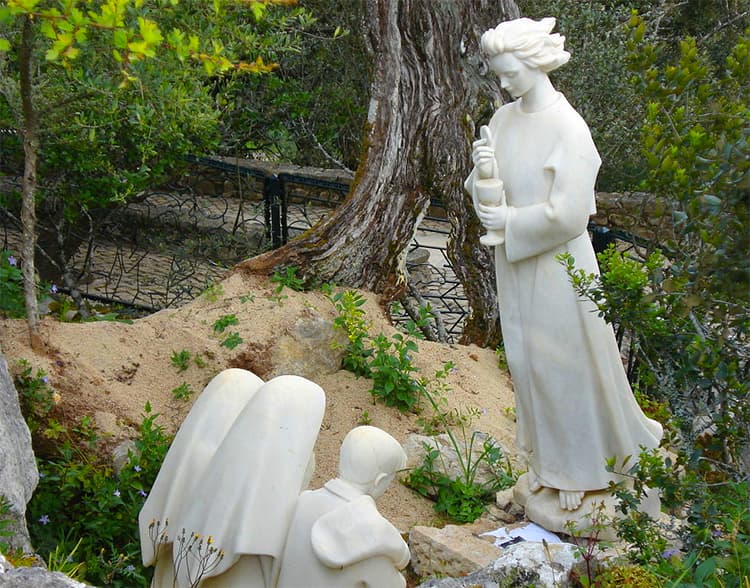 You can read all about the Threes Secrets of Fátima on Wikipedia.
Fascinating isn't it?
But there's more…
So where is Fátima?
The town of Fátima is located in the central part of Portugal, in the third largest district in the country, the District of Santarém. It is about 125 km (78 miles) to the north of the capital, Lisbon, and 170 km (106 miles) to the south of Porto.
How to get to Fátima
The closest international airport to Fátima is Humberto Delgado Airport, simply known as Lisbon Airport. Once you get to Lisbon, there are several ways to visit the religious site.
By car
If you decide to rent a car, the journey to Fátima takes just under one and a half hours from Lisbon. Be prepared for the pricey highway toll fees though.
Once you get there, finding a place to park is almost impossible if you plan on visiting during the major religious festivities. This isn't an issue if you visit it during any other week day.
We recommend sharing your journey costs with other travellers on BlaBlaCar. It's convenient, cheap and a great way to meet cool people from all over the world!
By train
Portugal's train network is very well developed so traveling by train is always a good option. One thing you might need to consider in advance is the fact the railway station in Fátima (named Chão de Maçãs) is located 20 km (12 miles) away from the city centre so you'll need to take a taxi (which will cost around €20 to €25).
By bus
The journey by bus with Rede Expressos from Lisbon to Fátima takes about 90 minutes and costs €11.40 per adult and €6 per child.
When is the best time to visit Fátima?
If you are keen on participating in one of the most significant religious gatherings in the world, plan your pilgrimage to Fátima for 12th to 13th May and/or 12th to 13th October.
We would also suggest a visit on any other normal day as there are many interesting tourist sites to see without thousands of people in your way. We'll go into more about them in a bit.
Things to do in Fátima
Here are some of the most appealing things to see while you are in Fátima.
Chapel of the Apparitions ("Capelinha das Aparições")
The Chapel of the Apparitions was built on the exact same spot where the three children observed the legendary set of apparitions of the Virgin Mary in 1917. In one of her messages, the Virgin Mary demanded that the chapel be built on the site and dedicated to Our Lady of the Rosary.
Every year, the celebrations around held around this chapel.
Sanctuary of Our Lady of Fátima ("Santuário de Fátima")
Sanctuary of Our Lady of Fátima is one of the largest and most important Catholic pilgrimage sites in the world, welcoming up to 5 million visitors every year.
Among the several eye-catching buildings related to the sanctuary, the Basilica of Our Lady of the Rosary is the must-see attraction of Fátima. It is a magnificent church made of solid limestone built in the Neo-Baroque style.
Casa de Lúcia
Casa de Lúcia is a small, poor house where Lucia, one of the three peasant children, was born and grew up. It is in Aljustrel, a small village located about 2 km (1.2 miles) away from the Sanctuary of Fátima.
Where to stay in Fátima?
Due to the great interest of visitors from every corner of the world, Fátima offers a rich variety of accommodation for everyone's needs and preferences. As there are so many choices, here are some suggestions to help you decide.
If you are on a family trip with the kids, Hotel Aleluia, situated less than kilometre away from the city centre, offers a great view with clean and cozy ensuite rooms. Additionally, the hotel has a great restaurant with authentic Portuguese food. You can expect to pay around €70 to €80 for a three-night stay in a double room.
If you are not a budget traveler, Luz Houses is a four-star, boutique hotel with a swimming pool, located only 1.1 km (0.7 miles) away from the heart of Fátima. The price for a double room for a three-night stay varies between €330 and €400.
If you plan a trip on a tight budget, Hotel Santa Isabel (website in Portuguese) offers a comfy and clean double room for a three-night stay for €70 to €90.
We don't mean to scare you, but keep in mind the prices can go up to 10 times as much during the major annual religious celebrations in Portugal so it's best to book in advance.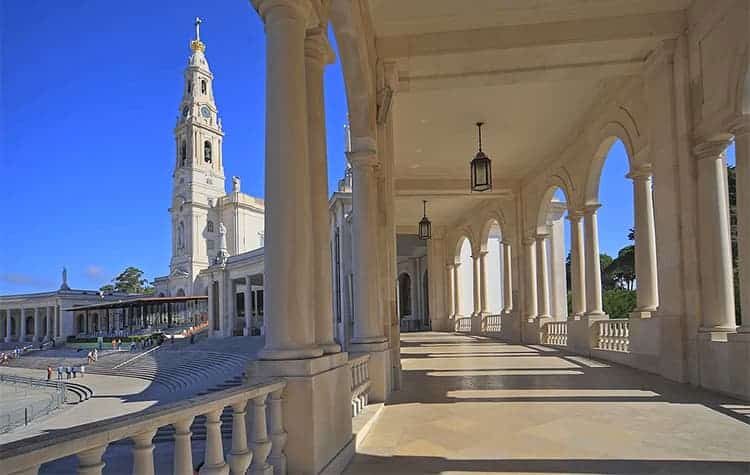 Where to eat in Fátima?
Personally, we don't believe there is a person who won't fall in love with the Portuguese cuisine! So we totally recommend using your time while visiting Fátima to try some of the most traditional Portuguese dishes and desserts.
Go and have lunch or dinner in:
So, is there anything else you need to know about visiting Fátima? Have you been there before? Do not hesitate to share your personal experience with us in the comment section below!
We publish new content every day so be sure to subscribe to our newsletter to get notified of the latest tips for your visit to Portugal.