Why should you pay attention to this small fishing town in Portugal?
Nazaré is famous for some of the biggest waves in the world!
But it is also famous for good quality hotels and restaurants, an authentic Portuguese experience and the nicest people ever.
Picturesque Nazaré, Portugal
Imagine the wooden fishing boats waiting for the fishermen on the beach. Narrow cobbled streets all over the town. Fishermen's houses turned into stylish hotels and old women wearing traditional Portuguese dresses.
Beautiful right?
All of this is what you will find in Nazaré, Portugal.
In Nazaré, fishermen's wives still wear seven colourful layers of skirts, as well as wooden clogs and a black headscarf. People still dry their catch of fish in the sun along the seafront. This scene undoubtedly is what attracts tourists from Portugal as well as from all over the world.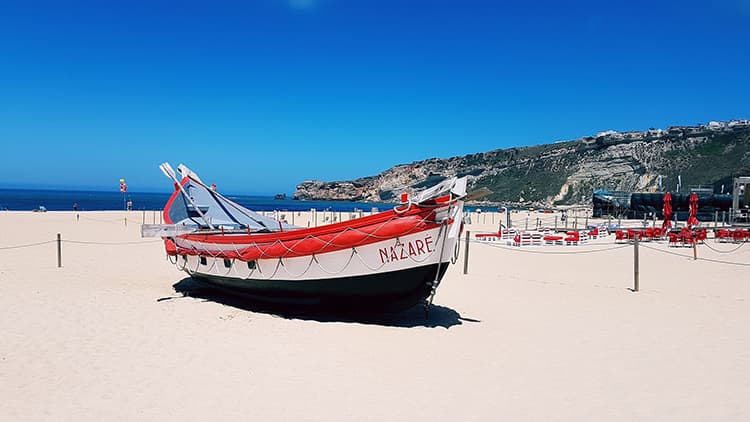 Where exactly in Portugal is Nazaré?
Nazaré is on the coast in central Portugal, between two big cities: Lisbon and Porto. The town is in the same area as the famous monasteries of Alcobaça and Batalha.
Nazaré's beaches are world famous
We will start our journey to Nazaré with Nazaré beach ("Praia da Nazaré"). It is a very long line of golden sands, but it is not the beach for surfing, it is more for relaxing and swimming. There are also some ice cream stores and souvenir shops to enjoy.
You can do many water activities like:
Stand up paddle boarding;
Kayaking; and
Jet-skiing.
As I've mentioned, local women sell dried fish here and the wooden boats on the shores are very picturesque.
Great for Instagram!
Another beach is Praia do Norte. It extends for many kilometres and has a stunning, natural setting, practically without any tourist development, but the huge waves have made this beach very famous for surfers.
Portugal is famous for it's beaches, find out about some unknown beaches here.
Sightseeing in Nazaré, Portugal
Besides the beaches, there are some really nice things to see and do in Nazaré, Portugal. Here are a few ideas for your visit.
Nazaré Funicular and Sítio
When you go north along the seaside, you will get to Nazaré Funicular ("Ascensor da Nazaré") .  which is one of the easiest ways to travel between Ribeira da Pederneira to Sítio, which is high on the cliff. The Nazaré Funicular was built in 1889 to connect Sítio to the beaches below for the nobility when they came for their vacation time in the sun.
It is possible to get there by car or use the stairs but the Nazaré Funicular is more fun (and a lot easier on the legs). It will be one of the most remarkable moments for sure and it only costs €1.20.
Today, it is not only a way to get from Praia to the old part of town, but it's also very enjoyable and you must check out the views from the top showing the town and the beach. Amazing!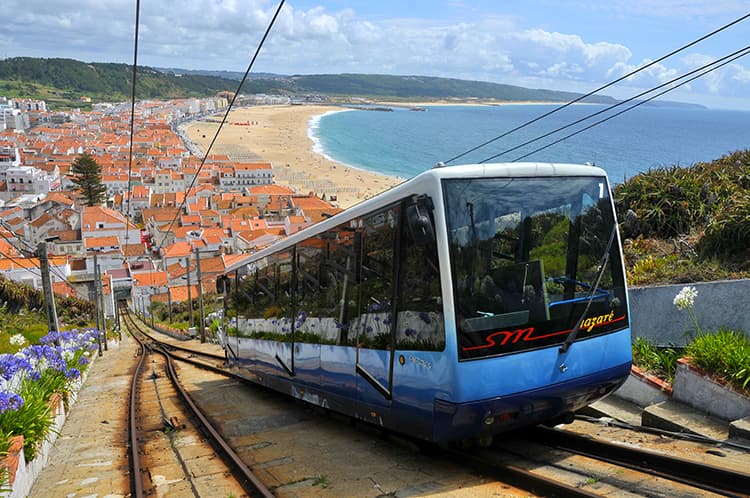 Lighthouse and Fort
West of Sítio is the Nazaré lighthouse ("Farol da Nazaré") and the Fort of São Miguel Arcanjo. This place is all about surfing and waves. Inside the fort, you'll find informative exhibits about the surfing culture of the region, including surfboards and pictures of surf. This is the most popular vantage point to watch the big surf competitions.
The Virgin Mary of Nazaré
At the centre of Sítio is the church of The Sanctuary of Our Lady of Nazaré ("Santuário de Nossa Senhora da Nazaré"), which houses an ancient statue of the Virgin Mary, a Black Madonna feeding baby Jesus. The statue is said to have been made in Nazareth, Israel.
Fish is the tradition in Nazaré, Portugal
In Sítio, tourists walk along the streets or sit in cozy restaurants with amazing views overlooking the bay. In the restaurants, it is possible to choose freshly caught fish and it will cost very little money, even less than you'll pay for a regular menu.
Don't know which fish to eat in Portugal? Check out this handy guide on fish and seafood in Portugal.
Despite the fact that Nazaré is a very small town, you'll manage to find not only fish restaurants but a number of burger bars, pizzerias or shaorma bistros. For any taste or budget.
Staying in Lisbon? Here are some great tours that are really cheap that will take you to Nazaré and nearby villages which have spectacular sceneries and incredible history.
What is the weather like in Nazaré, Portugal?
Climate in Nazaré can be classified as warm and temperate. The rain falls mostly in the winter, with relatively little rain in the summer. The average temperature here is 15°C (59°F).
Summers in Nazaré are warm, dry, and mostly clear and the winters are cold, wet, windy, and partly cloudy. The temperature typically varies from 6°C (43°F) to 25°C (77°F) and is rarely below 3°C (37°F) or above 31°C (88°F).
Winter (December to February)
Weather is windy and very cold in winter. The average temperature during this season is 11°C (52°F). It may rain several times per each month.  With the strong wind, comes big surf so surfers generally like winter in Nazaré, Portugal for really big waves. With a wetsuit, of course.
Spring (March to May)
The union of the humidity and temperatures makes spring feel more comfortable. The average temperature in spring is 15°C (59°F) and it gets warmer in April and May. It rains sometimes, but not so often to spoil your holiday.
Summer (June to August)
In summer the temperatures are high but comfortable. These months see the least of rain, maybe one to three days overall. The warmest period is from the end of July until the end of August.
Perfect weather to take the whole family on a beach vacation. It does get quite busy so make sure you book your accommodation in advance.
Autumn (September to November)
The Autumn average temperature is 17°C (63°F), with a warm September and not so comfortable October, but it feels ok with the humidity and the wind.
Find out more about weather in Portugal.
When is the best time to visit Nazaré, Portugal?
Best time to visit Nazaré depends on your goals. It depends if you are planning to see big waves or you are going to spend time on the beach, or just sightseeing.
All of these activities can be done in all seasons.
The busiest months for tourism are April, January, and May. Hotels and flights to Portugal will be the most expensive during these months, though you can save if you book accommodation as far in advance as possible.
October is the least visited month in Nazaré. Those willing to visit at this time will definitely find very pleasant prices.
Best hotels in Nazaré, Portugal
There are many options but here we want to make it easy for you to choose so I've listed five of the best hotels in different price ranges that are definitely worth a look.
1. Hotel Praia
Hotel Praia is a four-star modern hotel located in the centre of Nazaré, just two minutes from the beach. It offers an incredible rooftop covered pool with panoramic views. Family rooms come with a kitchenette where guests can prepare light meals.
The viewing spot of São Miguel Arcanjo Fort and its lighthouse are located 3km (1.9 miles) away and Batalha Monastery is just a 10-minute drive from the hotel.
Prices start at €66 per night and they often have fantastic promotions.
2. Hotel Miramar Sul
Hotel Miramar Sul is a hotel with a long history in Nazaré. Despite being renovated, it still keeps the memory of the old traditions. This hotel guarantees stunning views of the Atlantic Ocean. Wifi is free throughout the hotel.
Atlântico View Restaurant offers local and international cuisine accompanied by panoramic ocean views as the name suggests.
There are three swimming pools, spa and mini-golf. Miramar Sul is a one-hour drive from Lisbon Airport and free on-site car parking is available.
Prices start at €57 per night and have many promotions on throughout the year.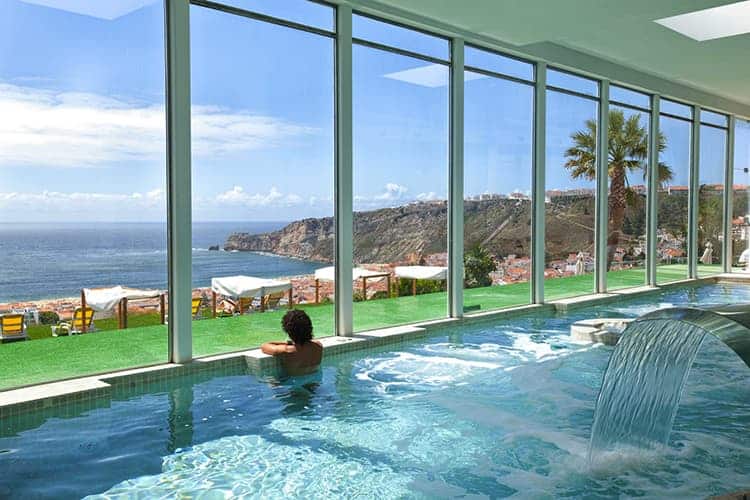 3. Adega Oceano Hotel
Adega Oceano (website in Portuguese) is a nice beachfront hotel in the centre of Nazaré. The hotel is just steps from the Nazaré's promenade and a short walk from Nazaré's top attractions. Lisbon is about a two-hour drive from Nazaré.
The rooms at the Adega Oceano are clean and modern, and include air-conditioning, private en suite bathrooms and free wifi. Every room has a private balcony!
Prices start at €30 per night and I recommend using Booking.com to book a room as their website is a bit tricky.
4. Hotel Ribamar
With a seafront location in the historical centre of Nazaré, Hotel Ribamar offers rooms with antique-style furniture and free wifi. Seafood specialties are served in its traditionally decorated restaurant.
Featuring panoramic views of the Atlantic Ocean, Hotel Ribamar is located about 150 metres from the Nazaré Funicular.
Prices start at €30 per night and you book directly with them.
5. Nazaré Hostel
Nazaré Hostel is situated just 100 metres from Nazaré's beach. The hostel features modern decor and has a shared lounge, dining and kitchen areas, and a balcony overlooking the sea. Free wifi access is available in all areas of the hostel.
Nazaré Hostel is only a five-minute walk from the Nazaré town centre, where there is a variety of restaurants and cafés.
Lisbon Airport can be reached by car in one hour and 20 minutes.
Prices start at €28 for a bed in a four-bed dorm room or €63 per night for a private double room.
Surfing in Nazaré, Portugal
Some of the world's highest waves are found between the Sítio and the southern section of the Praia do Norte beach. There are a number of factors, which give rise to the giant waves. The most well-known is the underwater Nazaré Canyon, which causes very high breaking waves.
Best beaches for surfing in Nazaré
Praia do Norte
I have already mentioned the best-known surf spot in Nazaré: Praia do Norte. This surfing is for expert surfers. Waves at Praia do Norte are big, heavy and powerful. They are awesome to watch!
Praia da Nazaré
Another surf spot is Praia da Nazaré. It is also for experienced surfers because the waves are fast and heavy.
Praia do Sul
On the south part of Nazaré is Praia do Sul. It is next to Nazaré's harbour. Here heavy waves require a good level of surfing ability.
Praia do Sul is not a very consistent surf spot. It is at its best with a southeast or easterly wind.
The Nazaré surf championship
The biggest event of the year is the WSL Nazaré Challenge, World Surf League, Big Wave Tour.
This competition brings the best big wave surfers from all over the world. It is held only for one day and has no fixed date because it depends on the state of the ocean. It usually occurs from 15 October to 28 February of the following year. The competition is part of the Big Wave World Championship and if you want to go, check their website for updates on the dates of the event.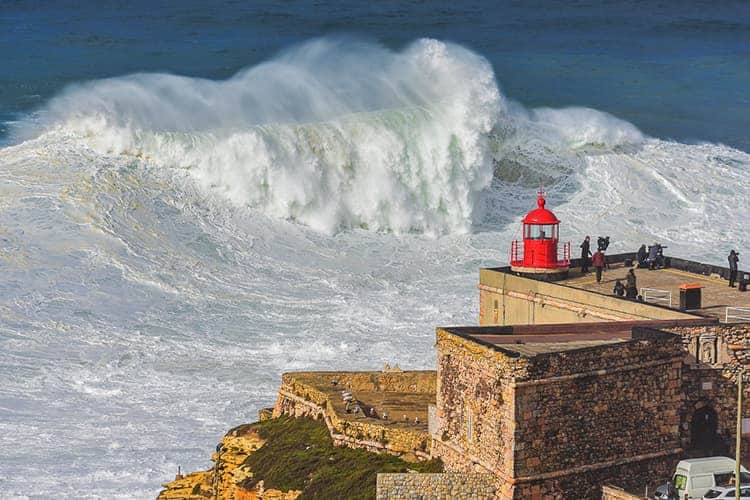 Where to find the surf forecast for Nazaré, Portugal
For surfers, it is extremely important to know what the weather is going to bring. They must know the wind speed and direction, the wave speed and direction, air and water temperatures as a forecast for the next several days.
A number of websites offer such an option. Here are some of them:
Surf camps in Nazaré, Portugal
Surf camps in Nazaré offer a number of packages, which include accommodation, videos with analyses, transport, internet access, and even a lunch pack if you wish. You will manage to find something suitable for your surfing goals and budget.
Here are some surf camps and schools, which have good offers: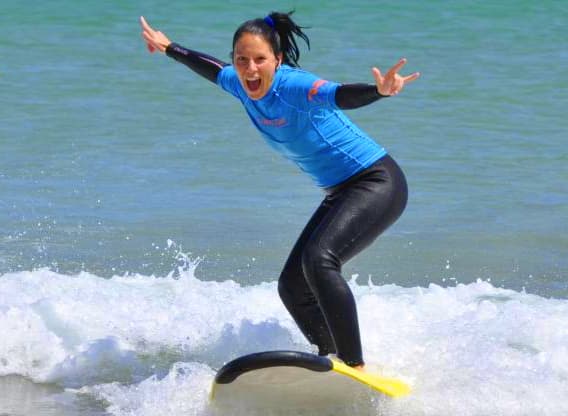 Discover where to go surfing in Portugal here.
Visiting Portugal soon? We will send you weekly updates with tips and advice on what you need to know about visiting Portugal. Just subscribe to our newsletter here.
How much will you spend while traveling to Nazaré, Portugal?
Here, I will share some of my own experiences. Last year (2018) I have traveled to Nazaré and spent three days there in April.
It cost €340 for a return flight from Warsaw to Lisbon. It is possible to find cheaper flights if you book tickets in advance.
I rented an apartment for €30 per day so it was €90 for three days, but the price was a bit high in my opinion. It is possible to book a beachfront hotel even cheaper or use a surf camp package (the price will be quite nice too, check their websites).
The Rede Expressos bus tickets from Lisbon to Nazaré and back was €20.
I spent €80 on food (coffee, lunch and dinner, some snacks). I didn't surf, but my friends rented surf equipment. A board and a wetsuit was €45 per person for three days. The weather was not really ideal for surfing, but we decided to try anyway.
The trip was a spontaneous one and it was possible to reduce some costs if we had booked further in advance, but we enjoyed it and had a lot of fun.
Nazaré, Portugal is really worth visiting. It can be a short trip from Lisbon or a two week holiday with the family. Any choice will be a good one.
Have you been to Nazaré, Portugal? Tell us what your favourite part was in the comments below.