Porto offers so much to do and see. It is a historic city with great gastronomy, incredible architecture, stunning natural beauty, rich culture and home of the famous port wine.
So, you can be certain that your visit to Porto will be more than interesting and memorable.
In this article, you will see the things to do in Porto from the best sights to free things to do as well as non-touristic things you can do in Porto.
The best things to do in Porto
Climb the Arrábida Bridge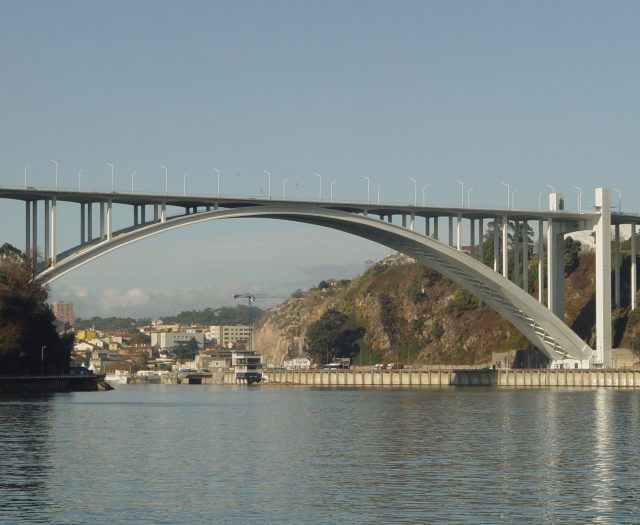 This bridge has one of the largest concrete arches in the world. It's one of the bridges that connect Porto to Vila Nova de Gaia. The view from the summit is outstanding and totally worth the climb up 262 steps.
There are several companies that have guided tours with safety equipment for the hike. I totally recommend it, as it is is a unique experience!
Explore Ribeira and the riverfront
Situated along the Douro river and adjacent to the striking Dom Luís I Bridge, is one of Porto's oldest neighbourhoods. Ribeira is also a designated a UNESCO World Heritage site and is one of the most authentic and charming neighbourhoods in Porto.
It is filled with lots of restaurants and cafes where you can get great views of the bridge and the other side of the river.
You can also go on this fantastic 3-hour bike tour around the old town and the riverside.
Eat a Francesinha
This is a typical Porto dish you must try. Francesinha is a type of Sandwich made with bread, ham, linguiça (a Portuguese sausage), steak or roast beef, melted cheese and spicy sauce.
Don't miss out on an incredible opportunity to taste the local Porto cuisine, on this half-day food tour.
Explore Douro River by Boat
A boat cruise of the Douro river should also be on your list of things to do in Porto. It is one of the best ways to see the city as well as enjoy the natural beauty of the landscape.
The most common cruise from Ribeira is the 6 bridges tour which takes you through the six bridges along the Douro river. The boat cruise usually lasts about 50 minutes.
Here is one of the best boat tours along the Douro river.
Visit a port wine cellar in Gaia
Porto is home of Port Wine. So, visiting a port wine cellar would not be amiss. There are several cellars in Gaia that offer guided tours as well as a free tasting of some of the best port wines.
Go on a 6-hour wine and gastronomy adventure with Get Your Guide.
Climb up Torre dos Clérigos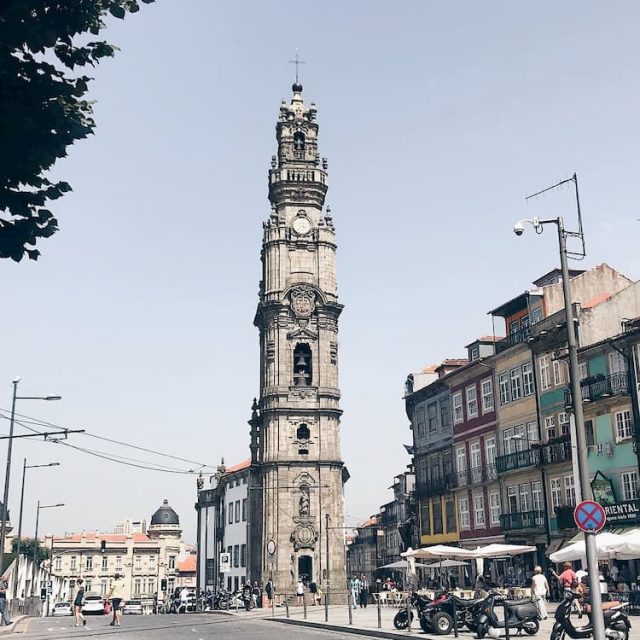 The tower is part of Igreja dos Clérigos a historic church in Porto with baroque-style architecture. Together they are both national monuments in Porto. However, the main point of interest for tourist is usually the tower.
At the top of the tower, after climbing about 250 steps you will be rewarded with a stunning 360-degree view of the city from one of the highest points of the city.
You should also know that there is an entrance fee to access the stairs that lead to the top of the tower and it gets very crowdy during the peak season.
Skip the lines and book your Torre dos Clérigos ticket here.
Some other places you can visit are;
Church of São Francisco
Serralves Museum and gardens
Palácio da Bolsa do Porto
Fort of São Francisco do Queijo
Livraria Lello
See also: Hotels in Porto Portugal: Find The Best Hotels From Luxury to Budget.
5 Free things to do in Porto
If you're on a budget or just looking for free things to do on your visit to Porto. Here are five things you can consider doing.
Explore the Photography Museum
Situated in a historic building (Cadeia da Relação) near Clérigos Tower, which once served as a grand prison and a courthouse, the Portuguese Centre of Photography was founded in 1997.
In the museum, you will find a permanent exhibition of Cameras in chronological order from centuries ago to date. Some of which include spy cameras, classic Kodaks and first-generation cameras.
Also, you can get to see contemporary photography exhibitions from both Portuguese and foreign artists as well as photography documentaries.
Matosinhos Beach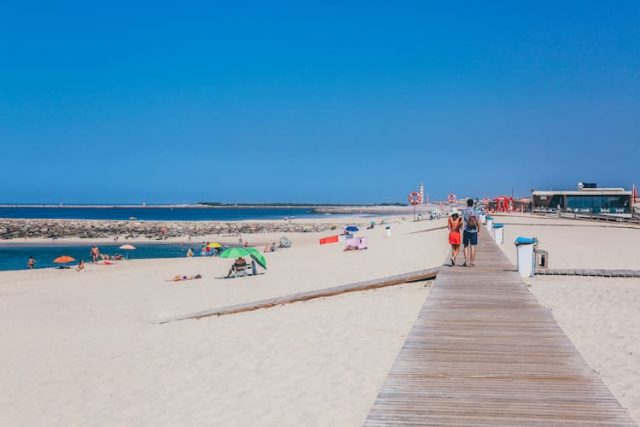 Matosinhos beach is the largest beach in Porto. It is a long stretch sandy beach with several terraces and countless seafood restaurants which attracts both locals and tourist, especially in the summer.
The beach is also a good place to do endless beach sports from beach soccer to volleyball to surfing and more. The good part of this is that you can visit for free!
Foz do Douro promenade
This is a beautiful promenade located in Foz do Douro district. The walk along the riverfront lined with palm trees as well as majestic views of the river is very refreshing. It is also a nice place to relax and just gaze at the Atlantic.
You can also catch the sunset here.
Dom Luís I Bridge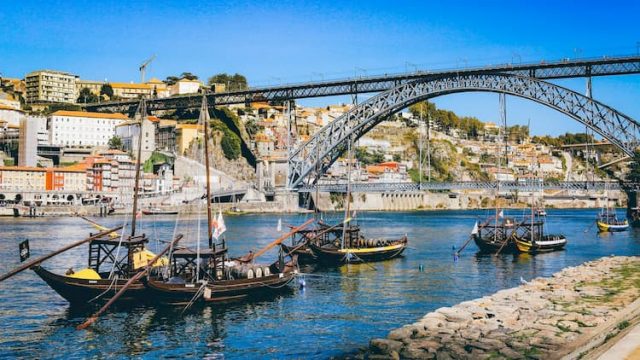 Only a few monuments in Porto are more iconic than Dom Luís I Bridge. A picture with the bridge as the backdrop is a must when you visit Porto. It crosses over the Douro River and connects Porto to Vila Nova de Gaia. The views from both levels of the bridge are panoramic and spectacular.
At the upper level, you will get an unobstructed 360-degree view of the Douro river and the Porto landscape.
The Crystal Palace Gardens
For me, this is easily one of the most beautiful gardens in Porto. It overlooks the Douro river and the city itself. The scenery and views from up there are gorgeous.
The garden itself is a large green area full of several trees and flowers. It is a great place to relax, meditate and take amazing selfies!
Serra do Pilar Viewpoint

The views from this "Miradouro" are splendid! You will get great views of the Ribeira, the bridge and the city. However, you must walk uphill to reach this viewpoint, but it is totally worth the effort.
This might also interest you: Porto Souvenirs: Your Top 10 Must-Buy Items To Remember Portugal.
Five non-touristy things to do in Porto
Catch the sunset
There are so many viewpoints in Porto where you can catch the sunset. Serra do Pilar viewpoint and Dom Luís I Bridge mentioned above are lovely places to catch the sunset. Alternatively, you can also catch the sunset at the beach.
Attend a cooking class
Are you looking to prepare a traditional Porto dish? You can put your hands to work by signing up for a cooking class in Porto.
See here for different cooking classes.
Walk or bike to Afurada
Afurada is a fisherman village located just outside Porto. It is a lovely place to go to if you want to get away from the city. You can also enjoy nice seafood while you are there. The bike ride to Afurada from Porto takes about 30 minutes.
Enjoy live music at Casa da Música
Casa da Musica (House of Music) is a great place to enjoy live music concert in Porto. Besides that, the building itself is an architectural beauty.
Watch a Porto match at Estádio do Dragão
If you have an opportunity to watch a football match at Porto's stadium, you should do it! It is an unforgettable experience especially games between Porto VS Benfica.
To know more about Porto's stadium see this: Porto Stadium Tour: Your Essential Guide to the Dragon Stadium.
Should I go to Porto?
Definitely. Porto has a lot to offer, from historical tours to fun nights out with your friends. Needless to say, it is one of the most loved cities in Europe. Some would say even better than Lisbon. And that's a bold statement.
What do you think? Have you ever been in Porto? Do you have any other tours that you would like to suggest? Let us know in the comments below.