If you know Portugal just a bit, you definitely know (and love) Sintra!
It's the unmissable day trip from Lisbon and one of the major tourist destinations of Portugal.
There are many mystical stories about this lovely little city and it's no wonder many artists and poets mingled around here in the 19th century.
Nowadays, you will probably hear as much English spoken as Portuguese in Sintra as it is one of the biggest expat centres in Portugal.
To top it all off, UNESCO has declared it a World Heritage site. If Sintra was a person, she would wipe dust off her shoulders right now.
Explore Sintra in Portugal
Sintra's location and surroundings
As mentioned, Sintra makes for the perfect day trip from Lisbon. With the train, you can be there in around 40 minutes from Rossio station.
If you've been missing some big green spaces in your visit to Lisbon, Sintra will warm up your heart.
The nearest beach, Praia das Maçãs, is super close at only 12 km (7.5 miles). You can drive there in under half an hour from Sintra and enjoy the scenery as the road takes you through the enchanting forest.
The area is rightly called the Portuguese Riviera, which includes the delightful coastal cities of Cascais and Estoril.
The castles of Sintra
Where other villages brag about their one castle, Sintra has three up it's sleeve, and boy, do they shine!
For visitors, there is no way around them. Well, technically there is a way, but it would be a real pity, because all of them are unique and beautiful!
Here they are in all their glory and splendour.
Quinta da Regaleira
A mystical magnet of Sintra, Quinta da Regaleira is an amazingly beautiful estate which consists of a palace with a chapel, and a spacious park with lakes, grottos, wells, benches and fountains.
Millionaire, António Augusto Carvalho Monteiro, was the second owner of the property and had the biggest impact on it by transforming it and giving it features related to alchemy, Masonry, the Knights Templars and the Rosicrucians.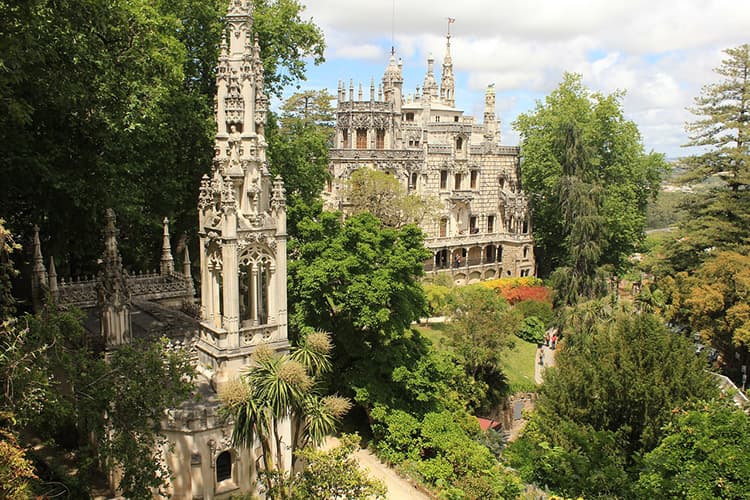 There are two Masonic wells on the property and one of them is 27 metres (88 feet) deep, and is the eye-catcher on almost all Sintra postcards.
There are many mysterious stories about these wells and what they were used for. Some historians believe they were built for ceremonies relating to death. Whatever it was, it took a lot of effort to build them for sure.  For instance, the Initiation Well with its spiralling staircase and nine platforms (that's the postcard one) and the Unfinished Well are connected by an extensive system of underground tunnels.
Beautiful and a little bit spooky!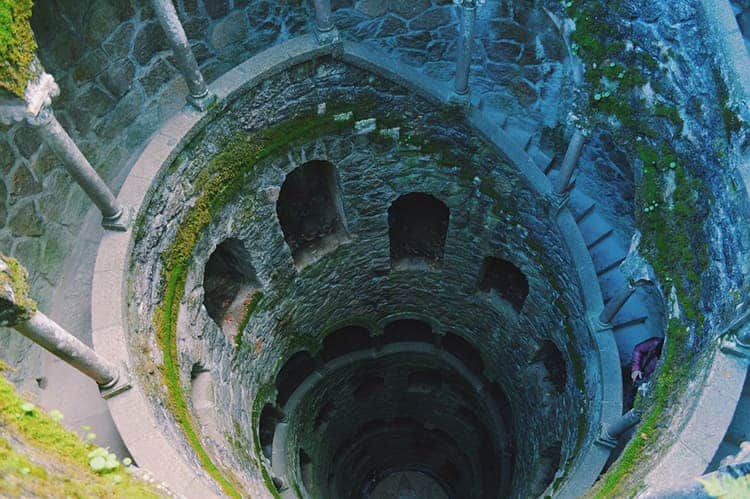 The Pena Palace
The Pena Palace used to be a monastery, a small, quiet place for meditation, which housed up to 18 monks. After the Lisbon earthquake of 1755, it lay in ruins with only the chapel left standing. King Ferdinand II transformed the remains of the sanctuary into a palace with the help of a German architect.
If Disney was around at that time, we would have assumed that the architect was inspired by Disneyland's Sleeping Beauty Castle. It's colourful façade and dreamy looks make it another 'must-see' in Sintra.
The Pena Palace is very close to the Castle of the Moors, in the middle of the lush forest of Serra de Sintra which used to be an important strategic point for the conquerors. Built in the 9th century by the Berbers (the North African Moors) to guard the town of Sintra, it fell into disrepair after the Christian conquest of Portugal in 1147. King Ferdinand II restored it in the 19th century and transformed it to the romantic monument that it is today.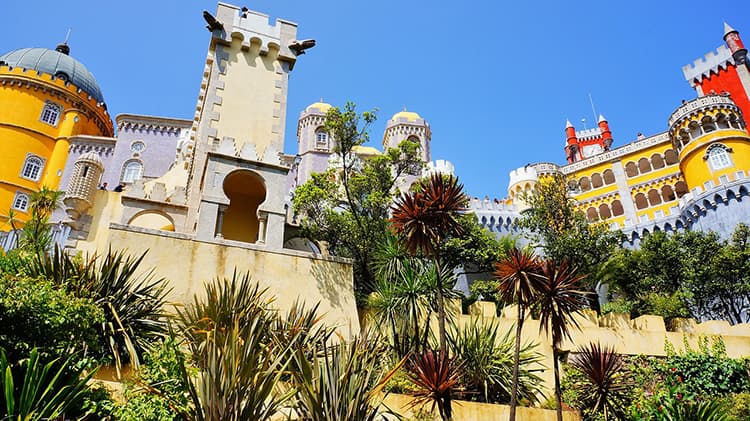 The Pena Palace is a lot bigger than it looks on the pictures, so allow enough time in your day if you want to visit both monuments on the same day.
Expert tip: When conquering the Pena Palace and the Castle of the Moors on foot, it's a good idea to wear good shoes as the path is a bit rocky. Once up the mountain, you will be rewarded with spectacular views over the entire Sintra region.
Palace of Sintra ("Palácio Nacional de Sintra")
The iconic twin chimneys and decorative interior will probably be what you'll remember the most of the very well-preserved former royal residence that is the Palace of Sintra.
Over the centuries, each of the inhabitants left an impact on the building: the Moors who built it in the 10th century, King Dinis I in the 14th century, King João I in the 15th century and finally King Manuel I in the 16th century who expanded it and redecorated many of the state rooms you see today.
The Portuguese tiles ("azulejos") adorning the palace, are among the oldest to be found in Portugal.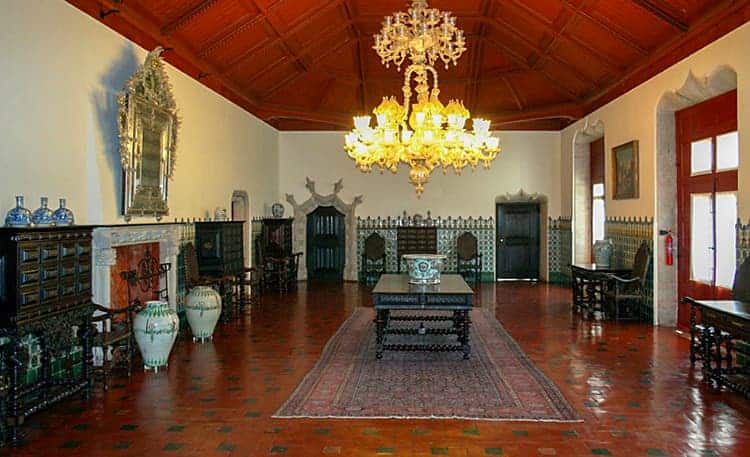 Sintra for the big spender
If the rich and famous of Portugal didn't choose to settle to Cascais or Lisbon, Sintra was their next choice. It's one of the wealthiest municipalities of Portugal, so no wonder there are plenty of choices for luxury dining around.
Fine Dining
If you appreciate an amazing view whilst eating and have the right budget to eat Michelin star cuisine, check out the Arola Restaurant in Penha Longa Resort. And if you're already at it, why not spend some time at the resort itself with its superb spa.
Golf
Sintra doesn't just have one golf course that would make golf fans' heart race, but a couple. If you'd like to find your reason to get in the private jet to hit the 18th hole, take a look Penha Longa Resort's own golf course or Beloura Pestana Golf Resort nearby.
Do something good whilst in Sintra
Some of the forest around Sintra was burnt down during fires in September 2018. Since then, the association, Plantar uma Arvore, regularly plants new trees in the affected areas. Usually on Sundays, volunteers help them out and this is a great opportunity to do something positive and meet the locals of Sintra.
Visiting Sintra in Portugal
Sintra is rich in so many ways, despite its small size, there is so much to see and do! So, if you are contemplating a visit to Sintra on your trip to Portugal, we can definitely recommend making a day of it.
Our friends at Get Your Guide have some excellent Lisbon tours for all budgets and time frames. We are sure you'll find something you will like.
Do you have any questions about Sintra? Feel free to ask in the comments below. 
We also have a free newsletter that is packed full of tips and advice for your visit to Portugal. Subscribe today!