Is Portuguese cheese good? If yes, which is the best? Where can I try it?
Portugal is the homeland of amazing and tasty food (and Portuguese drinks!). The country's climate is one of the top reasons why our products are so delicious, and Portuguese cheese is no exception.
Let us guide you through the variety of cheeses we produce in this beautiful country.
Our Top 5 Portuguese Cheese Choices
Let us start from the beginning: depending on the country's regions, cheese production varies and each of the products is different in the way it tastes and in the way it looks (and, therefore, the form it is produced). Get to know the best types of cheese in Portugal.
1. Queijo da Serra da Estrela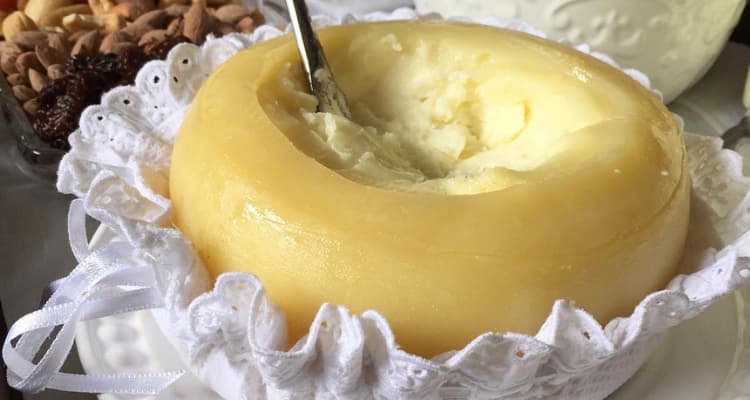 Right in the center of Portugal is Serra da Estrela, which names the highest mountain range in the country. To pair with its greatness is Serra da Estrela's cheese, a very peculiar one – extremely moist and creamy on the inside. This cheese is also very smelly but once you taste it you will forgive the rest.
There are people who eat it with a spoon, so you can understand how creamy it is. Made from sheep's milk, this Portuguese cheese is Portugal's most characteristic cheese. Truth or not, it is the oldest indeed since its production began in the 12th century.
We've also written an article about Portuguese Traditions. Some of them might surprise you.
2. Queijo de Azeitão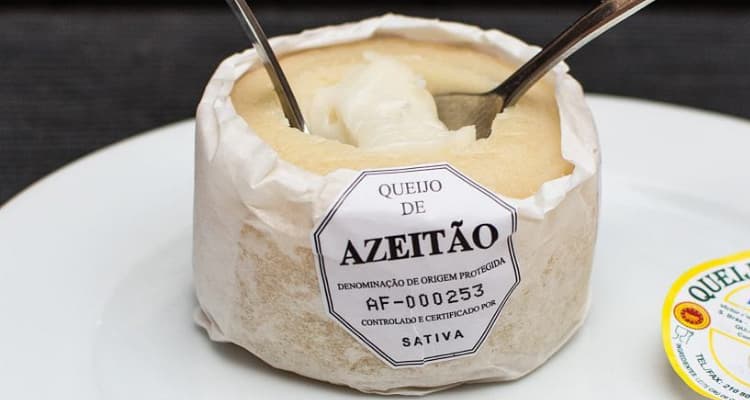 Also made from sheep's milk is Queijo de Azeitão, a creamy cheese (not as creamy as the first one) that is open at the top and not in the middle, as the other ones. Azeitão refers to the region in which this cheese is produced, which belongs to Setúbal (in Lisbon).
This is a strong-taste cheese with a thin bark on the outside. Before being sold, it goes through a period of cure, in which all the flavors start to gain form 20 days prior to the selling.
Looks delicious, no?
3. Queijo da Ilha
Another great Portuguese cheese comes directly from the islands, more specifically from the Azores. It is produced in São Jorge island and also known as Queijo São Jorge. People appreciate this one so much that the production can go up to 1800 tons per year.
This "island cheese" is much more consistent and completely made from cows' milk. Amongst with Queijo da Serra da Estrela, this cheese is one of the most traditional. It might also be useful to see our guide to visit the Azores.
4. Queijo Transmontano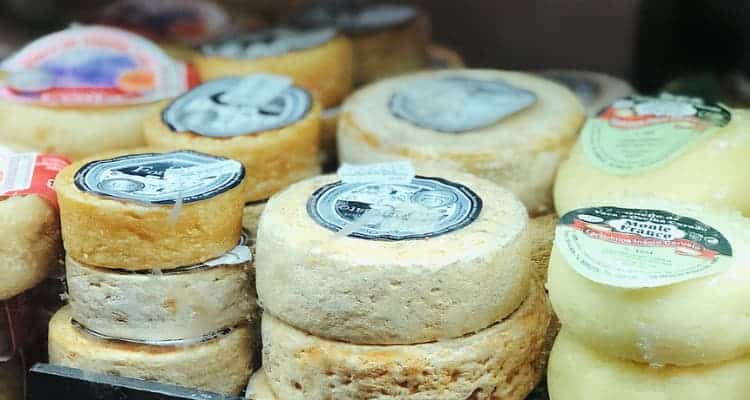 Made in the North of Portugal, in the regions of Trás-os-Montes and Alto Douro, Queijo Transmontano is made from goat milk. However, we are not talking about all the goats, since this cheese has to be specifically made from a particular goat breed: the Serrana one.
Queijo Transmontano has a soft texture and needs 60 to 120 days until it reaches its best flavor. It goes really well with thin toasts, jam, and white wine.
5. Queijo de Évora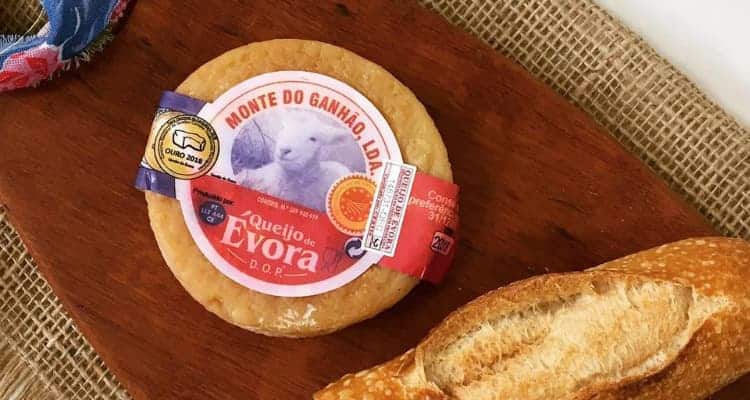 This Portuguese cheese is made in Évora, Alentejo, located more in the south center of Portugal. Queijo de Évora is made from sheep's milk and has a more yellow color than most cheese types. Unlike other cheeses, Queijo de Évora has a slightly spicy taste.
The alternative but good Portuguese cheeses
Pairing with the Top 5…
We had to make an ultimate top 5 of the best Portuguese cheeses, but there are some others we need to name for their unique taste:
Queijo de Nisa: another cheese made in Alentejo, from sheep's milk;
Queijo do Pico: from Ilha do Pico, in the Azores, comes this delicious cheese made exclusively from cows' milk;
Queijo do Rabaçal: produced in Coimbra – mixing goat and sheep milk;
Queijo de Serpa: also from Alentejo, a cheese made from sheep milk.
You might find it useful to know how's it like to live in Alentejo.
Portuguese Cheese Regions
By now, you should have probably noticed what the strong regions regarding cheese production are. Nevertheless, these are the top four cheese-producing regions.
Portuguese cheese from Serra da Estrela
This region, in the center of Portugal, has 40 cheese certified shops and 210 milk producers. Also, in 2017, the production flew up to 195 tons of cheese, with estimated revenues of €3,5 million.
See also, the best food you can find in the center of Portugal.
Cheese from the Azores
The Azores is very well-known for its milk, butter and cheese production. Consequently, in 2017, the island beat a record number in terms of milk production, with 611 million liters produced (in 2016, the production reached 603 million liters).
You can easily understand why this region has one of the best cheeses.
Cheese from Trás-os-Montes
In Trás-os-Montes, Queijo Transmontano is very popular and is actually served in restaurants all over the country. Consequently, every year, they produce 140 tons of cheese – impressive numbers, don't you think?
Cheese from Alentejo
Alentejo is such a nice region for cheese production that it actually holds an annual fair to sell and present their cheese types to the population and other visitors.
Cheese Terms in Portugal
Cheese is such a "thing" in Portugal that there are certain words that describe the way they are produced, the ingredients used and the characteristics that best describe them (in terms of texture and taste).
Surprising? Indeed.
Some of the most important terms are the ones that follow.
Queijo DOP
DOP means "Protected Designation of Origin". In other words, this seal (stamped in cheeses) certifies that a region is legitimate and legally authorized to produce the cheese of the region. Therefore the name of the cheese goes after the name of the region in which it is produced.
"Queijo Curado or Seco"
As in "cured", "curado" means the way that the cheese matures. It often needs a source of heat to be "curado", which normally is the sun (or the fire's heat, in some cases), that dries the cheese, which is why it is also named "seco" – that means "dry" in Portuguese.
You can't leave Portugal without tasting cheese and Wine. Read about the best Portuguese Wine.
Queijo Mole
This term refers to cheeses with a creamy texture, that do not have a hard texture.
Queijo com Casca
Cheese barks are essential for its flavor. Also, some are soft, others are hard and easily identify the type of cheese you're about to open.
Queijo em Barra
This is the main way cheeses arrive at places such as supermarkets and cafes, for example. Imagine a cheese in the form of a bar in need of being cut (to sell by weight or to serve in a sandwich, for example) and you'll get what Queijo em Barra means.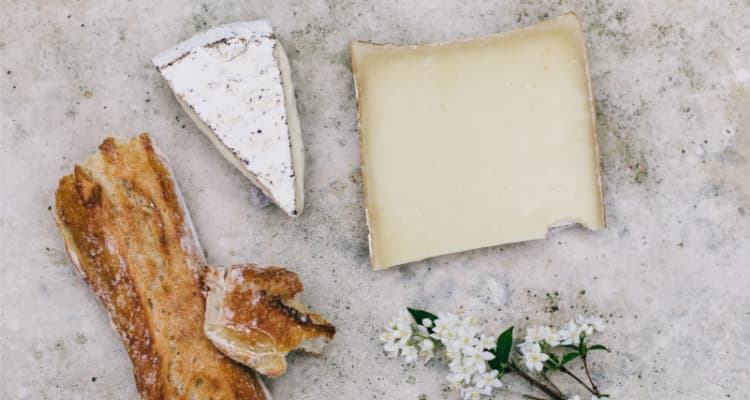 Where to buy Portuguese cheese?
If you are visiting a city in Portugal, you will easily find many stores selling cheese.
Common stores that where you can find Portuguese cheese are:
Continente;
Pingo Doce;
Mini Preço;
Jumbo;
Lidl.
See the complete list of the best supermarkets in Portugal.
If the region is typical for cheese production, then you will certainly find a shop selling its "crown jewel". There are, however, online shops in which you can buy cheese. The list below will help you choose:
Cheese & tapas restaurants in Porto and Lisbon.
If going to the supermarket and choosing all by yourself is not an option, alternatively, you can just go to a restaurant to taste Portuguese cheese.
Regardless if you're visiting Porto or visiting Lisbon, you'll always find Portuguese cheese in almost every single restaurant.
That being said, our advice is to find a "tapas restaurant" (modern & fancy) or a local "tasca" (traditional Portuguese restaurant).
Some examples:
Cheese truly is one of the best souvenirs you can bring from Portugal
Did you like this article? Subscribe to our newsletter to know more about Portuguese food and other things to do while in Portugal.