Porto Stadium or Estádio do Dragão,  translated as 'The Dragon Stadium' is an architectural landmark in Porto and the home stadium of renowned football club FC Porto.
If you're visiting Porto then make sure to add a Porto Stadium Tour to your itinerary. You might be asking "Why is it called The Dragon Stadium?"
Well, long before Game of Thrones brought dragons back, the dragon symbolized the strength and vitality of FC Porto.
Aptly, the dragon also features in both the FC Porto logo and the city's own coat of arms!
The current stadium was built to replaced the previous stadium, the Estádio das Antas in 2003. With capacity seating of just over 50,000 people, it's impressive scale also makes it the third largest football stadium in Portugal – just behind Benfica Stadium and Sporting Stadium.
Most recently, it will also host the upcoming 2019 UEFA Nations League Final and 2020 UEFA Super Cup.
Read on to find out everything you need to know for your visit to The Dragon Stadium!
Where is Porto Stadium?
Porto Stadium is located roughly 4km away from the center of Porto and is roughly 16km away from Porto Airport. It's close proximity to the historic center of Porto means it's super accessible to get to by public transportation for all visitors.
Check out our extensive Porto Stadium guide for everything you need to know about getting there as well as how to get tickets to an FC Porto game!
What can I expect to see on a Porto Stadium Tour?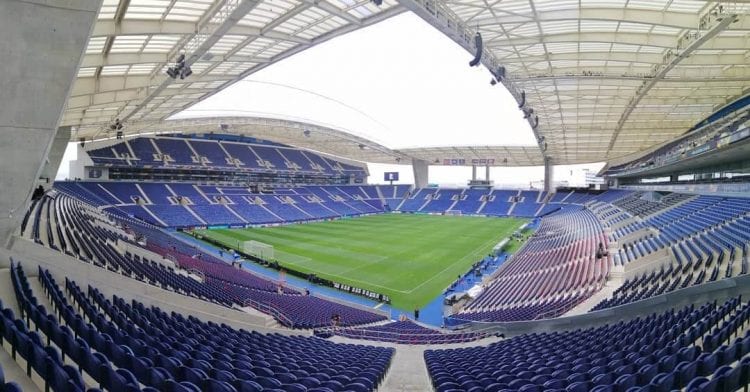 One can only truly appreciate the size and architectural beauty of The Dragon Stadium by booking a Porto Stadium Tour. You will gain full access to the world-class stadium,  away player's changing room, dugouts and even access to the presidential box!
Marvel at the iconic field that's been home to world-class football matches and historic concerts like The Rolling Stones and Coldplay.
A Porto Stadium Tour generally lasts between 90 minutes – 2 hours. It caters to all visitors as all areas are wheelchair accessible.
If needed, audio guides are also available to rent in Portuguese, English, French, Spanish and German by presenting your voucher on arrival.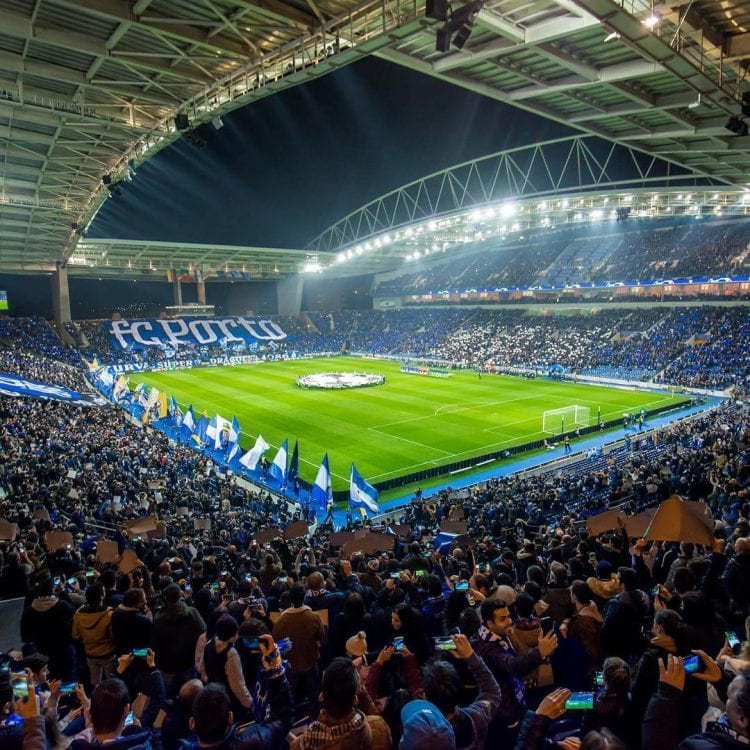 It's worth noting that stadium tours are unavailable on match days or on the days of major events. Check the schedule online to see if there is an event on the dates of your visit.
Our trusted friends at Get Your Guide offer tickets for your Porto Stadium Tour for €15 – with combined access to both the stadium and museum.
What can I expect to see at FC Porto Museum?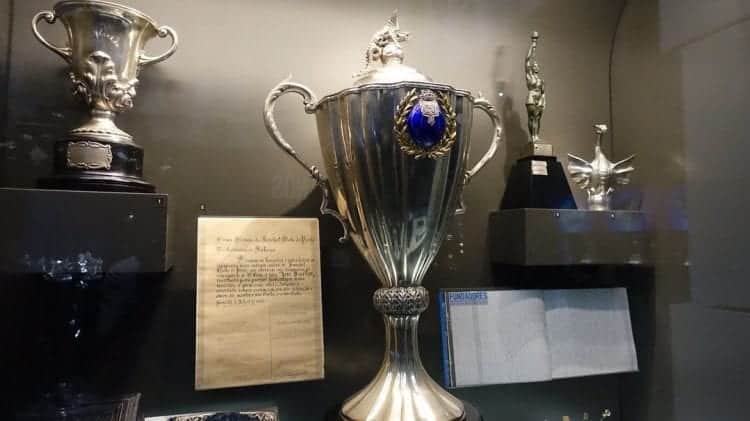 With your combined Porto Stadium Tour you also gain access to the FC Porto Museum. Follow the stars to discover the full history of the FC Porto football club and its significance to the Porto area.
The FC Porto museum combines three centuries of history in a mesmerizing exhibit that's just as appealing visually as it is informative.
Full of well-presented information on the club's history, the museum displays the club's vast amount of trophies and acclaimed objects (there's a lot of them to see!).
You'll be able to see the Intercontinental Cup, the UEFA Cup and the European Super cup just to name a few.
Regarded by visitors as one of the best football museums in Europe, this is an awesome addition to your tour. Even if you don't follow football, many visitors claim the museum to be just as impressive as the stadium itself!
Both tours to Porto Stadium and the FC Porto Museum are now also boosted with interactive content available on their FC Porto App. Make sure you download the app to access more information and exclusive discounts on FC Porto products and experiences.
Where is the FC Porto store?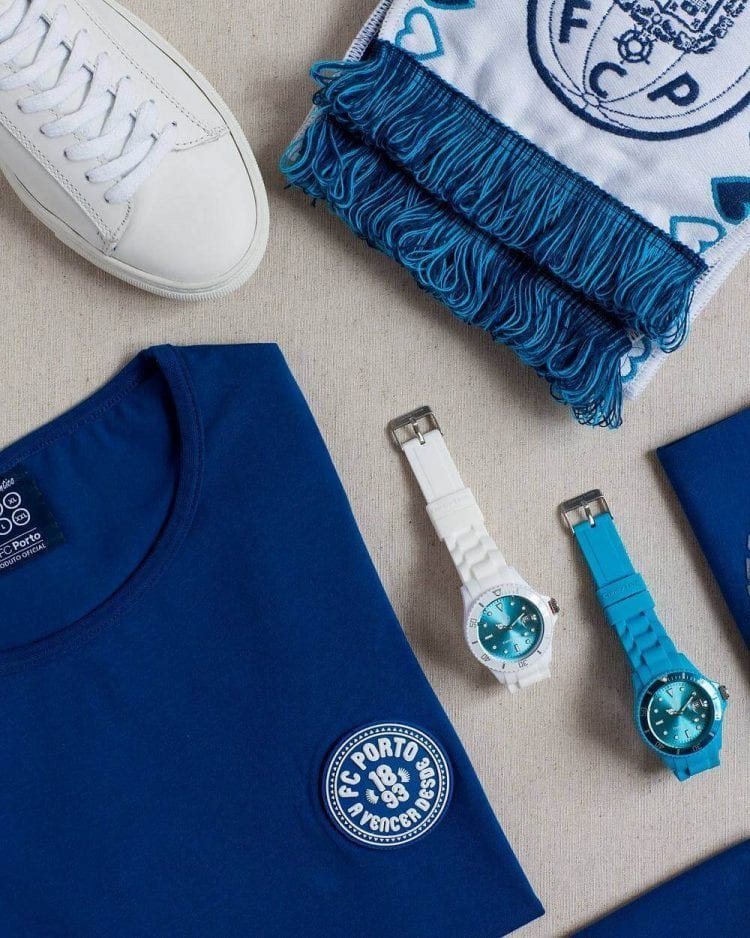 A visit to Porto Stadium isn't complete without going home with a souvenir (or even a few bags worth) from the official FC Porto store. At Porto Stadium you'll find the FC Porto official store which sells a wide range of accessories. You can grab everything from mugs, wallets, keyring's, books, watches and even an FC Porto themed Monopoly board game!
If you're watching a match or traveling for an away game, definitely make sure to grab some official FC Porto merchandise. You can find everything from flags, footballs, scarves, backpacks and of course, the iconic FC Porto jerseys all available.
The average cost of an official FC Porto jersey is €79. Full kids sets are also available for your little ones for around €70.
If you forget something during your visit, then don't stress because there are also a few stores around the city. You can find them in Arrábida, Norte Shopping Centre, Baixa, Gaia and outside the old FC Porto Stadium in Constituição.
Don't forget to check out our Porto Shopping Guide to make sure you haven't missed out on some great bargains around the city while visiting!
Porto Stadium: Home of the 2020 UEFA cup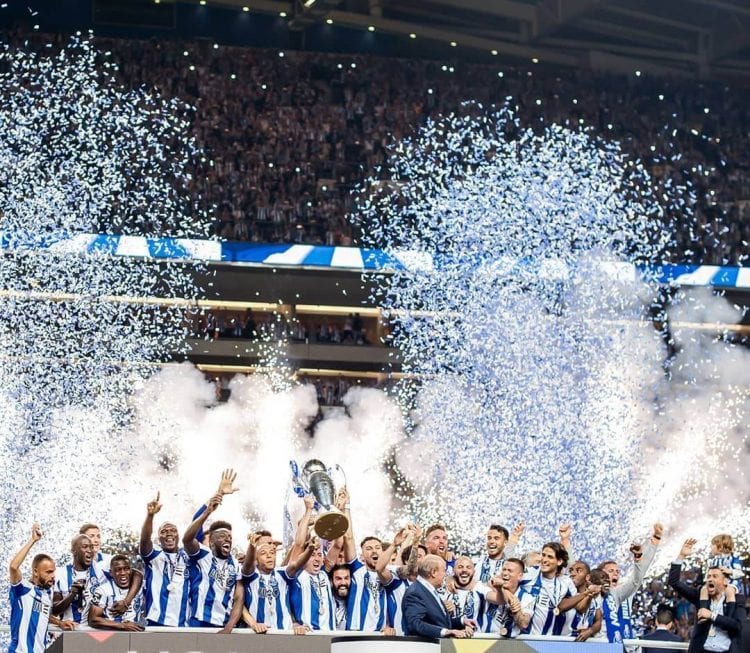 Great news for FC Porto fans – Porto Stadium will soon host the UEFA Super Cup in August 2020. Do you plan on a Porto Stadium Tour between now and then?
Make sure to also check out our Ultimate Porto guide to find out everything you can also see and do while you're in this beautiful city!