One of the most beautiful and unique parts of Portugal, Madeira, is actually located closer to Africa than the European continent.
That being said, you can visit Madeira easily from Lisbon or Porto, as there are many short and frequent flights.
All about visiting Madeira
If you decide to visit Madeira, you'll likely be treated to a warm temperate climate regardless of when you decide to go. Rich soils allow almost any flora to thrive and the stunning natural landscapes will make you gasp.
How large is Madeira Island?
Madeira island is the largest island of the archipelago at 741 km2 (286 sq miles). It is 57 km (35 miles) long (from Ponte de São Lourenço to Ponte do Pargo). It is approximately 22 km (14 miles) wide at its widest point (from Ponte da Cruz to Ponte São Jorge).
Madeira's coastline is 150 km (90 miles) long but there are no natural sandy beaches (only a few artificial ones) as this is a volcanic island.
Don't worry, the volcanoes are long extinct.
How many tourists visit Madeira each year?
As the island has expanded its accessibility, all sorts of tourists can visit Madeira and find something they love on this unique island. Last year, the Island saw almost a million tourists and this is vital to the local economy.
What language do they speak in Madeira and what money do they use?
Through the main language is Portuguese, many people speak English at least.
The currency is also euros just like Portugal and most shops and restaurants in Portugal take all major credit cards.
If you're interested in the currency of Portugal, you should read: Portugal Money, What You Should Know About Cash in Portugal
Who should go to Madeira?
Adventure seekers will find mountainous hikes and paragliding opportunities, families will be able to take advantage of the many beautiful parks, gardens and aquariums.
Looking for a place to relax? Check out Madeira's beautiful, natural environment. You will find gorgeous, natural swimming pools and world-class accommodation.
As we mentioned, Madeira has no natural beaches, so if you are looking for a beach holiday, then I would highly recommend a short flight from Madeira airport or a ferry ride to Porto Santo where you can enjoy beachfront hotels and long sandy beaches (and warm water!). It's very tranquil there too so ideal for a romantic getaway.
Whether you decide to visit Madeira for a weekend or a month, you'll find plenty to see and do.
Top experiences in Madeira
Discover the capital
Madeira's capital, Funchal, packs a lot of punch, yet is small enough to explore in one day. When you visit Madeira, you'll arrive in the capital and will be treated immediately to amazing architecture, a colorful Lisbon market in the old town where you'll be able to eat some of the most delicious fresh fruit and fish you've ever tasted.
Try out the thrill-seeking activities such as a 'no snow toboggan ride,'.  Funchal also has some great restaurants.
For those of you with an artistic disposition, be sure to check out the street art in Rua de Santa Maria. A public investment in local artists, the doors along this street each features a unique mural or, in some cases, sculpture display.
Explore the levadas
Not to be missed if you visit Madeira, the levadas are irrigation channels typical to the island. An impressive feat of engineering, they still bring water from the mountains, meandering through lush mountain vegetation.
Wanderers can wind along their curves for hours, while drinking in the beautiful scenery of Madeira's Laurisilva forest, the world's largest laurel forest and a UNESCO World Natural Heritage site.
Climb to the top of the world
If you want to visit Madeira and take on a challenge, the highest peak on the island might be calling your name. At 1,862 metres (6,109 feet), Pico Ruivo is totally walkable if you have the right shoes and keep up-to-date on the weather conditions. The route for sure-footed hikers begins at the Pico do Arieiro and takes around six hours.
If you're strapped for time, there are shorter, more manageable paths to the peak (like from Achada do Teixeira), but the full Ruivo trail will definitely present you with the most beautiful scenery.
You can book a guided tour at Get Your Guide which starts at only €37 per person.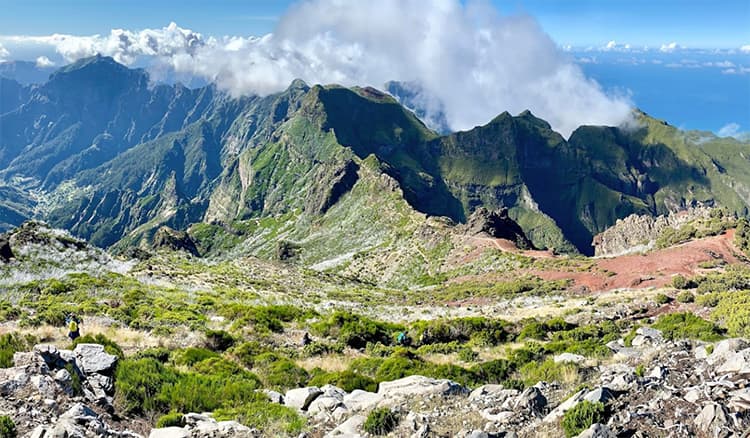 Take a thrilling cable-car ride
If a cable car sounds more appealing than a six-hour hike, then we've got the answer for you too.
Following the route of an old steam railway line is a modern cable car system whisking you up from Almirante Reis to Funchal's upper suburb of Monte. This is a great opportunity to take advantage of the photo-friendly views, the Monte Palace Tropical Garden and the Church where Emperor Charles I is buried.
Tickets can be booked through Get Your Guide and it's only €8.25 per person one-way.
Dive in at a world-class aquarium
Been dreaming of diving? Maybe it's time to visit Madeira. At the island's exquisite Aquarium (website in Portuguese), you'll be able to plunge into 500,000 litres of salt water, dive with sharks, rays, morays and hundreds of other fish.
But don't worry, before your dive you'll be taken by an experienced instructor from the Turtle Diving Center into an external, natural seawater pool where you learn how to handle the equipment and to breathe underwater.
This memorable baptism includes full equipment, a diving certificate and a guided tour of the aquarium and the Madeira marine life.
Swim in a natural seawater pool
While exploring the island, be sure to visit the north-west village of Porto Moniz where you'll find one of Madeira's most famous attractions. Here you can take a dip in natural, saltwater swimming pools framed by volcanic rocks that keep in the sea water that is replenished at high tide.
Cool and refreshing. This is sure to be one of your most memorable swims.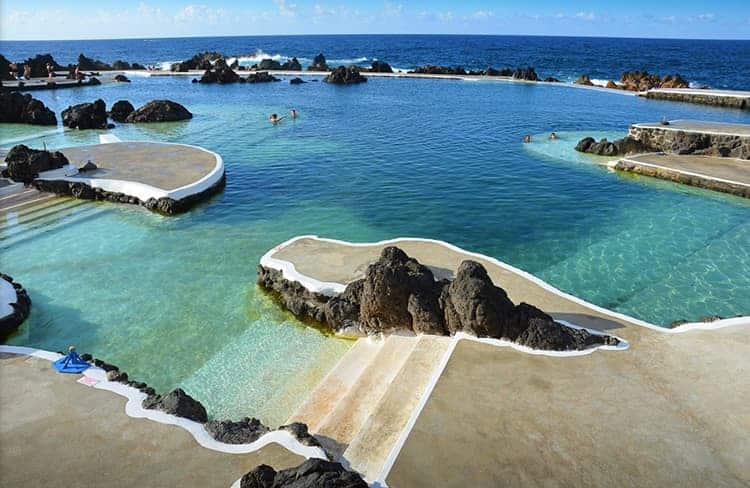 Sky walk the right way
Visit Madeira and see it from above. In 2012, a "skywalk" was installed on this 580 metre (1902 feet) high cliff on Madeira's south coast. Cabo Girão is not for those sheepish when it comes to being up high as the platform overhangs the edge of the cliff and has glass floor tiles that give you a clear, dizzying view to the ocean far below.
That being said, if you can handle the height, you'll be happy to know it's absolutely free.
Want more? Our friends at Get YOur Guide have so many tours and exciting things to do, you should check out their deals.
What to eat and drink in Madeira
Of course, if you visit Madeira you absolutely need to sample the island's namesake beverage. Madeira wine is fortified wine, aged under heat, and produced in the demarcated region of Madeira from approximately five distinct grapes.
It's sold as either Dry, Medium Dry, Medium Sweet or Sweet, all of which are marked by their high levels of acidity. Delicious on its own or in a cocktail, enjoy sampling different varieties.
What is the national dish of Madeira?
As in other parts of Portugal, the cuisine is largely prepared with fresh produce and fish. They also love their meat like many Portuguese and a traditional dish you could try is "Espetada" which is chunks of beef in garlic and salt skewered on a bay leaf stick.
When it comes to traditional snacks or street food, your best bet is their local garlic bread called "bolo do caco".
The bread is made as a toast on which they put lots of butter and garlic. If you are not into the basic variety, you can also add cheese, bacon, meat or tuna.
Scrumptious!
Why is Madeira cake called Madeira cake?
If you are familiar with Madeira cake, a fluffy sponge-like cake with a little lemon zest commonly served at afternoon tea in England, you might be wondering if it came from Madeira. Well, actually, no, it didn't. The cake is called Madeira cake because it was often served with Madeira wine in the 1800s.
How to get to Madeira and get around
The most convenient way to get to Madeira is by air. From Lisbon and Porto the flights are regular. The region has only two airports, Madeira International in the municipality of Santa Cruz and the other smaller airport is on the island of Porto Santo.
Reaching Funchal by cruise ship or ferry is another possibility which can offer a fun and exciting alternative way to visit Madeira. Just be aware that ferry services follow a timetable which must be taken into account when planning your trip.
There is also a regular ferry service between Funchal and Vila Baleira on the island of Porto Santo.
Although there are some local bus routes, renting a car or scooter is truly the best way to explore the island and get the most out of your stay. There are plenty of rental options available offering good deals whether you want to rent a vehicle for a couple days or weeks at a time.
If you're not a driver, you can also rent local taxis for the day for around €60 to €80.
Is it safe to travel to Madeira?
Yes, absolutely. Madeira is governed by Portuguese and EU law so just like any other city in Portugal, you can feel safe and secure in the knowledge that the infrastructure is the same. Also, the people of Madeira love visitors and you will be welcomed with open arms.
Want to know more about the laws in Portugal? Check out our article: What's Legal in Portugal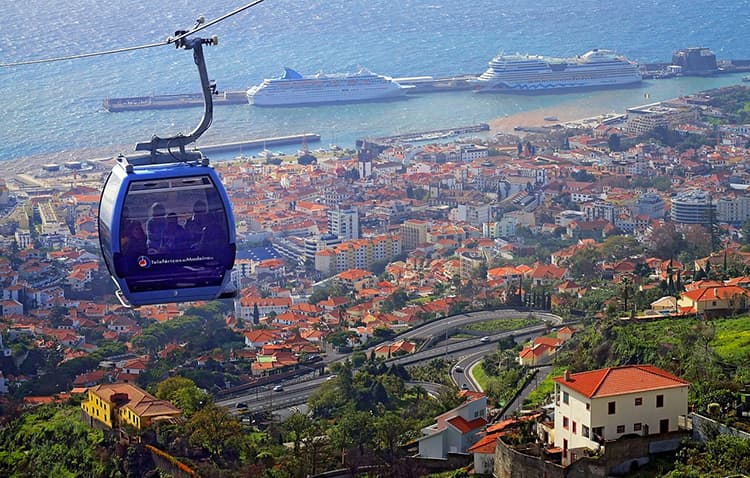 When to visit Madeira
Madeira's unique climate makes it a great holiday destination all year-round. That being said, if you're looking for lots of sun, winter might not be best time to visit Madeira as the weather can be quite wet.
The best time to go to Madeira for warm weather and comfortable temperatures is in spring or autumn. It's still very warm and you'll have at least nine hours of beautiful sunshine to enjoy per day.
Did we miss anything about Madeira? Do you have any experiences to share? We'd love to hear from you so please leave a comment below.
Don't forget to subscribe to our newsletter to be kept up-to-date on everything about Portugal.