This guide will tell you about the best beaches in Portugal's Alentejo region, where they are, and what they're like.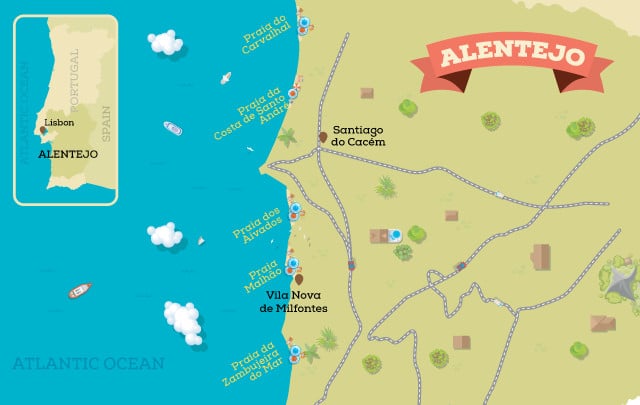 Here's your 2020 guide to the best Alentejo beaches
The Guardian newspaper called Alentejo the home of Europe's most beautiful beaches – and for good reason. Alentejo beaches tend to be more of a local's secret, but with this guide, we can uncover the secret beaches that are some of Portugal's most beautiful.
Want to know more about the best beaches throughout Portugal? Check out our full article on Portugal beaches here.

Praia do Malhão, Vila Nova de Milfontes
The coast on the way down to the Algarve from Lisbon is dotted with beautiful beaches in the Alentejo region. Most of them are protected in national parks, making them very wild and breathtakingly beautiful.
Situated in the Sudoeste Alentejano national park, Vila Nova de Milfontes is wild and undeveloped. There is always plenty of space to fit the locals and tourists alike, therefore this beach is a great option if you want to escape the masses and have a unique Portuguese beach experience.
Apart from the carpark, there are no facilities at this beach. It's not the best beach for families with young children, as there are quite strong currents here from the Atlantic ocean.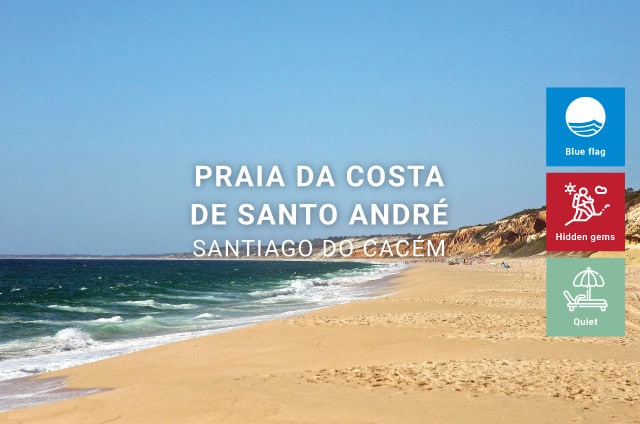 Praia da Costa de Santo André
The unique element of this Alentejo beach comes from its situation, between the ocean on one side and the lagoon of Santo André on the other. The beach itself has sand dunes and great waves for surfing, whilst the lagoon offers calm waters to families. Birdwatching is reportedly very good at the beach in Costa de Santo André.
Although it's a very natural beach with lots of biodiversity, the beach is still well equipped in terms of facilities, parking, and beach bars and cafes.
Lisbon airport is the closest to this part of Portugal, the journey takes a short one and a half hours in a car.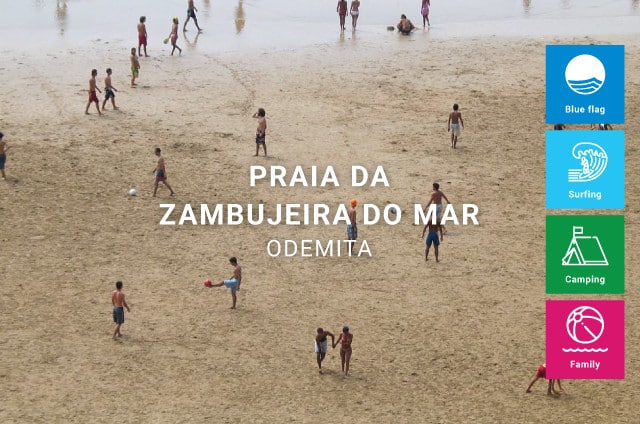 Praia da Zambujeira do Mar
The beach lies in the Costa Vicentina, in the Sudoeste Alentejano national park too. Praia da Zambujeira do Mar is a blue flag beach with great facilities, including crystal clean swimming water, a seasonal lifeguard and cafes.
Book your hotel with Booking.com
With Booking.com you can book the best hotels in Portugal for the cheapest price. Get instant confirmation, pay 0 booking fees and even cancel your booking for free at most hotels. 
Booking.com -
Find the best prices and prepare your trip to Portugal today
Praia da Zambujeira do Mar is surrounded by tall cliffs that have excellent viewpoints of the seascape beneath. The beach attracts surfers and body boarders, particularly those on their way up to Vila Nova de Milfontes. The beach mainly draws a Portuguese crowd and will be fairly busy during the height of the summer season.
It's around a two and a half hour drive from Lisbon to this beach, as it's directly between Lisbon and the Algarve.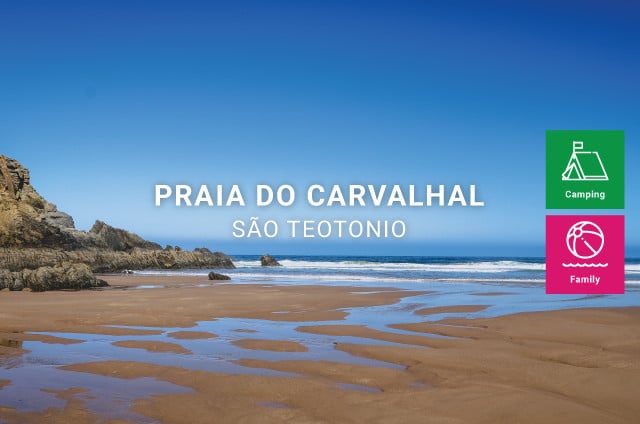 Praia do Carvalhal, São Teotonio
Here the beach is huge and sandy. Praia do Carvalhal is lined with sand dunes and a tranquil calm sea. The beach is very well connected to the motorway and has a big parking lot, so it's easy to arrive at which is making it more popular.
The path to arrive at the beach goes through pine forest and rice paddies, and this part of the region that is between São Teotonio and Odeceixe is very rich in nature. Along the river Seixe, there is a gorgeous eucalyptus forest which is a great place to take a walk too.
The drive from Lisbon is around an hour and a half.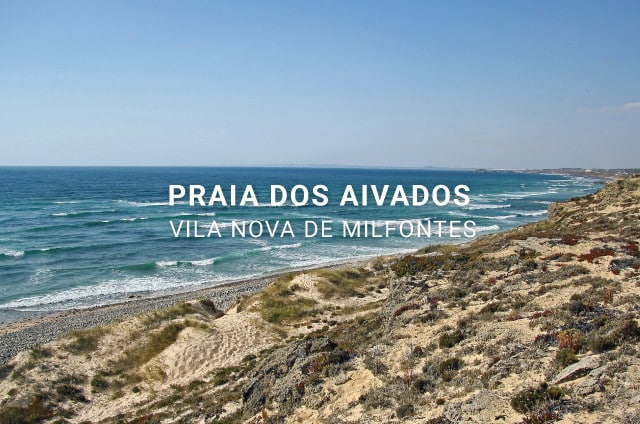 Praia dos Aivados
The beach Praia dos Aviados is also known as Buzinheiro beach. Dunes back this long, thin stretch of sand. It's mostly home to fishermen and surfers and is a very pretty place to while away the day.
Praia dos Aivados is large and doesn't get crowded. It's also often known to host surfing events. Natural vegetation surrounds the beach and there are lots of species of animals, unique to the area itself.
You can arrive at this beach from Lisbon by car in just under two hours.
Planning to visit Portugal?
Make the best of your trip with our tips.
Alentejo beaches FAQ
Does Portugal have nice beaches?
Yes, Portugal has beautiful beaches. In 2019, Portugal named a total of 352 Blue Flag beaches, which means you could go to a different Blue Flag beach in Portugal nearly every day of the year. Portugal's coastal beaches received 317 Blue Flags, and 35 inland beaches earned the designation.
What is the best part of Portugal to holiday?
The best part of Portugal for a vacation depends on your interests. If you're a surfer or beach lover, the best holiday spots will be on Portugal's long, beautiful coastline. If you like cities, Lisbon is a hip, bustling vacation spot. Portugal also has beautiful vineyards and quaint villages.
Does Portugal have sandy beaches?
Yes, Portugal has beautiful, sandy beaches. While the most popular area for beach vacations is the Algarve, in southern Portugal, vacationers love the sandy beaches in the Lisbon region, the Alentejo region, Portugal's central coast, and its northern coast, too.