No other way of travelling will give you a feeling of freedom as much as camping.
Well, maybe one… camping in Portugal!
Let me share my experience as a former nomad, living in a caravan for five months. Let's explore the best places and lets find out what would be the best form of camping for you!
Best places to camp in Portugal
Definitely, the most popular place for camping in Portugal is the Algarve, but is it also the best one?
Well, it depends on you: Do you mind being surrounded by so many tourists?
Or do you feel safer with fellow campers around you?
In any case, the Algarve has numerous great camping grounds with good amenities for you.
Calmer areas to camp in Portugal
If you are more the 'into the wild' type of camper, you would be better off outside the typical tourist hotspots like the Algarve. For you, I would recommend going completely out of season. In April and October, it should still be warm enough for camping in Portugal.
The area north of Sagres, along the coast up to Lisbon, has breathtaking views and you will often be the only lone wolf there.
Generally, Alentejo is beautiful and one of the best places to stay in Portugal, where you can camp wild in many places without bothering anyone, except for some sheep that are so used to having the fields all to themselves.
Caravanning if you are a surfer
Surfers will, of course, love the area around Peniche and Ericeira, north of Lisbon, where there is plenty of space to park for a night and surf during the day. As much as locals might not appreciate it, surfing and caravanning go together like surfboard and wax.
Not far from the capital, you can stay at Carcavelos Beach where they have outdoor showers and a great swell for surf-lovers.
Around Lisbon
There is an unofficial caravan spot very close to Cais do Sodré, which is basically central Lisbon.
The Lisboa Camping and Bungalows campground can be found in Monsanto, the closest forest to the city, and you can stay there if you are traveling with a tent.
Roteiro Campista is a great source for finding a campsite all around Portugal.
Pros and cons of camping in a caravan in Portugal 
On my five months' journey with Esmeralda (my Mercedes Sprinter van that I had converted to a caravan), my main problem was finding a restroom and a way to shower.
Usually, van people do not like to stay in campgrounds. The whole idea of van life is to sleep where you feel like stopping, not where a map tells you to stop. If you have the budget for it and are the type of person that doesn't function well without a daily shower, you might be better off with a real motorhome for camping in Portugal.
The van community is super nice and it's so easy to meet fellow van people. It is very free, but remember that you still have to get water regularly and cooking in a van can take up a large chunk of your day.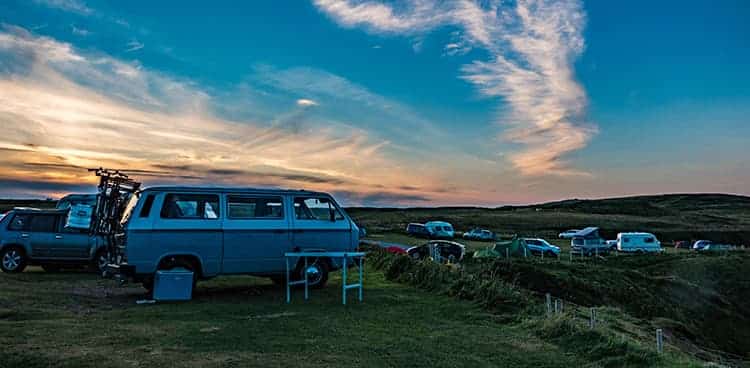 Pros and cons of camping in Portugal in a tent
The biggest advantage of camping in a tent is obvious: it's a lot cheaper than caravanning or staying in a hostel.
Often you can find a hidden spot where there is literally nobody to bother you. By foot, you can conquer a lot of those hidden beauties, that a vehicle can not.
But consider the weight of all the things you have to take with you: A tent, sleeping bag and maybe even cooking equipment if you plan to go really remote.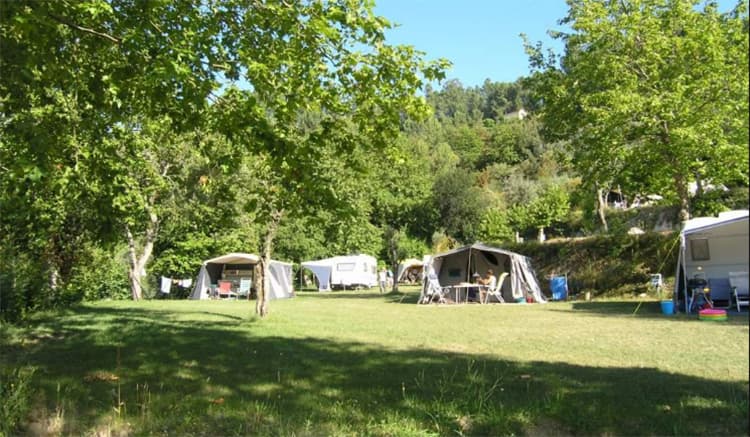 Wild camping in Portugal
Generally, wild camping is not allowed in Portugal. That being said, not allowed doesn't necessarily mean forbidden, it's rather a grey area for camping in Portugal. Different authorities handle this issue in different ways. In some heavily frequented places like the Algarve, there are task forces who fine illegal campers with fees up to €400.
In other places, there have been many cases where the police helped set up temporary spaces for campers. For example, when there was a danger of fires in the summer near the Algarve, they asked the campers to move but helped them relocate.
Making a fire
Speaking of fires. The numerous fires in Portugal have become tragically infamous because of the high number of deaths associated with them. So making a fire at a campsite is, of course, not permitted by law. Logical right? If you violate this rule,  you will be penalized with high fines.
Campground costs in Portugal
Depending on the camping ground, the cost for one night with a tent will be around €5. Outside the season, it's sometimes half price. For really posh places, you can end up paying around €20 per night.
Sometimes, there is an extra cost for using the showers.
Depending on how long you intend to travel for, it may be easier and cheaper to just rent a camper van. There are many offers around but Indie Campers is probably the biggest company in Portugal that rents vans.
Rental prices start from around €60 per night. Their campers even have a wifi connection. What total luxury! In my caravanning days, I never met anybody with wifi!
Showering and restrooms for wild campers
As mentioned, the biggest challenge with wild camping is finding places to freshen up. Here are some places I used to frequent:
Hostels;
Swimming pool centers (indoors and outdoors);
Fitness and other sports gyms (sometimes I would go Thai boxing just to use the shower afterward)
Turkish baths (hammams); and
Outdoor showers at public beaches, of course!
Some more great tips for campers
If you usually don't know in the morning where you want to end up in the evening, the park4night app is for you. You can find official campgrounds, showers and other amenities and also great hidden treasures for camping in Portugal and Europe. Don't be mislead by the name, campers with a tent will also find it very helpful.
And don't forget Roteiro Campista which I mentioned earlier. Here you can find a great map with lots of camping spots all over the country. Happy camping!
Did I convince you of how great it is to camp in Portugal? Do you have any experiences to share? Feel free to leave a comment below.
We publish new content every day so be sure to subscribe to our newsletter to get notified of the latest tips for your visit or move to Portugal.