Despite the attractive marina, well-maintained parks and plazas, a historic old town, full of pedestrian lanes and outdoor cafes; Faro in the Algarve is sometimes bypassed by visitors.
But it shouldn't be and I'm going to tell you why Faro is so worth your visit.
Why should you visit Faro?
Faro is a wonderful and captivating city and I'm going to show you why this very distinct and very Portuguese resort town shouldn't be overlooked.
Come with me on a trip through beautiful squares, marvellously preserved medieval quarters, curious museums and even a bone chapel.
Where Is Faro?
Wondering where Faro is actually located?
Well, it is situated on the Eastern Algarve, just under an hour from the Spanish border.
It is the capital city of Algarve and is in the central region, boasting both a fantastic metropolitan city location and island beach; making it a perfect Portugal holiday destination in itself and offers easy transfer to resorts across the region.
Avoid the queues at the airport with one of these transfer services.
Things To Do In Faro
Surprisingly, there are a lot of things to do and see in Faro and this guide will detail the most popular activities for a holiday, or even a short stay.
For those of you who are planning to visit Faro as a day trip and want to know more about the main tourist sights in the city, here is a list of things that you can do during your trip.
Explore the old town of Faro
The extensive history of Faro is reflected in the sights and monuments of the old town. You don't need to spend a whole day exploring this delightful section of the city.
The city centre is walkable and many parts have been pedestrianised.
There may be narrow streets with equally narrow pavements, but along these streets, you will find plenty of cafes, restaurants and bars that are also worth to stop by for an afternoon in.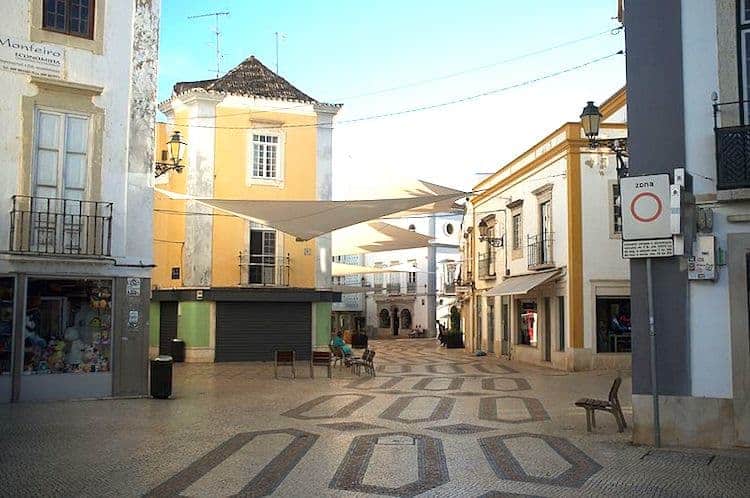 The historic centre is surrounded by ancient Moorish city walls, and can be entered through the decorative Arco do Vila gate; with cobblestoned streets that lead up to the gothic Se Cathedral, Paço Episcopal Palace and the Nossa Senhora convent.
Check out all the wonderful activities you can do in Faro right here.
Visit the Parque Natural da Ria Formosa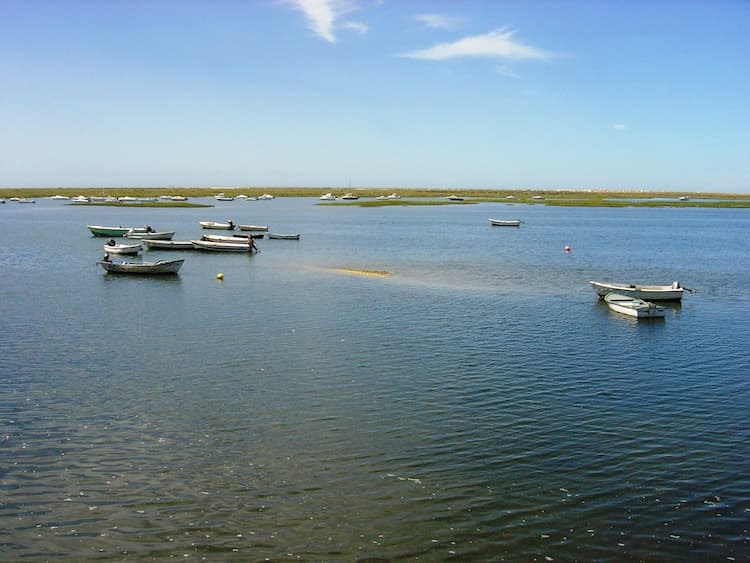 The Ria Formosa Natural Park is a series of protected saltwater lagoons and mud flats between Faro and the sand dune islands. These sheltered waterways are a haven for migratory birds and the wildlife.
In the afternoon, why not join one of the Ria Formosa boat tours and explore the waterways in a relaxing manner?
There are slightly different tours offered by multiple companies.
A 2 hour and 30 minutes guided tour around the national park and a stop at both of the sandbar-islands (Ilha Deserta and Ilha da Culatra) will cost around €25. Buy your ticket here.
For those on a budget, you can catch the ferry and head to the Ilha Deserta (deserted island). The price of the ferry ticket is €10, buy it here.
Visit Faro's Capela dos Ossos
If the National Park does not appeal to you, then a visit to the Capela dos Ossos will.
The Capela dos Ossos (Chapel of Bones) is truly a unique sight of Faro, with walls that are lined with the bones and skulls of monks that were exhumed from the Faro's cemeteries.
This small chapel has the bones of more than one thousand monks who were buried in the graveyard, which makes it quite ghoulish but a must-see if you're in the area.
Don't forget to visit Faro's surroundings, such as the beaches
The city of Faro has no beaches, however, there are a few beaches that surround Faro and are within walking distance of the city centre.
These beaches are very relaxed and have none of the major tourist developments that are frequently found in other Algarve towns.
The Praia de Faro beach is the most accessible, as it is connected by a bridge and regular bus service to Faro. This beach is quite popular with Portuguese tourists who flock there during the summer period.
There are also quite a few cafes, holiday homes and restaurants close to the bridge which makes it easier for those who want to stay the night.
Curious about other Portuguese beaches? Check out the famous and not so famous beaches in Portugal.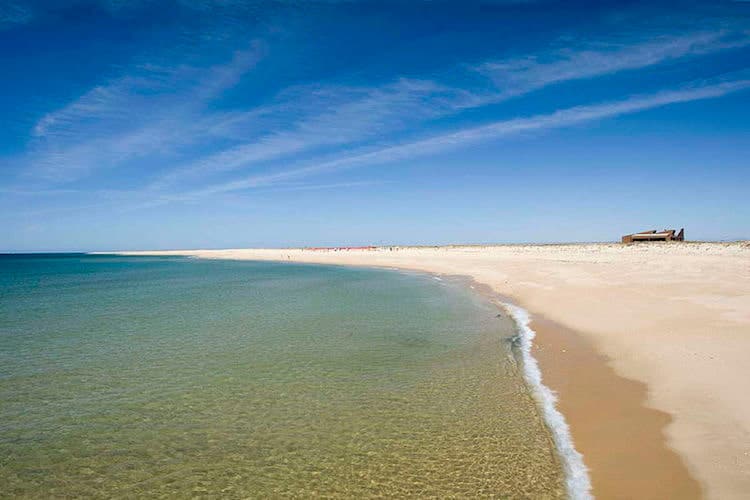 If you want to truly escape the summertime crowds though, you should visit the Ilha Deserta (the deserted island). This is one of the quietest beaches of Algarve islands.
Other good beach islands include Farol and Culatra, which also have a traditional fishing community. Click here to discover the best beaches around Faro.
How To Get To Faro?
The city of Faro has quite a privileged location which is enhanced by the proximity to Faro Airport. There are various national and international airline regular flights connecting Algarve to several main European cities.
Faro airport is the main international airport of Algarve and southern Portugal and is only 7 km south-west of Faro city centre.
Considering that Faro airport is the major gateway to southern Portugal, there is very limited public transport that departs directly from the terminals of the airport.
The local bus services are number 14 and 16. These two routes are the only public transport option to travel from the airport to the city of Faro. There are also taxis available.
If you want to know more about Faro airport check out our Portuguese airport guide.
Getting to Faro by Car:
The Algarve region can easily be reached from anywhere in continental Europe. There is quite a good network of motorways and dual carriageways that allows one to reach Faro across attractive regions of southern Portugal.
From the city of Lisbon, it takes about 2 hours and 30 minutes by motorway (A2). And from Spain (Andalusia), it takes less than an hour going by the motorway A22.
Check out this awesome car rental service.
Getting to Faro by Train:
Faro's city centre can easily be reached from Lisbon by catching the train.
The Lisbon to Faro route tickets must be pre-booked either from a train station or from the CP website. A trip from Lisbon will cost around €20 to €30 one way, depending on the service.
You also have the choice of going via the Alfa Pendular trains which provides a better level of comfort with free WIFI and buffet service.
Please keep in mind though that all tickets must be pre-booked. For more information, please visit the CP Comboios De Portugal website.
Getting to Faro by Bus:
The last alternative for public transport is the bus. The bus from Lisbon takes around 3 to 4 hours and will cost around €16 one way. You can take a bus with Eva or Rede Expresso from Sete Rios bus terminal.
If you are coming from Seville, Spain; you can also take the bus with Eva, Damas or Eurolines which can take around 1 to 3 hours for the price of €21 one way.
Day trips from Faro
The city of Faro is not the biggest so you might find yourself looking for more things to do around there.
So, why not visit other towns close to Faro?
When you visit Faro, I would suggest you drop by to one of these beautiful towns that are close by.
There are two recommended destinations:
Visit Estói in the Algarve
Estói is a beautiful small village with the pretty Palace of Estói (Palácio de Estói) and the astonishing Milreu Roman ruins.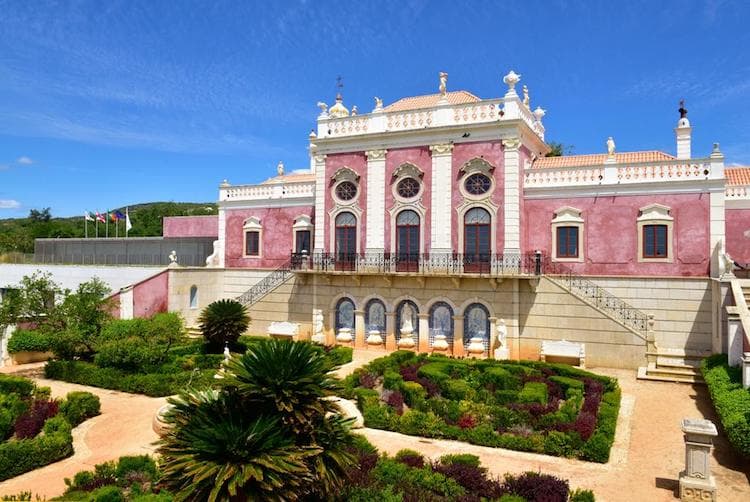 The palace is one of Algarve's finest examples of a 19th-century Rococo-style (Late Baroque) building. The grounds of the palace are examples of Portuguese tiles (azulejos) and the gardens provide a beautiful backdrop to the distinctive pink colour of the building.
The Estói Palace has now been converted into an exclusive hotel, but non-hotel guests are welcome to visit this palace.
Visit the Milreu Roman Ruins
The Milreu Roman ruins include a mansion (Villa of Milreu) and a small temple. Within the complex are wonderfully preserved mosaics, partially due to the house being built over the original Roman building.
Visit Olhão's fishing harbour
Olhão is a busy working town that has a completely different atmosphere from Faro. There are a large fishing harbour and a shoreline containing traditional buildings with a maze of old fishermen's houses behind.
From Olhão's harbour, there are tours of the Ria Formosa Natural Park. One of the most distinctive buildings of Olhão is the Moorish inspired fish market.
Best Time To Visit Faro?
The best time to travel to Faro is during September when the temperatures are warm. The weather can be dry but, on the upside, the accommodation is much more affordable.
During September, you can get a room in Faro for as little as €60 per night. A considerable price difference compared to what you would pay in August.
What Is The Temperature Like In Faro?
Average temperatures may hover in the 20°C (high 70°F), just a bit colder than the average 26°C (80°F) you would get during the high season.
Peak times to avoid in Faro
If you want to avoid the crowds,  you should try to avoid the busy summer months (July and August), the Christmas/New Year week (December 23rd to January 4th), as well as the Easter week (March 25th to April 7th).
If you're on a budget; accommodation rates are quite high during these periods. Autumn starts from September to November and is initially warm and sunny.
Summer in Faro
Summer starts from June to mid-September and is warm and sunny. Some days have cool, Atlantic weather, with highs around 20/23 °C (68/73 °C) in June, and 24/26 °C (75/79 °F) in July and August, while at other times there are hot days.
Don't forget that tourism peaks during the summer so expect higher lodging rates if you go around that time.
Autumn in Faro
In October, there are many warm and sunny days, especially in the first half of the month; but by November it is well into autumn with mild weather and often cloudy and rainy.
From November through to December it is the rainiest time of the year so if you visit Faro during this time, don't forget to pack your umbrella.
Winter in Faro
Winter season starts from December through to February and is quite mild. During this time it is often characterized by sunny periods and alternating with periods of bad weather, such as wind and rain.
In the coldest nights the temperature drops to freezing (0 °C or 32 °F), but during the day it typically rises above 10 °C (50 °F).
Spring in Faro
The fresh Spring season starts from March to May and is mild and sunny. In March and the first half of April, there may still be a bit of instability though with some rain.
Accommodation in Faro
The accommodation in Faro is so varied that whatever kind of break you're looking for, you will definitely find the perfect place to stay.
There is a vibrant mix of boutique hotels, two to three-star guesthouses and hostels that are delightfully eclectic. It is also a relatively small city so wherever you stay, you won't feel isolated from the main sights and attractions.
Majority of the two to three-star hotels in Faro lies towards the north of the marina, where the most upscale hotels in Faro tend to be close to the marina; offering admirable views, rooftop pools and bars which you can enjoy.
Cost of accommodation in Faro highly depends on the time of the year. During the peaks of summer, the accommodation rate may rise up to €150 per night in comparison to the cold winter period, which can drop down to around €20-€30 per night.
Keep in mind accommodation rates also depends on the type of accommodation, whether it is a budget hotel or luxurious. Find and book your accommodation in Faro with Booking.com.
Is Faro worth a visit?
Faro is for many just the gateway to the Algarve. Visited by 12 million tourists every year, it's easy to just quickly take a taxi and head to your next destination without really appreciating what this city has to offer.
I hope that after this tour through the city I have been able to show you the real Faro. A charming, diverse and intriguing city that is definitely worth visiting.
Take your time and enjoy an authentic Portuguese experience that combines extensive history and interesting tourist attractions.
Do you want to know more about Faro? Let us know your questions in the comments below. 
For more articles about visiting Portugal, sign up to our newsletter.