Sagres in Portugal is a small coastal town, known for its great surf beaches, and position at the most western point of the Algarve once thought of as "the edge of the world".
The city today is still relatively untouched by tourism in comparison to other cities in the Algarve, instead offering visitors plenty of scenic destinations ideal for holidaymakers and surfers.
Sagres, Portugal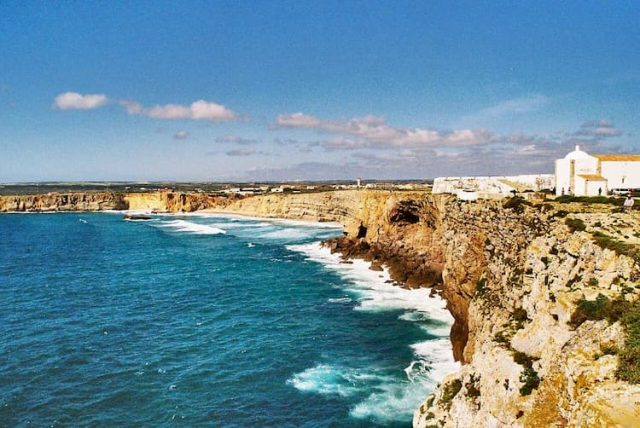 A trip to Sagres will likely involve visiting many beautiful beaches, a distinctive fort and lighthouse, and a cliffy coastline.
The town centre is low-key, with many residents warmly welcoming visitors interested in the outdoors and love of the ocean.
Read on to find out why you should visit Sagres in Portugal this summer.
Where Exactly is Sagres in Portugal?
Sagres is located at the extreme western tip of the Algarve and covers an area of 34.37 square kilometres.
There are several ways to get to Sagres, from either Faro, the closest airport, or Lisbon, the country's capital.
If you are en route from Lisbon, the journey will take around 3.5 hours by car or bus.
And if you are coming from Faro, you can journey by car, bus or train, and can expect to arrive within 1.5 hours.
Find out how to get to Sagres with our airport guides: Your Lisbon Airport Guide, Everything You Need to Know and The Algarve Airport: Tips to Plan Your Trip to The Algarve, Portugal.
Weather in Sagres
Sagres experiences milder temperatures than other parts of the Algarve because of the large winds coming in from the Atlantic Ocean.
Summer temperatures will usually peak at around 25 degrees while in winter, they may fall just under 10 degrees.
Surfing in Sagres
Sagres is fortunate to experience good surfing conditions all year round.
Sagres is home to some of the best surfing waves in Portugal, amongst other favourites like Peniche and Nazaré.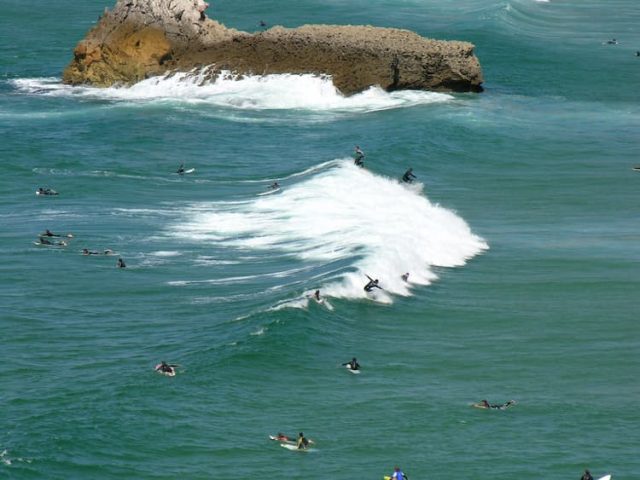 There are massive and powerful swells rolling into the shores from the Atlantic Ocean.
Its location on the southern headland has resulted in the beaches of the town all facing in different directions. This means that some beaches are more sheltered from waves than others, providing a prime location for surfers of all experience levels.
There are many surf schools in the area with lessons offered in different languages. You can also hire boards and wet suits from various surf shops at cheap prices.
Praia do Tonel is a popular beach choice amongst surfers. It is situated on the exposed northern side of Sagres: and patrolled by lifeguards in the summer months.
Discover more places to surf with our 20 Best Places to Go Surfing in Portugal: An Expert's Guide.
Things to do in Sagres if you're not Surfing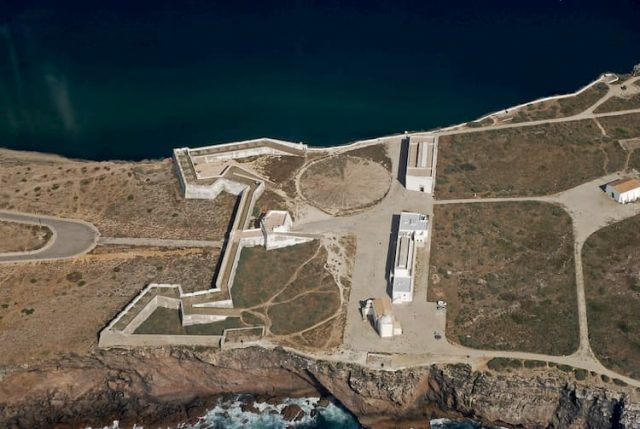 Visit Fortaleza de Sagres – the location of Prince Henry's School of Navigation from the 15th century. It was destroyed in 1587 and later rebuilt in 1793.
Walk around Cape Saint Vincent, aka "the edge of the world" – Here you'll be confronted with roaring winds and waves, and scenic spots, including a lighthouse and views of the high cliffs overlooking the ocean. It is quite a site! I booked this tour while holidaying in Lagos and it was phenomenal.
Join a boat or fishing trip with Cape Cruiser. Discover the cape and perhaps even spot some swimming dolphins!
Picnic on the beach! There's no better way to spend a beach holiday than to relax, sunbathe, and splash around in the water.
You can head to Praia da Mareta, the town's main beach, which has plenty of car parking and is popular with families.
Book this amazing sunset tour and visit the most important points in Sagres. This is an experience you really won't forget.
Hotels and Hostels in Sagres
If you're visiting Sagres in Portugal, don't worry, there are plenty of hotels, resorts, hostels, and Airbnb's available to meet your holiday needs.
Here are some of our favourites:
Best Restaurants in Sagres
Eating in Sagres is perhaps just as good an experience as managing to stand up on a surfboard!
Here are some of our favourite local restaurants!
A traditional Portuguese restaurant in Sagres known particularly for its seafood, excellent service and cheap prices. I recommend the rabbit or the scallops, but you'll likely enjoy everything on the menu.
Renowned for fresh fish and its authentic Portuguese atmosphere. There's no menu here, simply pick which fish you want to eat from the display cooler and dinner is served.
If you're looking for some alternative cuisine to Portuguese, then head to this restaurant for all things Mexican! The burgers and the quesadillas here are superb.
Here you'll enjoy a menu with both local cuisines, and Mediterranean and Italian options. Its location is also divine for watching the sunset.
And finally, for a beachside "hangout", we recommend this cosy surf bar for chilled beach vibes and delicious food.
So, Should You Visit Sagres in Portugal?
Yes!
If you love the outdoors and the ocean, Sagres in Portugal is a great destination to visit this summer.
It is full of pristine beach spots, excellent surf waves, delicious food, and of course, it is the EDGE OF THE WORLD! Don't miss it.