There's a little seaside town not far from Lisbon that you must visit.
Why? Because this little town has it all: typical Portuguese streets, food, history, culture and of course, some of the best beaches in the area.
Ideal for families, holidays and surfers, Ericeira is truly something special.
Visiting Ericeira in Portugal
Take a 40 minutes' drive away from Lisbon and you will find Ericeira. Apart from being a surfing mecca, it is also a great place for enjoying sandy beaches of Portugal and spending time with friends or family.
Ericeira is a lovely Portuguese fishing town which offers a number of things to do for everyone, both day and night. It is one of the most beautiful seaside resorts on the coast.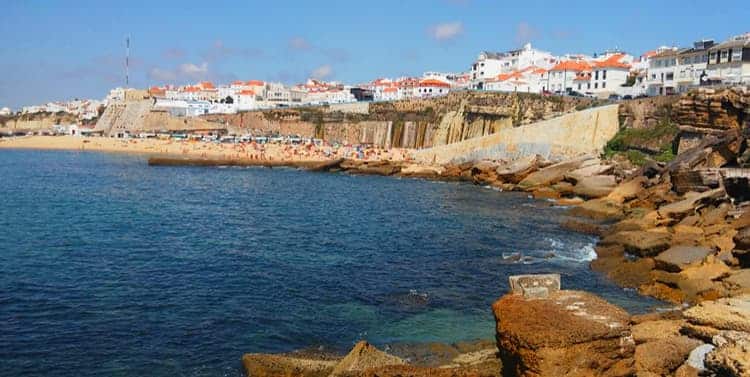 Of course we are going to talk about surfing in Ericeira a lot. But this town is not only about surfing. It's a very nice place for a day trip or a holiday.
Ericeira is a multicultural town with much to offer in terms of food and culture. Before becoming a famous surfing spot, Ericeira was very popular because of its restaurants and in particular, seafood.
Today, the local cafés are part of the joy you will experience in this town. You can sit on the terrace with a cup of coffee feeling the ocean breeze on a warm afternoon and do absolutely nothing. A calm and relaxing atmosphere is everywhere here.
The Portuguese themselves enjoy this town very much and often choose it for their weekend escape or summer vacation.
Ericeira offers both a chilled daytime scene and a lively nightlife, along with excellent accommodation options and top-rated tourist facilities.
Personally, I'm not a surfing fan, but this picturesque and peaceful fishing town has stolen my heart and maybe that's the magic of this place, which attracts more and more tourists every year.
If you want something to do besides relaxing on the beach, there are beautiful local churches, chapels and typical little streets to explore. You can also take a quick trip to Mafra to see the famous Baroque palace or drive out to Sintra, one of UNESCO's World Heritage sites.
Some more things to do in Ericeira
Paddle boarding in the river or the sea
A lot of schools offer paddle boards to hire, private or group lessons and excursions on the boards. The Lizandro River flows into Foz do Lizandro Beach and is the perfect place for stand up paddling.
This school will give you a two-hour lesson and includes board hire, a wetsuit and insurance so you can get started without any worries at all.
Once you get the hang of it (believe me it's really easy and a lot of fun), why not hire a board for the rest of the afternoon and cruise up the peaceful river? The idea is to enter the beach and follow the river upstream, which takes you past the farmlands on the shores.
Do a nature walk or ride a bike
Ericeira is surrounded by hills and valleys that are worth discovering on a walk or by bike. Near the shoreline, you can find trails that lead you through a natural landscape.
If you're a serious hiker, here are some maps you can follow for some spectacular walks.
For the mountain bike enthusiast, Ericeira Bike offers some fun tours in and around Ericeira.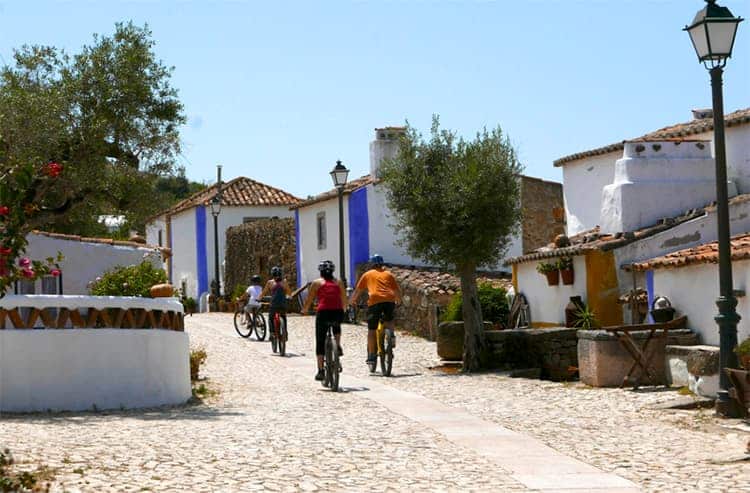 Skate right next to the sea
Kids (and adults) will have a great time in the fantastic Quiksilver Skate Park. You can hire and buy gear at Boardriders in Ericeira where the friendly staff will always give you the best advice.
Spas and Yoga classes
Frankly speaking I'm not a yoga fan, but I was impressed by the number of offers. Here are some of you should try in Ericeira.
Surf Yoga Portugal have packages with accommodation, surfing lessons and yoga all in one.
Elemental Yoga have lessons for all levels with different practice styles. You can even book a private lesson.
The Moka Surf House and Yoga Retreat mixes up surfing and yoga which is ideal for a weekend away to completely get in touch with nature.
Surfing in Ericeira
Most likely the surf has to be at the top of your list of things to do in Ericeira.
Ericeira is most famously known as the surf capital of Portugal or a "Surfing Mecca". It has been a World Surfing Reserve since 2011 and hosts an official world-class surf zone of approximately 4 km (2.5 miles) of coastline with seven breaks.
The level of difficulty for surfing the waves here is high, and you need to have some knowledge of the sport and where to go to safely ride these waves.
But, if you've never tried the sport, do not despair, because you can also have your first surfing experience here!
Several surf schools offer their services in Ericeira for every level of ability.
Have a look at these special offers for surf lessons and tours around Ericeira.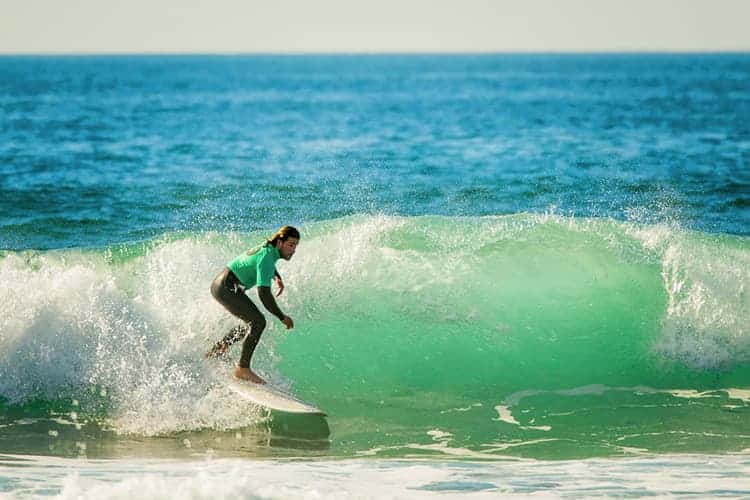 We'll tell you about the best spots, schools, and camps next.
Beginner surfers
If you are a beginner, it would be advisable to come to Ericeira from May until September and choose Foz do Lizandro beach, for example, as it's got a number of peaks and breaks over a sandy bottom which is best surfed on an incoming mid-tide.
All the amenities that you need can be found at the beach and there is a variety of cafés that serves delicious food and drinks.
Or you can choose São Julião beach, which is at the southern end of Ericeira. It is the area where you can often find a great wave when everywhere else is flat. A multitude of peaks provide great walls for beginners, and you can often find a peak all to yourself.
The local cafés offer delicious sandwiches, Portuguese custard tarts and the most delicious coffee I've ever tasted.
Intermediate surfers
For intermediate surfers, our advice is to come to Ericeira from June until October and have a look at Ribeira d'Ilhas beach. Many professional contests are held there due to the quality of the waves, its consistency and the high standard facilities situated nearby. The beach has a number of surf schools and a great restaurant.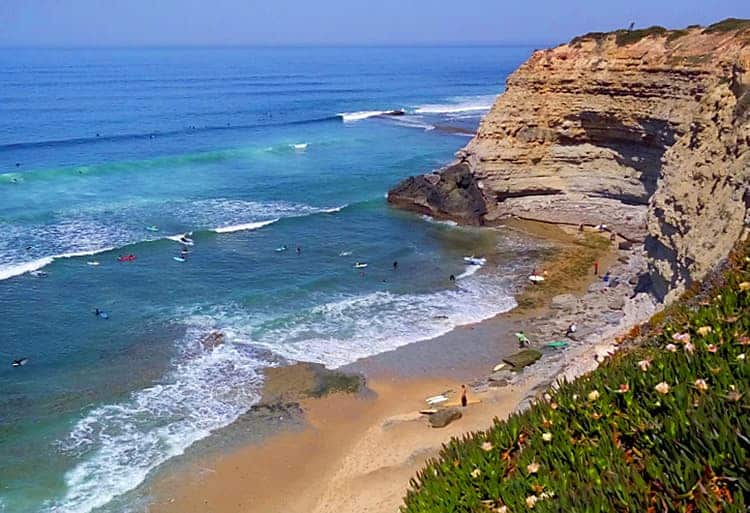 Another great spot for intermediate surfers is São Lourenço which has a beautiful sandy beach with multiple peaks and one of Portugal's heaviest and best waves. The beach has a café and Pizza Mobile restaurant.
Advanced surfers
And finally, advanced level surfers should come to Ericeira from September until January and choose Coxos or Pedra Branca beaches. Here you will find some of the best waves in Portugal. Every experienced surfer should have these places on their bucket list.
Be warned, these beaches are best surfed by only the most experienced surfers.
You might also like: 20 Best Places to Go Surfing in Portugal: An Expert's Guide
Surf schools and camps in Ericeira
There are a number of schools and camps with lots of offers in Ericeira. Local instructors know the best places to surf. Most of the schools have a great range of boards and wetsuits and all transport, to and from the school, is provided.
Some of the schools are right on the beach, so you have just to raise your head from the pillow to see the waves.
The price can vary too, depending on your requirements and budget. For example, you can choose a €500 camp for 8 days or a €1,500 one with more facilities.
It's possible to book a surf camp and yoga classes at the same time. These range from three or five-day bookings.
Here are just two that I think are the better ones to try.
3 Surfers Surf School has lots of offers with very good reviews. They cater for beginners and advanced surfers and you can also book a session with a group of friends.
Surf Riders & Co are a little more upmarket and have a variety of packages available which includes daily yoga classes, surf sessions, meditation and healthy breakfasts. Also, you may book two to three hour surf lessons with private instructors.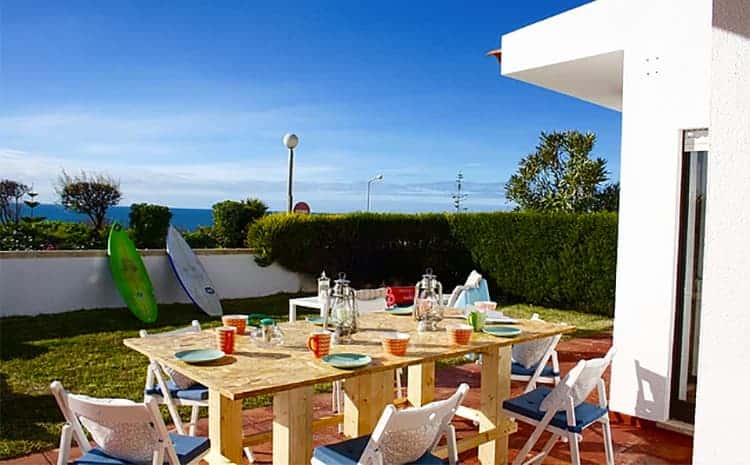 What's the weather like in Ericeira?
Ericeira has a nice climate all year round. The winter months between November and March can be around 16°C (61°F) and sunny during the day but it gets cold at night.
April, May, and June can reach up to 24°C (75°F) during the day before dropping to about 10°C (50°F) at night.
July, August, September, and October can reach up to 31°C (88°F) before dropping to 15°C (61°F) once the sun sets.
The area can get foggy and misty, especially in the mornings as the cold Atlantic breeze meets the warm heat from the dry land.
Water temperatures
The water temperature in Ericeira doesn't vary too much, this is due to the northern winds. June to October hits highs of 18°C (64°F) in the water and between November to May, ranges from 13°C (55°F) to 16°C (61°F).
Where to stay in Ericeira
If you are not choosing a school or a camp, you'll have a choice of other great hotels and hostels in Ericeira.
Pro tip: Practically every hotel or hostel offers a surf package which is more affordable than renting everything separately.
Top 6 hotels and hostels in Ericeira
According to TripAdvisor and booking.com, here are the top hotels and hostels in Ericeira:
1. Vila Galé Ericeira – is the top choice. It's located in an amazing location with stunning views and this four-star hotel has a "very nice price".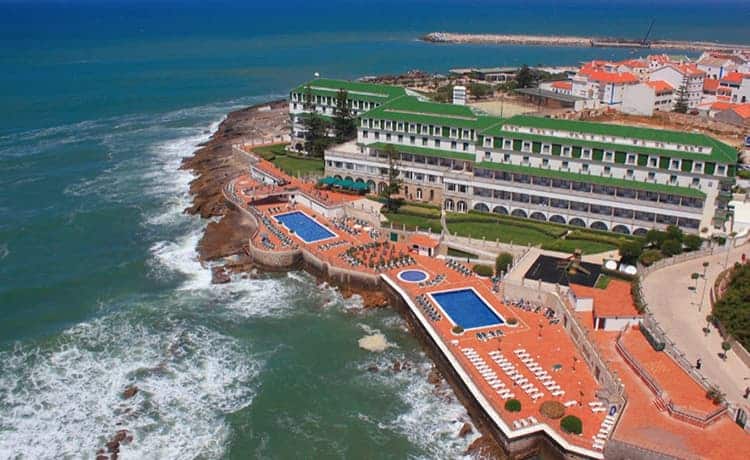 2. Pedro O Pescador Hotel – this hotel has good rooms, includes breakfast and is in an excellent location only 300 metres (984 feet) from the beach.
3. Hotel Camarão – with quiet and comfortable surroundings, friendly staff, this hotel is in walking distance to the ocean and the city centre.
4. You and the sea – this hotel and apartments are spacious and brand new with amazing views of the ocean.
5. Olive3 Hostel – this hostel has clean rooms, a good breakfast, friendly staff and a huge garden to chill out and relax in.
6. Ericeira Chill Hill Hostel & Private Rooms – a very good hostel with pleasant surroundings.
If you are looking for something a little larger for a group or family holiday, try one a house-style accommodation like Helios Beach House bungalows or Villa Ana Margarida by Nature.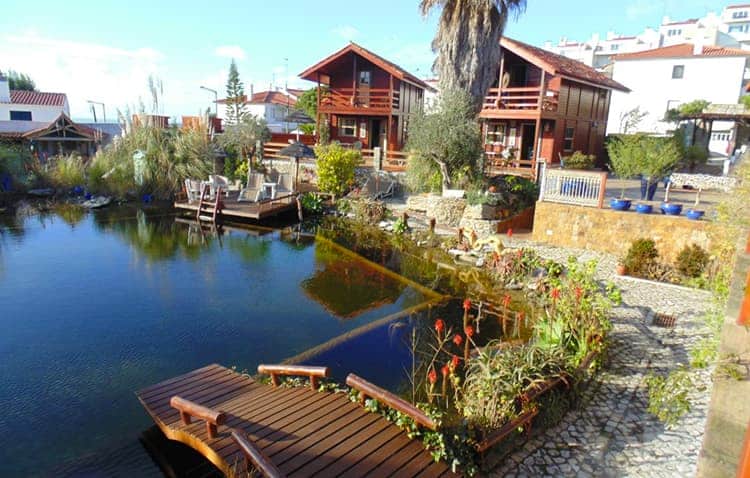 Restaurants and bars in Ericeira
Ericeira offers a lot of nightlife, especially during the summer months. In the centre of the village, you'll find the best restaurants, pastry stores, and ice-cream parlours.
Because this is a land of fishermen, don't forget to try the seafood or the fresh fish in Mar d'Areia.
Among the best and most well-known restaurants are Tik Tak or Restaurante Prim both offering really great food and service.
There are a few bars in Ericeira, but Tubo or Lebre, right nearby, is the central meeting place for a drink and listening to music.
Travelling to Ericeira with kids
Ericeira is family friendly place. If you are planning your trip with kids, don't worry. There are plenty of things to do for them too from individual surf lessons to bike rides.
Enjoy a wonderful surf lesson for the kids with qualified trainers by booking here.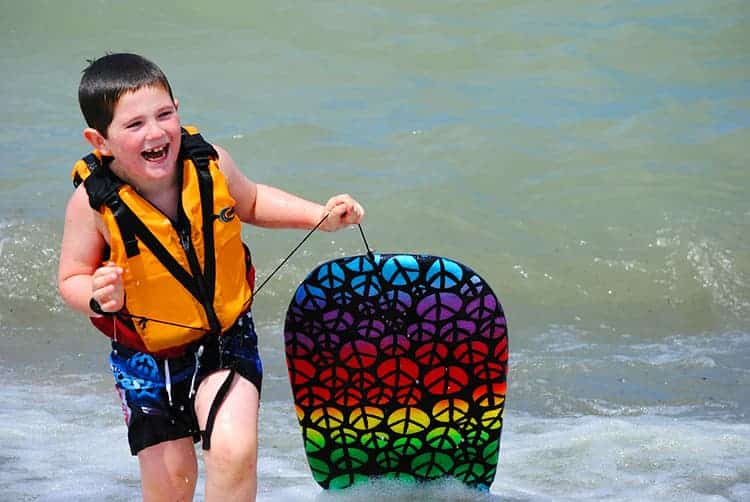 You can rent a nice house with a private pool or spend time at one of the beaches. The water is not too warm but kids get used to that and always have a lot of fun.
Also, it's possible to buy or rent everything you need for the kids including small wetsuits and suitable boards.
At the restaurants you can find food your kids will eat for sure or you can also ask for special meals if your children prefer something without a certain ingredient. The Portuguese love children, so you'll see this from  the moment you arrive.
How to get to Ericeira from Lisbon
By bus
You can take a bus from Campo Grande in Lisbon city. In order to do this, take the Metro from Lisbon Airport to the bus terminal Campo Grande, which takes about 10 minutes. The actual bus stop is poorly signed so always allow enough time to locate the departure stand.
The bus service is operated by the Mafrense bus company and you can buy tickets on board. Buses run every 90 minutes and start from 8am and finish at 11pm. It takes 75 minutes to reach Ericeira and will cost you only €7.
By taxi
If you want to take a taxi to Ericeira from Lisbon, it will cost you approximately €60 or €75 and will take about 40 minutes.
Private transfer
Book a private driver that will take you and two others from Lisbon Airport directly to your hotel in Ericeira for only €72!
Ericeira is undoubtedly one of the most relaxed places to visit in Portugal, where you can enjoy the beach and feel the local surfing spirit.
Did you find everything you need for your next visit to Ericeira, Portugal? Let us know in the comments below if you have any questions.
Visiting Portugal soon? Don't miss out on all the great tips and advice by signing up to our FREE newsletter.