Blessed with endless beaches and great weather, the Portuguese are renowned for their laid back lifestyle and golden tans.
Going to the beach is very much a part of the Portuguese way of life and in recent years, the country has seen growing support and a more relaxed view towards naturism. 
Naturism was once banned in the country. Though, with changing perceptions amongst the Portuguese, it has now become increasingly tolerated and officially legalised. As of 2019, there are officially 9 nude beaches in Portugal!
So, if you're looking to bare all, then we've got you covered.
Let's discover where to find the best nude beaches in Portugal! 
What is Naturism?
Firstly, it's important to understand what Naturism is to respect and remove all prejudices. Naturism promotes a way of life that harmoniously exists with nature and encourages self-respect, respect for others and respect for the environment. 

It's a cultural and political movement that aims to demystify, practice and advocate it's most common practice – nudity. It's important to note when understanding naturism, there's no place for eroticism and blatant sexuality.
When it comes to nude expression, these go against their fundamental principles. 
Naturism in Portugal
In Portugal, Naturism has actually existed since the early 20th century. It was largely suppressed though when nudity was banned during the country's dictatorial regime.
Following the Carnation Revolution of 1974, a meeting in Lisbon established Federação Portuguesa de Naturismo or The Portuguese Federation of Naturism (FPN) in 1977.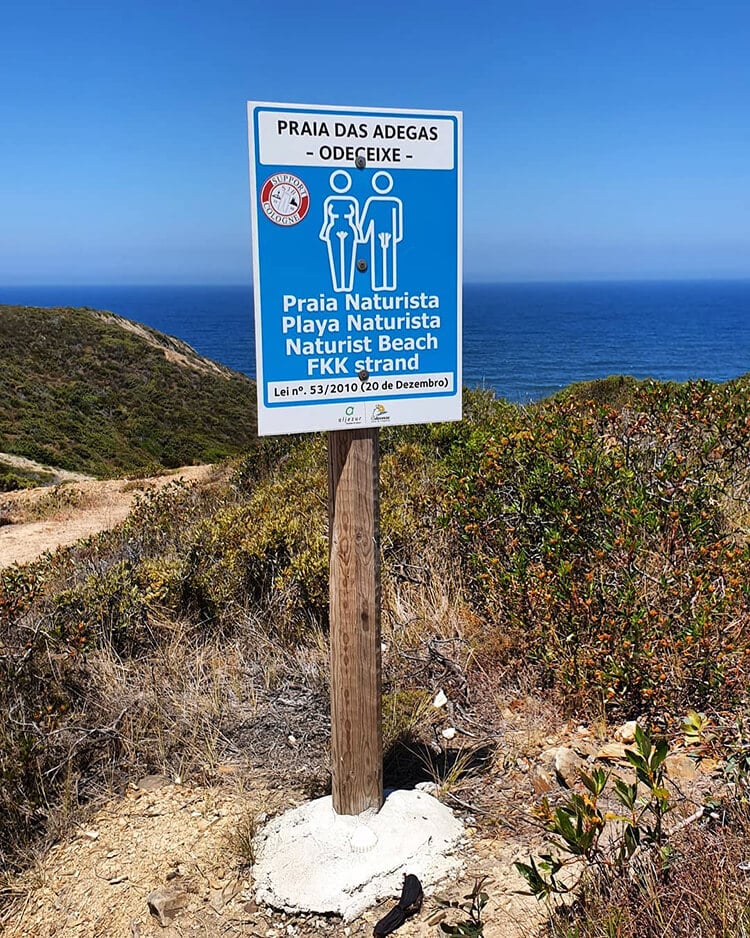 The Portuguese Federation of Naturism is the only accredited federation in Portugal. It is also the coordinating entity of naturist activity in Portugal.
As part of the institution, there are now 4 Naturist clubs in Portugal: 
Moreover, the only way you can obtain a "Naturist Identity Card" is by joining one of these clubs.
In Portugal, there are often negative connotations with Naturism as it is unfairly confused for sexual practices within the swinger community.
The Portuguese Federation of Naturism work to counteract these perceptions by instead promoting Naturism as a family practice and focusing on promoting activities that are family-friendly. 
Nude Beach Portugal: Official Beaches
Over the last few decades, The Portuguese Federation of Naturism has worked tirelessly to make nude beaches official in Portugal.
Currently, all the official nude beaches are only found south of the Tagus River.
Specifically, you will find them along the Algarve, Alentejo region and the greater Lisbon area.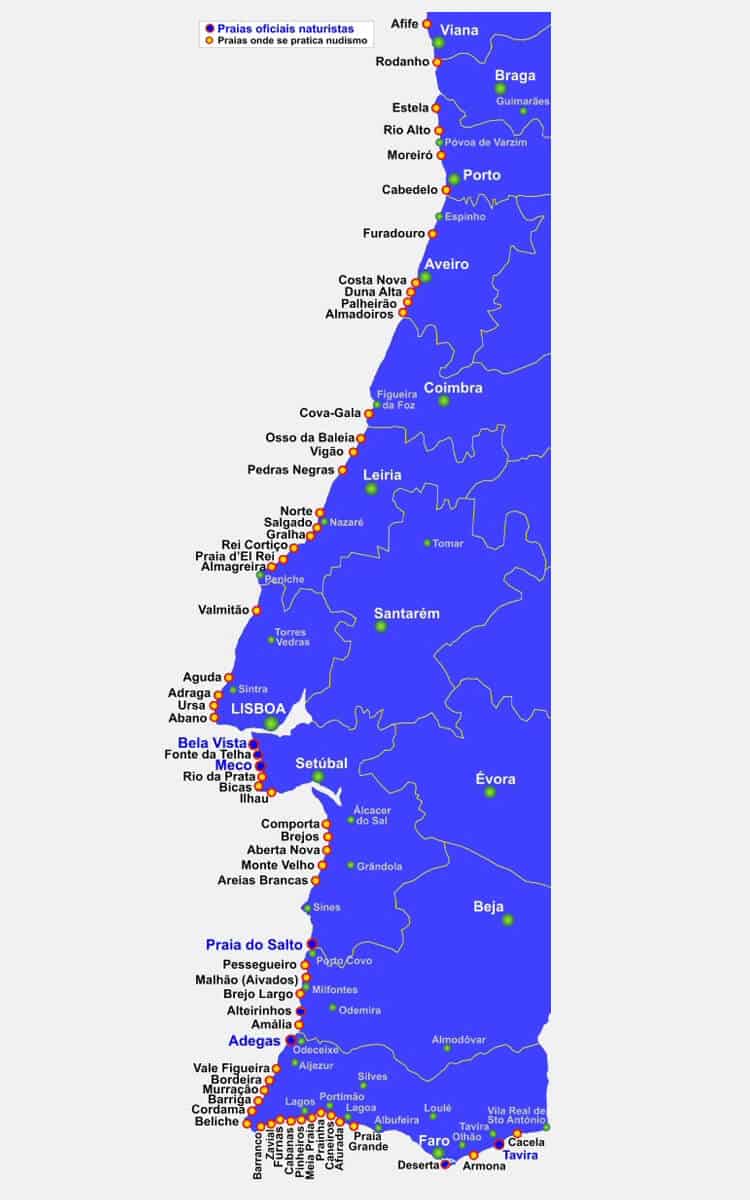 While there's 9 official nude beaches recognised, there are also over 50 'unofficial' beaches along with the entire country.
In other words, while these beaches aren't yet official, they do tolerate naturism on their beaches.
So, let's have a look at the best nude beaches to visit – all listed by region so it's easier to find the one nearest you!
Nude Beach Portugal: The Algarve
Praia das Adegas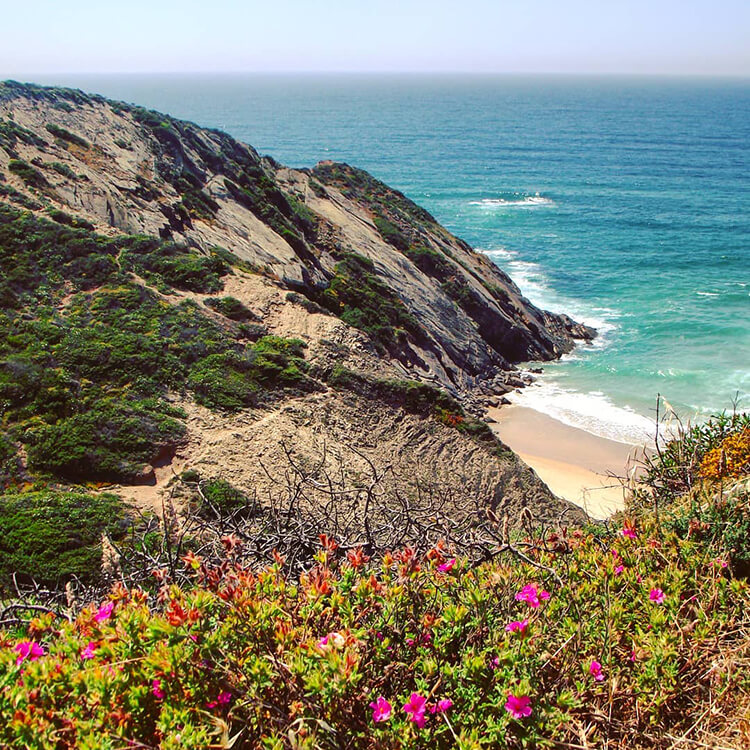 The northernmost nude beach in the Algarve, Praia das Adegas is located just south of Praia da Odeceixe, which is super popular with families and surfers.
This peaceful nude beach is located in a small cove away from the main beach. Its surroundings will leave you blown away with its dramatic cliffs and serene blue waters.
Make sure that it's low tide when you visit though as the sand area can disappear during the higher tide. 
Praia do Homem Nu
With its iconic name, it's no surprise that naturists have adopted Praia do Homem Nu as a nude beach.
Translated as "Beach of the Naked Man", legend has it that it originates from a shipwreck where only one man survived. Located on Tavira Island, next to Praia do Barril, naturist practices have been common here for the last 20 years.
Super popular with the LGBT community, many gay men from around the world travel just to visit this beach! Be prepared though as it can require a 3km walk to access the beach.
Fortunately, in the summer there is a beach train that operates and helps take you to the beach.
Praia da Barreta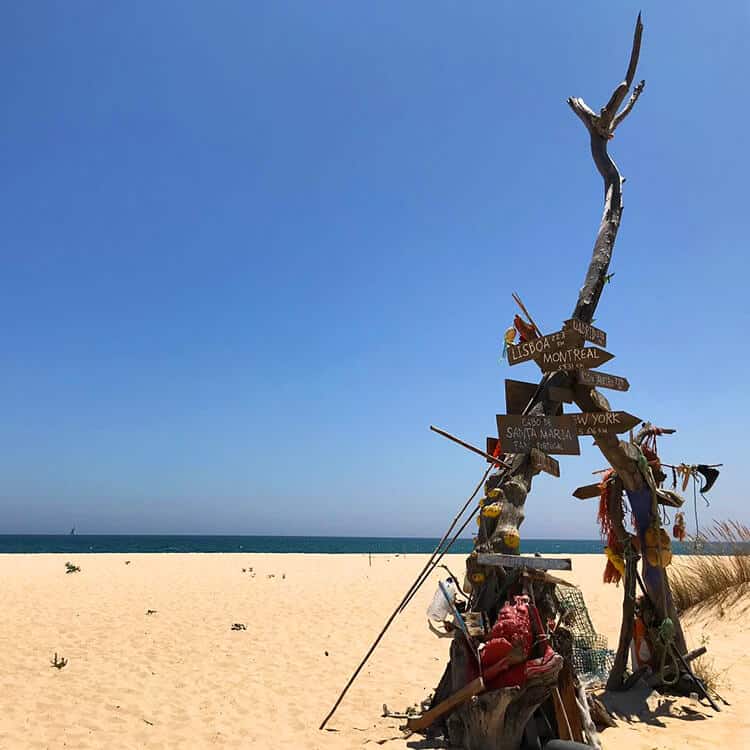 Found at the southernmost part of Portugal, Praia da Barreta is located on Ilha da Barreta. Better known as Ilha Deserta (Deserted Island) as there is only one premise available on the entire island – Restaurant Estaminé.
To access the beach, you'll need to take a short but extremely picturesque ferry from Faro.
Upon arrival, you'll reach an untouched paradise, with a 10km stretch of fine sand and crystal clear waters.
The nude beach is found on the western side of the island and is roughly 30 minutes walk from where the ferry arrives.

Unofficial Nude Beaches in the Algarve:

The Algarve has accepted and tolerated naturism for decades. Therefore, it's no surprise that they also have a large list of unofficial nude beaches.
We've listed them below and based on their proximity to the larger towns like Sagres, Faro, Lagos and Albufeira. 
Unofficial Nude Beaches near Faro:
Ilha de Armona,

Praia de Cacela Velha 
Unofficial Nude Beaches near Albufeira:
Praia da Afurada,

Praia dos Caneiros,

Praia da Prainha
Unofficial Nude Beaches near Lagos:
Praia do Amado, 

Praia Da Amoreira, 

Praia do Barranco,

Praia das Cabanas Velhas, 

Praia das Furnas, 

Meia Praia,

Praia dos Pinheiros, 

Praia do Telheiro, 

Praia do Tonel, 

Praia do Zavial. 
Unofficial Nude Beaches near Sagres:
Praia da Barriga,

Praia do Beliche,

Praia da Bordeira,

Praia da Cordama,

Praia da Murração,

Praia de Vale Figueira 
Nude Beach Portugal: Alentejo Region
Praia do Salto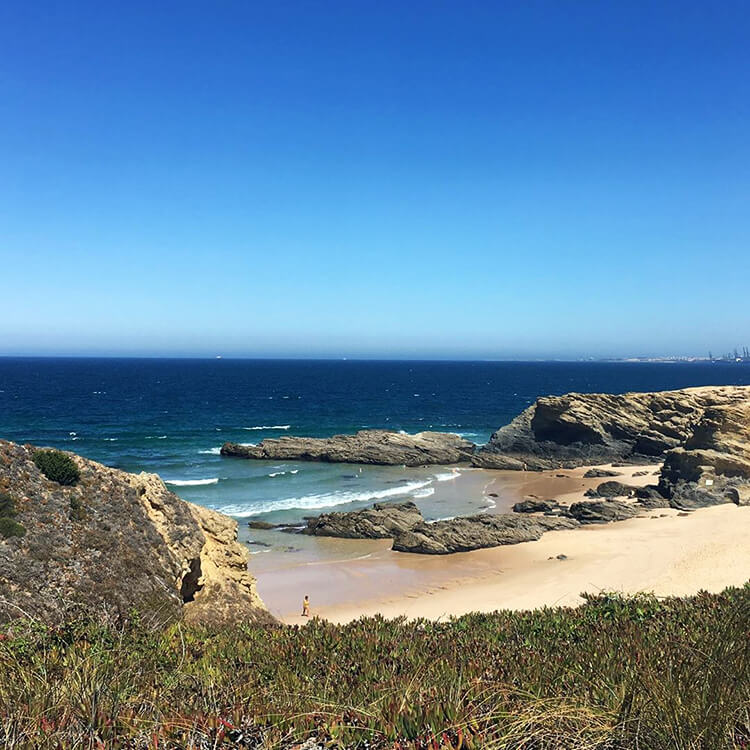 An absolute oasis for naturists, Praia do Salto is perfectly located between two cliffs. This allows for ultimate privacy for visitors and a cosy retreat surrounded by nature.
It's located north of Praia da Cerca Nova and near Porto Covo. You can easily access the beach by climbing the stairs available towards the sand.
The beach is also much loved for having fresh water, as there is a freshwater stream that runs along the entrance of the beach.  
Praia dos Alteirinhos
Offering raw and natural beauty, Praia dos Alteirinhos is a nude beach that features several coves and impressive rock formations.
The beach is popular with families as there are stairs and natural pools for children to splash in. As the beach can be quite windy and waves choppy, it's recommended to go at low tide.
A great tip – make sure you also check out the beautiful waterfall that falls along the rocks here!
Praia do Malhão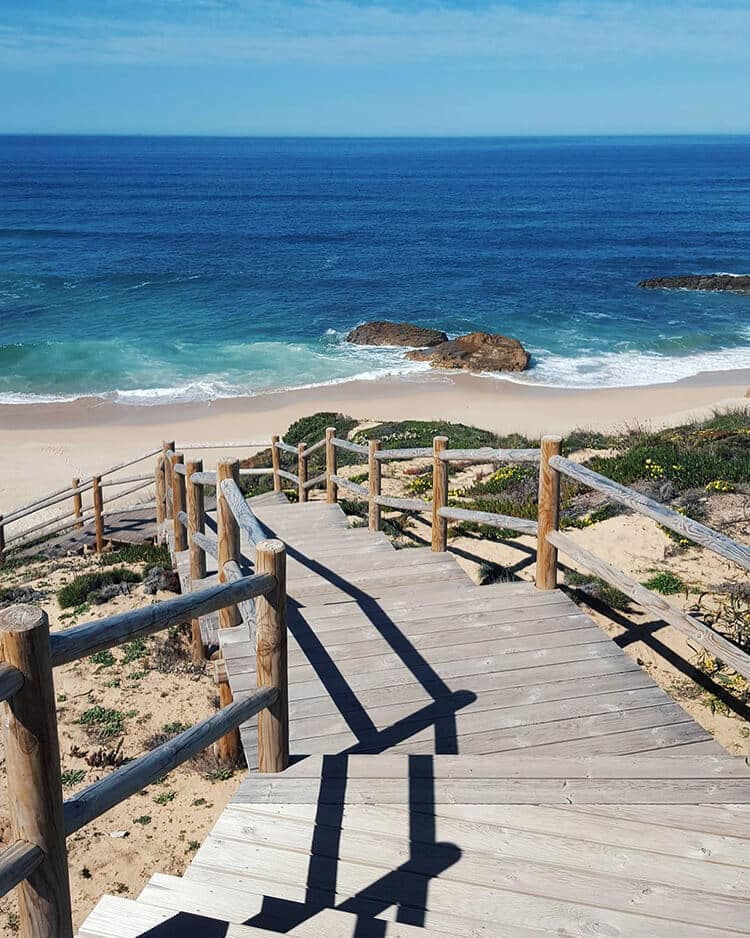 Officially a nude beach as of April, 2019,  Praia do Malhão is the most recent addition to the list.
Located on the shoreline of the Sudoeste Alentejano National Park, it's breathtaking and absolutely ideal for sunbathing. It's quite a long beach and features sand dunes, rock cliffs and beautiful white sand.
There's ample parking available not far away and a stairway that leads you to this natural paradise.  
Unofficial Nude Beaches in Alentejo Region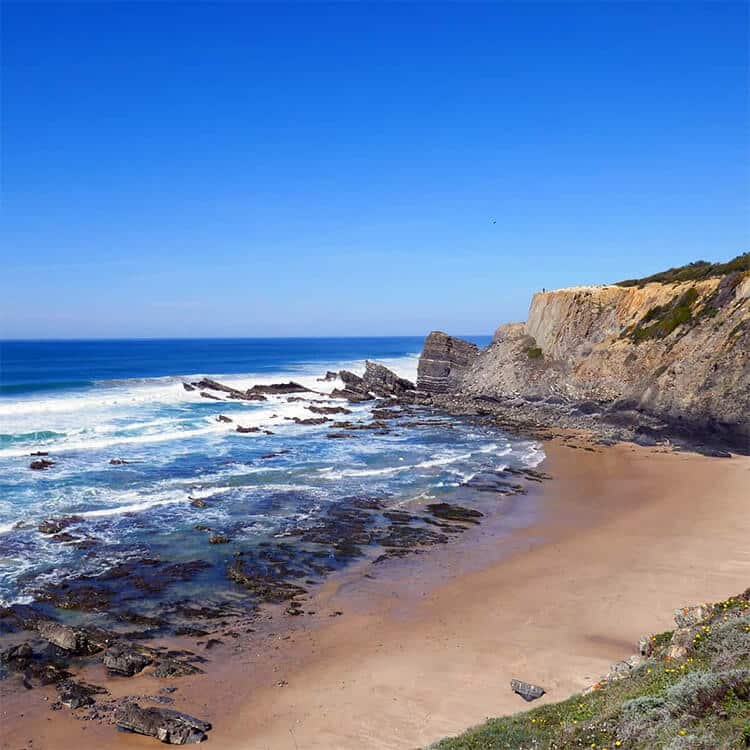 In addition, you can find the following unofficial nude beaches along the coastline of the Alentejo region:
Praia dos Alteirinhos,

Praia da Amália,
Praia do Brejo Largo,
Praia da Ilha do Pessegueiro
Nude Beach Portugal: Greater Lisbon Area
Praia da Bela Vista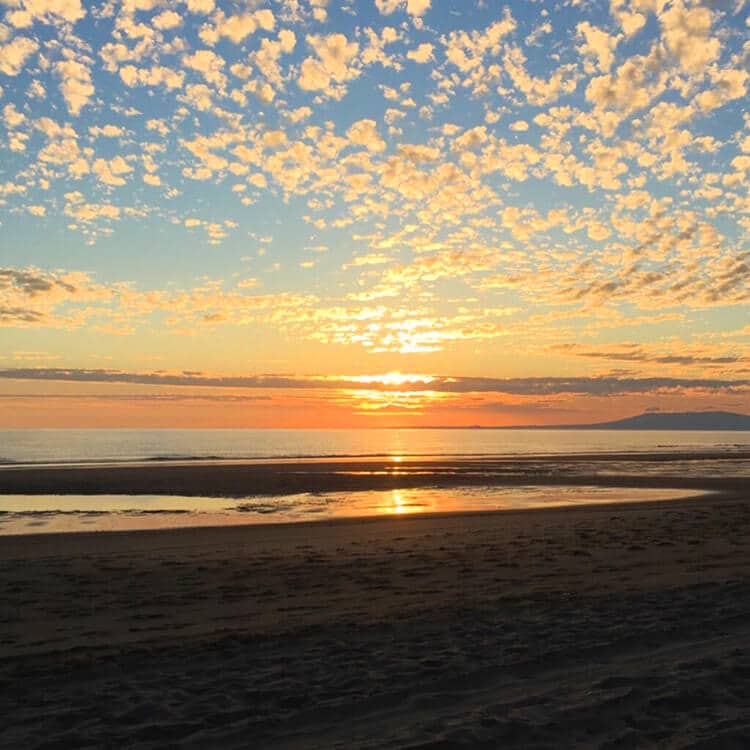 Known locally as 'Beach 19', Praia da Bela Vista was the very first official nude beach in Portugal.
It reached official status in 1995 and has since grown to become one of Europe's most iconic gay beaches.
Located in the middle of Costa da Caparica, the beach can be found about 400m south of beach restaurant Casa da Praia.
Primarily frequented by the LGBTQ community, this naturist beach is a favourite for gay men.
Don't be surprised to see men opting to "explore" the dunes above rather than using their mobile dating apps!



Praia do Meco

A vast and wide beach located in Sesimbra, Praia do Meco is surrounded with stunning high cliffs and a beautiful pine forest.

The beach is a favourite spot for the Lisbon elite, families and the gay community. Pay close attention when swimming at this beach.

Often the water can be quite choppy and there are also quite strong currents in the water.

After all that sunbathing, make sure you drop in at Bar do Peixe. The restaurant is perfect for an afternoon cocktail or some delicious grilled fish.
Praia da Adiça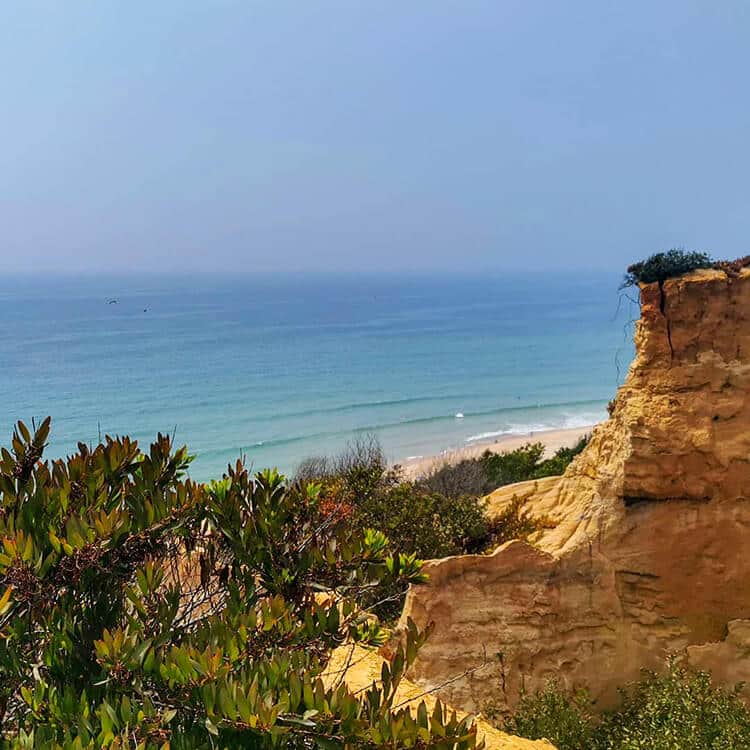 Located at the end of the motorway road, Praia da Adiça is a stunning 1.4km long beach, known locally as Praia da NATO.
It's located just south of Praia de Bela Vista which makes it the second naturist beach in Almada.
While there is a dirt zone to park your car, the rest of the path needs to be trekked. It's definitely worth it as this usually guarantees that the beach is less crowded!  
Unofficial Nude Beaches in the Greater Lisbon Area: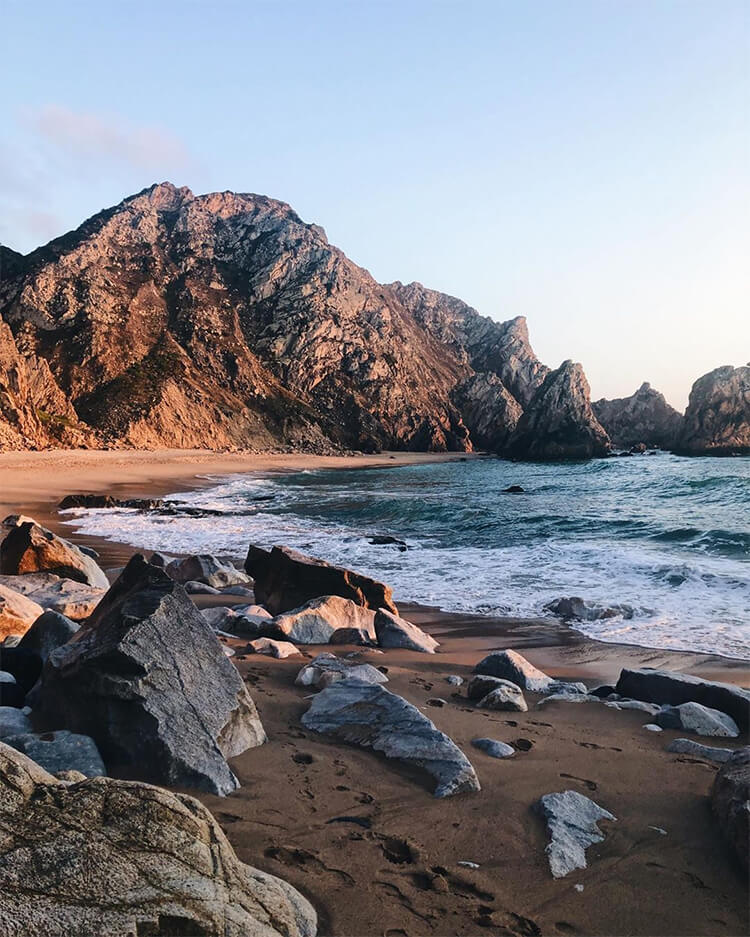 Although the official beaches are found in Costa da Caparica, nearby Setúbal is also home to many unofficial nude beaches. The first unofficial beaches north of the Tagus River are mainly located in the Sintra area.
In addition to the beaches below, there is also an unofficial beach Praia de Valmitão, located further north near Porto Novo. 
Unofficial Nude Beaches near Setúbal:
Praia da Aberta Nova,

Praia das Areias Brancas,

Praia da Comporta,

Praia das Bicas,

Praia dos Brejos,

Praia da Mijona,

Praia do Monte Velho,

Praia do Rio da Prata
Unofficial Nude Beaches near Sintra:
Praia do Abano,

Praia da Adraga,

Praia da Aguda,

Praia da Ursa
Official Nude Beaches in Leiria, Figueira da Foz & Porto
Unfortunately, there are no official nude beaches in the north of Portugal.
However, the Portuguese Federation of Naturism has not given up and continue their fight in this region.
They hope to soon overcome all institutional barriers and above all, finally add official nude beaches in the north!
Unofficial Nude Beaches in the Northern Regions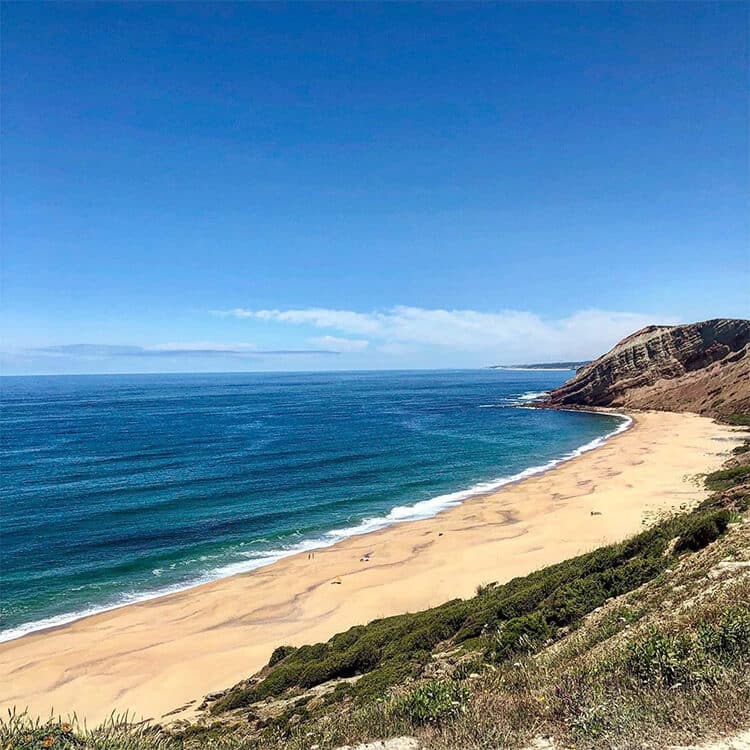 While you might not find any official beaches in the north of Portugal, there's still a substantial list of 'unofficial' nude beaches you can visit.

Unofficial Nude Beaches in the Leiria District:
Praia da Almagreira,

Praia de Rei Cortiço,

Praia D'El Rei,

Praia da Gralha,

Praia do Norte,

Praia Osso da Baleia,

Praia das Pedras Negras,

Praia do Salgado,

Praia do Vigã

o  
Unofficial Nude Beaches near Figueira da Foz & Aveiro:

Praia dos Almadoiros,

Praia da Cova Gala,

Praia da Costa Nova,

Praia da Duna Alta,

Praia do Furadouro,

Praia do Palheirão
Unofficial Nude Beaches near Porto, Braga & Viana do Castelo:
Praia de Afife,

Praia do Cabadelo,

Praia da Estela,

Praia de Moreiró Norte,

Praia do Rio Alto,

Praia do Rodanho
Find out more about the best Portuguese beaches, subscribe to our newsletter.
Nude Beach Portugal: Promoting Respect & Tolerance
Remember that if you visit any of these beaches you must still adhere to the basic beach rules.
It's important to abide by the fundamental principle of Naturism, which is promoting harmony with nature and also respecting others.
While The Portuguese Federation of Naturism has made huge strides in growing the list of official nude beaches in Portugal, their work is still far from over.
If visiting an unofficial beach listed you should be mindful of people who choose to bathe with textiles or swimwear.
Now, go enjoy the summer and visit one of these nude beaches to earn that nice all-over tan!