Southern Portugal's Algarve beaches are famous for being some of the most beautiful in the world. The long coastlines are covered in golden sands, limestone cliffs, and cool blue waters of the Atlantic. This guide will tell you about the best beaches in the Algarve, where they are, and what they're like.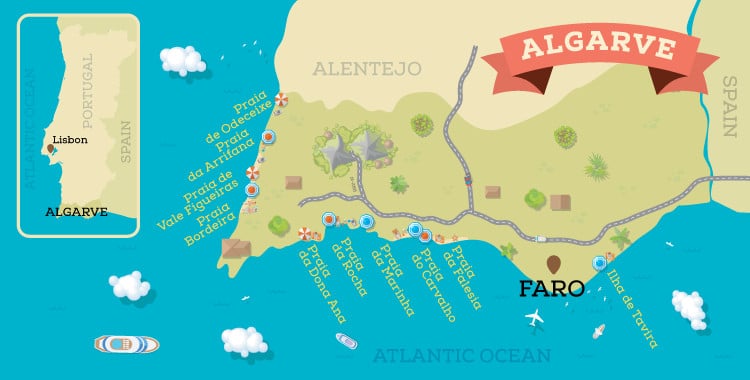 Want to know more about the best beaches throughout Portugal? Check out our full article on Portugal beaches here.

Praia da Marinha, Lagoa
This beach is known as the most emblematic beach of the Algarve region. The Michelin guide has included this stunning beach in its top 10 beaches of Europe.
The limestone cliffside has an orange hue, and with the view of these rock formations next to green-blue sparkling waters and golden sand, it's clear why this beach has become an iconic sight of Portugal.
The beach is certainly family-friendly and has parking, facilities, plus a restaurant and bar at the beach. Do watch out for the tides coming in and out, however. Certain parts of the beach are only accessible when the tide is out.

Praia da Rocha, Portimão
Praia da Rocha is a quintessential beach on the Algarve holiday-maker's map. The Portimão area has something for everyone. This beach is beautiful and sandy, with a buzzing energy to it, thanks to happy vacationers everywhere. There is even a party scene at night. For families, the beach is also perfect, as there are plenty of sun loungers, shades, and windbreakers available to hire. There are also plenty of facilities such as restaurants, bars, and cafés lining the beach.
This may not be a totally Portuguese cultural experience, but this Algarve beach is beautiful and very popular with tourists. Praia da Rocha is a short one-hour drive from Faro airport.

Praia da Dona Ana, Lagos
This beach is another classic Algarve beach on the beautiful Golden Coast, tucked in between limestone cliffs. Praia da Dona Ana was in fact named the best beach in the world by Condé Nast Traveler magazine. It's a Blue Flag beach, meaning it has all the facilities you need, including a restaurant and proper access via a wooden boardwalk to reach the beach.
The beach is again reachable from Faro airport in under an hour.

Praia da Falesia, Albufeira
 With a beach expanse of more than 6 km, Praia da Falesia is impressive for walkers, swimmers, and beach lovers alike. It has been described as the "Grand Canyon by the beach." This is because of the impressive high cliffs that tower above. With perfectly soft sand and beautifully clean water, this Algarve beach is a winner for many different types of people.
The contrast here of bright orange rocks with green pines makes the beach very memorable. It has also earned Blue Flag status as a result of being very clean and well cared-for.
Praia da Falesia is near Albufeira, under 40 minutes by car from Faro airport.

Praia de Odeceixe, Aljezur
This wonder of a beach is situated in the Vicentine Coast Natural Park. It's a protected area, so the nature and wildlife around the beach really is spectacular. The beach itself is between the border of the Algarve region and the Alentejo region.
The unique feature of this beach is the lagoon that forms around the other side of the beach when the tide comes in. This provides a separate place to swim with lovely calm waters. The formation of this lagoon is also a delight for children.
Up above the beach there are a number of quaint shops and restaurants and lots of parking. This beach has Blue Flag status. It can get a little crowded in the height of the summer months, but less so than some of the beaches in Lagos or Sagres.
You can reach Odeceixe from Faro airport in an hour and thirty minutes.

Praia do Carvalho, Algarve
This beach is yet another great expression of the beauty of the Algarve region. It's located in Carvoeiro, and as one of the most commonly photographed areas on the region you can understand why when you look up at the steep limestone cliff formations and grottos that surround this beach. If you have time, you can also do a grotto tour with a guide. Expect some truly spectacular caves with bright blue skies peeking out from the holes in the rock.
Unlike some of the other picturesque beaches in the Algarve, it's normally not overrun except for perhaps the month of July.
There is a restaurant and bar open all day directly above the beach, where you can cool off and re-fuel before heading back down to the water.

Praia Bordeira, Algarve
For those who prefer more space to themselves and a very uninhabited looking beach, Praia Bordeira is unmissable. The beach is located in the Aljezur region of the Algarve, which is a personal favorite as it's not on the usual list of Algarve beaches that tourists will take over in the summer months.
Book your hotel with Booking.com
With Booking.com you can book the best hotels in Portugal for the cheapest price. Get instant confirmation, pay 0 booking fees and even cancel your booking for free at most hotels. 
Booking.com -
Find the best prices and prepare your trip to Portugal today
The beach is a seemingly never-ending stretch of golden sands, dotted with dunes and marine greenery. When the tide goes out, the sandy beach is one of the largest in the Algarve and the river forms little pools on the shore that make this beach a heavenly place for children too. The excellent waves mean this beach is hugely popular with surfers and body boarders.
The beach can be reached by car from Faro airport in one and a half hours. 

Ilha de Tavira, Tavira
This beach on the east coast of the Algarve is 11km long and seems to have an aspect in this vast expanse that would appeal to everyone. It's possible to camp here, to do some great birdwatching and there's a nudist part of the beach for those who prefer to tan without swimwear. This spot has little estuaries coming off it and is set in a national park, which is why it's one of the best Algarve beaches to do some birdwatching.
Ilha de Tavira is also ideal for small children and toddlers, as it's not too crowded even in the summer months and has bars and restaurants along it at various points to keep the grown-ups happy too.
The beach is just under 40 minutes from Faro airport.

Praia da Arrifana, Aljezur
A personal favorite area for Algarve beaches is a spot on the western coast called Aljezur. This beach is a cult favorite of surfers and more adventurous holiday makers. There is a surf school, and a café up above the beach if you prefer to watch the surfers with a cocktail than getting in a wetsuit!
There are also other eateries nearby to the beach with exceptional seafood and a view to die for. The restaurants jut out on the edge of cliffs, so aren't for the fainthearted. Arrifana also has a good community of surfers and teachers hanging out in the café so it's a fun and vibrant place to be.
It's around an hour and a half journey by car to reach the beach of Arrifana from Faro.

Praia de Vale Figueiras, Carrapateira
If you're a seasoned beach-goer and explorer perhaps your looking for a very remote and natural beach. This beach is isolated and often deserted but has a breathtaking beauty to it. There are absolutely no facilities and its only reachable via a paved road. It's also a popular spot with surfers, and even walkers on a wet and windy day. Whilst it might not be the best place to spend the day with small kids, for a romantic couple, this beach could be a truly lovely place to be.
Carrapateira can be reached from Faro airport in under two hours.  
Planning to visit Portugal?
Make the best of your trip with our tips.
FAQ
Where are the best beaches in Algarve?
The five best beaches in the Algarve are Praia da Marinha in Lagoa, Praia da Rocha in Portimão, Praia da Dona Ana in Lagos, Praia da Falesia in Albufeira, and Praia de Odeceixe, Aljezur. All these Algarve beaches are beautiful, good for families, and most are Blue Flag beaches.
How many beaches does the Algarve have?
The Algarve region in southern Portugal has an astounding 88 Blue Flag beaches. If you spent one day at each of the Blue Flag beaches in the Algarve, you wouldn't have to repeat a beach for almost an entire summer. This doesn't even include the non-Blue Flag Algarve beaches.
Are there sharks in the Algarve?
Yes, but no shark attacks on people have ever been reported. Most shark sightings near Algarve beaches happen around 2 km or more away from shore. Sharks spotted off the Algarve coast include hammerheads, dwarf whale sharks, and basking sharks.
Which part of Algarve is the best?
The best part of the Algarve depends on your interests. If you're a surfer, the best spots will be on the Algarve's western coast. If you want to explore towns and beaches around the Algarve, choose a central spot near Lagos and Vilamoura. And for a small village feel, try Praia da Luz or Cabanas.