Are you looking for a way to explore Portugal just as the country's famous explorers Vasco da Gama and Bartolomeu Dias did? Or perhaps you are looking for a luxurious and all-inclusive getaway abroad.
Today we'll discuss what cruises are available in and to Portugal, which are the best ones to board and answer some common questions about cruise ships in Portugal.
Cruises in Portugal
Portugal is considered one of Europe's top countries for both river cruises down the stunning Douro River and Mediterranean cruises that visit Spain, Italy and more.
Immune to the economic crises, the cruise industry continues to grow with more than 1.3 million cruise passengers entering the Portuguese ports just in 2017.
So, if you're looking for a holiday where you can explore parts of Portugal without having to worry about anything else: accommodation, food, entertainment, are all taken care of, then this will be your kind of trip.
Should You Choose a Mediterranean Cruise or a River Cruise?
Choosing between the two types of cruises is not easy, it will all depend on how much time you have and what kind of experiences you're looking for. Here's a brief description of what you can expect from each type of cruise.
Mediterranean cruises in Portugal
A Mediterranean cruise from Portugal will take you along the coast from Lisbon to Porto and then onwards to other destinations like Spain.
These types of cruises are a comprehensive way to explore the Iberian Peninsula as they include accommodation, meals, and daily tours.
If you like our content, don't forget to sign-up for our newsletter
River Cruises in Portugal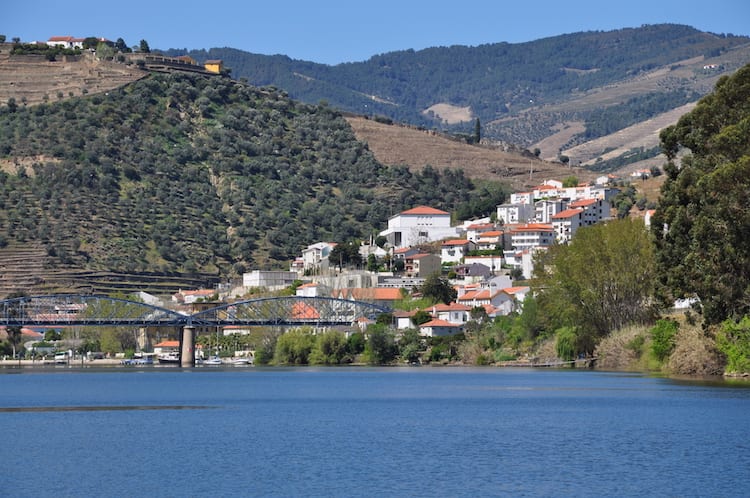 The Douro River is the main river where cruises depart from in Portugal.
It's perfect if you want to wake up to incredible views each morning without repeatedly unpacking and packing your bags.
If you only want to visit Portugal, then riverboats offer journeys specifically designed for sailing the Douro River.
They don't feature as many amenities as the big cruise lines, but you can be sure you'll experience the same scenic views.
The boats also feature bars, lounges and dining areas, comfortable and even luxurious cabins, as well as the friendly and knowledgeable crew.
Take a trip down the Douro River with bePortugal's tips.
The Best Cruises in Portugal
We've carefully selected the top cruises for travellers to Portugal and the Mediterranean – from tours through Porto to journeys reaching Portugal's island archipelagos, and as far as France and Spain.
1. Porto's Finest – Port Wine and the Douro River
A cruise in the Douro River
Spend eight days aboard the MS Amadouro, venturing the Douro River and embarking upon the best of Portugal's wine regions.
You will get to tour the famous São Bento Railway Station and learn about its history, sample traditional Portuguese cuisine, soak in the beauty of the Douro River, and tour the Baroque-style Palácio de Mateus and its enchanting gardens.
Find more details about this trip here.
From €2.726 per person
2. Single Best of Port Wine and Flamenco
Cruise from Lisbon to Madrid
A 14-day tour on board the MS Amavida, starting in Lisbon and finishing in Madrid. You will enjoy three days in the city of Lisbon, touring downtown and the historical centre of Belém.
The journey will then take you through some of Europe's wildest and unexplored wine regions, then travel to Madrid, Spain's capital and largest city for three nights.
If you like port wine and flamenco you will love this one! Check out more details here.
From €4.318 per person
3. Wine Lovers Unite – Gastronomy, Vineyards, and Grand Crus
A cruise in Lisbon, Porto and Bordeaux in France
Embark the L'Austral in Portugal's capital city Lisbon for 10 days of gastronomy and the world's finest vineyards.
You will depart the UNESCO World Heritage city of Porto, known for its traditional Port wine.
From there you will travel to Bordeaux, the world capital of wine, to not only drink delicious wine but also learn about the science and study of winemaking.
You will then explore medieval towns in France and enjoy stunning views from your ship before ending the tour in the United Kingdom.
This cruise seems like so much fun. You can click here to find more details.
From €4.399 per person
4. Cross the Atlantic – South America to Portugal
Cruise from South America to Portugal
All aboard the Le Champlain, a 12-day cruise leaving Cayenne (French Guiana) in South America, crossing the Atlantic Ocean and arriving in Lisbon.
This journey is the perfect opportunity for sea lovers to enjoy both the luxury and comfort of a cruise ship with the open sea.
You will spend 10 days at sea where you can admire the beauty of the Atlantic Ocean from the upper deck, relax in a spa or pool, learn sailing techniques, and above all enjoy a break from everyday life.
This seems like a perfect cruise for a honeymoon or if you're just looking for some special time with your partner. You can find all the price options on their website.
Prices start at €2.120 per person
5. Wonders of Andalucia and the Algarve
A cruise in Andalucia and the Algarve
For countless picturesque views, the MS La Belle de Cadix will take you across the southern regions of Spain and Portugal, highlighting the architectural jewels of both countries.
From Seville to Cadiz you will enjoy the UNESCO classified monuments and Guadalquivir River.
Then discover Faro, the capital city of the Algarve, boasting divine views of the coastline. You'll then explore the rich architecture of Granada before disembarking the cruise in Seville.
All the details about this trip can be found here.
From €2.337 per person
If you're going to have some time to explore Faro, we've made this guide to help you enjoy it to the fullest.
6. The Portuguese Archipelagos – the Azores and Madeira
A cruise in the Azores and Madeira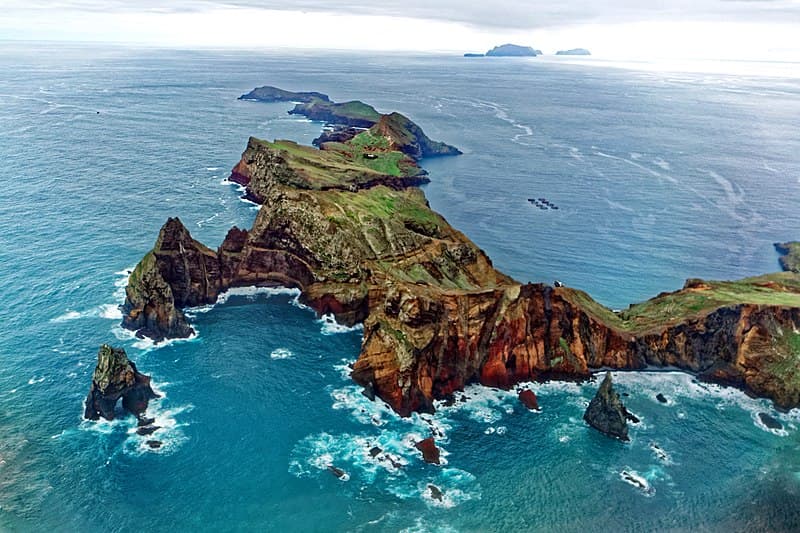 Discover the charms of Portugal's island archipelagos north-west of the mainland on an 8-day adventure aboard the Le Champlain.
You will first enjoy the beauty of the Azores, a stunning natural environment with hot springs, natural lakes and volcanic craters.
From there you will travel south to Madeira, an outdoor lovers' paradise.
Here you will explore beautiful landscapes, vegetation, banana plantations, botanical gardens, ancient fortress and the city of Funchal.
The trip ends in Lisbon where you can discover the nation's capital city.
Both the Azores and Madeira are stunning. Check out what we had to say about each of these destinations.
All You Need to Know Before Boarding a Cruise Ship Your Destinations
Refer to the itinerary of your cruise ship for its destinations.
Typically, river cruises in Portugal will stick to the coastline or the Douro River. If it stops in other locations, transport will be provided.
No need to worry about fitting in all your food groups, all meals on your ship are prepared by excellent local chefs and every taste gourmet.
Non-EU citizens travelling to Europe will need a valid passport for at least 6 months to board a cruise.
There are often great deals and promotions offered through a variety of websites travel agents.
Once you've decided which cruise you'd like to board, be sure you land the hottest deal.
Portugal cruises are predominantly centred around sightseeing and wine tasting so are usually more fitting for older couples.
If you do plan to bring children, check what kid-friendly facilities like kid's clubs or playgrounds are on board before booking.
Alternatives to Long-Stay Cruises – Day Trips
If you want to experience sailing along the Douro River but 12 days is too long, then there are plenty of tour companies offering day trips.
You can combine a wine tour and river cruise in Porto or simply sail along the Tagus River in Lisbon.
These day trips are also more budget-friendly for travellers, with prices starting from as little as €15.
Be sure to read up on your ship's inclusions before booking and embarking.
Happy Cruising!